The Weekly Gut Check - Vol. 137
Feel A-Daring?
10/2/08



The "Gut Feeling" is often synonymous with a sense of desperation resulting from a lack of preparation. The Gut Check is a huge proponent of studying the numbers, but there's a point where one can place too much emphasis on the wrong information. This can result in the undervaluing or overlooking a player's potential. Therefore, The Weekly Gut Check is devoted to examining the frame of reference behind certain number-driven guidelines that fantasy football owners use to make decisions.

Although The Weekly Gut Check doesn't claim to be psychic, he does believe that he can dispel certain numbers biases and help you make the best choices for your team. We'll keep a running tally of The Weekly Gut Check's insights. This way you can gauge his views as something to seriously consider, or at least seriously consider running the opposite way as fast as you can!


---
It's my nature to be a forward-thinking person, which is why I enjoy dynasty leagues and studying film to project a college player's potential success in the NFL. I believe it also motivates me to take risks. Combine this with my attraction to stories about perseverance and redemption and it feeds one of my favorite, and more perverse, fantasy football pastimes – acquiring players with great talent, but facing significant obstacles ahead of maximizing their skills. My coveting of high risk-high reward players has led me to the heights of success and the depths of fantasy hell and sometimes both with the same person.

This week, I lead off with a transaction I made in two dynasty leagues. Consider it my attempt to mimic Al Davis in the 80s when he acquired the NFL rights to Bo Jackson after the Auburn star didn't report to the Bucs after they drafted him. Then, I'll give you some moves that I think might pay off despite what appears on the surface to be high-risk maneuvers.

A-Daring Move?

In two dynasty leagues with deep rosters and 14 teams I added a player that probably has owners befuddled with my judgment, but I have seen enough to decide the acquisition is worth the potential scorn if I am wrong. The player is former Oklahoma State wide receiver Adarius Bowman, who is currently on the injured list of the Saskatchewan Roughriders. Bowman has virtually no chance of playing the NFL in 2008, but I believe he will be in an NFL camp this spring and challenge for playing time with any team that doesn't have a great duo of starters.

When I researched the players for my 2008 Rookie Scouting Portfolio, I graded Bowman as my fifth-rated receiver in this class ahead of Early Doucet, DeSean Jackson, James Hardy, and Eddie Royal. He's a 6-3, 233-pound player in the mold of NFL starters like Larry Fitzgerald, Plaxico Burress, and Reggie Williams – big, strong receivers with good body control to adjust to the ball in the air.

Bowman, an All-Big 12 receiver, demonstrated the ability to stretch the field vertically and make difficult catches with his hands anywhere: sideline routes, the redzone, and over the middle. When he was aggressive, he was a very good run blocker and he gains yardage after contact as a runner. Overall, he's a fluid athlete that I believe looked like he belonged in the NFL. Some online draft publications say that Bowman had inconsistent hands, but with further research, you learn that Bowman had 20/900 vision and his subsequent LASIK surgery late in his college career made a huge difference with his downfield productivity.

The reasons Bowman is a CFL player, instead of an NFL draft pick, are drugs and injury. Bowman was a top-five recruit from Tennessee when he enrolled at the University of North Carolina and he looked like he was on his way to a big college career with 28 catches for 510 yards and 5 scores before he was busted for being in a room where pot was present. He allegedly failed a drug test at UNC and was dismissed from the team.

The most egregious mistakes came in April of this year, failing a drug test at the combine and getting charged with marijuana possession. Although Mario Manningham and Aquib Talib failed multiple drug tests, and in Manningham's case, arrested for drug possession (Vicodin), Bowman had the sheer stupidity have these problems during the period where the NFL's scrutiny is at its highest. It's like lighting up and getting high during a job interview. This was enough for the league to pass on him.

But don't be fooled, Bowman has talent. Some have written him off because he had poor, post-season workouts for scouts. He was coming off a sprained knee and a second LASIK surgery and these two issues are excellent reasons why he looked slow and inconsistent catching the football. If you experience vision correction, you will eventually improve your hand eye coordination, but there is an adjustment period getting used one's newfound vision. The real issue isn't his physical skills and acumen to play receiver in the NFL, but his judgment to not only lie and engage in illegal activity, but also have his surgery so close to the evaluation process. What this demonstrates is a lack of maturity. Even law-abiding, honest prospects find the NFL evaluation process overwhelming and have difficulties adjusting.

Bowman went to the CFL and immediately made an impact, gaining 112 yards and a score on five receptions. He also had a five-reception, 98-yard effort with a score in his third start before succumbing to a quadriceps injury a month later. Both scores were long passes of 73 and 62 yards respectively. Based on what the team says about Bowman, he's not the stereotypical wide receiver-diva. In fact, they point out that he's doing the things necessary to rehabilitate his chances to be in the NFL. They also compare him to a player like Terrell Owens – which I understand, but I happen classify his skills into a small subset of players often compared to him. Here's what Bowman, the Roughriders' GM, and Roughriders' offensive coordinator had to say about their rookie.

As you can see, Bowman appears to be on the right track. At one time this was a player with ability that was projected to put him in the first few rounds of the 2008 draft. I fully expect Bowman to draw interest from NFL teams at the end of this season. Before you ride the wave of forum posters piling on Bowman's potential with witty rejoinders and pass him up, I suggest taking a chance on Bowman in the off season rather than holding on to the type of players you can drop and add from the waiver wire within the first four weeks of the year.

Blackbird Pie?

Ravens defenders CB Samari Rolle, S Dawan Landry, and DT Kelly Gregg are all going to be out this weekend when they face the Titans. Gregg is a big reason why those Baltimore linebackers roam free. I know the Ravens stopped Pittsburgh's attack without Gregg in the lineup on Monday night, but don't mistake the Titans o-line with the one in Pittsburgh. Even when Tennessee had an up and coming unit that still had a ways to go, the running backs had success against the Ravens in 2005 (26 carries for 95 yards) and 2006 (28 carries for 110 yards and a score). Note I didn't include Vince Young's numbers, either.

I'm thinking Chris Johnson will have a better than expected week, which should include a few big play rushes of over 10 yards with the secondary banged up. The kind of numbers I would project on the low side will be 15 attempts, 66 yards, and a touchdown and 3 catches 25 yards. Not bad fantasy outing from a guy many will be benching.

Oh Henry!

Chris Henry is a natural, and being a natural has obviously been a blessing and a curse for the on-again, off-again Bengal. The good is Henry can 'play' in the same way Will Hunting could always 'play' at organic chemistry or high end mathematics as he described to his girlfriend Skyler outside a Cambridge café in Good Will Hunting. But as naturally as playing wide receiver comes to Henry, the game of adult life remains inordinately difficult for him to master.

Remember the NFL Rookie Symposium skit I linked in an article this summer that involved Tashard Choice role-playing a scenario where a hometown friend tried to use him for perks? Read this article in the New Orleans Times-Picayune and you'll learn that either the NFL used Chris Henry's misfortunes as stock material or Henry ignored the warning signs and became a victim of Hurricane Katrina in a way many wouldn't expect.

If Henry has finally learned to always look out for himself first, the results on the field will consistently be there. Dallas' secondary is their downfall. I like rookie Mike Jenkins as a nickel back and his future as a shutdown corner is bright, but Chris Henry has a chance to school him or Terence Newman this weekend. If Carson Palmer can play, Cincinnati is going to be able to move the ball on Dallas. I expect strong performances from T.J. Houshmandzadeh and Chris Henry this weekend with Palmer in the lineup. Other than the Browns, each team that faced the Cowboys had a receiver go over 100 yards.

And a side-note on the Browns' front, I just watched Braylon Edwards tout the 5-Hour Energy drink in a television commercial. Maybe this is his problem. He explained in the commercial that he would hit a wall during games with previous energy drinks that lasted less than five hours. Maybe he should ditch the energy drinks all together, because the drops he's experiencing this season indicate he's a bit jittery – even if 5-Hour Energy drink says their formula doesn't create this problem.

Big Toe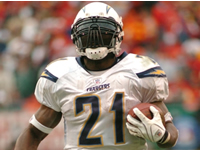 Expect Tomlinson's toe injury to linger the rest of the season.
Have you ever experienced turf toe? I haven't, but yesterday afternoon my left big toe stiffened from sitting for a prolonged period of time with my foot placed in an awkward spot against my desk. Just walking around was difficult because the foot didn't feel stable when I pushed off it. The pain wasn't severe, but it was surprisingly intense. The instability was the real issue.
For the heck of it, I tried to run. Now, I understand more than anyone that the athletic gap between me and LaDainian Tomlinson or Darren McFadden is wider than a transcontinental journey from New York to LA, but I can tell you that maintaining balance was literally something I had to think about so I didn't fall over.
If you've ever had an abscessed tooth, you vividly understand the intense, debilitating pain a small part of your body can have and how it can affect something as simple as eating, drinking, or sleeping. In fact, scientific studies demonstrate that women who have experienced a tooth ache requiring a root canal rate this type of pain as worse than childbirth. Turf toe isn't up there on the pain scale, but the impact on one's balance is dramatic. Darren McFadden is in for a long season if his turf toe is worse than LT's. I did notice that Tomlinson was cutting a little better at full speed last weekend, but he still noticeably stumbled out of the same cuts where he normally would be in the secondary. He's gutting out his injury like Eddie George did during the season that marked the beginning of the end for his days as a starter.
Did They or Didn't They …
… Blow the T.O. comments in the post game press conference out of proportion on ESPN? Personally, if I never hear T.O. speak again it would be too soon. But this week's focus on the Redskins game seemed like nitpicky analysis designed to elicit controversy. One of the routes ESPN studied on film, the double move T.O. attempted on Springs that resulted in Owens cutting to the inside of the CB along the sideline, had Keyshawn Johnson saying that the move was too obvious for a pro defensive back to fall for and Owens then made the wrong choice to cut inside. On the other hand, James Hasty explained how Springs defended it well and forced Owens to the inside. Who is right? More importantly, why does it matter? Springs played T.O. well. I'm not missing that point that Owens had a ton of opportunities and still complained – I just don't care. The Cowboys signed him, so I'd say neither do they.
…Did Lane Kiffin really say and do the things Al Davis claims? Probably some of the story is true. I'm sure coaches tell owners all the time which players they like or dislike in the pre-draft process. The difference is most organizations keep their collective mouths shut and these differences of opinion stay in house.
…Make the right move when Cincinnati acquired Cedric Benson over Shaun Alexander? Shaun Alexander on his best day is light years ahead of Cedric Benson, but when you have former pros with good reputations describing the former Seahawks' recent play as 'soft', taking the chance on a young Benson who understands he has a lot to prove and he'll have to start from scratch makes him the best fit.
Mailbag
Matt,

Well I lost last week...I listened to your advice then I changed my roster 5 minutes before game time. I lost by 4 points. If I would have just stayed with your advice I would have won by 10!!!!! UGH! I have to drop one of my RB's...I am allowed 4 on my roster. McClain, Westbrook, Hightower, Chester Taylor and Felix Jones. Who would you drop? We get 1 point per 2 receptions.

Thanks!!!!

Eddie
Eddie,
It has to be Hightower or Taylor. Although Taylor may be the less productive player of the two, he's the more desirable handcuff if the starter goes down. Unless you can trade one of the two to the owners with the respective starter, I'd drop Hightower. Too bad about the loss, it's the most common reason I lose games - last minute decisions. I once lost a chance at a lot of money because I benched Brandon Stokely on Turkey day a few years ago. He only went off for three scores against Detroit when Peyton threw for 6 TDs...Obviously, it still stings because I can remember it like yesterday.
M
Minutes later…
I was just about to drop Chester Taylor but I sent one last offer to the guy who has Peterson. I offered Chad Johnson and Chester for Holt [and] he took it!!!! I REALLY hope Bulger and Holt take off after their bye this week!!!!

Eddie
E,
A little pricey because Johnson could get better, but I like the deal and you certain turned a player you were giving up on into something you can use.
M