The Weekly Gut Check - Vol. 114
Big Play Artists and Grinders, The Receivers
11/8/07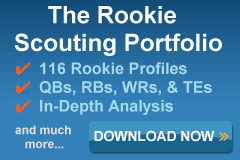 The "Gut Feeling" is often synonymous with a sense of desperation resulting from a lack of preparation. The Gut Check is a huge proponent of studying the numbers, but there's a point where one can place too much emphasis on the wrong information. This can result in the undervaluing or overlooking a player's potential. Therefore, The Weekly Gut Check is devoted to examining the frame of reference behind certain number-driven guidelines that fantasy football owners use to make decisions.

Although The Weekly Gut Check doesn't claim to be psychic, he does believe that he can dispel certain numbers biases and help you make the best choices for your team. We'll keep a running tally of The Weekly Gut Check's insights. This way you can gauge his views as something to seriously consider, or at least seriously consider running the opposite way as fast as you can!


---
Last week, I explored which side quarterbacks and runners fell along the spectrum of gaining points through a few big plays or from a mind-numbing frequency of opportunities. Today the focus will be receivers.

The Lance Alworth School of Big Play Receivers

I was tempted to call it The Randy Moss School of Big Play Receivers, but we'll stick with the retired player theme. The criteria I am using to determine these aerial artists are yards per reception. Here are the top 50 receivers ranked by this stat. Note the number to the left of the player is his FFToday ranking by total fantasy points and the Crank Score is only available for wide receivers with a minimum of four games. I used the Crank Score Calculator and placed the number of starting receivers at three. It's apparent that the most productive receivers aren't necessarily the best big-play artists.


Let's begin with the top 16 receivers according to yards per catch. Only 50% of them are in the top 16 in average fantasy points per game. And only 5 of these 8 I'm referring to have a Crank Score over 40, which means less than a third of the top 16 in yards per catch are receivers you can rely upon consistently to deliver big plays in your starting lineup. The two big-time breakout receivers in this upper echelon are Santonio Holmes and Braylon Edwards. Holmes was one of my favorites as a 2006 Second Half Wonder who projected nicely as a breakout player in 2007. Edwards had the talent but as oft-mentioned here, needed the quarterback—which he got. After two huge games, Greg Jennings has vaulted himself atop the big play pile and has cracked the top 15 in points per game—he was likely a player that was available via trade, and in many cases, the waiver wire until two weeks ago.

In contrast to these consistent big-play guys are receivers like Philly's Kevin Curtis. When he's on, he's devastating to opposing fantasy owners—as his top 12 in total fantasy points ranking shows—but when he's off, he'll kill your lineup. His Crank Score of 12 supports the notion that you can't rely upon him to deliver week in-week out just yet. Joey Galloway is an even more dramatic example because he's a top 10 fantasy-point receiver, but his Crank Score is less than 20 points—he's a dicey lineup decision right now.

Andre Johnson was on fire prior to his injury, but recent injuries to Matt Schaub and Ahman Green make also make Johnson's prospects a bit shaky if he even returns at full speed. But he's a player I would love to acquire as a buy low option because the way Andre Davis and Kevin Walter are performing, Johnson could get enough single coverage for some big games in the second half of the season.

Calvin Johnson may not seem like he's done great things due to the fact Detroit has spread the ball around and the Georgia Tech star has dealt with a back injury, but his 17.78 yards per catch rate demonstrates his promise. If he could stay over 15 yards per catch and get three times the touches he's currently averaging, then fantasy owners would have a winner. It's quite possible he can catch fire in the second half. The fact Kevin Jones is effectively running the football and Johnson has sufficiently recuperated could make him a 2007 Second Half Wonder—and put him on par with our 16th-rated receiver in yards per catch, but #1 in our fantasy hearts, Randy Moss.

Moss is touching the ball over 6 times per game and averaging 16.5 yards per catch with a Crank Score equivalent of a top-five fantasy RB at the end of most seasons—kind of like the Randy of old, isn't it? The crazy thing about his season is that he's not only doing things he did in Minny in the Culpepper-Cunningham days, but he's also going across the middle with more frequency. His 2007 season is creating more questions than answers: Was I wrong that Moss only could run specific routes or was Minnesota's offensive system incredibly one-dimensional? If Moss is the smartest receiver and best route runner the Pats have ever had on their team does this speak more to Moss or less to Gaffney, Jackson, Branch, Givens, Johnson, and Brown? Not like Belicheck and Pioli have hit on featured back through the draft until Maroney—and though he's promising, they jury's still out. And the most obvious question, what the hell was happening in Oakland?

Whatever the answers are to these questions, Moss is the sweet spot for production and opportunity on this list. Plaxico Burress, Reggie Wayne, Terrell Owens, and Braylon Edwards also hit the spot. If you have one of these five receivers, you're loving life and the rest of your league? Well, who cares about them, right?


The Possession Firm of Monk, Largent, and Joiner, LLC

The receivers most likely to get recommended for partner in this firm after 2007 are none other than T.J. Houshmandzadeh and Wes Welker. Both are top-five fantasy point-getters at there position and are seeing 7.75 and 6.78 targets per contest, respectively. In contrast, Derrick Mason is tied with Houshmadzadeh with 7.75 targets per game, but he's 24th in total fantasy points. This supports that fact that Mason has great games when he scores, but no more than average totals when the Ravens offense has trouble in the red zone—a frequent issue as of late. Mason does make an excellent #3 receiver, but not much more. I am hoping he has a nice showing against the Bengals this weekend, but someone will need to throw him the ball and his old buddy from Tennessee can't seem to do consistently what he used to. On the other hand, we're seeing the Palmer and Brady target their two possession guys in the red zone early and often and it's elevating their fantasy status to elite status.

Players you can count on to get opportunities and produce well enough to start (a Crank Score of at least 20) are generally obvious here, although many of them have big-play potential that's just not frequently enough translating into big days due to quarterback instability: Larry Fitzgerald, Anquan Boldin, Laveranues Coles, and Steve Smith.

One of these players I didn't mention who may need to apply for a position with this firm of receivers in 2007 is Torry Holt. His drop from the elite could be due to a number of factors:
Slow recuperation from injury

Marc Bulger's injury and Gus "Favre Gone Wild" Frerotte at the helm

The loss of Orlando Pace and deterioration of the offensive line

Steven Jackson's injuries

Age
Holt will likely be one of the most second-guessed players next summer if he continues to perform at less than an elite level. He's still a solid #2 fantasy receiver, but I guarantee you we're going to hear fans and media wonder if this is the beginning of his decline.

Donald Driver, Chris Chambers, and Roy Williams have been disappointments, but at least in the case of Driver and Williams there haven't been enough footballs to go around. Chambers plight has been similar to that of Steve Smith until he got paired with Rivers. At least 2 of these receivers should catch fire soon.


The Wizard of Oz School of Tight End Hybrids

Before Ozzie Newsome was considered a good NFL GM, he was a Hall of Fame tight end for Cleveland. Considering the best player of the 2007 class is the son of Newsome's contemporary and plays for the Browns, we'll name it as such. As you can see from the list, the fact the top 6 tight ends are averaging as many, if not more yards per catch than, receivers as Torry Holt, Roy Williams, Chris Chambers, and Steve Smith then I'm not sure you can label them traditional tight ends.


Based on this list it's safe to say that if you tight end is getting more than 7 targets per contest you have an elite player at the position. But guys like Heath Miller, Donald Lee, and Greg Olsen are making the most of fewer opportunities especially as receivers in the vertical passing game. Unfortunately, Randy McMichael has a great yard per catch average, but his point per game is sub par. Then there's Tony Gonzalez, he's still one of the most consistent tight ends in football. Despite the fact Kansas City's offense seems to be in disarray, the veteran tight end is fantasy gold.

If you are looking for potential players on the rise, check the targets per game stats and see who hasn't been performing as well as expected: Jeremy Shockey, Todd Heap, Chris Cooley, and Vernon Davis. Jeff King, Desmond Clark, and Eric Johnson all have similar target per game stats, but they aren't the downfield threat (King) or sole possession of the starting job (Clark and Johnson) of the four I previous mentioned.

Remember, the second half has just begun and there will likely be 2-3 players at each position who will experience a significant turnaround. If you're 3-6 or 4-5, you still have a shot to right your ship if you can hold onto/acquire 3-4 of these players.

Sold On Fargas

The Raiders made an excellent decision to anoint Justin Fargas their starting back. The 6-1, 200-lb. runner is finally showing signs of strong production. Although he's averaged 4.3 yards per carry in his 5-year career, he's been relegated to the bench for various reasons. Fargas, a former Michigan Wolverine who finished his career as a USC Trojan, was evaluated as a very tough runner with a high motor. He was viewed as a bit reckless which may have been a reason he suffered several nagging injuries over the course of his pro career. But if you look at his 5.1 ypc versus Tennessee, you can see why Lane Kiffin is promoting the long-time bench player to the top of the depth chart. He responded last week with a 104-yard, 1 TD game in a loss to the Texas, but averaged 4.5 yards per carry with his longest run being 11 yards. Fargas has bcome more consistent between the tackles and when you combine that with his game-breaking speed, he's the guy you should be trying your best to acquire off the waiver wire.

My Favorite Letter of the Week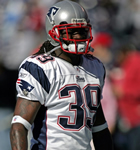 I get great e-mails about fantasy football, but this one was a great combination of skepticism about my take on Laurence Maroney busting out (Thanks for allowing me to display this, Juan). Enjoy!
Waldman, you are a great read but your last article killed me. Yes, I have Maroney and Jacobs. I kept them for dirt cheap $3 apiece ($100 cap) and spent all my money on WRs in this year's auction (TO, CJ, Fitz). I am a whopping 2-6.

Yet, you are giving me hope. False hope? I don't know. That's why you are killing me. Tom Brady scored 5 times last week from within 6 yards of the stripe. You realize that don't you? From within 6 yards, Brady = 5 TDs, Maroney = 0 TDs. And that was just last Sunday. If you check his stats, I'll bet half of Brady's TDs have come from within 10 yards of the endzone this year. (Actually, don't check his stats. You'll post them. I'll read them. And then, I'll wallow in the fact that that's about the only thing I've gotten right this year.)

You want to know what's put me over the top? Against the Redskins, on 3rd and 2 from the 2, Maroney finally got called into the game as Vrabel, Seau and Heath Evans departed (god, I hate them). This is after Sean Taylor blatantly interfered with and tackled Vrabel in the endzone on 1st and 2 (determined to leave the game with some dignity, I guess), and Heath Evans plodded forward for no yards on 2nd and 2.

So Moss, Stallworth and Maroney come back into the game on 3rd and 2, and I have a shred of hope that I might get one freaking TD out of Maroney in the first half of the season (yes, I was down like 4 points.) So what does the Brady TD machine do with his best weapons back in the game??

He calls time-out.

Why?

He must not have liked the call.

After the commercial, Maroney is on the sidelines again in favor of, get this, Kevin Faulk. Not that it mattered. Brady spent his 2 minutes during the timeout asking one of his girlfriends how many more fantasy points she needed from him [to] ensure he got a little exrta action during the long week ahead. She must have said, "at least 6 more, and it can't be through the air because those are only worth 3 points in my league." That must be what happened, because he called his own number and plunged ahead for his second rushing TD of the game.

Still think Maroney is going to be a monster in the second half? I already set my jersey on fire last Sunday so the kids could roast marshmallows. But I'm not trading him. I can't. He's a $9 keeper next year.

Sometimes I hate fantasy football.

Loyal reader,

Juan