The Weekly Gut Check - Vol. 83
Spotting The Weasels
11/9/06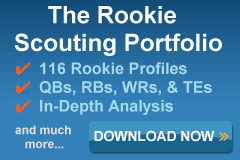 The "Gut Feeling" is often synonymous with a sense of desperation resulting from a lack of preparation. The Gut Check is a huge proponent of studying the numbers, but there's a point where one can place too much emphasis on the wrong information. This can result in the undervaluing or overlooking a player's potential. Therefore, The Weekly Gut Check is devoted to examining the frame of reference behind certain number-driven guidelines that fantasy football owners use to make decisions.

Although The Weekly Gut Check doesn't claim to be psychic, he does believe that he can dispel certain numbers biases and help you make the best choices for your team. We'll keep a running tally of The Weekly Gut Check's insights. This way you can gauge his views as something to seriously consider, or at least seriously consider running the opposite way as fast as you can!


---
Pop Goes The Weasel. A Jack In The Box is one of the first ways we learn to anticipate an event. At first it startled us; provided us a mix of fear and humor; and later, we discover out how to time the music, the crank, and the box to derive pleasure from figuring it out. In our case, the weasels are those players in weeks 14-16 that see their production take a jump out of the box. Here were some of 2005's weasels that were among the top fantasy plays at their position during this three-week period:
Frank Gore

Labrandon Toefield

Ernest Wilford

Corey Bradford

Antonio Chatman

Ricky Proehl

Kelly Holcomb

Mike McMahon
The Gut Check tweaked his squad with the addition of Gore on a championship run on a team that included Edgerrin James and Larry Johnson. Gore was the 8th-ranked RB for week 16 while Edgerrin James was nowhere close, and that made all the difference for the Gut Check. The trick for 2006 is spotting some of these candidates prior to the fantasy playoffs. If you have a strong squad, then why not ditch that excess bye week depth for some of these potential weasels.
As with any fantasy analysis, there's no foolproof way to spot these players, but here's some likely prospects based on talent, surrounding personnel, and projected in-season record:
Quarterbacks

This is the least likely position to tweak, because most teams should have two quarterbacks that are stronger than what you'll find on the waiver wire. That won't stop the Gut Check from exploring some possibilities.
Jay Cutler, Broncos: Denver is a strong 6-2 so far. The Gut Check believes the Broncos defense is the reason this team will win the AFC West. There are some key divisional games through week 14, but weeks 15 and 16 include potentially meaningless games versus Cincinnati and Arizona. If Denver can get home field advantage or a first round bye, look for Cutler to get some serious time. The Gut Check believes Cutler is the best rookie prospect at the position from last year's draft. He was so good in the preseason, Mike Shanahan reportedly considered turning to Cutler after Jake Plummer experienced a slow start.
The Gut Check likes Cutler's potential because the pressure will be low and he's used to leading over-matched teams to victories in the defensive-rich SEC. If you own a quarterback on a playoff team and don't like the idea of going with an existing option with little upside, Cutler could be an alternative.
Bruce Gradkowski, Bucs: So you want to take this with a grain of salt because yours truly has been touting this guy more than Gruden? Fine be my guest, but even Gruden stood firmly alongside his starter this week. He even said Gradkowski had some moments of "magnificence" and they are excited about his ability. The Bucs aren't likely playoff contenders, but Gradkowski should only continue improving with each week. His stats last week were very fantasy friendly and that included hitting Joey Galloway on a deep pass. The long ball has been the area that's been absent from his game—and understandably so, hooking up on deep routes takes the kind of touch and time that often requires a level of rapport you don't establish instantly. The thing you should find most impressive about Gradkowski has been his ability to care for the football and the overlooked fact that he has kept Tampa in most of the games he's started—no small feat for a sixth round draft pick. In fact, the Gut Check likes Gradkowski's prospects with Atlanta, Chicago, and Cleveland on the docket for weeks 14-16. Chicago might be tough but if the Bears sew up the division, that situation could change dramatically in a fantasy owner's favor.
Matt Cassel, Patriots: New England should win this division with no problem and will likely compete with Denver for a first round bye. If the Patriots earn this opportunity, look for Brady's backup to face Miami, Houston, and Jacksonville at season's end. Cassell had an 11 for 20, 168-yard, 2-td performance versus Miami in the final week of 2005—nothing amazing, but 16 points is starter worthy in most standard scoring leagues. But the best option might very well be in Indianapolis.
Jim Sorgi, Colts: Last year, Sorgi had a strong performance versus Arizona: 20 for 30, 207 yards, and 2-TDs. This year Sorgi is likely to face the Texans. Any questions?
Running Backs
Cedric Cobbs, Broncos: The Mike and Tatum Bell Show could continue for quite a while. In the meantime, Cedric Cobbs could be that third option seeing clean up time in games with potentially meaningless implications. Mike Shanahan actually equated Cobbs' style with that of Larry Johnson. He didn't equate Cobbs to LJ—important difference—but the Gut Check recalls a time where Cobbs was considered the most instinctive runner in his draft class. The former Razorback had some nice runs in heavy traffic versus the Steelers last weekend. If Tatum or Mike Bell has another injury-related issue, get Cobbs off your waiver wire for the dual purpose of an emergency starter and a late season playoff weasel.
Dominic Rhodes, Colts: See the pattern of Broncos, Colts, and Patriots? The Gut Check promises there are options from other teams that he'll discuss below. But back to Rhodes—the Gut Check believes Joseph Addai will be the back that gets more rest down the stretch. Rhodes is relatively well rested for a back that gets a fair amount of field time, which makes for the perfect balance of starting a player with some skills that won't be rusty—a perfect combination for a potential fantasy playoff contributor.
Mewelde Moore, Vikings: Some players no matter the initial circumstance find a way to force their way onto the field with good play. Moore is that kind of player. Chester Taylor has been a fine option for Minnesota, but it's quite possible the Vikings' bell cow gets a rest in week 16. It's also worth anticipating that Taylor could wear down a bit due to his increased workload. He hasn't played this much since he was at Toledo. Injury or precautionary action to prevent it, are reasonable factors to add Moore to your roster. Most fantasy owners should remember Moore's high productivity when given the opportunity in recent years. Steve Hutchinson and Brian McKinnie certainly provide two excellent reasons to consider Moore.
Adrian Peterson, Bears: It's more likely Cedric Benson will get more chances if Chicago can right their ship and win the division, but don't forget about Peterson. He's a tough runner that could earn more time to keep the Chicago tandem of Jones and Benson fresh for the playoffs. This is a guy you should be able to acquire during the fantasy playoffs if your league allows free agency at this time.
Musa Smith/Mike Anderson, Ravens: Musa had an excellent preseason—demonstrating the toughness and acceleration to make a strong contribution as a runner. The Gut Check believes the Ravens are dark horse candidate to earn a first round bye. If so, look for Baltimore to rest Jamal Lewis and possibly Mike Anderson. Anderson is the more likely choice to see time, but Billick might make the decision to give Smith the chance to gain more valuable experience he has lacked due to injury.
DeAngelo Williams, Panthers: It is very possible Carolina could miss the playoffs after a rough start. If so, there's no incentive to continue starting Deshaun Foster when John Fox can get the opportunity to determine whether their rookie is good enough to be the main man for the Panthers. Look for the shifty rookie to earn that opportunity-ala Frank Gore—if the season goes down the tubes for Carolina.
Wide Receivers
Chad Jackson, Patriots: Jackson has played well in a limited role, displaying his well-known running skills and big play ability when given the chance. Belicheck will give Jackson extended time if New England wins the division and earns bye.
Brandon Marshall, Broncos: This should be a guy you consider adding just because of Rod Smith's injury. Did you see Marshall go up in traffic to make a grab in double coverage versus the Steelers? You may not remember it because the play was called back due to a holding penalty, but it's a play Marshall typically made at Central Florida after making the conversion from defensive back. With all the attention Javon Walker will garner after his 200-yard day against Pittsburgh, Marshall could see single coverage opportunities against the weaker corners of an opposing defense—not a bad gamble to take on a big receiver that can bully his way into getting separation (think Marques Colston).
Terrence Wilkins, Colts: Marvin Harrison and/or Reggie Wayne are bound to get some bench time, so who better to grab than a receiver that actually had some excellent games in this system about 5-6 years ago? This is one of those players you don't have to add right away, but don't be surprised if you see him on the field as a receiver down the stretch while the big guns are on the bench. Wilkins' skills after the catch give him the potential to have a big day if that opportunity arises.
Mark Bradley/Rashied Davis, Bears: You probably need to add one of them now, because owners will clamor for Bernard Berrian's potential injury substitute. Both will likely see time if Chicago can earn a first week bye. Brian Griese will likely get the chance to see action and his skills could enhance the opportunities for Bradley—a big-play receiver coming off injury—and Davis, who has been good in the red zone.

Week 9 League Updates
Fantasy Auctioneer Experts Invitational: An excellent rebound from last week's disappointing loss stemming from choosing David Carr over Steve McNair. The Gut Check is tied for first with a 6-3 record, but does not hold the point advantage. Steven Jackson and Donald Driver led the way to a 30-point victory. This week, yours truly gets Reggie Brown back from a bye week but Joe Horn may still be out. Last week, the Gut Check went with Santonio Holmes and Derek Hagan—not an ideal combination. Holmes will likely get the nod once again if Horn can't go.

Projected Starting Lineup: McNair, Jackson, Taylor, Reggie Brown, Donald Driver, Joe Horn, Todd Heap, Josh Scobee, and the Ravens Defense.

Ironman 3 Dynasty League: The Gut Check spoke too soon with this dynasty squad. Week 9 turned out to be a complete fiasco. His team had its worst week of the season. Westbrook returns from bye and Fitzgerald may play, but Bernard Berrian is taking Fitz's spot in the training room. This team should bounce back with a more respectable effort.

Projected Starting Lineup: McNair, Cadillac, Westbrook, Gabriel, Fitzgerald, Lloyd, McMichael, Vinatieri, Rod Coleman, James Hall, Kyle Vanden Bosch, Derrick Johnson, Michael Boley, Julian Peterson, Mike Vrabel, Walt Harris, Charles Woodson, Sean Jones, and Glenn Earl.

SOFA Fantasy Auction League: LT has led this team on a 5-game tear. The Gut Check sunk a lot of auction cash into Tomlinson and he's a perfect example of paying for quality. The best deal for this team may well be Maurice Jones-Drew, the 16th-ranked fantasy RB in this league. Not bad for a dollar. He finally earns the title of #2 RB on this squad over Cadillac until further notice. This FFToday squad is one of three 7-2 teams in this showcase league. Quarterback is still a glaring weakness for this squad and it's not likely to get better as there's a dearth of free agent talent at this point. Santonio Holmes outplayed Amani Toomer last week and the Gut Check just might take the chance on the Steelers rookie sooner than later.

Projected Starting Lineup: Pennington, LT, Maurice-Jones Drew, Driver, Toomer, Wayne, Watson, Tynes, and Saints/free agent defense.

MADFAD (Dynasty Contract League w/IDP and Fluctuating Player Values): Sinking ever lower in this league, the losing streak is now in it's 4th week. This team is now officially in the Adrian Peterson Derby. While the squad in the basement is confident he's got AP locked up, the Gut Check is plummeting fast.

Projected Starting Lineup: McNair, Jones-Drew, Westbrook, C. Johnson, Galloway, Stallworth, Shockey, Bullock, Vilma, Feeley, Hali, Dumervil, Polamalu, and A. Wilson.

Local League (Traditional re-draft and scoring): Another CBS league, the Gut Check won big for the second week in a row—thanks again to LJ, Colston, and the Ravens defense. Yours truly has a 5-4 record, and a more substantial lead in the point race. Galloway and Harrison both bounced back this week and Henry's once big catch was enough to call it a good day. Addai will likely get his first start for the Gut Check's squad versus the Bills this week.

Projected Lineup: Favre, LJ, Addai, Galloway, Colston, Henry (or Jennings), Marvin Harrison, Todd Heap, Mike Vanderjagt, and Ravens Defense.

FFTOC: Once again, a nice rebound that helped the Gut Check regain his ranking from last week—and even bump it up a couple of notches to 77th overall out of 618 entries. He also regained the division lead, but it will be a tight, three-way race for the next two weeks to determine the bracket winner. The Gut Check should still have some nice players left for the playoffs (if he makes it). Ironically, yours truly didn't look ahead at all this year. He strictly stuck with a week-to-week strategy.

Fantasy Football Handbook Expert Mock: Still holding steady in the top 6 despite McNabb having a bye. With the Eagles' QB and Fitzgerald back into the fold, we'll see if the Gut Check can make up some ground for the remaining six weeks. You can select the link for the roster to see the Gut Check's options…