The Weekly Gut Check - Vol. 76
Early Target Practice
9/21/06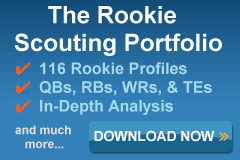 The "Gut Feeling" is often synonymous with a sense of desperation resulting from a lack of preparation. The Gut Check is a huge proponent of studying the numbers, but there's a point where one can place too much emphasis on the wrong information. This can result in the undervaluing or overlooking a player's potential. Therefore, The Weekly Gut Check is devoted to examining the frame of reference behind certain number-driven guidelines that fantasy football owners use to make decisions.

Although The Weekly Gut Check doesn't claim to be psychic, he does believe that he can dispel certain numbers biases and help you make the best choices for your team. We'll keep a running tally of The Weekly Gut Check's insights. This way you can gauge his views as something to seriously consider, or at least seriously consider running the opposite way as fast as you can!


---
At this time last year, the Gut Check wrote about targets and how it relates to fantasy performance for receivers. Despite the fact the article was written in late September, 13 of the 20 top targeted receivers at this early stage of the season were also among the top 20 Crank Score wide outs of 2005. When 65% of the top targeted receivers in late September were the most consistently high-producing fantasy pass catchers for the rest of the year, it sounds like a good idea to take a second look at this data for 2006. In fact, 90% of these receivers were in the top 36 for Crank Score in a 12-team 3-WR lineup league.

Seems like two games of data shouldn't be that high of a predictor for fantasy success, but let's call this article part of the observational process of a three-season experiment. If we yield similar results at the end of 2006, then the Gut Check will do this once again in 2007. Maybe yours truly can flesh out an in-season theory that might help explain this correlation for early targets to season-long production. Then we can figure out how to use this information to our advantage if it proves reliable.

The table below is an adapted version of the receiver stats page found on our site. The Gut Check added a target percentage (receptions/target) as a point of interest.

Target Practice For WRs
Receiver
Team
G
GS
Target
Rec
Yard
TD
FFPts
FFPts/G
Conv %
Torry Holt
STL
2
2
27
12
110
1
17
8.5
44%
Marvin Harrison
IND
2
2
26
16
240
0
24
12
62%
Drew Bennett
TEN
2
2
23
11
151
1
21.1
10.6
48%
Chris Chambers
MIA
2
2
23
9
114
1
17.4
8.7
39%
Laveranues Coles
NYJ
2
2
22
14
253
1
31.3
15.7
64%
Donald Driver
GB
2
2
21
15
249
0
24.9
12.5
71%
Larry Fitzgerald
ARI
2
2
21
13
185
0
18.5
9.3
62%
Joey Galloway
TB
2
2
21
9
161
0
16.1
8.1
43%
Amani Toomer
NYG
2
2
20
17
178
2
29.8
14.9
85%
Donte' Stallworth
PHI
2
2
20
11
222
2
34.2
17.1
55%
Terrell Owens
DAL
2
2
20
9
99
1
15.9
8
45%
Chad Johnson
CIN
2
2
19
11
126
1
18.6
9.3
58%
Anquan Boldin
ARI
2
2
19
10
124
1
18.4
9.2
53%
Drew Carter
CAR
2
2
19
9
96
0
9.6
4.8
47%
Greg Jennings
GB
2
1
18
7
72
1
13.2
6.6
39%
Jerricho Cotchery
NYJ
2
2
17
12
186
2
30.6
15.3
71%
Plaxico Burress
NYG
2
2
17
10
194
2
31.4
15.7
59%
Reggie Wayne
IND
2
2
17
10
202
0
20.2
10.1
59%
Derrick Mason
BAL
2
2
17
9
96
0
9.6
4.8
53%
Marques Colston
NO
2
2
17
8
107
2
22.7
11.4
47%

Holt, Harrison, Chambers, Driver, and Fitzgerald are players expected to be at the top of this list. Interestingly enough, Isaac Bruce, who was 21st on this list with 16 targets, is converting on throws at a rate of 63%, and seems to be in more sync with Rams QB Marc Bulger at this stage of the season than Torry Holt. Is Holt having more difficulties adjusting to a new offense? His productivity is certainly lower than in years past, but at this early stage of the year it shouldn't be anything cause for panic.

While his early season performances may qualify as a surprise, the Gut Check believes Laveranues Coles' productivity is linked to Chad Pennington's health. Coles had his first breakout season when paired with Pennington. A few years later, these two appear to be picking up where they left off in New York. It wouldn't be surprising if some of the better-performing fantasy teams at this stage of the season drafted Coles as their #3 or #4 receiver. As long as both Jets remain healthy, this productivity should continue.

Drew Bennett is more of a surprise because of the inconsistent quarterback play that is in Tennessee right now. At the same time, Bennett is a talented player, and he will likely see a lot of looks in garbage time—operating conditions the Titans offense will likely experience for much of 2006. The problem with Bennett as a fantasy receiver is his low target percentage. Unlike Holt, who has the change in offensive philosophy to explain his drop in conversion, Bennett is dealing with a quarterback carousel.

Once Vince Young begins to see more time, Bennett's target percentage may drop below the mediocre conversion of 48%, which could make the Titans receiver a highly inconsistent fantasy option. The Gut Check expects Bennett to be at best, a borderline starter for the rest of the season. Once Young is given the starting nod, Bennett looks like the kind of player that could make or break your lineup in any given week.

A good example of a make or break situation at this stage has been Joey Galloway. Week one, Galloway puts up a goose egg thanks to the Ravens defense and Chris Simms tentative play. Week two, Galloway explodes for 161 yards. The Gut Check believes Galloway will be more consistent from this point forward, but the Buccaneers quarterback situation has given many fantasy owners good reason to worry. Yours truly wrote a "fantasy" scenario for what he'd like to see in the NFL playoffs. One storyline involves the Bucs, and if it begins to play out in real life he'll show you the email later this season. Chris Simms is the key.

Donté Stallworth would be a mild surprise if he were still a Saint, but as the Eagles primary option, it should be a no-brainer that he'll be good for 1100-1300 yards and 8-12 scores in 2006. As with Coles, if you drafted Stallworth in the mid-to-late rounds in mid-August you're one step closer to a nice year in your fantasy league. The Eagles new primary receiver is getting the kind of looks you see from studs like Chad Johnson, Terrell Owens, and Larry Fitzgerald. Although all three are at a lower percentage of target conversion than say, Marvin Harrison, they will likely finish the year with strong fantasy production.

The real "out of nowhere" receivers on this list are Amani Toomer, Drew Carter, Jerricho Cotchery, Greg Jennings, and Marques Colston. Toomer benefits from the maturation of Eli Manning and the vast arsenal of weapons at the Giants disposal. The Gut Check believes there's a good chance Toomer could have a year fantasy owners had recently come to expect from a veteran such as Rod Smith: a high reception total with a 10-11 yard per catch average.

Carter is on this list due to Steve Smith's slow recovery from hamstring issues. The Ohio State product has speed to burn, and he is making solid strides toward a chance to start one day. Yet once Smith returns to the field, Carter's production will drop significantly.

On the other hand, Jerricho Cotchery is has been on fire. His 71% target conversion demonstrates how he has outplayed Justin McCareins and has solidified his position as the #2 receiver in the Jets lineup. Cotchery was Phillip Rivers' main target when they were at N.C. State and Chad Pennington is a similar quarterback to Rivers in terms of their approach to the position. The Gut Check doesn't expect Cotchery to top 1100 yards, but if you regard him as the fantasy equivalent to T.J. Houshmandzadeh in 2005 then you could be on to something.

The most intriguing players are the two rookies on this list. Greg Jennings has been a well-known favorite of the Gut Check this spring and summer. It took two games for the first year player out of Western Michigan to show the same skills he put on display in the preseason, but the fact Favre has targeted Donald Driver just three additional times more than Jennings illustrates he is not afraid to look in the rookie's direction. While it's not likely that Jennings will finish the year as a top-20 fantasy receiver, this late round/waiver wire fantasy pickup could be a great fill-in for your roster.

Marques Colston has the physical skills to become quite a player. Drew Brees is the kind of quarterback that has experience utilizing raw talents to the fullest until they develop into polished stars (think Antonio Gates). The Saints, like the Packers, will have to be a prolific offense to remain competitive in most of their match ups. Colston may have to split time with Devery Henderson, but he has better hands than the LSU-alum. The fact Brees had confidence to go to Colston for the go ahead score in the 4th quarter speaks volumes about his confidence in the 7th round pick out of Hofstra. The Gut Check picked up Colston last week in his local league where they run 4 WR sets. He may have to pair Colston and Jennings with Harrison and Galloway if the two rookies continue to out produce his mid-round selections of Burleson, Lloyd, and Parker.

You Can Take It To The Bank With These Guys: Holt; Harrison; Chambers; Coles; Driver; Fitzgerald; Stallworth; Johnson; Boldin; and Burress.

A Notch Below: Galloway; Toomer; Owens; Wayne; and Jennings.

Ride The Rollercoaster: Bennett; Mason; Colston; and Carter.

The Gut Check believes these early returns may predict a high success rate for the rest of the year because of the months of preparation leading up to the regular season. If a player has talent, gets the repetitions in practice, and the key components of the team remain reasonably healthy, then it stands to reason what one observes in the early stages of the season will play out for the rest of the year. Steve Smith, Darrell Jackson, and Randy Moss are all prominent names missing from this list and they all have something in common: injuries either to themselves or their quarterback.

Let's see if the same thing happens with tight ends. The Gut Check didn't conduct an early September observation of tight ends in 2005, but we'll use this year as the starting point.

Target Practice For TEs
Receiver
Team
G
GS
Target
Rec
Yard
TD
FFPts
FFPts/G
Conv %
L.J. Smith
PHI
2
2
18
13
167
0
16.7
8.4
72%
Todd Heap
BAL
2
2
17
10
63
1
12.3
6.2
59%
Tony Gonzalez
KC
2
2
16
12
88
1
14.8
7.4
75%
Kellen Winslow
CLE
2
2
16
12
105
1
16.5
8.3
75%
Jason Witten
DAL
2
2
14
7
78
0
7.8
3.9
50%
Desmond Clark
CHI
2
2
13
10
162
1
22.2
11.1
77%
Ben Watson
NE
2
2
13
6
89
0
8.9
4.5
46%
Chris Cooley
WAS
2
2
13
3
20
0
2
1
23%
Jeremy Shockey
NYG
2
2
10
7
76
1
13.6
6.8
70%
Jermaine Wiggins
MIN
2
0
10
7
53
0
5.3
2.7
70%
Dallas Clark
IND
2
2
10
6
65
1
12.5
6.3
60%
Antonio Gates
SD
2
2
10
6
81
1
14.1
7.1
60%
Anthony Becht
TB
2
2
9
6
37
0
3.7
1.9
67%
Vernon Davis
SF
2
2
9
5
37
1
9.7
4.9
56%
David Martin
GB
2
1
8
6
44
0
4.4
2.2
75%
Alge Crumpler
ATL
2
2
8
4
49
1
10.9
5.5
50%
Randy McMichael
MIA
2
2
8
4
44
0
4.4
2.2
50%
Bo Scaife
TEN
2
1
8
4
65
0
6.5
3.3
50%
Stephen Alexander
DEN
2
2
7
4
32
0
3.2
1.6
57%
Courtney Anderson
OAK
2
2
7
3
35
0
3.5
1.8
43%
Will this early return of data be as telling for tight ends in 2006 as it was for receivers in 2005? So far, the Gut Check doesn't expect it to follow suit because Jeremy Shockey, Antonio Gates, and Alge Crumpler are among the best fantasy tight ends in recent seasons, but none are at the top of the target list despite healthy production. All three tight ends are functioning in offenses with excellent ground games and it appears they make the most of their more limited opportunities. Heap, Gonzalez, and Winslow are all in offenses that seem to lack a consistent deep passing game at this early stage of the season, which could explain more targets coming their way. Yet this wouldn't explain Desmond Clark or L.J. Smith's targets or league-leading productivity.
There are some worthwhile conclusions to draw from this data. First, Kellen Winslow may be prone to making a lot of noise, but he's been very productive when given the opportunity. The son of the Chargers Hall of Famer has converted on 75% of his targets and in 3rd among tight ends in standard fantasy scoring systems. Look for the 3rd-year Brown to continue his climb up fantasy depth charts in 2006.
Jason Witten has been a disappointment, but not due to the presence of Anthony Fasano. The Cowboys starter has only converted on 50% of his opportunities and that includes dropped passes. Keep using Witten in your lineups unless you begin to hear about Parcells lacking confidence in him.
In contrast, Chris Cooley has been off to a slow start, but he hasn't had an inordinate number of dropped passes. He's more of a victim of errant, Mark Brunell throws. The passing game in Washington has been a huge disappointment thus far.
Ben Watson is also getting a fair share of looks, but the lack of help outside allows defenses to concentrate on the Patriots tight end. While Chad Jackson looked pretty good on Sunday, he's still a rookie and performing in an offense that lacks a high-end #1 receiver.
Recently, the Gut Check has received a several requests to not only post his draft results for his fantasy teams, but also his lineup choices for the week ahead. Yours truly is glad to do so with the given that he'll likely make some last-minute changes to his lineups from time to time. Overall, the Gut Check was pleased with his drafts. His lineup choices are another story. Next to each team is a short explanation of the league, his stats after two games (record and points scored per game vs. the league average), and comments about the draft process. Each player he lists in bold type will be his projected starter at the time he wrote this column.
The first team is the Gut Check's local league of 11 years. It's a 12-team, standard scoring league that starts 1 QB, 2 RB, 4 WR, 1 TE, 1 K, and 1 DEF. Yours truly is 1-1 with the 3rd-highest point total and tied for the best overall breakdown record against the league after a league high total in week two.

GC's Local League
Round
AABFFL
Pos
Bye
1.01
Larry Johnson
RB
3
2.12
Marvin Harrison
WR
6
3.01
Reggie Bush
RB
7
4.12
Joseph Addai
RB
6
5.01
Joey Galloway
WR
4
6.12
Todd Heap
TE
7
7.01
Kurt Warner
QB
9
8.12
Nate Burleson
WR
5
9.01
Thomas Jones
RB
7
10.12
Marion Barber III
RB
3
11.01
Brandon Lloyd
WR
8
12.12
Ladell Betts
RB
8
13.01
Brett Favre
QB
6
14.12
Charles Rogers
WR
8
15.01
Ryan Moats
RB
9
16.12
Samie Parker
WR
3
17.01
Ravens Def
DEF
7
18.12
Greg Jennings
WR
6
19.01
Michael Turner
RB
3
20.12
Matt Stover
K
7
So far the problem appears to be receivers. The Gut Check posted his league-high score despite starting Nate Burleson and Brandon Lloyd. If he started Jennings and the newly acquired Colston (he dropped Charles Rogers), he'd be the clear-cut points leader. Of course, starting Favre over Warner could have also done the trick, but the Gut Check wasn't even pondering that move after the stinker Green Bay posted against Cleveland in week one.
The Gut Check followed the draft strategy he recommended in his columns pretty much to the letter: value at starting QB, depth at RB, and not collecting tight ends, kickers, or defenses. Funny enough, it's this team's kicker and defense that are on fire!
The depth at running back provides the Gut Check with numerous opportunities to deal for a receiver. Bush has been a decent #2 RB and Addai looks like he may take over that role for this team before the season reaches the halfway mark. Thomas Jones and Betts appear expendable. Yours truly will be shopping the waiver wire before he pulls the trigger on a trade, but the ammo to make a deal is there.
With Larry Johnson on bye the Gut Check will either go with Betts or Jones due to the favorable match up. If Addai goes off against Jacksonville, yours truly will likely stick with Addai over Reggie Bush once week four rolls around. Colston and Jennings are going to get a shot in this lineup, although Lloyd has a nice opportunity against Houston.
This next team was compiled from a mock draft conducted in early June. The participants play out this draft in terms of creating a lineup, but there are no transactions of any type in this league. There are 12 teams and the lineup consists of 1 QB, 2 RB, 2 WR, 1 TE, 1 K, and 1 DEF. Each team had to draft a preset number of players at each position, which limits the level of creativity one can have with one's strategy.

Expert Mock
Round
FF Handbook
Pos
Bye
1.06
Lamont Jordan
RB
3
2.07
Larry Fitzgerald
WR
9
3.06
Corey Dillon
RB
6
4.07
Joey Galloway
RB
4
5.06
Donovan McNabb
QB
9
6.07
T.J. Houshmandzadeh
WR
5
7.06
Jason Witten
TE
3
8.07
Nate Burleson
WR
5
9.06
Marion Barber III
RB
3
10.07
Ahman Green
RB
6
11.06
Mark Brunell
QB
8
12.07
Colts Def
DEF
6
13.06
Neil Rackers
K
9
14.07
Marcedes Lewis
TE
6
15.06
Lawrence Tynes
K
3
16.07
Titans Def
Def
7
Now that you've heard the excuses, the Gut Check is averaging 110 points per contest, bad enough for 9th out of 12th in this total points league. There's only a 25-point separation from 4th through 9th, so yours truly has an opportunity to make up ground. What he's going to need is better play from his backs. He was wise enough to start Green over Jordan last week and will continue to do so, but he's going to need some big games out of these veterans to have a chance. Yours truly drafted Jordan early, but this was before the preseason. If the Gut Check had drafted with the preseason in progress, Stephen Jackson might have been the alternate option. So be it. Yours truly will make the most of his lot with this team. It's easily the worst unit he has in any league. This one should be good material for self-deprecating humor throughout the season.
The team below is from the Fantasy Auctioneer Experts Invitational. The Gut Check is the defending champ of this league. This was an auction style draft with extra points for defensive stats, but otherwise standard scoring. The lineup consists of 1 QB, 2 RB, 3 WR, 1 TE, 1 K, and 1 DEF.

Fantasy Auctioneer Experts Invitational
Pos
Name
Bye
Salary
QB
Steve McNair
7
$4
RB
Carnell Williams
4
$67
RB
Steven Jackson
7
$55
WR
Reggie Brown
9
$10
WR
Joe Horn
7
$9
WR
Donald Driver
6
$15
TE
Todd Heap
7
$9
K
Lawrence Tynes
3
$1
DEF
Baltimore Ravens
7
$2
B-QB
David Carr
5
$1
B-RB
Maurice Drew
6
$1
B-RB
Fred Taylor
6
$7
B-RB
Michael Pittman
4
$1
B-RB
Ryan Moats
9
$5
B-RB
LenDale White
7
$7
B-WR
Samie Parker
3
$1
B-WR
Keenan McCardell
3
$4
B-TE
Dallas Clark
6
$1
This team is 2-0 despite the fact Chris Simms and the Buc o-line have left Cadillac in the garage. Stephen Jackson, the Ravens defense, and Donald Driver have been most helpful. Other than adding a waiver wire kicker, yours truly is cautiously optimistic about his team. His point total is still in the middle of the pack after a low-scoring first week.
Fred Taylor for $7 is looking like a very nice deal at this point. The problem areas appear to be depth at receiver and possibly a starting quarterback. David Carr could turn into a surprisingly good option if he can play like he did last week, but the Gut Check isn't counting on it just yet. This team could defend the championship if they stay healthy and one of his backs experiences some breakout games on a more consistent basis. In other words, this is a decent, but not awesome team. Either Horn and the RB2 spot need to step up their play or someone needs to explode for the Gut Check to have a championship-caliber squad in 2006.
The Gut Check lost a heartbreaker in the SOFA Auction league this weekend. Terry Glenn had enough of an outing for his opponent to edge yours truly by the miniscule total of 124.5 to 123.74. The Gut Check is 1-1 with a squad that should be in the thick of it all season.

SOFA Auction League
Pos
Name
Bye
Salary
QB
Kurt Warner
9
$7
RB
LaDainian Tomlinson
3
$77
RB
Carnell Williams
4
$43
WR
Donald Driver
6
$16
WR
Reggie Wayne
6
$26
WR
Michael Clayton
4
$7
TE
Ben Watson
6
$6
K
David Akers
9
$3
DEF
Tampa Bay Buccaneers
4
$1
B-QB
Philip Rivers
3
$1
B-RB
Michael Pittman
4
$1
B-RB
Michael Turner
3
$1
B-RB
Maurice Drew
6
$1
B-RB
Ryan Moats
9
$1
B-WR
Marty Booker
8
$1
B-WR
Doug Gabriel
3
$1
B-WR
Amani Toomer
4
$1
B-TE
Courtney Anderson
3
$1
The Honorary Groin Shot for last week was starting Michael Clayton over Amani Toomer. The Giants veteran had a terrific week and yours truly could have put this game away early. Still, the roster looks strong. The Gut Check dropped Philip Rivers last week for Chad Pennington and he appears to have strong enough starters and depth at each position to make a run in this league. If the first two weeks are any indication, Michael Turner could turn out to be a decent #2 RB if Cadillac doesn't get it going…the Gut Check is half-kidding…let's hope this isn't the case.
Amani Toomer for $1 could turn out to be a steal. Tomlinson also appears to be worth every dollar. If Cadillac can get started, the Gut Check will be very happy with this team. Did yours truly mention Cadillac hasn't done much?
Fortunately, Driver and Wayne have done enough to ease the Gut Check's pain. He may try to add more depth at RB, but the free agent cupboard for backs is already pretty bare in this league. A trade may be on the horizon.

Dynasty League
Player
Market $
Salary
Term
Moss, Randy WR OAK 
$14
$25
3 yrs
Lloyd, Brandon WR WAS 
$1
$6
1 yr
Johnson, Chad WR CIN 
$18
$30
1 yr
Galloway, Joey WR TB 
$1
$31
2 yrs
Stallworth, Donte' WR PHI 
$71
$22
2 yrs
Watson, Ben TE NE 
$6
$4
4 yrs
Shockey, Jeremy TE NYG  
$15
$16
2 yrs
Dillon, Corey RB NE 
$17
$10
1 yr
Williams, Cadillac RB TB 
$8
$11
5 yrs
Westbrook, Brian RB PHI 
$34
$23
1 yr
Harrison, Jerome RB CLE 
$2
$3
2 yrs
Suggs, Lee RB MIA
$1
$1
2 yrs
Gore, Frank RB SF 
$46
$5
1 yr
Leftwich, Byron QB JAC 
$40
$12
4 yrs
Gradkowski, Bruce QB TB 
$0
$2
2 yrs
McNair, Steve QB BAL 
$25
$26
2 yrs
Feely, Jay K NYG 
$3
$3
2 years
Bosch, Kyle Vanden DL TEN
$14
$14
2 yrs
Umenyiora, Osi DL NYG 
$3
$8
1 yr
Bulluck, Keith LB TEN 
$18
$18
2 yrs
Vilma, Jonathan LB NYJ 
$13
$17
2 yrs
Wilson, Adrian DB ARI 
$8
$16
1 yr
Polamalu, Troy DB PIT 
$19
$13
2 yrs
Practice Squad
Market
Salary
Term
Maroney, Laurence RB NE 
$15
$7
2 yrs
Jones-Drew, Maurice RB JAC 
#N/A
$6
2 yrs
Moats, Ryan RB PHI 
$1
$5
1 yr
This is a dynasty league with a rookie draft, contracts, and market values that fluctuate with each weekly performance. The salary is the amount each owner used to purchase that player. If they drop the player, they gain or lose funds, which can affect one's long-term ability to acquire players. The league starts 1 QB, 2 RB, 3 WR, 1 TE, 1 K, 2 DL, 2 LB, and 2 DB. Scoring is standard on offense as well as IDP. This team is 1-1 and the championship is awarded to the team with the highest power rating based equally on head to head record, total points, and cumulative record against every team in the league. The Gut Check has historically been in the top 2 or 3 in the past five years, but thus far he's 5th out of 10th. Still, that's a big jump from 8th after he started Moss and Galloway in week one and they did practically nothing for him. Yours truly made the foolish move of trading away Jerious Norwood for Ben Watson—he hoped to acquire a cheaper TE that would make Shockey's high salary expendable (there is a cap in this league). Still, the Gut Check has a lot of talent at RB. This may be his most competitive league this year because we experienced a two-team contraction and the pool of talent intensified. For example, the Gut Check was able to acquire Donté Stallworth and Joey Galloway in their expansion draft this spring. Otherwise he would be hurting with Moss, Lloyd and the recently departed Ernest Wilford to choose from as his third starter. Speaking of Moss, he should have traded the receiver. Mike MacGregor was right.
Speaking of Mike, the last league is a 40-player roster dynasty league where he's 1-1. Mr. Compiler creamed the Gut Check's team with a victory by nearly a 100-point margin! Yours truly's team isn't that bad—Mike's is just that good. He's the defending champ and on his way to building a true dynasty. The Gut Check would list this team, but there are enough tables for Krueger in this week's column.