The Weekly Gut Check - Vol. 47
On Target
9/22/05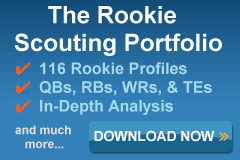 The "Gut Feeling" is often synonymous with a sense of desperation resulting from a lack of preparation. The Gut Check is a huge proponent of studying the numbers, but there's a point where one can place too much emphasis on the wrong information. This can result in the undervaluing or overlooking a player's potential. Therefore, The Weekly Gut Check is devoted to examining the frame of reference behind certain number-driven guidelines that fantasy football owners use to make decisions.

Although The Weekly Gut Check doesn't claim to be psychic, he does believe that he can dispel certain numbers biases and help you make the best choices for your team. We'll keep a running tally of The Weekly Gut Check's insights. This way you can gauge his views as something to seriously consider, or at least seriously consider running the opposite way as fast as you can!


---
The first month of the fantasy football season is a perfect time to look for stats with meaning. This week, The Gut Check will focus on some valuable receiving stats. The key is discerning the value from the fluff.

For instance, the Redskins WR Santana Moss is a top fantasy WR going into week three after his huge one minute-eleven second, receiving spree in Dallas on Monday night. Unfortunately, Moss' 9 receptions for 255 yards and 2 scores doesn't indicate whether he's a good bet to continue this level of production. One can reason that Mark Brunell showed off a great flair for the deep ball, and he and Moss should continue to click. On the other hand, Brunell and the offense looked out of sync for the first 55 minutes. Maybe Washington just happened to catch the Dallas defense in a state of complacency—thinking the game was all but finished—and the momentum was on the Redskins side as Moss and Brunell began to trust each other under live fire.

The Gut Check believes momentum, complacency, and trust are all important factors, but in fantasy football that means you need the power of omniscience to find out which players and teams have it, and which are still looking for it. Although this country's media is doing their darnedest to somehow acquire this power over our society—we're still fortunately far enough away from the "subconscious cam," that thoughts are still private domain. Therefore, the most tangible way to discern how a player is valued in the passing game is the examination of targets—or, how many times a quarterback throws to the player in question. Thus far, here are the leaders:


2005 Target Leaders
Rank
Player
Targets
1t
Deion Branch
25
1t
Terrell Owens
25
3t
Torry Holt
23
3t
Chad Johnson
23
5t
Ashley Lelie
22
5t
Derrick Mason
22
5t
Keenan McCardell
22
5t
Randy Moss
22
5t
Roy Williams
22
10t
Plaxico Burress
21
10t
Joe Horn
21
10t
Muhsin Muhammad
21
10t
Rod Smith
21
14t
Chris Chambers
20
14t
Laveranues Coles
20
14t
Larry Fitzgerald
20
14t
Darrell Jackson
20
14t
Jimmy Smith
20
19t
Marvin Harrison
19
19t
Steve Smith
19
These receivers are the ones getting the most attention from their quarterback. This means quarterbacks and offensive coordinators have demonstrated these receivers are the most trusted, talented, and/or productive threats in the passing game. Deion Branch is a minor surprise at the top of this list. Many fantasy footballers view Pats QB Tom Brady as the kind of guy that lacks a true primary threat, but Branch has proven in big games that he's the go to guy and it's carrying over to the regular season in 2005. Its only two games into the season, but averaging 12 throws per contest is a clear indication that Branch should be a consistent threat.

Owens, Holt, and Johnson are no surprise. They are among the most consistent receivers in fantasy football. Take a look at The Gut Check's Crank Rankings for 2004, and you'll see a clear correlation among receivers with a high Crank Score and those with a high number of targets to start the 2005 season. This is a good indication that these receivers are big parts of the offensive game plan and are premium plays week to week. Players in bold below are also on the target list.



Wide Receivers - 2004
Last
First
G
F Pts/G
Crank
Subpar
Elite
#1 WR
#2 WR
#3 WR
Moss
Randy
11
14.06
68.86
9.09%
63.64%
72.73%
90.91%
90.91%
Muhammad
Muhsin
16
14.88
64.7
18.75%
50.00%
68.75%
75.00%
75.00%
Owens
Terrell
14
14.54
61.11
7.14%
57.14%
64.29%
64.29%
71.43%
Horn
Joe
16
12.87
56.98
6.25%
43.75%
68.75%
75.00%
87.50%
Walker
Javon
16
13.14
54.76
12.50%
50.00%
56.25%
75.00%
81.25%
Harrison
Marvin
16
12.58
52.56
6.25%
31.25%
62.50%
75.00%
87.50%
Holt
Torry
16
12.33
45.84
18.75%
43.75%
50.00%
62.50%
68.75%
Wayne
Reggie
16
12.04
45.52
18.75%
50.00%
50.00%
62.50%
68.75%
Johnson
Chad
16
11.58
41.73
12.50%
43.75%
43.75%
56.25%
75.00%
Bennett
Drew
15
12.79
40.54
20.00%
26.67%
46.67%
46.67%
53.33%
Driver
Donald
16
10.95
39.88
25.00%
43.75%
56.25%
56.25%
56.25%
Bruce
Isaac
16
10.33
38.22
25.00%
31.25%
50.00%
68.75%
75.00%
Kennison
Eddie
14
11.29
37.63
14.29%
35.71%
42.86%
50.00%
64.29%
Stokley
Brandon
15
11.18
37.21
40.00%
40.00%
46.67%
53.33%
53.33%
Clayton
Michael
16
10.27
35.05
12.50%
37.50%
43.75%
50.00%
68.75%
Lelie
Ashley
16
9.43
34.53
12.50%
31.25%
50.00%
62.50%
75.00%
Evans
Lee
15
9.79
32.61
33.33%
33.33%
46.67%
53.33%
60.00%
Smith
Rod
16
9.98
32.19
12.50%
25.00%
37.50%
50.00%
75.00%
Mason
Derrick
16
9.91
31.58
0.00%
25.00%
37.50%
43.75%
75.00%
Smith
Jimmy
16
9.58
31.34
18.75%
25.00%
43.75%
50.00%
68.75%
Over 50% of the players with a top-20 WR Crank Score are in the top 20 for Targets in 2005—Darrell Jackson and Chris Chambers were not much far behind Jimmy Smith, either. Plus many of those players on the Target list without a high 2004 Crank Score have positive, extenuating circumstances:

Keenan McCardell—didn't play an entire season due to a contract holdout and was traded to the Bolts half way through the year. McCardell is still developing a rapport with Brees.


Roy Williams—He was a rookie and injured for a portion of the year. He's clearly the primary guy in Detroit.


Donald Driver—With Javon Walker gone for the year, Driver will succeed Sterling Sharpe, Robert Brooks, and Antonio Freeman as receiver that carries the Packer's aerial attack.


Michael Clayton—Another 2004 rookie.


Steve Smith—was in the top 20 in 2003, but hurt in 2004.

How does this information help us view a player like Santana Moss or say, Terry Glenn? Moss had the 10th highest Crank Score in 2003 in his breakout season with the Jets, but he dropped to 52nd overall after playing with leg injuries throughout much of the season. A change of teams certainly didn't have an adverse affect on Terrell Owens, Randy Moss, or Keenan McCardell. The only problem is whether Santana Moss will be getting enough chances to make big plays. The early indications are not positive, but if you own Moss he's still worth consideration until his workload becomes clearer.

Terry Glenn was ranked 23rd last season, but only played 6 games due to injury in 2004. The Cowboys receiver was 28th in 2003, so his performance has been more predictable. Although not in as much demand as Santana Moss, Glenn and his past success with Drew Bledsoe should translate into fantasy success as a quality #3 WR in many leagues. Glenn also presents more value, because there is less risk in acquiring him in most leagues. The Gut Check isn't recommending Glenn over Moss, but if you are trying to take a flier on a player, it may be easier to acquire Glenn with a lower risk-reward ration.

Another stat that is useful for determining players that should see an increased role in the offense is the percentage of passes caught. Here's what this looks like for early 2005:

2005 Percentage of Passes Caught
Rank
Player
Pct. (Caught/Target)
1t
William Henderson
100.0 (8/8)
1t
Deuce McAllister
100.0 (8/8)
1t
Reuben Droughns
100.0 (7/7)
1t
Brian Finneran
100.0 (7/7)
5
L.J. Smith
92.3 (12/13)
6
Chris Perry
90.0 (9/10)
7t
Edgerrin James
87.5 (7/8)
7t
Erron Kinney
87.5 (7/8)
7t
Marcel Shipp
87.5 (7/8)
7t
Jeremy Shockey
87.5 (7/8)
11
James Thrash
85.7 (6/7)
12
Larry Fitzgerald
85.0 (17/20)
13
Ahman Green
83.3 (10/12)
14
Frisman Jackson
81.8 (9/11)
15t
O. Ayanbadejo
80.0 (8/10)
15t
Chris Baker
80.0 (8/10)
15t
Hines Ward
80.0 (8/10)
15t
Reggie Williams
80.0 (8/10)
19t
Randy McMichael
77.8 (14/18)
19t
Patrick Crayton
77.8 (7/9)
Backs and tight ends make up a huge portion of the list, but there are some notable receivers as well. Larry Fitzgerald's impressive 85% catch rate is especially good, considering he was targeted nearly twice as much as most of the players on this list. This stat should clearly tell fantasy owners that Fitzgerald should continue to experience a quality season as long as he remains healthy.

Frisman Jackson and Patrick Crayton are surprises on this list. Jackson has done very well with 11 targets, and this stat substantiates the logic behind many owners decision to claim him of fantasy waiver wires. But the receiver to watch is Jacksonville's Reggie Williams. His 80% catch to target percentage indicates he's making the most of his opportunities, and should increasingly gain Byron Leftwich's confidence over the course of the next few weeks. Williams worked hard in the off-season to get himself into position to prove that he was worth such a high first round pick. If you've seen him play at all this year, then you know he's displaying a renewed passion for the game intertwined with the desire to prove the critics they were too quick to judge him from a lackluster rookie year.

Another player that should be available at a reduced value is RB Ahman Green. There are so many people down on the Packers that they are also writing off Green's fantasy prospects. Green is still a decent #2 RB after two weeks and his numbers should only improve due to Javon Walker's absence. This increase should manifest itself in the passing game, where Green has long proven he's a capable receiver out of the backfield. Thus far, Green has been targeted 12 times in two games—more than any starting RB in the NFL.

Chris Perry is quickly turning into a coveted fantasy free agent. Perry is Marvin Lewis' guy, and the second year back is beginning to demonstrate his all-around skills. The Gut Check believes when a non-starter has been targeted 10 times in two games that he will soon be at the very least, a "co-starter," in the backfield.

Note: Target and Target Percentage Stats were cited from Stats, Inc.

If you didn't see last week's column, The Gut Check is providing scouting profiles and checklists on NFL prospects—college juniors and seniors. The checklist and profiles include:

An overall weighted score for the position on a 100-point scale


Position specific criteria broken down into key components


Game day stats


Analysis and commentary of each key component based on film study of the prospect's performance in live action


Analysis and commentary of overall strengths and weaknesses based on film study
Each player will have two pages of information devoted to his performance. The Gut Check will be covering prospects at QB, RB, WR, and TE. In the future, this will also include analysis of each player's fantasy prospects.

This first profile was of Bowling Green junior QB, Omar Jacobs. This week, The Gut Check provides his scouting report on Arizona RB Mike Bell:

An All-Pac Ten Honorable Mention in 2004


Two 900-yard seasons


Regarded as one of the more underrated RB prospects in his class
The Gut Check scouted Bell's opener at Utah, a quality Mountain West team that just graduated a lot of solid players, but has young talent that performed as a well-coached defensive unit. Although Arizona has a below average offense, they run a pro set, and lot of Bell's runs came out of the I-formation or single back sets. Bell is known as a tough runner that isn't as elusive some of the top prospects, but possesses a good burst. The Gut Check thought Bell was more elusive than many perceived, but also not as powerful a back on this day. Yours Truly will be looking forward to reviewing a second, and possibly third game of Bell's before the season ends.

The reports are in Adobe Reader, a very common program on most PCs today, but free to download if you don't have it.