The Weekly Gut Check - Vol. 73
The 2006 Preseason All-Gut Check Team
8/31/06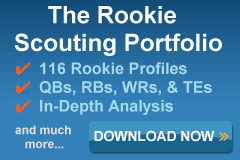 The "Gut Feeling" is often synonymous with a sense of desperation resulting from a lack of preparation. The Gut Check is a huge proponent of studying the numbers, but there's a point where one can place too much emphasis on the wrong information. This can result in the undervaluing or overlooking a player's potential. Therefore, The Weekly Gut Check is devoted to examining the frame of reference behind certain number-driven guidelines that fantasy football owners use to make decisions.

Although The Weekly Gut Check doesn't claim to be psychic, he does believe that he can dispel certain numbers biases and help you make the best choices for your team. We'll keep a running tally of The Weekly Gut Check's insights. This way you can gauge his views as something to seriously consider, or at least seriously consider running the opposite way as fast as you can!


---
Something or someone that becomes unexpectedly successful or important after a period of being unnoticed, ignored, or considered unpromising or a failure is considered a Sleeper. As defined by www.Dictionary.com, the Gut Check is a notorious collector of sleepers—be it cats, people, or fantasy football players. August is peak season for sleepers, and yours truly is excited to review his 2005 collection plus unveil his 2006 squad.

The All-Gut Check Preseason Fantasy Roster is a fantasy team comprised of mid-to-late round players or potential waiver wire picks. This is not a squad of front-runners, but a unit of overlooked, under-appreciated, and hopeful overachievers that could benefit your fantasy team in 2006. But first, here's how his '05 roster did…

2005 All-Gut Check Offense
Offense
1st Team
2nd Team
Comments
QB
Byron Leftwich
Steve McNair
Each had their moments, but not enough
RB
Stephen Davis
Jarrett Payton
Davis started great, but didn't finish. Payton had one okay game.
RB
Mike Anderson
Frank Gore
Anderson and Gore played to TGC's expectations—Gore now starts in SF.
WR
Kevin Curtis
Matt Jones
Curtis was a fantasy surprise. Jones, like Leftwich, had moments.
WR
Travis Taylor
Bobby Engram
Engram turned into a viable starter. Taylor? Maybe this year.
WR
Antonio Bryant
Samie Parker
Bryant was right on the mark. Parker looked very good in spots.
TE
Ben Watson
Kris Wilson
Watson showed potential. Wilson saw the bench.
Defense
1st Team
2nd Team
DE
Kyle Vanden Bosch
Justin Tuck
Vanden Bosch=fantasy stud. Tuck? Moments as a reserve.
DT
Darnell Dockett
Gerard Warren
Warren revitalized his career. Dockett was a disappointment.
LB
Karlos Dansby
James Harrison
Dansby excited fantasy owners. Harrison, not so much.
LB
Donta Thomas
Michael Boley
Thomas didn't even start. Boley surprised and could do so again.
LB
Odell Thurman
Derrick Johnson
Thurman became a top tier fantasy LB, Johnson was good for a rook.
LB
Rosevelt Colvin
DeMarcus Ware
Nada
CB
Antrel Rolle
Ricardo Colclough
Rolle got hurt. Colclough saw the bench.
S
Sean Jones
Mike Rumph
Jones may be ready this year. Rumph will now have to improve in DC
Yours truly had a squad that looked a lot like the Dolphins last year: a decent ground game, inconsistent QB play despite playmakers at the receiver/tight end spots, and a defense with good run stoppers and pass rushers, but weak in coverage. There were definitely some players that could have helped your team here. The Gut Check hopes he can improve his sleeper skills in 2006 and field champs from what some people consider a field of chumps. This year he believes this all-sleeper squad has big-play ability on both sides of the ball.
2006 All-Gut Check Team
Offense
1st Team
2nd Team
QB
Steve McNair
Jon Kitna
RB
Wali Lundy
DeAngelo Williams
RB
Fred Taylor
Marion Barber III
WR
Antonio Bryant
Greg Jennings
WR
Michael Clayton
Isaac Bruce
WR
Mark Clayton
Terry Glenn
TE
Ben Watson
Dallas Clark
Defense
1st Team
2nd Team
DE
Trevor Pryce
Darren Howard
DT
Mike Patterson
Anthony McFarland
LB
Thomas Davis
Kevin Burnett
LB
Will Witherspoon
Ernie Sims
CB
Will Allen
Fabian Washington
S
Madieu Williams
Michael Huff
The All-Gut Check Preseason Offense
Quarterbacks: The Gut Check said enough about McNair in both the QB-WR combo study and last week's Bold Predictions. Kitna is a different story. The Lions were perennial underachievers on offense and much of this had to do with one thing: lack of leadership in the huddle. Joey Harrington may turn out to be a decent quarterback one day, but he wasn't a good match for a youthful team and a coach like Mariucci—a player's coach that had his best days as either an assistant or head coach of veteran-laden squads.
Jon Kitna has been through the worst of what a starting quarterback can face in the NFL. After beginning his career in Seattle with some promise, he fell out of favor when Holmgren arrived to town. Kitna landed in Cincinnati and at the time, the Bengals were the least attractive franchise for a marquee player in the league. From top to bottom this organization earned intense criticism for its performance, but Kitna persevered and continued to improve his play. His leadership skills evolved and the Bengals became confident they could win with him under center despite the fact Carson Palmer was the franchise.
The Lions' new starter has said this offense is a great fit for his style of play, which is an aggressive downfield mentality. The coaching staff certainly feels this way. Thus far, Kitna's preseason performance has been strong. But it's his ability to lead this young team and behave as an extension of the coaching staff that will help this offense click. Too much young talent can lead to lack of accountability for one's actions. Detroit's players have suffered from this problem for years. It's one of the reasons why fingers got pointed at Harrington. Ultimately, he had to take the reins of this team but for reasons unknown to the general public it never happened.
Kitna will throw his share of interceptions, but look for a lot of big plays to Roy Williams this fall. If your league rewards for 300-yard games and doesn't count against your for interceptions, Kitna is a great late round prospect as a #2 QB. He could outperform your starter until you have enough sense to use him.

Running Backs: The Gut Check told you to stay away from Domanick Davis, right? He also told you in his rookie impact series that Wali Lundy could surprise. If you listened, you might have drafted a great late round value for 2006. Sure there's a possibility Houston trades for a back, but Lundy is still good enough to see time and will know the system better than whomever arrives prior to week one. Here is the Gut Check's view on Lundy back in March from the 2006 Rookie Scouting Portfolio. He has also talked enough about Marion Barber III. Anyone else notice Barber outplays Jones in most games where they are featured together? It could just be the preseason, but the Gut Check always liked Barber as a back since he was a freshman at Minnesota.
Yours truly believes DeAngelo Williams is the best back from the 2006 draft not picked by the Saints. He didn't show much in training camp, but against the Dolphins he put on a show both as a kick return specialist and runner. While Williams demonstrated his speed as an outside runner, what should have impressed you was his ability to spot the holes inside, make quick decisions, and make subtle moves in traffic to exploit the openings. Deshaun Foster should have a great year on paper (this is why he's not a top 10 back in drafts—because every other fantasy owner heeds the "on paper" comment when considering him). In reality, most owners are anticipating Foster to be on the injury list so Williams is a wise choice.
Foster beginning to garner a reputation as fantasy football's new Fred Taylor. Maybe that's a good thing for the Jaguars back. Could it mean losing the label to someone else might help Taylor shake the injury bug? The Gut Check could get really counter intuitive and propose EA Sports pick an oft-injured talent for the Madden Cover so he winds up having a career year. You have to agree Fragile Fred would have to be the sentimental pick in this "what if" situation.
The Jacksonville runner has Pro Bowl skills. This year he reported in fantastic shape and with Greg Jones out of the year, he is not likely to fall victim to any organizational politics. It's likely Fred's last chance to make the most of his situation. Considering where you can draft him, he's the perfect third back. The Gut Check watched Taylor in the preseason and as usual, the Jaguars' runner looked as good as ever. Since you know he'll fall below #2 RB status in drafts, it's okay to say "health-willing" and pick Taylor with some confidence.
Receivers: Mark Clayton was one of the second half wonders the Gut Check researched in June. With the addition of McNair, the chances of Clayton surpassing his draft value are quite high. The second-year receiver out of Oklahoma was regarded in many circles as the most NFL-ready receiver from his draft class. Derrick Mason is a great mentor for this young receiver and look for him to build on his rookie year stretch run.
Now Michael Clayton of the Bucs knows a thing or two about spectacular rookie seasons. He also understands the sophomore slump. Injuries derailed Tampa's Clayton in 2005, but he has returned to full health and committed to regain his status as one of the best young receivers in the game. The Gut Check saw enough from Clayton against the Jaguars last weekend to believe it will happen—Clayton looked lighter, quicker, and more fluid than he did all of last year. He should do an excellent job working the middle of the field opposite Joey Galloway's vertical game. If Galloway should go down, David Boston looks like he could make things easy enough for the 3rd-year receiver from LSU to produce at a rate where his fantasy owners become winning fantasy owners.
The Gut Check profiled Antonio Bryant in his WR breakout study. Greg Jennings was one of the two rookies the Gut Check believed would make his mark early. Neither of these receivers has disappointed in the preseason and if you aren't targeting them in the late rounds of your drafts, you'll likely be kicking yourself in December.
So then there's the wily veterans Terry Glenn and Isaac Bruce. Glenn had the type of season that should have raised his draft status among fantasy owners, but the acquisition of Terrell Owens and Glenn's long history of fragility keeps his value depressed on draft day. That's good for us bargain hunters, but the veteran out of Ohio State hasn't helped us out with his spectacular play in August. Still, he's not season as a top-20 receiver in most leagues and that's likely where he'll end up at the end of the year.
Bruce's value dropped significantly with the emergence of Kevin Curtis and the absence of Mike Martz's offense. The Gut Check even saw an owner drop Bruce from his dynasty roster this weekend. Bruce was hurt for portions of the 2005 season. Although Bruce has a slight hamstring issue, he should be ready for the opener. If Holt every goes down, take a guess which receiver would have Bulger's trust as the primary guy.
If you answered anyone other than the Memphis Reverend then you need sermon from the Gut Check. Bruce still runs some of the best routes in the game and has the capability to get deep. Think of Jimmy Smith or Rod Smith as comparable players but on a better offense. If you still don't see it, intervention might be the solution. When receiver of his skill set is around after round 10, you better act quickly. Kevin Curtis is a promising player, but think of Curtis as a better version of Ashlie Lelie and Bruce as a better Rod/Jimmy Smith.
Tight Ends: For two years now, the Gut Check has been trying to pilfer Ben Watson from Mike MacGregor in their Ironman Dynasty League. Yours truly wound up with Randy McMichael (and Wali Lundy) instead because Mr. Compiler probably believes the same thing about Watson as the Gut Check: a likely top-3 tight end drafted after round 10 in 2006. Sound crazy? See Antonio Gates in 2004.
Watson may actually be a more complete player than Gates at his position. He's faster than San Diego's star tight end—if you haven't seen him chase down Champ Bailey from across the field, you missed one of the best plays of the season—and he was regarded as the best of the recent slew of players at that position out of Georgia that includes Randy McMichael and recent first day pick, Leonard Pope. The only reason Watson wasn't an immediate star had to do with his ACL tear in his first NFL game.
At the end of 2005, Watson had some moments that showed his promise. This summer Watson has only built on this showing and has been the primary target in training camp and preseason games. Because New England has so many players at the position, his value is ridiculously low. But think about the fact that the Patriots have a mostly non-descript receiving corps and that Watson is getting looks in the slot and you can easily conclude that the 3rd-year tight end is poised for a big year.
Still don't believe the Gut Check? Let's look at the others on the depth chart. Daniel Graham is a better blocker than receiver. In 2-TE sets, Watson will be the primary receiver over Graham. Plus, Graham has issues consistently holding onto the ball. David Thomas is a good receiver, but he's more likely to be Watson's back up due to the fact he's a better pass catcher than blocker. Garrett Mills is going to be a pass-catching fullback. Christian Fauria? Washington Redskins. Mike Vrabel? Okay, you got the Gut Check there…but if you are counting on Vrabel to seriously cut into Watson's time then there's nothing yours truly can say to convince that Watson in rounds 10 or 11 is the equivalent of fantasy football grand larceny.
Now that the Colts are looking for a 3rd WR, expect Dallas Clark to see more looks over the middle—especially in the red zone where Stokley had huge outings. Clark is an excellent athlete and tight end. The only problem is he's been on a squad where his pass catching talents have been overshadowed by some of the games best receivers at other positions. This year, look for Clark to be a great pick as your backup, or a very late #1 TE if you only decide to go with one at the position.
The All-Gut Check Preseason Defense
Defensive Ends: The Ravens Trevor Pryce and Eagles Darren Howard are both in similar situations: proven pass rushers on new teams with good defenses and an elite pass rusher on the opposite side. Pryce is opposite Terrell Suggs and Howard complements Jevon Kearse. While both these guys should help Suggs and Kearse produce at an even higher level, they should also see enough single teams to wreak some havoc of their own. Both will be cheaper picks at the position so this theory is worth a shot.
Defensive Tackles: Mike Patterson should benefit from the Eagles' stacked defensive front and the ability of Philly's secondary to pressure the quarterback. This young, athletic defensive tackle could have a surprisingly decent sack total. Anthony "Booger" McFarland (you almost want to mention this guy just for the chance to type Booger in a column—okay, that was a cheap way to write Booger again…and the third time is bordering on gratuitous exploitation of the word) hasn't had an impressive sack total since 2000, but an improved Bucs offensive could give the defense more opportunities to rush the passer.
Linebackers: The Panthers lost Will Withersoon, who the Gut Check believes will have an excellent year as the MLB for the Rams, and the injury of Diggs makes the Carolina linebacker corps a little bare. Second-year man Thomas Davis came out of college as one of the hardest hitters in football and he shows the same propensity to lay the smack down on ball carriers now that he's transitioned from safety to a more natural position for his talents. Look for Davis to be a cheap acquisition that pays dividends with his ability to ring up the tackles for a strong Carolina defense.
Witherspoon is a consummate linebacker that will get his opportunity to be a tackling machine as he switches from the WLB to the MLB with the Rams in a base 4-3 defense. The veteran is an excellent athlete and student of the game that excels both in run and pass coverage. He could be a top-10 fantasy LB at a bargain rate.
Ernie Sims plays with speed and intensity. He seems small for the position, but so does London Fletcher and as did Dexter Coakley, and Sam Mills. Matt Millen may have a questionable track record as a GM and Rod Marinelli is a new coach, but both understand defense and linebackers. Look for Sims to make an impact early and at some point earn some recommendations for defensive rookie of the year honors.
Kevin Burnett is a second year linebacker out of Tennessee that is coming back from a rookie year filled with injury. The Cowboys Jerry Jones was anxious to see Burnett perform this preseason. Parcells has been tutoring Burnett individual on pass rushing techniques and it won't be surprising if the linebacker makes an impact this year. A former safety turned linebacker, Burnett is a smart player that should grow into an underrated performer in real and fantasy football. He should be the ultimate bargain with upside in your IDP drafts.
Cornerbacks: Will Allen can tackle and he arrived to a Dolphin team that needed to upgrade this skill in their secondary. When healthy, Allen is a solid fantasy performer with potential for big games at his position. Fabian Washington along with Stanford Routt, were the two Raider corners picked in the 2005 draft that were panned as certain busts. While the Gut Check never watched Routt in college, he did see a lot of Washington and feels whatever draft analysts and writers bad-mouthing his game were premature. Washington is at times too aggressive, but he's a fine athlete and decent tackler. He has very good ball skills once he intercepts a pass—he scored 10 career touchdowns at Nebraska, 5 were off kick returns. Look for Washington to make the jump this year.
Safeties: Madieu Williams was a great value as a rookie, but like WR Michael Clayton, suffered through a sophomore slump due to injury. Look for the Bengals safety to bounce back with a big year in 2006. He's a ball-hawking player with decent tackling skills that should have more opportunities to rise to the occasion. Michael Huff has the skills to be the next fantasy football version of Williams. As long as he is healthy enough to take the field, he will be the starter for Oakland. This is a sound tackler with the athletic skills to be a competent corner. He should upgrade the Raiders secondary and your team with a late pick.