The Weekly Gut Check - Vol. 62
Applying The Third-Year WR Theory
6/13/06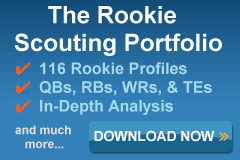 The "Gut Feeling" is often synonymous with a sense of desperation resulting from a lack of preparation. The Gut Check is a huge proponent of studying the numbers, but there's a point where one can place too much emphasis on the wrong information. This can result in the undervaluing or overlooking a player's potential. Therefore, The Weekly Gut Check is devoted to examining the frame of reference behind certain number-driven guidelines that fantasy football owners use to make decisions.

Although The Weekly Gut Check doesn't claim to be psychic, he does believe that he can dispel certain numbers biases and help you make the best choices for your team. We'll keep a running tally of The Weekly Gut Check's insights. This way you can gauge his views as something to seriously consider, or at least seriously consider running the opposite way as fast as you can!


---
For the past two years, The Gut Check has provided a short list of receivers with a high probability of experiencing a breakout fantasy season. The list is based on a historical, statistical profile where receivers reached certain stats the year before they experienced a big year for their team.

The players in yellow experienced a fantasy breakout season of at least 150 fantasy points scored in a standard scoring league (1pt per 10 yards receiving and 6 points per touchdown, bonus points for 100-yard games). The players with an asterisk, were quality starters in 10-team, 3-WR, lineups (top 30 at their position):

Past Breakouts
2005 Candidates
2004 Candidates
Larry Fitzgerald, ARI
Andre Johnson, HOU
Donte Stallworth, NO *
Javon Walker, GB
Lee Evans, BUF *
Reggie Wayne, IND
Charles Rogers, DET
Charles Rogers, DET
Brandon Lloyd, SF
Brandon Lloyd, SF
Roy Williams, DET *
The Gut Check's accuracy rate for predicting true breakout performers plummeted from his initial effort in 2004. Yet over a two-year period, the statistical profiling method has a 63% success rate for locating quality performers one can insert into a starting lineup (The rate jumps to 81% accuracy if you ignore the Gut Check's stubborn repeat picks of Lloyd and Rogers in 2005).
Fitzgerald was clearly the breakout receiver for 2005. Stallworth, Williams, and Evans weren't nearly as consistent, but played well enough to be decent #3 receivers in a fantasy lineup. The Gut Check missed out on T.J. Houshmandzadeh as the 4th quality starter, a player he listed as an honorable mention breakout candidate.
Here's a quick review of the analysis used to arrive at the players (for a more detailed explanation, check out 2004's article):
Created a sample size from the top 15 WRs during a 20-year span.

Pinpointed the highest percentage cluster of years where a breakout occurred.

Created a statistical profile of a receiver that fits the potential breakout criteria.

Determined the receivers from 2005 that fit the profile entering 2006.
If you use Tony San Nicholas' analysis, it tends to yield a much higher accuracy rate. In a short, he discovered 71.4% of rookie WRs over the past 20 years with between 50-59 receptions and 700-799 yards experienced a breakout season the following year. In 2004, the sole candidate to fit the criteria was Andre Johnson. In 2005, there were more candidates (Williams, Fitzgerald, Houshmandzadeh, Stallworth, Givens, McCareins, and Northcutt) but the accuracy rate (57%) was lower than the historical average. Tony's baselines reveal two curious picks for 2006:

50 Receptions, 700-Yard Benchmark
Last Name
First Name
Year
Team
G
Rec
Rec Yd
Rec TD
FF Pts
Parker
Eric
2005
SD
16
57
725
3
90.5
Givens
David
2005
NE
13
59
738
2
85.8
For owners wishing to play it by the numbers, Parker and Givens fit Tony's profiling. The Gut Check doesn't feel either candidate passes the eyeball test as a likely breakout candidate. Both players will be working with a new quarterback, and one (Givens) will be in an entirely new system. Parker and Givens are worth consideration in the later rounds, but not players one should get overly excited about their prospects in 2006.
Historically, the Gut Check's expanded analysis sacrifices some accuracy in percentage points but he winds up with more players to fall within the spectrum of possibility. Based on the last two years, the breakout candidates from the Gut Check's statistical profiling generally performed well enough for consideration in a starting lineup even if their production didn't reach top-15 quality at their position.
Here is the Gut Check's performance profile for a potential breakout candidate.
85% of the sampled breakout receivers achieved this feat between years 2-5 of their NFL career.

81% had at least 41 receptions

78% had at least 2 touchdowns

71% had at least 400 receiving yards.

An average of five receivers per year attain breakout status.
When yours truly ran the numbers, these players made up the initial pool of candidates for 2006.

Breakout Candidates - Initial Query
Last Name
First Name
Year
Team
G
Rec
Rec Yd
Rec TD
FF Pts
Stallworth
Donte
2005
NO
16
70
945
7
137
Branch
Deion
2005
NE
16
78
998
5
130
Jurevicius
Joe
2005
SEA
16
55
694
10
129
Bryant
Antonio
2005
CLE
16
69
1009
4
125
Curtis
Kevin
2005
STL
16
60
801
6
122
Williams
Roy
2005
DET
13
45
687
8
117
Evans
Lee
2005
BUF
16
48
743
7
116
Wilford
Ernest
2005
JAC
16
41
681
7
110
Lloyd
Brandon
2005
SF
16
48
733
5
103
Engram
Bobby
2005
SEA
13
67
778
3
95.8
Parker
Eric
2005
SD
16
57
725
3
90.5
Givens
David
2005
NE
13
59
738
2
85.8
Taylor
Travis
2005
MIN
16
50
604
4
84.4
McCareins
Justin
2005
NYJ
16
43
713
2
83.3
Brown
Reggie
2005
PHI
16
43
571
4
81.1
Chatman
Antonio
2005
GB
16
49
549
4
78.9
Finneran
Brian
2005
ATL
16
50
611
2
73.1
Gaffney
Jabar
2005
HOU
16
55
492
2
61.2
Northcutt
Dennis
2005
CLE
16
42
441
2
56.1
Givens and Parker are on this list, but there are also seventeen other players that match The Gut Check's expanded profile. The first way to pair down these candidates is to eliminate the receivers lacking a firm hold on a starting job heading into 2006. At the time the Gut Check wrote this article, there were receivers that were either fighting for the starting job (Northcutt), shared the #2 spot with another receiver (Gaffney, Engram, Finneran, and Taylor), or were at best #3 WRs for their squad (Chatman).
This leaves thirteen solid candidates. An average of five breakout receivers make the top 15 for the first time in a given year:

13 Solid Candidates
Last Name
First Name
Year
Team
G
Rec
Rec Yd
Rec TD
FF Pts
Stallworth
Donte
2005
NO
16
70
945
7
137
Branch
Deion
2005
NE
16
78
998
5
130
Jurevicius
Joe
2005
SEA
16
55
694
10
129
Bryant
Antonio
2005
CLE
16
69
1009
4
125
Curtis
Kevin
2005
STL
16
60
801
6
122
Williams
Roy
2005
DET
13
45
687
8
117
Evans
Lee
2005
BUF
16
48
743
7
116
Wilford
Ernest
2005
JAC
16
41
681
7
110
Lloyd
Brandon
2005
SF
16
48
733
5
103
Parker
Eric
2005
SD
16
57
725
3
91
Givens
David
2005
NE
13
59
738
2
86
McCareins
Justin
2005
NYJ
16
43
713
2
83
Brown
Reggie
2005
PHI
16
43
571
4
81
Before creating a final list, it's worth noting there are 112 players that did not meet the 41-400-2/2-4 years experience criteria but 1-2 of these receivers make a significant leap in production an annual basis. While the Gut Check prefers to stick with the more defined criteria, here's the list of players with a decent chance to breakout due to their situation and talent, despite lacking the statistical profile.
Breakout Longshots
Last Name
First Name
Year
Team
G
Rec
Rec Yd
Rec TD
FF Pts
Henry
Chris
2005
CIN
14
31
422
6
78.2
Jones
Matt
2005
JAC
16
36
432
5
73.2
Parker
Samie
2005
KC
12
36
533
3
71.3
Edwards
Braylon
2005
CLE
10
32
512
3
69.2
Jenkins
Michael
2005
ATL
14
36
508
3
68.8
White
Roddy
2005
ATL
16
29
446
3
62.6
Randle El
Antwaan
2005
PIT
16
35
558
1
61.8
Battle
Arnaz
2005
SF
10
32
363
3
54.3
Henderson
Devery
2005
NO
14
22
343
3
52.3
Williamson
Troy
2005
MIN
14
24
372
2
49.2
Williams
Reggie
2005
JAC
16
35
445
0
44.5
Vines
Scott
2005
DET
13
40
417
0
41.7
Williams
Mike
2005
DET
14
29
350
1
41
Colbert
Keary
2005
CAR
16
25
282
2
40.2
Rogers
Charles
2005
DET
9
14
197
1
25.7
Cotchery
Jerricho
2005
NYJ
16
19
251
0
25.1
Berrian
Bernard
2005
CHI
11
13
246
0
24.6
Bradley
Mark
2005
CHI
7
18
230
0
23
Another point to consider is the number of receivers breaking the 150-fantasy point mark. In 2004 there were an unheard of 23 receivers with at least 150 fantasy points—the highest total since 1993 (19 players). This was likely a result of the new illegal contact rules. The Gut Check accurately predicted last year that defenses would adjust to the rules, and the average number of 150-point producers would decrease in 2005. The Gut Check expected sixteen to seventeen receivers to hit this production level, but there were only thirteen 150-fantasy point receivers in 2005—the lowest amount in 9 seasons.
So after deviating to six breakout hopefuls in 2005, the Gut Check is going to return to his normal amount of five candidates. Before he reveals his list, here are some of the receivers that didn't make the cut, but are definitely worth drafting in the mid-to-late rounds. Yours truly ranks them from worst to best in terms of his confidence in their skill and situation to have a strong season:
Roddy White and Michael Jenkins, Atlanta
The Gut Check just doesn't trust Michael Vick to take his passing game to the next level. White is the more talented of the two receivers, and when paired with a more productive passer, could become one of the better young receivers in the NFL. What makes White the more promising player is his deep speed. He also gained a decent rapport with Vick as his rookie season progressed. Jenkins is more of a possession receiver, and has some difficulties getting separation and running the quality of routes the Falcons have expected from him. In fact, Brian Finneran is still Vick's most trusted outside weapon. If White can take the next step, it wouldn't be surprising to see Finneran re-establish himself as the #2 WR in this offense and supplant Jenkins.
But as yours truly mentioned, Vick is the key. If the Falcons quarterback becomes a more dangerous passer, White is the likely beneficiary. If not, the only way White passes the 50-reception, 700-yard level is if Matt Schaub takes the majority of snaps as the starter. Schaub is not a better quarterback overall (yet), but he has always been a more polished passer. If Vick goes down in the preseason, bump Roddy White up your draft list.
Eric Parker, San Diego
Parker recently signed a 3-year deal worth $13.5 million. He has become one of the more reliable targets on the Chargers. Parker is a smaller receiver that has a knack for coming up with a big play when his offense needs one. In fact his 71.3% passes caught per target was tops among NFL wide receivers. Parker should be a nice option for Phillip Rivers, but he is still the 3rd or 4th option behind Gates, McCardell, and Tomlinson. He's a great late-round bargain with potential to produce if he moves up the Chargers' progression tree due to an injury.
Samie Parker, Kansas City
Parker became a more consistent part of the passing offense between weeks 12-16 (4 games of at least 5 catches and 50 yards receiving) and gained the trust of Trent Green. Parker is a third-year speedster with a lot of promise due to his routes and skills after the catch. He actually led the AFC in percentage of first downs per target. The question is how wide open will the offense be under Herm Edward's regime now that Dick Vermeil and Al Saunders have left Kansas City. Larry Johnson may be a better runner than Priest Holmes at this stage of his career, but he's not as versatile and it will impact the offensive game plan. The best-case scenario for Parker is he'll be the 3rd option in the passing game behind Gonzalez and Kennison. Unless Kennison gets hurt, Parker is more likely a spot starter for a fantasy team. He'll be a good late round pick and occasional spot starter for bye weeks or short-term injuries for as long as the Chiefs remain healthy at the other skill positions.
Bernard Berrian, Chicago
At 6-1, 180 lbs. Berrian fits the body type of Rams receiver Isaac Bruce. While speed is a big part of Berrian's game he was an all-purpose star that broke the WAC's all-purpose yardage record once held by Ladainian Tomlinson and Marshall Faulk. As a junior he was David Carr's primary target at Fresno State. Berrian looked like a possible first-round pick entering his senior year, but he suffered a season-ending injury in the opener and he decided to red-shirt his true senior year. After a making a full recovery, Berrian had a decent red-shirt senior season and the Bears drafted him in the 3rd round.
Berrian didn't make much of an impact during his first two years, but the Bears were trying to find a quarterback and an offensive identity. Despite these issues, the former Fresno State receiver demonstrated the ability to get deep and make big plays. Last season, Berrian gained greater confidence and the trust of his quarterbacks. He ended his season with a strong playoff effort versus Carolina where he made some high impact plays before getting hurt.
There are a few reasons the Gut Check doesn't have Berrian as a breakout fantasy receiver in 2006. The Bears offense still has a number of question marks. Will the running back be Jones, Benson, or a committee? Who will be the starting quarterback? Will Justin Gage or promising second-year receiver Mark Bradley get the nod at the second starting spot over Berrian? While the Gut Check has more confience in Berrian getting the nod, much of this will have to do with Bradley's recovery from an ACL tear late last year.
Health has been a minor problem for Berrian as a pro. The injuries weren't too serious, but many view his 183-pound frame as a reason to predict he'll continue ot have an injury-prone career. The Gut Check believes it generally takes a couple of years for skill players to learn how to do a better job taking care of their bodies. Receivers like Isaac Bruce, Chad Johnson, and Santana Moss all had to learn how to manage their health throughout a full season.
The greatest obstacle for Berrian will be the Bears quarterback play. Both Brian Griese and Rex Grossman are promising fantasy signal callers, but continuity with a player is very important. Grossman appeared to have that confidence in Berrian. If the Bears young quarterback can remain the starter, Berrian's chances for starter-quality production as a fantasy receiver, increases greatly. Look for a big jump in Berrian's numbers, but not enough for the 3rd-year Bear to become a more than a #3 receiver, at best.
David Givens, Tennessee
Givens found himself a nice free agent deal and should become a solid possession receiver in Norm Chow's offense. He was Tom Brady's Old Reliable in New England, but he was still in an offense that spread the ball around to a lot of different receivers. At 6-0, 214 lbs. Givens is a strong receiver with a professional approach to the game—something the Titans young receiving corps needs.
In other words, Givens is a perfect mentor. This is a guy that has demonstrated in the past that he doesn't complain about being a part of the supporting cast rather than the star. Many people believe Givens went to Tennessee to get the chance to be the go to guy, but the Gut Check doesn't see it. Despite a disappointing follow up effort to a great 2005, Drew Bennett is still the Titans most promising receiver. If anything, Givens helps take some of the pressure off Bennett.
Regardless of the quarterback situation, the Gut Check doesn't believe Givens will greatly exceed his 2005 stats as a Titan. Givens will be better, but he'll simply be on par with Bernard Berrian in terms of his production.
Matt Jones, Jacksonville
The Gut Check is highly tempted to pick Jones as a breakout candidate because the former Arkansas quarterback has proven to be a quick-study at the receiver position. His 6-reception, 94-yard effort in the wildcard loss to New England impressed Bill Belicheck's coaching staff. In that game, Jones demonstrated a level of polish and concentration with his routes and hands that one wouldn't expect from a rookie learning a new position.
Physically, Jones is a freak at his position because one doesn't expect a 6-6, 242 pound player to display deep speed and a smaller man's skill to adjust to the ball. Byron Leftwich quickly got comfortable with Jones in the red zone. Much of Jones' development should be attributed to former Titans coach Steve Walters, who hastened Drew Bennett's transition in Tennessee.
If everything falls into place, Jones could have a breakout season because of his sheer talent and Leftwich's growing confidence. But the Gut Check believes there are too many variables that have yet to fall into place in Jacksonville. First, the Jaguars need to get a more consistent running game. Next, they need to protect Byron Leftwich before defenses get another chance to make him a human rag doll. Will Jimmy Smith continue to be good enough as a primary threat or will he finally take the back seat to Jones, Wilford, or dare yours truly say the slow-developing, celebration-challenged, Reggie Williams? Too many ifs for the Gut Check to feel good about Jones becoming a sophomore superstar—maybe a sometime stud, but not an every week, prime time player. Nonetheless, he's still worth a shot in the mid-to-late rounds because he'll have some big games.
Donte Stallworth, New Orleans
Stallworth has put together consecutive seasons of improvement after a disappointing sophomore campaign. Entering a contract year, Stallworth seems like a candidate that should be primed for a huge year. Throw in the fact New Orleans likely upgraded their quarterback situation with Drew Brees, and drafted the best offensive weapon of the rookie class, and Stallworth looks like a slam dunk to break out.
The problem is Stallworth was very much the Saints primary receiver by proxy. If Joe Horn didn't missed significant time due to an injury would Stallworth have his 2005 production? Stallworth had the second-most drops in the NFL. Although Chad Johnson wasn't far behind the Saints receiver in this ugly stat, the Bengals starter also had 27 more receptions than Stallworth. The off-season issues and the Saints attempts to trade Stallworth aren't exactly a great endorsement of the team's confidence in the physically talented but emotionally immature receiver. This is a receiver that reportedly could have bought a high-end sports car for the amount fines he collected for chronic tardiness to meetings in his first three seasons!
The addition of Drew Brees should keep Stallworth a worthwhile mid-round selection as an occasional starter, but the presence of Reggie Bush will likely push Stallworth down as the #3 option in this offense. Unless Joe Horn has another sub-par year, Stallworth will continue to tease hopeful fantasy owners at the wrong time.
Ernest Wilford, Jacksonville
Wilford is a huge target at 6-4, 218-lbs with great hands and concentration. The third-year, 4th round selection from Va. Tech has regularly shown up Reggie Williams, the Jaguars top ten pick from the same class. Wilford has been clutch for Byron Leftwich and despite his lack of great speed, was tied for 4th in the AFC with 10 receptions of at least 25 yards, and yards per catch.
In fact, an NFL high 85.5% of Wilford's catches went for a first down. Now that Jimmy Smith has retired, Wilford will at the very least be the #2 receiver in the Jacksonville offense. On talent and trust of his quaterback alone, Wilford is an excellent selection. The biggest issue is whether the Jaguars have enough refined talent at the skill positions to prevent opposing defenses from focusing their coverage on Wilford.
Last season, Wilford was spent a lot of time running free underneath coverage because teams were preoccupied with Jimmy Smith. The reason the Gut Check still believes Wilford is a good choice has to do with his ability to make plays in the red zone and tight coverage; Matt Jones development; and the presence of a solid, pass-catching tight end in rookie Marcedes Lewis.
If the Gut Check were picking six candidates, Wilford would be that sixth man. Look for the 3rd year Jaguar to get very close. Expect Wilford to be picked at a variety of places in fantasy drafts. Regardless of where you pick him, he'll perform like solid fantasy #2 WR.
That leaves us with the Gut Check's top five candidates ranked from lowest to highest in confidence level in them having a breakout year in 2006:
Deion Branch, New England
On the surface, Branch seems like the most can't miss candidate on this list. Tom Brady had his most productive statistical season to date and Branch nearly broke the 1000-yard mark for the first time in his career. In terms of his skills, Branch is capable of producing at the level a fantasy owner hopes from a #1 or #2 starter.
Yet as much as Branch is Brady's primary receiver, the Patriots offense is very much a "share and share alike," system where the ball is distributed among a number of viable skill players. In fact, linebackers often get the prime red zone looks over the conventional options. Although Branch led Patriots receivers with 998 yards, he only scored five times. The scary part is five touchdowns are Branch's career high for a season and he has only increased his output by one touchdown every season. At this rate, Branch will need two to three more years just to reach a respectable total for a primary fantasy option!
Statistically, Branch will need around 1145 yards and 6 scores to break the magic 150-point barrier. Based on his previous stats, this doesn't look as attainable as it should. Still, the Gut Check believes this is a reasonable progression for New England's go to receiver, especially when one considers the loss of Givens and the addition of unproven players such as free agent Reche Caldwell and first day pick Chad Jackson.
Branch is not a receiver the Gut Check would like to pick as a starter, but he would be satisfied with the New England pass catcher as his top substitute.
Antonio Bryant, San Francisco
Bryant has worn out his stay as both a Cowboy and Brown, and has been regarded as a player long on talent but lacking in the attitude/behavior department. If anything, Bryant has been too high-strung, which has led to his issues both as a collegian and pro. Still, Bryant did some nice things last year in Cleveland. He was tied for 2nd in the AFC in 1st down receptions in 3rd down situations and was secondly only to Chad Johnson in the conference with receptions of 25 yards or more.
Two things are encouraging about Bryant. First, he had a 69 receptions for 1009 yards and 4 scores in 2005. He's always been a highly competitive player. If Alex Smith regresses or gets hurt, the Niners now have former Browns starter Trent Dilfer whom already has a rapport with Bryant from last season. The addition of Larry Allen and return of Jonas Jennings to the offensive line should give the Niners quarterbacks more time.
Bryant should continue to be on the receiving end of many passes since San Francisco continues to rebuild, and will likely be behind in the second half of a majority of its games. The former Pittsburgh Panther wasn't far from a fantasy breakout in 2005. Expect Bryant to increase his production just enough in 2006 to reach that desired point.
Reggie Brown, Philadelphia
Did you notice the Eagles didn't replace Terrell Owens with a proven veteran free agent? Plus, Philly's only drafted pick at receivers was possession guy Jason Avant? The Eagles second-year receiver, Reggie Brown is a big reason why. The first round pick displayed the ability to produce big gains in the passing game and make a quick adjustment to the NFL. Brown led all rookie receivers with 571 receiving yards. What the Gut Check likes about him is what his teammates and coaches said about him.
Head Coach Andy Reid on how Brown held up from a mental standpoint this season: "He's had a great attitude. He's learning on the run and the one thing about him is that he never hangs his head. He goes full speed and literally learns on the run and fast. You can't ask for anything more from him. He's had a good rookie year in a tough system and he's done some real nice things."

Offensive coordinator Brad Childress on Brown's progression in the system: "Reggie Brown has gotten progressively better. He does something to catch your eye every week. I think he's playing faster here ... You could notice in just his practice tempo that he wasn't feeling his way around. That is so critical, just to not have to think, to be able to go full speed ... He's always had, right from the very beginning; a toughness about him. He's not afraid to get out there and roll around and push corners and kind of make his space because those guys are trying to baptize him. He doesn't take much stuff from those guys ... I don't know that it is consistently reflected in the catches from the standpoint that he may not have gotten the ball thrown his way. But, he's done an awful good job of beating man-to-man and learning how to work a zone."

QB Donovan McNabb on Brown's potential: "I think Reggie is a guy that is coming into a situation where he can learn a lot from the guys that are around him. I think that what he is bringing to the table is big play ability, a guy who you can put the ball in his hands and he can make a couple guys miss. He can turn a six-yard route into a play that can go the distance. He is a strong individual, a guy who is always open for advice and guidance. He is not a guy that thinks he knows it all. He runs great routes and catches the ball well. He works extremely hard and came out to Arizona in the offseason and that says a lot about the type of person he is. Obviously the work ethic of taking time out of his schedule as a rookie, to come to Arizona and work with his teammates, it says a lot about him."

FS Brian Dawkins on Brown's work ethic: "I got a chance to work out with him out in Arizona. I was impressed with him out there and his work ethic first of all. I think he's just confident. He's very confident in what he does and we have confidence in him. I think the one thing that stood out to me most of all before anything else was his work ethic. Working out with him out there in the heat, seeing the work ethic that he has, that was a real plus for me as far as his personality."

Childress on Brown's ability: "All of the physical attributes are there. He has speed and quickness. He has good hands. He can put what's in the classroom on the field. He can make you miss. So yeah, he's got the whole package. When it starts to slow down for him a little bit, then you'll see all of his God-given athletic ability come out."
Coach and player quotes often turn out to be fluff, but when you place them in the context that the Eagles only added Jabar Gaffney and Jason Avant to the depth chart the statements ring truer to life. Brown gained nearly 80% of his receptions and yards in the last 9 games of 2005. The absence of Terrell Owens was a huge factor, but the Eagles have enough confidence in Brown's skills to let him grow into the primary receiver role.
What yours truly likes about Brown is his work ethic and athleticism. This is a guy that would go through high intensity mat drills at UGA wearing a weight vest or bike 50 miles with ankle weights. Donovan McNabb is going to lean hard on Reggie Brown in 2006, and fantasy owners will get a draft day bargain if they can get him as their #3 starter. Brown is still a risk as a #2, but he'll be a strong #3 receiver for your squad if you can land him there.
Brandon Lloyd, Washington
Yes, him again, too. Lloyd's 48 receptions for 733 yards and 5 touchdowns was very close to the Gut Check's projected totals of 52 catches, 709 yards, and 7 scores over a sixteen game period if the Niners receiver didn't miss 3 contests. Unfortunately, Lloyd's total represents no tangible improvement from his 2004 campaign. One could easily attribute this to San Francisco's quarterback woes and the lack of quality receivers to complement Lloyd in the offense. The Gut Check certainly believes this was the case.
Personality-wise, Lloyd was not Mike Nolan's type of player—a cocky, me-first attitude that reportedly grated the nerves of the coaching staff. The Redskins gladly took up the 49ers trade offer and added Lloyd to a receiving corps that includes Santana Moss and Antwaan Randle El. Add former Chiefs and Rams offensive mastermind Al Saunders to the mix, and one can imagine Joe Gibbs dreaming of the Fun Bunch of Gary Clark, Charlie Brown, and Art Monk. According to Mike Martz, the Rams offense is really based on the Redskins prolific attack from that era.
Look for Lloyd to be the complement to Moss with Randle El manning the slot. As long as Mark Brunell remains healthy, Lloyd finally gets to play on an offense with talent. Lloyd is the type of receiver that will make a veteran quarterback look very good—especially with his penchant for the acrobatic. The 4th year receiver will likely be one of those players fantasy owners draft too high for his corresponding production, but if all goes as intended, it won't be too great of a difference between draft day value and actual value. In other words, he's worth the risk if Brunell remains intact.
Roy Williams, Detroit
Williams was at the top of the Gut Check's breakout list in 2005, but the Lions star was victim to injury and inconsistent quarterback play (yet again) in the Motor City. Even so, Williams had 8 scores and averaged over 15 yards per catch in his 13 games and 73% of Williams' receptions and yardage came in the second half of the season.
At worst, if you project Williams 1st half averages (3 receptions, 46.75 yards, and .25 scores per contest) over the course of his games missed due to injury, the Lions receiver would have posted 57 catches for 874 yards and 9 scores—141 fantasy points. At best, one could project Williams to have 66 catches, 1000 yards, and 14 scores if you just double his second half totals—184 fantasy points. The point is Williams is the one bright spot on this moribund Lions offense.
Enter Mike Martz and Rod Marinelli to the Lions coaching staff. As the new offensive coordinator, Martz at the very least should get more consistent quarterback play out of the Lions likely starter, Jon Kitna. The Gut Check likes the addition of Kitna, an aggressive player that should be capable of helping the Lions get things going in the right direction, much like he did in Cincinnati. As a Bengal Kitna worked successfully with a young and talented receiving corps and this point should not go ignored by fantasy owners looking for a late round bargain at the position.
Roy Williams' talent is undeniable, and as the most consistent player on the Lions offense fantasy owners should see their 3rd year starter take the next step. Williams' value should be slightly this year than in 2005's drafts. You won't do too badly in 2006 if Williams is your 3rd receiver in your lineup.

Matt Waldman would like to thank Doug Drinen of profootballreference.com for his indirect assistance with this article. His site provides a comprehensive, and fairly accurate, history of the football statistics available for download and in a format easy to manipulate with database.