The Weekly Gut Check - Vol. 88
If Yours Truly had $ 1 Billion Dollars
12/14/06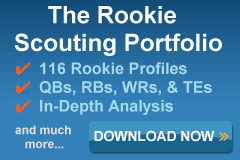 The "Gut Feeling" is often synonymous with a sense of desperation resulting from a lack of preparation. The Gut Check is a huge proponent of studying the numbers, but there's a point where one can place too much emphasis on the wrong information. This can result in the undervaluing or overlooking a player's potential. Therefore, The Weekly Gut Check is devoted to examining the frame of reference behind certain number-driven guidelines that fantasy football owners use to make decisions.

Although The Weekly Gut Check doesn't claim to be psychic, he does believe that he can dispel certain numbers biases and help you make the best choices for your team. We'll keep a running tally of The Weekly Gut Check's insights. This way you can gauge his views as something to seriously consider, or at least seriously consider running the opposite way as fast as you can!


---
It's the end of the year, and the Gut Check is exploring his own football fantasy: Inheriting a billion dollars. It's not like yours truly has any family that would a) have that kind of cash or b) give it to him, but sometimes you just have to indulge your fantasies, right? On second thought, the Gut Check isn't asking you for approval—this is his head-trip—but you are welcome to come along for the ride.

Why $1 billion? According to Forbes' 2004 valuations of NFL Teams, this should be more than enough to buy a pro football team (and still keep a little change for non-football fantasies). Where to start? There are so many options and the Gut Check is enjoying every single one of them.

Which Team Would He Buy?

This was one of the tougher questions. At first, he considered buying the Baltimore Ravens and moving them to Athens, Georgia in an act of vengeance for Art Modell taking this squad out of the Gut Check's football fan birthplace of Cleveland, Ohio. But he doesn't want to be the one to steal a team from a group of fans—he knows what it feels like. Plus, he's got nothing against the city of Baltimore—a city that had to experience Irsay sneaking out of town in the middle of the night for Indianapolis.

He then considered Green Bay. Who wouldn't want to a team with that kind of history? But the city owns that team and there's no way they'd sell it to Gut Check and yours truly just likes that egalitarian philosophy behind the ownership of this organization. You just don't ruin a good thing.

Washington was a candidate, but they already have a fantasy owner, he doesn't want to be near the nation's capital, and the Gut Check is an AFC guy. So are you thinking the Titans? Good guess…but you'd be wrong. The Gut Check's favorite team is relatively close to home and has a good core of young talent. But as much as he's a fan of Tennessee's team, there are several reasons why he'd rather opt for something different. First, there are the uniforms—the Flaming Thumbtack insignia—are you kidding? Yours truly isn't interested in changing the tradition of the team as much as adding the story on the field. Nashville is a nice town, but that's not his kind of town.

The Gut Check's team would be none other than the Oakland Raiders. The renegade tradition of picking unknowns, underdogs, and castoffs fits the Gut Check's fantasy football personality. Then there's the rich history of players and championships—the "Mad Bomber" Darryl Lamonica, Kenny "the Snake " Stabler, Ted Hendricks, Art Shell, Gene Upshaw, Cliff Branch, Marcus Allen, Jack Tatum, Mike Haynes and Lester Hayes, Marcus Allen, Howie Long, and even for an all-too brief time, Bo Jackson.

The Silver and Black uniforms are the best in any sport for their simple but stylish look—nothing like that woman in your life sporting a silver and black jersey—okay, that's another fantasy and not the forum to discuss it. Seriously, this team's apparel should be one of the easiest revenue generators of any team. And what about the fans? As a childhood Browns' backer, the Gut Check appreciates fans that make players nervous for their freaky behavior in the stands. The Black Hole may take the cake.

Then there are the rivalries. The Raiders inspire such a high level of competition among various teams in the league—none better than the Raiders-Chiefs. Sometimes it's fun being the bad boy in life. The Raiders personify that image. While yours truly would eliminate the penalty-ridden, outlaw image of this team, he'd intimidate with aggressive strategies and tough players. Of course, he'd get fired from his FFToday gig once KC's own, Mike Krueger caught wind of his purchase.

And what about the location? This is not a team you want to relocate to Los Angeles yet again! Keep the funk in the East Bay and try to lure those staid, 49ers fans over to the dark side. You know they'll jump off the bandwagon once the Gut Check gets this unit rolling—yeah, Football Scooter, you know you'd don that Silver and Black over your Niner jersey…okay, maybe not, but it's worth a try.

But the clincher has to be the state of the organization. Yours truly would have nowhere to go but up once he bought the team from Al Davis. The Gut Check has tremendous respect for the Raiders' former (yes, in this fantasy he's the former owner) owner, but after yours truly had a heart to heart with the NFL's version of Darth Vader, Davis realized it was his time to leave his empire in capable hands. Of course, what the Gut Check didn't tell the media in the press conference announcing the sale of the team was what he promised Al in exchange for the team. Unfortunately, yours truly can't tell you that—you know Davis—he's a very secretive guy.

Management

But he can tell you that keeping Davis involved in any personnel matters was not part of the agreement. The first thing yours truly would do is to end the reign of the current coaching staff. Shell, Walsh, and Biletnikoff must go. The entire front office, coaching staff, and scouting department would be gone. The Gut Check would begin by hiring Ron Wolf as his consultant in the selection process of his management team. Wolf knows the NFL and would make as great of an advisor as an owner could find—too bad the Cleveland Browns messed this up during the Butch Davis era. This future Hall of Fame personnel man's recommendations would not fall upon deaf ears in the new Raider regime.

This doesn't mean the Gut Check wouldn't have a short list of candidates for these positions that he'd like Wolf to consider. For GM that list would include the Ravens' Ozzie Newsome and former Titans' front office man and Jeff Diamond—a guy that deserved more credit for keeping Tennessee highly competitive at the turn of the century. As long as Wolf doesn't recommend Charlie Casserly, we'll be just fine…yes, Mario Williams leaves one helluva bad impression right now. But so did Heath Schuler—who? Exactly.

Coaches

You know the Gut Check would have Jeff Fisher at the top of his short list. The Titans coach is a cool customer, excellent strategist, and has demonstrated enough flexibility to change his team's strategy while continuing to field a unit that plays with toughness and character. Fisher is one of those coaches that commands the respect of his players, but also earns their loyalty. He also doesn't care what people think of him and maintains a somewhat low-key persona. The Raiders deserve a coach that will restore the type of character this team needs without being a "character."

That's because the Gut Check would make the suggestion to Fisher that he hire the ultimate character (straight off the horse farm) as his defensive coordinator—Buddy Ryan. If there were a coach the Gut Check believes could keep Ryan from being too much of a nuisance while getting the best of him, it would be Fisher. Yours truly loved watching the 46 defenses of the Bears, Eagles, and Titans. The Raiders deserve an aggressive defense that fits with the historic persona of this organization. The Ravens have certainly proved that 46—or at least many elements of it—still wreak havoc on offenses. Plus, Ryan can be a fun lightning rod for the media and Fisher, a former player and disciple under Ryan, would probably enjoy the attention directed away from him as he resumes the Commitment to Excellence. If this doesn't work, Mike Singletary might not be a bad option…

The offensive coordinator on the short list would have to be Marty Schottenheimer—just kidding—Mike Martz would have been a fun candidate to consider, but yours truly wants a bit more of a power running game than the Martz offense provides. Ken Whisenhunt does a lot with a generally conservative attack in Pittsburgh, which means he has a creative streak despite working under Cowher. The Gut Check would also consider offensive coordinator Dough Marrone of the Saints. Yours truly likes the Saints offense this year because they can pound the ball, use misdirection, and throw it downfield. But the guy he'd love to hire away is the Colts coach Tom Moore. The Gut Check wants an offense that sets up the deep pass with the run. Any of these candidates would be suitable. One dark horse candidate would be running backs coach Earnest Byner of the Redskins. Something tells the Gut Check Byner will be a successful head coach in the NFL one day. He wouldn't mind giving him that chance once Fisher decides to hang it up.

Player Personnel Movement

Randy Moss would be given an ultimatum: get in great shape, work on your intermediate routes to at least pose a legitimate threat to the middle of the field, or you're gone. Yes, the Gut Check recalls that Moss wanted out of Oakland, but you know his tune would change with yours truly brings all this to the table. Yours truly believes Moss would comply and have a career year, but if he doesn't, it's off to Buffalo in some kind of deal for Lee Evans as one of the principles—yes, Lee Evans—an underrated player that has shown the ability to get it done with a signal caller like J.P. Losman. Bernard Berrian wouldn't be bad, either, especially if the trade of Moss could yield one of those linemen in return--on either side of the ball.

If Moss stays, the Gut Check would make a push for Brett Favre. You know the gunslinger secretly wants to be a Raider and Moss would probably eat glass to have a shot at playing with the Packer-great. What did you expect? This is the Raiders and they always need some form of vertical attack. Favre has 2-3 more years, health willing, and he'd figure out some way to get the Green Bay QB to pull off a Junior Seau "graduation." If the Favre situation doesn't work out, yours truly goes full bore after Matt Schuab of the Falcons. He's mobile, accurate, and only needs the reps to become a quality signal caller. The Gut Check would also make a cheap play for practice squad quarterback Omar Jacobs, the rookie out of Bowling Green. Jacobs has the accuracy and poise to develop into a surprise starter in a few years. He has a gun, too. If all else fails, Brian Brohm in first round!

Lamont Jordan at running back is just fine. It's the offensive line that needs the most work. If the Raiders could stop being a three and out offense and big reason the defense gets worn out, the defense has enough talent to be good enough to make Oakland competitive. But if the Gut Check could get Favre or Schaub, then Adrian Peterson would be a pick this team might not be able to pass up. The guy runs like a wild man…he's Eddie George with Barry Sanders' feet and Bo Jackson's acceleration.

On defense, the Gut Check would try to lure Cardinals safety Adrian Wilson out of Arizona to pair with Michael Huff as his mentor. Fabian Washington has potential to be a very good corner, but Oakland needs one true shut down guy on the other side to make the 46 effective. Yours truly is more about building the middle of the defense first and working his way to the edges, so the corner would have to wait in lieu of a great middle linebacker and defensive tackle (after acquiring Wilson for the deep middle).

So that's the Gut Check's team. It would probably alienate him from his dad and siblings (Broncos fans, which yours truly would love doing as his form of vengeance for all those years Elway and company beat his beloved Browns in the 80's). The only problem (between you and the Gut Check and off the record) Al told him he'd have to wear some of those crazy, Dr. Evil looking outfits he dons for national television. Just Win Baby…Just Win…


League Updates - Week 14

SOFA Fantasy Auction League: The Gut Check had a first round bye last week, and faces Fantasy Guru in the semi-finals this weekend. Maurice Jones-Drew went nuts last week, and yours truly hopes the rookie can once again pair with LT for a fantasy onslaught on the ground. The biggest question mark is whether to start Chad Pennington versus a poor Vikings pass defense or Vince Young against a good Jaguars unit. Yours truly is leaning towards Pennington, who has been consistent enough.

Projected Starting Lineup: Pennington, LT, Maurice-Jones Drew, Driver, Holmes, Wayne, McMichael, Scobee, and Patriots defense.

Fantasy Auctioneer Experts Invitational: The Gut Check went 10-4 and faces The Talented Mr. Roto squad in the semi-finals after a huge, 139-point weekend to wrap up the season (a league leading point total despite starting Fred Taylor over Maurice Jones Drew). Yours truly isn't changing his lineup now.

Projected Starting Lineup: McNair, Jackson, Taylor, Mark Clayton, Donald Driver, Reggie Brown, Todd Heap, Josh Scobee, and the Ravens Defense.

Local League (Traditional re-draft and scoring): This top-scoring squad ran into a buzz saw last week in a first round playoff defeat. Even if the Gut Check started Reggie Bush or Ladell Betts, the results wouldn't have been different. Stick a fork in this team, but not before it collects some dough for a fine season.

FFTOC: The Gut Check did slightly better, but will need two excellent weeks to move from the 50th percentile to a money spot. Peyton Manning, Reggie Bush, and Donté Stallworth hopefully lead the way this week.