The Weekly Gut Check - Vol. 87
Auction Draft Strategy Follow Up
12/7/06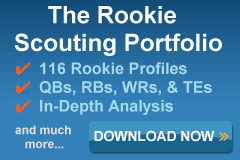 The "Gut Feeling" is often synonymous with a sense of desperation resulting from a lack of preparation. The Gut Check is a huge proponent of studying the numbers, but there's a point where one can place too much emphasis on the wrong information. This can result in the undervaluing or overlooking a player's potential. Therefore, The Weekly Gut Check is devoted to examining the frame of reference behind certain number-driven guidelines that fantasy football owners use to make decisions.

Although The Weekly Gut Check doesn't claim to be psychic, he does believe that he can dispel certain numbers biases and help you make the best choices for your team. We'll keep a running tally of The Weekly Gut Check's insights. This way you can gauge his views as something to seriously consider, or at least seriously consider running the opposite way as fast as you can!


---
This summer, the Gut Check outlined a draft strategy for auction leagues. Yours truly demonstrated both a loose and tight approach to auction drafting and related them to the game of Texas Hold'em. So how did the Gut Check do in 2006? Yours truly is in two showcase auction leagues involving fantasy writers—the only two auction leagues he entered this year. He is the division champion with a 9-4 record in the Fantasy Auctioneer Experts Invitational—the same league he won last year—and in the SOFA Auction league he is tied with RotoWorld with a league-best 10-3 record and a first round bye in the playoffs. With this in mind, let's see how his auction strategies worked in the context of these to drafts.

Fantasy Auction Experts Invitational

Here's the roster the Gut Check originally compiled through the draft with the percentage of the $200 salary cap used per pick.

Fantasy Auction Experts Invitational
Pos
Name
Team
Bye
$
Pct.
QB
Steve McNair
TEN
7
$4
2.0%
RB
Carnell Williams
TAM
4
$67
33.5%
RB
Steven Jackson
STL
7
$55
27.5%
WR
Reggie Brown
PHI
9
$10
5.0%
WR
Joe Horn
NOR
7
$9
4.5%
WR
Donald Driver
GNB
6
$15
7.5%
TE
Todd Heap
BAL
7
$9
4.5%
K
Lawrence Tynes
KAN
3
$1
0.5%
DEF
Baltimore Ravens
BAL
7
$2
1.0%
B-QB
David Carr
HOU
5
$1
0.5%
B-RB
Maurice Drew
JAC
6
$1
0.5%
B-RB
Fred Taylor
JAC
6
$7
3.5%
B-RB
Michael Pittman
TAM
4
$1
0.5%
B-RB
Ryan Moats
PHI
9
$5
2.5%
B-RB
LenDale White
TEN
7
$7
3.5%
B-WR
Samie Parker
KAN
3
$1
0.5%
B-WR
Keenan McCardell
SDG
3
$4
2.0%
B-TE
Dallas Clark
IND
6
$1
0.5%
This draft hovered somewhere between a loose and tight approach. The Gut Check spent 61% of his cap Steven Jackson and Carnell Williams. In fact, his most expensive player was his biggest disappointment! One third of his money was nearly a complete bust. In fact, yours truly only stuck with Williams for the first two weeks before giving way to Fred Taylor—a steal at $7 for a top 20 back. But that's nothing compared to Maurice-Jones Drew for $1. The benefits of studying rookies paid off this year.

While this team wasn't consistent in the classic sense of scoring similar amounts of total points week to week, his squad had enough players that came through in most weeks to gain the victory thanks to bargains at receiver, paying just below premium for his pre-determined choice at tight end, and capitalizing on owners allowing the Ravens defense to go for $2—only the Bears were better and the Ravens were nearly 30 points better than the 3rd ranked team defense.

It's obvious, the Gut Check's depth was lacking after Taylor and Drew, but he bided his time for bargains off the waiver wire. As a result here's his team heading into the playoffs.

Heading Into The Playoffs...
Player
YTD Pts
Carr, David HOU QB
155
Gradkowski, Bruce TBB QB
97
McNair, Steve BAL QB
160
Jackson, Steven STL RB
190
Jones-Drew, Maurice JAC RB (P)
123
Pittman, Michael TBB RB
24
Taylor, Fred JAC RB
128
Williams, Carnell TBB RB
84
Brown, Reggie PHI WR
109
Clayton, Mark BAL WR
77
Clayton, Michael TBB WR (I)
38
Driver, Donald GBP WR
127
Holmes, Santonio PIT WR
56
Horn, Joe NOS WR (Q)
89
Wilford, Ernest JAC WR
50
Heap, Todd BAL TE
86
Scobee, Josh JAC PK
102
Ravens, Baltimore BAL Def
133
While Gradkowski didn't turn out to be a great deal—especially when he could have chosen Young at the time—the addition of Mark Clayton and Santonio Holmes really bolstered his depth during the bye weeks. Of course, the fact his squad remained healthy was a huge reason for finishing with a 9-4 record. His squad doesn't look appealing, but it gets the job done.

Interesting enough, Scott Pianowski of Fantasy Guru also won his division and his draft was centered around the Loose Approach yours truly and Scott took in 2005. Pianowski spent most of his money on Tomlinson, Barber, and Harrison. Two out of three really paid off and he got a huge bargain in Brees. But the waiver wire pick of Tony Romo not only fortified his squad, but also prevented others from making a leap to the next level. The Gut Check's squad certainly would have benefited from the Cowboys' new starter.

Fantasy Guru's squad is clearly the team to beat in this league, but smart line up choices and favorable match ups can turn the tables quickly.

SOFA Auction League

It's funny how a 10-3 record can begin looking like a disaster to begin the year.
SOFA Auction League
Pos
Name
Tm
Bye
$
Pct.
QB
Kurt Warner
ARI
9
$7
3.50%
RB
LaDainian Tomlinson
SDG
3
$77
38.50%
RB
Carnell Williams
TAM
4
$43
21.50%
WR
Donald Driver
GNB
6
$16
8.00%
WR
Reggie Wayne
IND
6
$26
13.00%
WR
Michael Clayton
TAM
4
$7
3.50%
TE
Ben Watson
NWE
6
$6
3.00%
K
David Akers
PHI
9
$3
1.50%
DEF
Tampa Bay
TAM
4
$1
0.50%
B-QB
Philip Rivers
SDG
3
$1
0.50%
B-RB
Michael Pittman
TAM
4
$1
0.50%
B-RB
Michael Turner
SDG
3
$1
0.50%
B-RB
Maurice Drew
JAC
6
$1
0.50%
B-RB
Ryan Moats
PHI
9
$1
0.50%
B-WR
Marty Booker
MIA
8
$1
0.50%
B-WR
Doug Gabriel
OAK
3
$1
0.50%
B-WR
Amani Toomer
NYG
4
$1
0.50%
B-TE
Courtney Anderson
OAK
3
$1
0.50%
Michael Clayton, Kurt Warner, and Carnell Williams were choices that failed to payoff for this team. Worse yet, yours truly dropped $1 super-bargain, Philip Rivers and Marty Booker.
But the Loose Approach can erase a variety of sins when that player you blew nearly 40% of cash to acquire goes by the name of Ladanian Tomlinson. The Gut Check heard a lot of his peers comment on the exorbitant bidding for LT, but he was well worth the price this year. Although not needed, Michael Turner makes a great insurance policy. And check out Maurice Jones Drew for $1—the Gut Check meant it when he said he studied the rookies this year. He targeted Drew in both leagues. In this one, he's actually been starting the rookie with great success in this point per reception scoring system. Speaking of PPR leagues, how can you go wrong with LT, Driver, Wayne, and Drew? Amani Toomer was nice depth for the opening frames of the season. Here's how the roster has changed since the draft.





SOFA: New And Improved...
Player
YTD Pts
Gradkowski, Bruce TBB QB
111.42
Pennington, Chad NYJ QB (P)
155.68
Young, Vince TEN QB
162.74
Jones-Drew, Maurice JAC RB (P)
167.7
Pittman, Michael TBB RB
61.2
Tomlinson, Ladainian SDC RB
395.2
Turner, Michael SDC RB (Q)
51.4
Williams, Carnell TBB RB
123.3
Clayton, Michael TBB WR (I)
78.7
Driver, Donald GBP WR
194.7
Gabriel, Doug NEP WR
77.4
Holmes, Santonio PIT WR
102.8
Jurevicius, Joe CLE WR
82.1
Wayne, Reggie IND WR
213.9
McMichael, Randy MIA TE
98.7
Watson, Ben NEP TE
130
Scobee, Josh JAC PK
91
Patriots, New England NEP Def
132
Vince Young is rapidly making a case to be the regular starter for this squad and the addition McMichael, Pennington, and Holmes has provided serviceable depth for the roster. It's true if Tomlinson goes down at the wrong time, this team could be lost, but that's just the nature of risk. You go for what you want and do the best you can with doing is little second-guessing as possible. "Woulda, Shoulda, Coulda," on a regular basis is only good for columns—not in real life.
The entire season, yours truly has played the waiver wire when it comes to kickers and defenses. As you can see, this did not have a negative impact on his record in the slightest.

Week 12 League Updates (Remaining Teams Not Mentioned Above)
Ironman 3 Dynasty League (40-man Rosters with IDP): This team will have the 5th pick in the draft, but with Tiki Barber retiring (Brandon Jacobs owner) and more established players likely to make full recoveries from injuries, this squad could make a leap in 2007.

Projected Starting Lineup: McNair, Cadillac, Westbrook, Berrian, Fitzgerald, Matt Jones, McMichael, Vinatieri, Darnell Dockett, Kenard Lang, Kyle Vanden Bosch, Channing Crowder, Michael Boley, Julian Peterson, Mike Vrabel, Walt Harris, Charles Woodson, Sean Jones, and Glenn Earl.

MADFAD (Dynasty Contract League w/IDP and Fluctuating Player Values): The Gut Check lost by 10 points this week and he could have made it a 6-game winning streak if he started Stallworth or Dillon, but those are the breaks.

Projected Starting Lineup: McNair, Gore, Westbrook, C. Johnson, Galloway, Stallworth, Shockey, Bullock, Thomas, Feeley, Hali, Grant, Polamalu, and A. Wilson.

Local League (Traditional re-draft and scoring): Yours truly won the scoring title and came on Reggie Bush start (go figure) away from getting a three-way split for best record. Still, armed with Barber III, Betts, Addai, or Bush as your possible #2 RB to LJ isn't a bad way to enter the playoffs. We'll see if he can do some damage this week.

Projected Lineup: Favre, LJ, Barber III, Galloway, Jennings/Colston, Henry (or Jennings), Marvin Harrison, Todd Heap, Matt Stover, and Ravens Defense.

FFTOC: The Gut Check didn't have a great week in the opening round of the finals, but did well enough to be in the middle of the pack. Considering yours truly started Willie Parker and the Steelers defense last night—and still has Romo and Alexander waiting to play Sunday, this could be a good week.