The Weekly Gut Check - Vol. 70
Auction Draft Strategies
8/8/06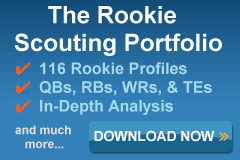 The "Gut Feeling" is often synonymous with a sense of desperation resulting from a lack of preparation. The Gut Check is a huge proponent of studying the numbers, but there's a point where one can place too much emphasis on the wrong information. This can result in the undervaluing or overlooking a player's potential. Therefore, The Weekly Gut Check is devoted to examining the frame of reference behind certain number-driven guidelines that fantasy football owners use to make decisions.

Although The Weekly Gut Check doesn't claim to be psychic, he does believe that he can dispel certain numbers biases and help you make the best choices for your team. We'll keep a running tally of The Weekly Gut Check's insights. This way you can gauge his views as something to seriously consider, or at least seriously consider running the opposite way as fast as you can!


---
The Word Series of Poker is once again under way, and this reminded The Gut Check that it's a good time to address auction drafts. The Gut Check is at best, a mediocre (and infrequent) Texas Holdem player. Still he sees enough similarities in both games to discuss some elements of strategy one can apply to auction drafts that are used from the wildly popular poker variant. He also breaks down his 2005 Fantasy Auctioneer Invitational Draft, and the approach he took to build the foundation of a team that posted a 12-2 championship season versus his peers in the fantasy football industry.

Unless your sole means of following professional football is listening to the radio, or you decided to go to Grass Valley and live an ascetic lifestyle, you're probably aware of the basic elements of Texas Holdem. There tend to be two spectrums of play: Loose (Aggressive) and Tight (Conservative). A loose player takes more risks in situations where a tight player generally plays to limit potential for mistakes The best card players know how to use both approaches to keep their opponents off balance. This requires an understanding of a variety of factors:
The cards you hold

Your opponents' tendencies

The cards on the table

Your available funds

Your opponents' available funds

The funds already in play

The general worth of possible hands
Auction drafting has a lot of similarities. The element of bidding is much like betting. Owners can take a variety of approaches that span the range from loose to tight. Here is where a fantasy owner must learn to be skillful with many of the same variables:

The players you're hold on your roster

Your opponents selection tendencies

The players available

The amount of money you have to spend

The amount your opponents can spend

The amount of money already bid on the player

The general worth of the players in the draft
The first place to begin is to explain how the concept of Loose and Tight applies to auction drafts.

The Loose Approach


Auction drafting with the loose approach involves acquiring as many of the high-valued players you can afford during the early to middle segment of the auction, and then hoping to hit on some minimally priced potential that exceeds your wildest expectations. An example of a team that employed a loose strategy might look like the one below for an auction league with a $200 salary cap, traditional scoring mentioned in most Gut Check Columns, and starting 1 QB, 2 RB, 3 WR, 1 TE, 1 K, and 1 DEF:

Matt Waldman, FF Today
Pos
Name
Tm
Bye
$
QB
Steve McNair
TEN
10
6
RB
Priest Holmes
KAN
5
58
RB
Larry Johnson
KAN
5
18
WR
Terry Glenn
DAL
9
1
WR
Jimmy Smith
JAC
7
14
WR
Torry Holt
STL
9
31
TE
Ben Troupe
TEN
10
1
K
Jeff Wilkins
STL
9
1
DEF
Philadelphia Eagles
PHI
6
3
B-QB
Kurt Warner
ARI
6
3
B-RB
Edgerrin James
IND
8
57
B-RB
Artose Pinner
DET
3
1
B-RB
Marion Barber
DAL
9
1
B-WR
Darius Watts
DEN
9
1
B-WR
Mark Clayton
BAL
3
1
B-WR
Kevin Curtis
STL
9
1
B-WR
Michael Jenkins
ATL
8
1
B-TE
Bubba Franks
GNB
6
1
In it's most raw form, the loose approach is regarded as a Boom-Bust strategy and understandably so. Not so coincidentally, this was The Gut Check's approach: 73% of his cap was spent on Priest Holmes, Edgerrin James, and Torry Holt. On the surface, the strategy behind this draft was very high risk. This is especially true when you consider Priest Holmes did not finish the season. Still there were some decent middle and bottom tier picks. Yours truly will discuss the thought process behind some of these picks later, but it is worth noting that Terry Glenn, Larry Johnson, Kurt Warner, Kevin Curtis, and Jimmy Smith accounted for $37 of cap room and two-thirds of his starting lineup. Johnson, Warner, and Glenn were huge reasons why this team led the league in points per game, record, and won the championship. So there's obviously something to be said about the benefits of an aggressive approach in auction drafts. Yet on paper, this was not the team most people picked as a 12-2 squad, much less a viable contender. But here's what The Gut Check had to say last August in his written review of his draft for Fantasy Auctioneer:

This year I decided to target a few elite talents and then pick my spots for value later. The pervading theme was to not let fear—"False Evidence Appearing Real," stand in the way. The strategy cost me depth at RB and WR but my intent wasn't to play it safe.

The approach worked out very well but as you can readily see, it wouldn't have taken much for this team to be 2-12 instead of 12-2. Still, this is a clear argument in favor of playing to win rather than playing not to lose. This will become even more apparent as we break down this draft in more detail.

The league runner up and 2004 champ, Scott Pianowski of The Guru Report, took a very similar approach as The Gutcheck:

Scott Pianowski, The Guru Report
Pos
Name
Tm
Bye
$
QB
Brett Favre
GNB
6
9
RB
Rudi Johnson
CIN
10
41
RB
LaDainian Tomlinson
SDG
10
74
WR
Marvin Harrison
IND
8
34
WR
Bobby Engram
SEA
8
1
WR
Justin McCareins
NYJ
8
2
TE
Randy McMichael
MIA
4
2
K
Jeff Reed
PIT
4
1
DEF
Pittsburgh Steelers
PIT
4
2
B-QB
Ben Roethlisberger
PIT
4
3
B-RB
Dominic Rhodes
IND
8
2
B-RB
Kevan Barlow
SFO
6
16
B-RB
Reuben Droughns
CLE
4
2
B-RB
Najeh Davenport
GNB
6
1
B-WR
Joey Galloway
TAM
7
2
B-WR
Ronald Curry
OAK
5
2
B-WR
Reggie Williams
JAC
7
3
B-WR
Amani Toomer
NYG
5
3
Nearly 75% of Scott's team revolved around three players: Tomlinson, Harrison, and Johnson. Like the Gut Check, Scott found some huge bargains late in the draft: Joey Galloway, Bobby Engram, Randy McMichael, and Reuben Droughns all made solid contributions to a squad that was second in the league in every category with an 11-2-1 record, 79.5 points per game, and a runner up finish. The common theme was clearly not to play it safe. Look at both rosters and you'll see neither team picked more than one kicker or defense. Interestingly enough nearly half of the league picked a second defense or kicker. In hindsight, that was a waste of money considering one can often get top performers at these two positions off the waiver wire during the early weeks of the season. Once again, this was not a team one viewed last summer and believed it would dominate its division. But it would be inaccurate to say the Loose Approach is always the best approach. It just happened to work out this way for this league in 2005 because of a very common factor in any fantasy league: injuries. The point is the Loose Approach is something you shouldn't fear using.

Based on these two teams, one can draw a few more conclusions about the loose approach. First, you must not be afraid to spend a significant part of you budget on top players. Ladainian Tomlinson cost 37% of Scott's total cap and his starting backfield was nearly 58% of his money. The Gut Check's tandem of James ($57) and Holmes ($58) accounted for the same percentage. Yours truly doubts Scott had a budgeted amount for his backs and if he did, he didn't stick with that number to land Tomlinson. The Gut Check actually thought he was getting a good deal on Holmes and James based on the backs that went before and after these picks. This was especially the case for James, which a few owners made known as we chatted during the draft.

Second, you have to be patient and selective. If you are going to spend over half your money on a backfield, then you better wait for the players you truly covet, make strong bids, and then be prepared to wait for a long period of time before you have enough bidding power to acquire the rest of your squad. This also means you need to track the expenses of your competition and determine their positions of need.

And finally, understand where to spot potential values. Scott and The Gut Check clearly saw this with aging veterans (Amani Toomer, Joey Galloway, Bobby Engram, Terry Glenn, and to an extent, Jimmy Smith) or ascending talent (Kevin Curtis). Naturally, the receiver position is the easiest place to take these chances but quarterback isn't far behind—Kurt Warner and Steve McNair for a combined $9 was good enough for the Gut Check to thrive.

The Tight Approach


A more conservative approach with auction drafts is to spread out one's money on as many quality players as possible. This strategy won't likely net you the elite players on paper, but you'll have several productive performers and enough money to control the draft board in the mid to late rounds. When you have control over the draft board, you get the best chance of acquiring the players you desire with minimal competition. Here is a good example of a successful draft using this approach from the owner and commissioner of the Fantasy Auctioneer Invitational, George Del Prado


George del Prado, Fantasy Auctioneer
Pos
Name
Tm
Bye
$
QB
Donovan McNabb
PHI
6
22
RB
Carnell Williams
TAM
7
29
RB
Corey Dillon
NWE
7
42
WR
Peerless Price
ATL
8
1
WR
Laveranues Coles
NYJ
8
14
WR
Javon Walker
GNB
6
32
TE
Antonio Gates
SDG
10
20
K
Mike Nugent
NYJ
8
1
DEF
Washington Redskins
WAS
3
1
B-QB
Carson Palmer
CIN
10
10
B-QB
Jeff Garcia
DET
3
1
B-QB
Chad Pennington
NYJ
8
4
B-RB
Duce Staley
PIT
4
7
B-RB
Mewelde Moore
MIN
5
9
B-RB
Michael Pittman
TAM
7
2
B-WR
Shaun McDonald
STL
9
1
B-TE
L.J. Smith
PHI
6
3
B-DEF
New York Jets
NYJ
8
1
George distributed 85% of his funds on seven players. Only 35% of his funds were spent on a starting backfield. He got two excellent quarterbacks (and needed them both), the top tight end, a quality receiver, and two quality backs. On paper, this was likely the best team. Unfortunately for George he lost McNabb, Williams, Dillon, and Walker to injuries for at least significant portions of the season. That was half of his starting lineup! George still managed to post a 9-5 record and a playoff berth. It's hard to criticize a team like his, but once again note the fact he drafted two tight ends and two defenses. With the way he controlled the draft board he might have hit on additional depth at the skill positions. Getting two more skill players might not have made a huge difference, but then again Galloway and Glenn were a combined $3—George probably could have outbid both of the above teams for either of their services. But as you can see, it's difficult to go wrong with a more conservative approach because you have a greater chance to field a competitive team and still survive a rash of injuries.
When you use a more conservative approach it affords you more freedom to hunt for potential bargains throughout the draft because you retain your spending power. Carson Palmer for $10 was an absolute steal for George. This doesn't mean other teams in the league didn't think Palmer would have a good year, but he was the 81st player placed for bid after 13 quarterbacks already went off the board. Where and when you place a player for bid is also a strategic point and George clearly took advantage of this situation to land a player he thought would make a great back up to McNabb with potentially strong trade value. In fact, The Gut Check recalls George offering one of these two quarterbacks for Edgerrin James at some point last season.
So, is there an optimal approach? The Gut Check doesn't believe so. That's what makes auction drafts so much fun—they often reflect the risk-taking spirit of the owner. But if you've never participated in an auction draft, here are some basic guidelines you may wish to follow. Think of these as training wheels that you can choose to ditch any time you feel comfortable:

Obtain Or Project Average Auction Values
George Del Prado's site, www.fantasyauctioneer.com is a good place to start. He'll have average auction values for individual players where you can at least get a basic idea of what you might have to spend (give or take) to build your desired roster.
Create A Budget
There is never anything bad about creating a pre-draft plan in any league. The Gut Check suggests you use the average values to create a semi-flexible spending budget before you draft. One benefit to this type of planning is you can afford to be more flexible with your approach depending on the way the early rounds take shape. Here's an example budget based on last year's values for an 18-player roster with a $200 cap and the common scoring system used in these columns that starts 1 QB, 2 RBs, 3 WRs, 1 TE, 1 K, and 1 DEF:

Conservative
Moderate
Aggressive
Pos
%
Price
Pos
%
Price
Pos
%
Price
QB1
10%
$20.00
QB1
5%
$10.00
QB1
4%
$8.00
RB1
20%
$40.00
RB1
30%
$60.00
RB1
35%
$70.00
RB2
15%
$30.00
RB2
20%
$40.00
RB2
25%
$50.00
WR1
15%
$30.00
WR1
20%
$40.00
WR1
15%
$30.00
WR2
10%
$20.00
WR2
10%
$20.00
WR2
7%
$14.00
WR3
0.50%
$1.00
WR3
0.50%
$1.00
WR3
0.50%
$1.00
TE1
10%
$20.00
TE1
5%
$10.00
TE1
3%
$6.00
K1
0.50%
$1.00
K1
0.50%
$1.00
K1
0.50%
$1.00
DEF1
0.50%
$1.00
DEF1
0.50%
$1.00
DEF1
0.50%
$1.00
QB2
5.00%
$10.00
QB2
2.00%
$4.00
QB2
3.00%
$6.00
RB3
5.00%
$10.00
RB3
2.00%
$4.00
RB3
2.00%
$4.00
RB4
3.00%
$6.00
RB4
1.00%
$2.00
RB4
1.00%
$2.00
RB5
1.00%
$2.00
RB5
1.00%
$2.00
RB5
0.50%
$1.00
RB6
1.00%
$2.00
RB6
0.50%
$1.00
RB6
0.50%
$1.00
WR4
0.50%
$1.00
WR4
0.50%
$1.00
WR4
0.50%
$1.00
WR5
0.50%
$1.00
WR5
0.50%
$1.00
WR5
0.50%
$1.00
WR6
0.50%
$1.00
WR6
0.50%
$1.00
WR6
0.50%
$1.00
TE2
1.50%
$3.00
TE2
0.50%
$1.00
TE2
0.50%
$1.00

There are several ways one could distribute the money, but the above examples are based on the Gut Check's advice to avoid that second kicker and defense if your league has a waiver wire. What's nice about having a pre-set plan like this is you can adjust a bit more on the fly. If you decide to take the aggressive approach and you spent $15 less than you budgeted for your #1 RB, then you can see where you want to distribute that surplus for future picks. That's the beauty of planning if you don't get too dogmatic about following your strategy to the letter.

Understand The Bidding Process And Use It To Your Advantage
In most auction leagues, each owner takes turns placing a player on the market for bid. If you are a conservative owner that has patience to reap the rewards of the later rounds after some teams overspend, then place popular players you don't want up for bid in the early rounds. A perfect example of such a strategy occurred last year in the league profiled in this article. The third player placed for bid was none other than Michael Vick. While not many teams would take Vick over Manning, Brady, or McNabb, you wouldn't win him with the opening bid for a dollar. Most owners will place bids simply to up the price to a level of value they see as reasonable for the Falcons quarterback. If they don't, and you get what was a starting quality quarterback for $1, then it's still a winning situation for you. Most likely Vick will go for a price that you aren't willing to pay, but that just means you kept a more desirable player available for a later bid where you could have the spending power to win him without competition—and at a lower price than his perceived value. An example of this strategy working to one's advantage of Scott Pianowski's grab of Brett Favre for $9. Favre was a disappointment, but that wasn't the sentiment before the 2005 season when Walker and Green were still healthy.

While it's fine to bid on players you don't want in the early rounds, this approach gets riskier when team funds get tighter. You don't want to get too cute with placing a player on the block or attempt to drive the price up for your opponents if you know you don't want or need the player. Remember, you could wind up with that player and that means you lost your chance at other prospects just because you wanted to get a spending advantage over an opponent for another bidding situation to come later.

You can also attempt to mix up the bidding process. A few owners tried to slip players by the league with early bids on players not regarded with a high profile. This can catch owners off guard and earn you players at a low cost. Since auction drafts have a faster pace, it's common to catch less experienced owners off guard with an unexpected player nomination.

So let's examine all of these concepts in the context of the Gut Check's draft last year. Here are the first 24 bids to show how yours truly played out an aggressive approach.

The Top 24 Bids
Nom. Order
Name
Team
Owner
Salary ($)
1
LaMont Jordan
OAK
RotoWorld
32
2
LaDainian Tomlinson
SDG
The Guru Report
74
3
Michael Vick
ATL
XpertSports
12
4
Chad Johnson
CIN
Fantasy Sharks
38
5
Jake Delhomme
CAR
Coachbox
12
6
Shaun Alexander
SEA
KFFL
65
7
Peyton Manning
IND
XpertSports
45
8
Priest Holmes
KAN
FFToday
58
9
Willis McGahee
BUF
RotoWire
48
10
Clinton Portis
WAS
Coachbox
45
11
Terrell Owens
PHI
Football Diehards
36
12
Larry Johnson
KAN
FFToday
18
13
Randy Moss
OAK
XpertSports
39
14
Tom Brady
NWE
RotoWorld
14
15
Jamal Lewis
BAL
Coachbox
38
16
Ahman Green
GNB
KFFL
32
17
Daunte Culpepper
MIN
The Huddle
29
18
Marvin Harrison
IND
The Guru Report
34
19
Deuce McAllister
NOR
Footballguys
50
20
Tatum Bell
DEN
RotoWorld
32
21
Jason Witten
DAL
Fantasy Sharks
14
22
Torry Holt
STL
FFToday
31
23
Edgerrin James
IND
FFToday
57
24
Rod Smith
DEN
Footballguys
9

Right away, you can see Scott Pianowski of The Guru Report jumped all over Tomlinson and wasn't afraid to pay a premium price. Shaun Alexander then followed a nearly as high an amount. So it followed suit that Holmes wouldn't be as likely go at a higher price considering the two backs drafted ahead of him. Since Holmes was The Gut Check's top RB in his 2005 Crank Projections, he viewed this selection as a potential bargain at what turned out to be a $58 selection.

What happened next was very interesting—four picks later, Larry Johnson was placed up for bid. This was a smart play by the owner placing LJ on the block because it forced the Gut Check to pay a premium price for Holmes' talented back up and stick to an aggressive strategy for the remainder of the draft. In Texas Holdem this move by the nominating owner would be very similar to a poker player raising a large amount of chips and forcing his opponent to commit early. Fortunately for the Gut Check the combined $76 expense for what amounted to the Chiefs starting RB turned out to be worth the price. If he had backed down on LJ, the season would have turned out much different.

The same dynamic that helped the Gut Check get a relative bargain on a player with Holmes' ability occurred with Torry Holt. A few top receivers were off the board at higher prices before Holt got a nomination for bid. This helped yours truly get a gauge on a maximum bid level relative to Owens, Moss, and Harrison. As a result, he acquired one of the best in the game for a reasonable price.

The real surprise was Edgerrin James. Although the Colts back cost more than each of the seven backs picked before him, the fact he was the eighth RB off the board discourage many owners from making the commitment to pay what might have been considered a premium price. Many owners get too cautious and try to play the game of getting as much as they can for as low of a price as possible. Remember that in some cases, quality is worth every penny. And for a back of James' caliber, $57 turned out to be good value—especially in comparison to McAllister or McGahee's price.

The Gut Check then slipped in picks towards the middle of the process where he could get good value in unexpected positions. Ben Troupe wasn't a great tight end last year, but he had enough good moments to be worth $1 as a mid-round nomination that went unchallenged. Kurt Warner at $3 was a similar play as an aging veteran at a decent price. Terry Glenn was $1 in the 14th round and was more valuable than yours truly's $14 purchase of Jimmy Smith. This combo of Holt, Smith, and Glenn solidified the receiving corps.

While a good draft is a huge part having a successful auction draft season, it's not the only way. The waiver wire was actually one of the reasons why the Gut Check won in the playoffs. If he hadn't picked up and started Frank Gore and Lee Evans for the post season, he wouldn't have won his championship with James only playing a portion of the game during the league's title game. As you can see it was worth playing aggressive last year in more ways than just drafting. Although you don't have to be aggressive in every facet of fantasy football, you'll benefit from using aggressive moves at the right time—just like poker.