The Weekly Gut Check - Vol. 86
The Gut Check's All-Time Fantasy Squad
11/30/06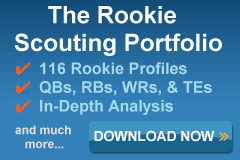 The "Gut Feeling" is often synonymous with a sense of desperation resulting from a lack of preparation. The Gut Check is a huge proponent of studying the numbers, but there's a point where one can place too much emphasis on the wrong information. This can result in the undervaluing or overlooking a player's potential. Therefore, The Weekly Gut Check is devoted to examining the frame of reference behind certain number-driven guidelines that fantasy football owners use to make decisions.

Although The Weekly Gut Check doesn't claim to be psychic, he does believe that he can dispel certain numbers biases and help you make the best choices for your team. We'll keep a running tally of The Weekly Gut Check's insights. This way you can gauge his views as something to seriously consider, or at least seriously consider running the opposite way as fast as you can!


---
Everyone else seems to have the fun of providing his take of the all-time best players so why can't yours truly have a go at it. So this week, the Gut Check lists his All-Time Fantasy Squad. Of course, he could just research the players at each position with the best fantasy seasons of all time, but that's been done in several publications. Instead, yours truly is going to take it from the perspective of players that not only get the job done, but also do it with toughness and a flare for the dramatic that appeals to the Gut Check's football-watching sensibilities.

Remember, fantasy football is first and foremost about enjoying pro football (for those of you that got into it for fame and fortune) and the ultimate fantasy team is one that's not only a winner, but also one filled with players that play a brand of ball you can't help but enjoy when you're sitting in your recliner front of the tube with the remote in one hand, and your favorite beverage in the other. The Gut Check hasn't found his recliner yet, but he does have his team. If you don't like the Gut Check's list, knock yourself out and make your own—he'll field his team against all comers. Since it's the Gut Check's way, his team will have 20 players with a starting lineup of 1 QB / 2 RBs / 4 WRs / 1 Flex / 1TE / 1K / 1 Team DEF.

Kicker
George Blanda

When it comes to player introductions, we'll save the best for last. No offense to kickers (okay, maybe a little) but they aren't the position you invest a lot of time evaluating for upcoming drafts. The Gut Check wants a versatile player at kicker. Therefore, you have to throw out most of the modern era specialists. Adam Vinatieri came to mind as a possibility, but yours truly isn't just looking for accuracy and distance; the Gut Check wants a great kicker that did it kind of in the same way someone moonlights for a little extra cash to help out the family. The guy that fits this description best is George Blanda. The former Raider and Dallas Texan quarterback gives the Gut Check versatility because he'd be great at executing fake field goals, and more depth at the quarterback position (although with his choice, he probably wouldn't even need a backup other than for bye weeks). Any quarterback that played well into his 40's has to be clever and tough. (research more on Blanda.) And in the Gut Check tradition, he's only carrying one kicker.

Tight Ends
Ozzie Newsome, Kellen Winslow, Sr., (Panthers' TE from 90's), Mike Ditka

Say what you want about Mike Ditka as a television analyst or coach, but he was a helluva player. Ditka was the first tight end inducted into the Pro Football Hall of Fame and though there might be better at his position now, the fact that the former Bear was the only rookie tight end to gain 1,000 yards receiver—ever—that's enough to get the Gut Check's notice. The other is a touchdown reception where Ditka literally runs through, around, and away from an entire defensive squad and collapses from exhaustion in the end zone. One of the grittiest plays you'll ever see. In fact, it makes Steve Young's famed touchdown run against the Vikings look like child's play. The Gut Check will gladly watch Ditka every Sunday as long as it's the player version.

When Bear Bryant says you're the best end in Alabama history, you have to pay attention. Back in those days, "end" meant wide receiver and Ozzie Newsome had the hands, body control, and route skills to earn the nickname "The Wizard of Oz." Sure, Kellen Winslow had more notoriety and a better offense around him but Newsome in his prime made some of the most amazing catches you'd ever see. He was a master of the diving, one-handed grab.

Wide Receivers
Hines Ward, Sterling Sharpe, Lance Alworth, and Jerry Rice

Lynn Swann was spectacular and John Stallworth was clutch, but the best all around Steelers receiver is Hines Ward. We all have seen the 2006 Super Bowl MVP can do it all as a receiver, but the Gut Check would go one step further and say Ward has the same approach to football as Walter Payton. Yours truly watched Ward successfully play the positions of tailback, wide receiver, and quarterback on a University of Georgia squad that faced (and had on their squad) a significant amount of NFL talent. As oft mentioned in this column, Ward actually started his senior year at quarterback and actually competed in the Peach Bowl with his jaw wired shut. The guy has no ACL in one knee, isn't exceedingly fast, and not extraordinarily big, but he is usually the toughest guy on the field with the most desire. Every play he makes seems clutch or spectacular in some way—with or without the ball. If you wanted to show your kid a complete football player, Hines Ward would be on that short list of players to watch on a weekly basis.

His career was cut short due to a neck injury, but to end it with an 18-touchdown season explains a lot about the under appreciated, Sterling Sharpe. If Gale Sayers belongs in the Hall of Fame for a spectacular but injury-shortened career, Sharpe deserves more consideration. Check out these stats courtesy of Pro-Football-Reference.com.

Hall Of Fame?
Last
First
Year
Team
G
Rec
Rec Yd
Rec Td
Fpts
Sharpe
Sterling
1988
GB
16
55
791
1
85.1
Sharpe
Sterling
1989
GB
16
90
1423
12
214.3
Sharpe
Sterling
1990
GB
16
67
1105
6
146.5
Sharpe
Sterling
1991
GB
16
69
961
4
120.1
Sharpe
Sterling
1992
GB
16
108
1461
13
224.1
Sharpe
Sterling
1993
GB
16
112
1274
11
193.4
Sharpe
Sterling
1994
GB
16
94
1119
18
219.9
The Packer was a five-time pro bowl receiver with only two seasons not ranked among the top 20 in his position! Imagine what Sharpe could have done if he remained healthy and had Favre in his prime? Imagine Sharpe, Brooks, and Freeman as a receiving corps? Did the Gut Check neglect to mention Mark Chmura and Keith Jackson? We'd be talking about ridiculous numbers from Farve. So as much as yours truly likes Chad Johnson, Sharpe would be destroying an opposing secondary in Cincinnati's offense.

If you never saw Sharpe play let the Gut Check clue you in: He was the Packers passing game. Any distance. Any place on the field. Sharpe had deep speed, incredible concentration, and power as a runner. When Sharpe broke Art Monk's single season reception record in 1993, he was playing the second half of the season with such a bad toe injury he could barely walk Monday through Sunday mornings. It's quite conceivable that if Sharpe averaged 85 receptions and 1162 yards and 9 scores over the next five seasons he would have posted career numbers among the all-time best. As it stands, he was in the top 30 in both catches and yards, but with projected annual production well below the output for half of his career, Sharpe would have been 4th overall among his peers in receptions, receiving yards, and receiving scores.

The Gut Check isn't old enough to have seen Alworth play, but he has seen the NFL Films profile on this receiver and his greatness was undeniable. It's no wonder Al Davis always looks for a game breaking pass catcher, he was on the Chargers coaching staff while Alworth was ringing up defenses for season totals most receivers don't get in 16 games, much less 12 to 14 outings in an NFL where defenses could do a lot more downfield mugging within the rules of that era!

Rice. That is all that needs to be said. Period.

Running Backs
Gale Sayers, Bo Jackson, Earl Campbell, Marshall Faulk, Walter Payton, Jim Brown

Not sure there's a really a "best ever," but you can't go wrong with this short list—with apologies, to Sanders, Simpson, Smith, and Dickerson—especially when you are strictly looking at stats. But like the Gut Check told you, he's selecting this list from the standpoint of entertainment value. Yours truly will certainly hear about cutting Sanders from this list, but as unique a runner Sanders was in the open field, you'll notice two factors prevalent from the players on this list: Power and Versatility. Just because he's a connoisseur of runners, he has to at least give honorable mentions to Tomlinson and former Atlanta Falcon William Andrews (who once knocked Ronnie Lott out cold on a reception off a screen pass for a long touchdown—another in the "incomplete career" category.

You want to get the Gut Check something for the holidays? Get him a compilation of Sayers' greatest open field runs. Yours truly would pop in some late 50's Coltrane into the CD player, sit back with the remote in hand, and watch some of the highest forms of improvisation on a football field (with some of the best from American culture as the soundtrack). Only Reggie Bush while at USC has come close to showing some of qualities Sayers possessed as a runner over 40 years ago. If Bush can manage to do the same in the NFL, a whole new generation will gain more appreciation for the Bears runner as more comparisons are drawn to the rookie.

If Sayers was an artist in cleats, Bo Jackson was a tall tale on the scale of John Henry and Paul Bunyan. Bo was simply the most awe-inspiring athlete yours truly has ever seen. Although the Gut Check has only read about the great Jim Thorpe, Jackson's feats come closest to whom the sports writers tabbed as the greatest American athlete of the first half of the 20th century. There is the story of Jackson in high school striking out the side on nine pitches after purposely loading the bases because he didn't want to pitch. How about Bo breaking bats over his knee on strikeouts or climbing walking up the outfield wall after a warning track grab? Forget about the greatest throw-out of a runner tagging up from third in the history of baseball (Yours Truly isn't a baseball fan, but you just have to be a fan of human potential to admire this play). What the Gut Check remembers is Jackson running with the kind of abandon in the NFL that he only saw from two running backs: Herschel Walker and Adrian Peterson—and both of these backs displayed this style in college!

Maybe Peterson could become the second, but it's likely a stretch to believe it will happen. The legendary Dick Schaap drew an apt analogy of tacklers pursuing Jackson like hunters pursuing a big game animal. Defenses looked like weaponless hunters facing down an animal with the imposing power of a rhino combined with the speed of a cheetah. The Gut Check has had a few sports moments that transcended casual feeling and affected him on a deep level. John Elway's 98-yard drive against his childhood Browns was one such moment. The Browns leaving Cleveland was another. But for some reason, Bo's career-ending football injury stands out as the saddest moment he's experienced as a fan. The Gut Check's favorite position to watch is running back and yours truly thought Jackson had a chance to be the hands down "best ever." The fact several prominent former players-turned-analysts have mentioned Jackson in this light, shows at the very least yours truly isn't alone in his thinking. Not that he cares. When you have a favorite, no one will convince you otherwise.

Earl Campbell was the closest to achieve that level of abandon Bo displayed with the ball in his hands. The Gut Check loves watching Larry Johnson, but at this point of LJ's career, he's only a distant remind of Campbell in his prime. Hines Ward, Jackson, and Campbell are on this list because the Gut Check enjoys offensive players taking it to the defense. It smacks of revenge, vigilantism, and rage that you see from mindless action flicks (then again you can skip these and just watch Clint Eastwood in Unforgiven if you want to admire a character study of power capable of great good and great evil). Campbell in his first three seasons as an Oiler reminds The Gut Check of Eastwood's character coming into the saloon with the shotgun to avenge the fact they decorated the entrance with his dead friend. Campbell was as intimidating on the gridiron in those as pre-rape conviction Mike Tyson was in the ring.

The most versatile back is Marshall Faulk. Power, speed, vision, open field, moves, great hands—what else do you want from a back? On his best day, he's the ultimate weapon on a football field. While the Gut Check enjoyed watching these other backs on a visceral level, Faulk appeals to him most from an intellectual standpoint. If yours truly were to build a football team, he'd want a runner like the former Colt and Ram—possibly more than any save two.

The first? Jim Brown. He never missed a game. He was the target of every defense. He played in the toughest era of pro football. He retired in his prime and held a record that took over 20 years to break. When you're one of the greatest backs to ever play and your proud father is willing to risk looking like a fool to stand by the fact he believes Jim Brown was the best ever, that's a statement. What did you expect from the Gut Check? As a kid that spent his formative football years in Cleveland you first think the Browns were named after Jim, not Paul…

But the one yours truly would want on his team the most is Payton. He combined the do-everything skill of Faulk with the toughness of the other runners mentioned. Put Payton on a great team in his prime and the results might have been scary. Then again, it's a player that overcomes a tough situation that often gets to display his greatness. Payton did this repeatedly behind a shoddy line, against superior competition, and in the elements. You want a player that instills toughness and inspires—that's Sweetness.

Quarterbacks
Brett Favre and John Elway

Yes, Favre gets all the man love from writers and there's a backlash. Who cares, the guy is great to watch. His guts, improvisation, daring, and a gun for an arm are recipe for Sunday excitement. The guy is football. But the one that inspired Farve and left the Gut Check heartbroken from a sports sense is John Elway. While growing up yours truly hated Elway as a player, but you just can't deny his talent. Eventually you just have to accept the greatness of a player stifled by his coach until it was time to dig him out of a hole. The guy had eyes in the back of his head and the greatest arm ever. He ran as well as he passed and he deserved those late career opportunities to win it all. Sure Montana, Unitas, Marino, and Manning might be more disciplined quarterbacks but what do you expect from a writer with the word "Gut" in his moniker? Intuition and toughness—Favre and Elway have these two qualities in abundance.

Special Teams
Billy "White Shoes" Johnson

Forget all the flashy guys. The first one was the best one. Johnson made the end zone celebration cool although he wore nerdy glasses and white shoes. He had more moves than gelatin sliding down a plate. He had a knack for the big play and reminds yours truly of the predecessor to Hines Ward in terms of his joy for the game. He wasn't physical like Ward, but he was crafty. In fact, so crafty his age was somewhat of a mysterious issue as he returned from the Canadian league and played for the Falcons, but he still inspired and thrilled with key returns or runs after the catch. He's the ultimate underdog and you know how much the Gut Check sides with them.


Week 12 League Updates

Fantasy Auctioneer Experts Invitational: The Gut Check has wrapped up the division title with a 9-3 record and will be one game away from a repeat championship appearance. Reggie Brown got a late touchdown, but the Gut Check is still more inclined to leave Mark Clayton in the starting lineup until further notice. The Fred Taylor-Maurice Jones Drew situation is a bit maddening, but in a good way thus far. Here's hoping it continues.

Projected Starting Lineup: McNair, Jackson, Taylor, Mark Clayton, Donald Driver, Joe Horn, Todd Heap, Josh Scobee, and the Ravens Defense.

Ironman 3 Dynasty League: As expected, Mike wasn't merciful (although yours truly did take him 2 out of 2 in Mike's new and inventive 1 on 1 contest called Fantasy Football Thrown Down) and whipped the Gut Check's squad 227-184. Looks like yours truly has a good shot at Ga. Tech's Calvin Johnson…

Projected Starting Lineup: McNair, Cadillac, Westbrook, Samie Parker, Fitzgerald, Matt Jones, McMichael, Vinatieri, Darnell Dockett, Kenard Lang, Kyle Vanden Bosch, Channing Crowder, Michael Boley, Julian Peterson, Mike Vrabel, Walt Harris, Charles Woodson, Sean Jones, and Glenn Earl.

SOFA Fantasy Auction League: Talk about winning streaks—8 games and the division title with a 10-2 record. Yours truly beat a tough Huddle squad that included Larry Johnson, Steve Smith, and Tony Romo. The contest might not have been a 2-point difference if the Gut Check played Vince Young over Pennington, but a win is a win. With the best record in this showcase league, the Gut Check has earned a bye and has a decent shot at winning this prestigious league filled with fantasy writers he respects.

Projected Starting Lineup: Pennington, LT, Maurice-Jones Drew, Driver, Holmes, Wayne, Watson, Scobee/Wilkins (depending on waivers), and the Seahawk/free agent defense.

MADFAD (Dynasty Contract League w/IDP and Fluctuating Player Values): The addition of Charles Grant and Zach Thomas has really bolstered this team. A 4-game winning streak has the Gut Check at a .500 record, and 3rd overall in the league's power ranking system that determines the champion. This is also the 4gh consecutive week the Gut Check has been the high-scoring team. Here's hoping Frank Gore, Westbrook, and Ocho continuing to shine!

Projected Starting Lineup: McNair, Gore, Westbrook, C. Johnson, Galloway, Stallworth, Shockey, Bullock, Thomas, Feeley, Hali, Grant, Polamalu, and A. Wilson.

Local League (Traditional re-draft and scoring): A five-game winning streak, including a big victory over the 2nd place team that has LT, has put yours truly in 2nd place. Unfortunately, he didn't start Addai and those 48 extra points would have given him a 100-point lead for the scoring title. He's still favored to earn this distinction (and the cash), but it's still closer than it should be. No more Reggie Bush starts this year-it's the LJ-Addai Show (or maybe Barber III) from here on out. Colston should make it back this week, but yours truly is in good shape with Chris Henry and Greg Jennings as alternative options.

Projected Lineup: Favre, LJ, Addai, Galloway, Colston, Henry (or Jennings), Marvin Harrison, Todd Heap, Matt Stover, and Ravens Defense.

FFTOC: The Gut Check dropped from 52nd overall to 141st after three of the five teams played more studs to go for the division title. Since yours truly has won a division title before, he's more excited about making the final rounds with solid players left. Is big money ahead? We'll see…

Fantasy Football Handbook Expert Mock: Go figure, no McNabb but the Gut Check's squad has its best week all season. Still, there's little hope for yours truly to do better than 4th overall. This contest is over.