The Weekly Gut Check - Vol. 58
Below The Radar Redux — Receivers
12/8/05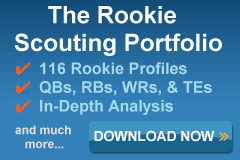 The "Gut Feeling" is often synonymous with a sense of desperation resulting from a lack of preparation. The Gut Check is a huge proponent of studying the numbers, but there's a point where one can place too much emphasis on the wrong information. This can result in the undervaluing or overlooking a player's potential. Therefore, The Weekly Gut Check is devoted to examining the frame of reference behind certain number-driven guidelines that fantasy football owners use to make decisions.

Although The Weekly Gut Check doesn't claim to be psychic, he does believe that he can dispel certain numbers biases and help you make the best choices for your team. We'll keep a running tally of The Weekly Gut Check's insights. This way you can gauge his views as something to seriously consider, or at least seriously consider running the opposite way as fast as you can!


---
Okay, The Gut Check lied. He's not doing target analysis of backs and receivers. Why frustrate anyone heading into the playoffs when most can't do any trades or free agent pickups? The rest of this month is going to be devoted to those of you that share Yours Truly's passion for Dynasty Leagues. This format is by far The Gut Check's favorite way to play fantasy football. This week The Gut Check profiles intriguing players at the receiver and tight end positions. Next week will be devoted to individual defensive prospects. And the week after will cover quarterbacks and running backs.

What makes an intriguing pick? Joe Jurevicius, Koren Robinson, and Donté Stallworth were all likely on dynasty league waiver wires to begin the 2005 season. All three look like solid keepers for next year—two of them turned out to be top-30 receivers in point per reception leagues. Unlike the running back position, there is a significant disparity among NFL teams with talent at receiver. The Colts, Bengals, Rams, and Raiders have enough talent at receiver that they will likely see a few of their receivers go elsewhere. The Packers, Vikings, Seahawks, and Buccaneers just need their corps to be healthy next year. The Lions and Jaguars have the talent, but need more development.

That leaves more than two-thirds of the league with maybe a quality primary guy, yet still lacking a solid complement—not to mention a quality slot receiver. There are some decent prospects in the draft, but The Gut Check will have a lot more detail on many of these guys at FF Today in March (Scouting Profiles). Dynasty league waiver wires from this point to the beginning of next year is the fantasy football equivalent of one of those auto auctions where the IRS or DEA impounded some pretty awesome looking vehicles that are selling for cheap. If you happen to know a thing or two about what you're looking at, you're likely to discover some great deals. Yours Truly mentioned Koren Robinson a few weeks ago—and it looks like he's already showing some promise as a starter for 2006.

Here's a division-by-division look at more intriguing dynasty wide outs and tight ends that could surprise in 2006.

AFC East

WR Andre Davis — the Patriots took a shot on the former Cleveland Brown-Virginia Tech star. The 2005 numbers aren't impressive, but Davis was a promising red zone and deep threat during his first two seasons as a Cleveland Brown. In Davis' first 32 games, he averaged a touchdown every seven receptions. Injuries and the coaching mess in Cleveland were big reasons Davis wound up a free agent. New England found it worthwhile to take a chance on Davis and that in itself is a promising sign. Scott Pioli and Bill Belicheck have a good track record with free agents—think David Patten, Corey Dillon, and Christian Fauria. So what if David Terrell didn't pan out—nobody's perfect. The Gut Check believes the acquisition of Davis is possible recognition that Bethel Johnson isn't working out in New England, and Davis looks like a guy that grow into a more promising role if healthy. So far Davis has remained healthy and had some decent—though isolated—moments or productivity on game day. With a full off-season in New England, Davis could re-emerge as a promising receiver and at a cheap price for you.

WR Eric Moulds — The Bills long-time go-to guy doesn't appear to qualify as an under the radar kind of player, but it's highly possible he'll be a free agent in 2006. Moulds had a pretty good 2004 season, but he has been a fantasy tease for much of his career and that apparently has extended to football reality:

Moulds A Tease?
Year
G
GS
Rush TDs
Rec
Rec Yds
Rec TDs
FPts
1996
16
6
0
20
279
2
39.9
1997
16
8
0
29
294
0
29.4
1998
16
15
0
67
1368
9
190.8
1999
14
14
0
65
994
7
141.4
2000
16
0
0
94
1326
5
162.6
2001
16
0
0
67
904
5
120.4
2002
16
0
0
100
1287
10
188.7
2003
13
0
0
64
780
1
84.0
2004
16
0
0
88
1043
5
134.3
Moulds is what people use to perceive about Tiki Barber until recently—an every other year fantasy player that has the talent to be a top tier guy, but his year to year shifts in production often scare owners away. If Moulds lands in a situation with a good, veteran quarterback he could experience a Keenan McCardell-like renaissance. Moulds first years with Flutie and then Bledsoe were among his best. Moulds matched up with quarterback like McNabb, McNair, or Plummer could be an ideal situation for him. This is a quality starter, one may be able to acquire through either a cheap trade and maybe off the waiver wire in some leagues. Make a deal while Moulds is in hot water with his current coaching staff and reap the benefits later.
TE Kevin Everett — Like Kellen Winslow, Jr., some owners are going to sleep on Everett because of the out of sight, out of mind factor—talent that gets injured prior to demonstrating his skills. Everett isn't same kind of talent as his former Hurricane teammate, but he has enough physical skill to develop into a quality receiver in his own right. His ACL injury means a slow recovery, but he did injure it early enough last year, that he could be very close to 100% prior to the start of 2006 and a cheap acquisition for you. The Gut Check does warn you that Everett was somewhat an underachiever at Miami.
WR Jerricho Cotchery — The former NC State receiver doesn't possess the physical skills of his predecessors Torry Holt and Koren Robinson, but the book on Cotchery is his route running and hands. He continues to impress the current Jets coaching staff and with Pennington suffering multiple injuries to his throwing shoulder, New York's need for a quarterback may precipitate an inquiry to a prospect such as Phillip Rivers. Cotchery would certainly be in favor of this reunion and that could spell good things for his career. Justin McCariens certainly hasn't distinguished himself thus far—in fact, he has demonstrated the very thing that made him expendable in Tennessee: inconsistent hands.
AFC Central
WR Quincy Morgan — Morgan is another former Brown with great athleticism, and had at least one impressive season as the go to guy for a quarterback many view as a bust. Considering Andre Davis, Kevin Johnson, and Morgan all had good seasons and wore out their welcome in Cleveland prior to Butch Davis' firing is a sign that maybe the problem ran deeper than the receiving corps. Morgan's talents are his leaping ability, ability to gain yardage after the catch, and a history of making big plays in key moments. Still, there are some things lacking with his game or Bill Parcells obviously wouldn't have gotten rid of Morgan after dealing away a promising Antonio Bryant to acquire him. Morgan is an inconsistent pass catcher and his routes need more development. Parcells is not a coach that has patience for players with great athleticism but lack consistent application of positional fundamentals. On the other hand Bill Cowher has a more developmental approach that has paid off for him before. The Steelers are certainly lacking an explosive deep threat and it's clear they picked up Morgan with the hope he could be a diamond in the rough. The Gut Check isn't sold on Morgan, but he has the physical talent to be a star if he can learn to be more consistent receiver. If he can't do this in Pittsburgh, don't count on it happening south of the Canadian border.
WR Frisman Jackson — The former quarterback actually put it together for a 100-yard effort in the season opener and he'll get more a few more looks with Braylon Edwards out for the year. An incredibly raw, but impressive athlete when he arrived in Cleveland, Jackson has steadily improved and is worth watching to see if he sticks with the roster for another season. Edwards will likely need two years to recover and Antonio Bryant may not receive contract with the Browns next year. It's a big-time long shot at this point, but still worth remembering the name.
WR Kelley Washington — Washington hasn't developed as the Bengals expected and both T.J. Houshmandzadeh and Chris Henry have passed "The Future" by. Look for Washington to wind up with another team—he has the tools to be a go-to guy. The fact Marvin Lewis lost enthusiasm for Washington likely means the former Volunteer hasn't consistently approached his job with a level of professionalism the coach expects from his players. Expect Washington to try to make a good impression elsewhere in 2006. If he does a good job, he could be in someone's starting lineup on a consistent basis.
WR Devard Darling — Darling was considered a steal in the 2004 draft in many scouting/personnel circles. The Washington State receiver is a smooth athlete with the reputation for making impressive big plays on a consistent basis. Darling showed some promise his rookie year prior but not enough to crack the starting lineup. This year he has all but disappeared on the depth chart. He's a waiver wire special that should be available well into mini-camp and beyond. If the media begins reporting good things, take the chance at that time.
AFC South
WR Roydell Williams — Williams reminds the Gut Check of Brandon Lloyd—not too big; not super fast; but has good hands, sneaky speed, and good body control when going for the ball in man coverage. Yours Truly has been a fan of Williams after watching him at Tulane, and was even more impressed to learn that 2004 All-Pro safety, Corey Chavous was working out with Williams on a regular basis after the two became friends at the end of Williams' junior year. Look for Williams to get healthy, work out with Chavous again, and report to camp ready to challenge for a starting job. While the Gut Check would rather see Steve McNair throwing to Brandon Lloyd, Williams is going to turn into quite a consolation prize.
WR Jerome Mathis — Talk about speed! Mathis will scare defenses just on his speed alone. He's about as raw as former Raider's burner, James Jett. But the skills are definitely there. Corey Bradford and Jabar Gaffney haven't been the answer. Of course, the Texans' sieve otherwise known as the offensive line has made receiver evaluation a more difficult task. Still, speed and hands win out over route running (Gaffney) or experience and inconsistency (Bradford). Mathis may need another year or two, but he's worth watching.
TE George Wrighster — Byron Leftwich is an excellent pocket quarterback with his career still on the rise. But the Jaguars have to recognize that Leftwich is a younger and slightly more mobile version of Drew Bledsoe. One of the most effective ways to buy more time in the pocket for Leftwich—besides more improvements with the offensive line—is to develop a more effective play action game. The media often foretold that Jaguars offensive coordinator Carl Smith would incorporate the play action pass into the playbook. Like bread and butter, throwing to a wide-open tight end is a common benefit to play action. Kyle Brady no longer has the wheels to take this role in the offense, but he's still the Jags' best blocker at the position and the offensive line often needed the help. Wrighster has shown a lot of promise as a receiver in his first three seasons. Look for the Jaguars to either put the former Oregon Duck in a make or break situation in 2006 or draft a tight end. Either way, keep an eye on this position in Jacksonville.
AFC West
WR Doug Gabriel — The Gut Check has talked about Gabriel enough in previous columns that if you haven't shown interest by now, you won't until he actually gets a starting job elsewhere.
WR Ronald Curry — Two Achilles tendon injuries in consecutive seasons doesn't sound like a good prognosis for Curry's career. The former UNC wunderkind is such a special athlete that it still may be worth keeping tabs on him. He was making strides as a receiver and on the verge of busting out after a few excellent games in 2004.
WR Craphonso Thorpe — Like Curry, Thorpe is on the wrong side of a devastating injury. If he can return to his early collegiate form as an athlete, Thorpe has a shot on a Chiefs depth chart that is devoid of young, special talent at the position. He's one of those no harm-no foul waiver acquisitions during the preseason that could develop into quite a bargain if it works out in Thorpe's favor.
WR Eric Parker — Eric Parker makes plays for the Chargers when he's healthy. He's already a borderline fantasy starter in leagues with 3-5 WRs in a lineup. Parker has a knack for getting open and the speed to go deep. The Gut Check can't see how the Chargers won't want to re-sign him. Keenan McCardell will be another year older and Vincent Jackson, the Chargers project out of Northern Colorado, will need at least another year. The best bet for Parker is to remain a Charger where he and Drew Brees continue to develop a rapport. But if he finds the right match elsewhere, he could still be a good pickup.

NFC East
WR Patrick Crayton — This guy right here is the reason why the Gut Check believes Keyshawn Johnson will not be a Cowboy after 2005. Crayton is fast, tough, has after the catch skills, and the former quarterback is still learning the finer nuances of the position. Bill Parcells clearly likes this guy because he already performs like a polished player. If you watched any of the games early in the season, you would have seen the things Yours Truly mentioned about Crayton. Kind of reminds The Gut Check of a young Troy Brown—maybe that's also what Parcells sees in him, too.
WR Taylor Jacobs — The Gut Check isn't a big fan of Florida receivers not named Darrell Jackson, but Jacobs has apparently impressed Joe Gibbs when he's been on the practice field getting behind the Redskins secondary on a regular basis. Injuries have been Jacobs' bugaboo. The Redskins will seek a complement to Santana Moss in 2006 (Maybe Eric Moulds??? Here's another nice potential match.), and Jacobs has the first shot at keeping the Redskins from looking outside the organization.
NFC North
WR Bernard Berrian — The Gut Check really likes Berrian's skills. He plays fast and aggressively. He just needs to stay healthy. Mark Bradley really came on, but Berrian still has a shot to become a future starter along side Bradley in another year or two. The Bears just need consistent quarterback play from one guy so the corps can develop some rapport. If Berrian can stay healthy enough to get opportunities, The Gut Check likes the former go-to guy of David Carr at Fresno State to be one of those players that establishes some chemistry.
WR Steve Savoy — Charles Rogers is likely a goner from the Motor City. Roy Williams and Mike Williams will get a chance to become true professionals under a new coaching regime and Kevin Johnson's best days may be behind him. Steve Savoy came out a year too early, riding the coattails of Alex Smith's success at Utah. But Savoy has skills and could be a sneaky project that turns into a successful starter in a few seasons. Keep an eye on him and watch where he turns up in mini-camp for 2006.
NFC South
WR Drew Carter — This Ohio State athletic phenomenon tore his ACL three times—the last time as a rookie in 2004's training camp. He returned to the Panthers in 2005 fully recovered, and quickly made the coaching staff take notice with his speed and natural skills as a receiver. He has lacked a lot of playing time as both a collegian and pro, so he's an unknown commodity. This can be to your advantage if you keep an eye on his progress. Kerry Colbert took a step backwards this season, and Rod Gardner continues to demonstrate he's not ready for prime time, despite his draft status. Carter is one of those guys that play his way into an opportunity.
NFC West

WR Rashaun Woods — The soon to be third year 49er puzzles The Gut Check. Scouts, the Niners, and current NFL players that faced Woods will tell you this guy was one of the better receivers in a great draft class. But he is a guy likely on the bubble when he enters training camp next season. For a guy Bill Walsh had a role in scouting and drafting, this is a quite a drop in status.
Woods has excellent hands and was known as a good route runner that put pressure on a defense because he could make great plays in tight coverage. But nagging injuries and lack of time on the practice field have slowed his development and chapped his coaches. Woods didn't start off very well under Mike Nolan and topped it off by tearing his thumb ligament sending him to injured reserve for the year. On the bright side, Jerry Sullivan is a terrific receivers coach, and if Woods can have a fully healthy off-season he has as great of a chance to develop a rapport with Alex Smith as Arnaz Battle or Brandon Lloyd. If Woods can land a role in the receiver rotation as the #3 receiver in 2006, he's worth grabbing cheap because it only takes an injury for Woods to assume a greater role—a role he's talented enough to keep if he can stay healthy.
There are only two tight ends on the list because the Gut Check believes the 2006 draft has a few solid prospects that will be more worthwhile to acquire—namely Vernon Davis of Maryland. Marcedes Lewis is the top prospect in most people's eyes, but The Gut Check believes Davis will have the better career as a receiving TE and fantasy player. Check out his Scouting Profile of Davis in March.