The Weekly Gut Check - Vol. 59
Below The Radar Redux — IDP
12/15/05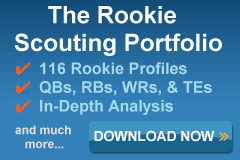 The "Gut Feeling" is often synonymous with a sense of desperation resulting from a lack of preparation. The Gut Check is a huge proponent of studying the numbers, but there's a point where one can place too much emphasis on the wrong information. This can result in the undervaluing or overlooking a player's potential. Therefore, The Weekly Gut Check is devoted to examining the frame of reference behind certain number-driven guidelines that fantasy football owners use to make decisions.

Although The Weekly Gut Check doesn't claim to be psychic, he does believe that he can dispel certain numbers biases and help you make the best choices for your team. We'll keep a running tally of The Weekly Gut Check's insights. This way you can gauge his views as something to seriously consider, or at least seriously consider running the opposite way as fast as you can!


---
Leagues with Individual Defensive Players (IDP) have a diehard group of owners. If you haven't tried an IDP league, The Gut Check encourages you to give it a shot. A key to a successful IDP league is to research and implement a scoring system that logically rewards players for their positional duties. No system will be perfect—a cornerback like Champ Bailey isn't going to be a huge point producer because it's difficult to reward points because quarterbacks won't even target his side of the field—still a solid scoring system can add not only an exciting dimension to your league, but also help you become more knowledgeable of match ups for your offensive players.

The Gut Check plays in two IDP Leagues. He's discovering most leagues still have owners figuring out how to pick good defensive players, and this leaves a much higher proportion of excellent prospects on the waiver wire throughout the season. Next week, Yours Truly profiles backs and signal callers, but if you are in an IDP re-draft or keeper league, this week's column is for you. These players are prospects The Gut Check believes will be flying below the IDP fantasy radar in 2006 but could be worthwhile to add to a roster—or at least keep an eye on them.

Front And Center—Defensive Linemen

DE Justin Tuck, Giants — Tuck is a converted linebacker out of Notre Dame that sits behind the awesome combo of Osi Umenyiora and Michael Strahan. That right there makes Tuck a good player that many won't consider since it wouldn't appear he'll see a lot of the field any time soon. But those that pay attention know that Tuck already sees the field weekly, and has become a productive part of a rotation that should only get him more time as the seasons progress and Strahan gets older. It's a win-win situation: the Giants keep their pass rushers fresh, Tuck gets brought along slowly to gain confidence, and New York can prolong Strahan's career.

Tuck already has four games with at least three tackles, and he got his first sack in week thirteen versus Dallas. One of the better athletes drafted at the position, Tuck's stock dropped due to concerns about his durability. He was impressive in training camp, and obviously has earned some playing time with what he demonstrated this summer. He'll likely need another year or two to really blossom. But once he does, the Giants will have a difficult time keeping him off the field, so he's an ideal pick in deep IDP leagues with a lot of roster space. But if injuries strike Strahan or Umenyiora, remember the name and act quickly.

DE Chris Canty, Cowboys — Lost in the hype of fellow rookie DeMarcus Ware is Virginia alum, Chris Canty. The Cowboys other rookie defensive end was a terrific prospect in his own right, but injuries cost him a higher status in the draft. Canty, like Justin Tuck, has been a solid substitute in the Cowboys rotation and should develop into an excellent every down player. While he doesn't have Ware's athleticism, Canty is a smart football player. The only drawback is he plays on a team with a 3-4 defensive scheme. Still, schemes come and go more often than a good player.

DE Antwaan Odom, Titans — The Gut Check seriously considered placing Odom on his Preseason All-Gut Check Roster, but opted for Kyle Vanden Bosch. Odom had some good moments this season as well, but he's a year away. His second season was his first fully healthy year as a pro. The former Alabama standout suffered from sleep apnea and he was playing at a fatigued level on a consistent basis as a rookie. Sleep is one of the most important, yet overlooked bodily processes that contribute to one's health. Once Odom got the problem corrected, he discovered just how much his lack of sleep was hurting his overall development.

The Gut Check looks at 2005 as Odom's real rookie season. The Titans probably feel the same way because of the noticeable difference in Odom after his treatment. With nearly an entire season complete, look for Odom to take another significant step in development next year. Especially if the Titans can some how manage to keep Vanden Bosch and Albert Haynesworth healthy. Haynesworth in particular has shown enough moments of excellence to be the consistent force the Titans hoped when they drafted him. The lynchpin to the Titans defense that should continue to improve under the guidance of Jim Schwartz could be the development of The Gut Check's next player, defensive tackle:

Randy Starks, Titans — The tackle out of Maryland was the youngest player drafted in 2004. He's shown some skill as a pass rusher at the position, and as we've seen with the Falcons Rod Coleman, this is an incredibly valuable commodity for fantasy owners that have to start a defensive tackle. If the Titans can retain continuity to their defensive line, Starks as a real shot to come out of nowhere to be a point-getter as a pass rusher. The Titans second year player will get plenty of tutoring from Jim Washburn—one of the best defensive line coaches around—so stay tuned here.

Elvis Dumervil, Louisville Cardinals — The 2005 Bronko Nagurski Award Winner will soon follow previous winners Derrick Johnson and Terrell Suggs into the NFL. Unlike these two standouts, Dumervil will likely be subject to some major scrutiny despite 20 sacks and 10 forced fumbles this year. The issue is his 6-0, 250-lb., frame. NFL teams may deem him too short and light to be a pro defensive end. The Gut Check has seen enough of Dumervil to like his game. He's very quick off the ball and possesses some wicked moves to the quarterback.

'Backers

Channing Crowder, Miami Dolphins — Another guy The Gut Check nearly added to his Preseason All-Gut Check Roster. Fortunately, he did add Crowder to his dynasty roster last May. The Florida alum is a high effort guy that seems to have a nose for the ball. Crowder's injury history in high school and college coupled with some bad behavior off campus (fights) dropped his draft stock. But the fact that many considered this underclassman the best linebacker after Derrick Johnson in the 2005 draft class states volumes about his ability. The Dolphins Nick Saban saw plenty of Crowder at LSU and was impressed enough to draft him. The Gut Check understands why just from watching the 2004 contest between the Tigers and Gators. Crowder had 10 tackles—3 for a loss—and 2 sacks in that game.

Miami's head coach was pleasantly surprised to see his rookie show some natural leadership in training camp. When Junior Seau was lost for the season, Crowder was thrust into action and steadily improved to the point that he was moved to the middle when Zach Thomas went down for a few weeks. Crowder had an excellent game against Ladainian Tomlinson and the Chargers in week 15 and though he's moving back to the weak side, the Dolphins believe they found their eventual successor to Thomas. Either way—the weak side or middle—Crowder is poised to be a productive fantasy player for years to come.

Kirk Morrison, Oakland Raiders — Not sure if you can really qualify Morrison as a below the radar type of guy because he's already making a lot of noise for the Raiders, and proving he's going to be a stalwart for that defense for years to come. Still, the San Diego State product won't be a household name in 2006 for many. He's a smart, tough player with a chip on his shoulder. You should be able to get him fairly late and he could wind up more productive than many higher profile starters.

Patrick Willis, Ole Miss Rebels — Ed Orgeron, the new coach at Ole Miss, served time as a defensive coach for USC and Miami. The Gut Check believes Patrick Willis is by far the best player on this team. The Gut Check was enjoying the cat and mouse game going on between Willis and RB DeAngelo Williams—a certain first-round quality talent—in their opener. Willis has the speed, vision, and hitting skills to be steady LB for many years. He plays hurt and plays smart. What's even more impressive is his ability to drop back into coverage. Look for a savvy defensive-minded coach to add Willis to their squad in April.

Secondary

CB Bryan McFadden, Pittsburgh Steelers — McFadden was a highly rated prep star before he attended Florida State, but didn't live up to the high expectations. He entered the NFL with less fanfare than many other prospects due to his middling workout numbers and a decent, but not awe-inspiring college career. But McFadden has shown a lot of promise as a rookie and the Steelers are excited about this rookie. For those of you that follow defensive players, this should sound very familiar. There was a 2004 rookie drafted by a traditionally defensive-minded team out of Texas who also was a highly recruited prep star. He too never quite lived up to the hype as a collegian, fell behind several other prospects at his position, but impressed his new team once he learned the system. This guy is suddenly one of the best fantasy cornerbacks of 2005—Chicago Bear Nathan Vasher. Keep this in mind…

CB Justin Miller, New York Jets — This guy is a real playmaker with the ball in his hands. He was seen as one of the best available kick returners in the 2005 draft and an excellent prospect as a corner. With Ty Law likely to remain a Jet for another season or two, Miller should develop into the guy on the other side. Since that will mean he gets tested quite a bit, he could become a nice fantasy player—especially if he proves to be as good at making plays on the ball as projected.

S Madieu Williams, Cincinnati Bengals — Marvin Lewis probably misses Williams' absence from the playing field more than anyone on his roster. The second year player was excellent as a rookie and his presence would have solidified the middle of a defense that has been prone to both the run and the deep passing game. Since a lot of fantasy owners may be prone to forget about his rookie year, he'll be a great value in 2006.

S John Pawielski, Minnesota Golden Gophers — The 5-11, 200-lbs. Senior is undersized, but he is a heady, middle of the field enforcer that leads the way in tackles. Not sure where scouts project him as a possible NFL prospect, but he just stood out in most games The Gut Check watched when scouting RB Laurence Maroney. The former walk-on will likely be a second day pick in the NFL draft because he won't be regarded as one of the better prospects at his position—especially when the trend is now drafting psuedo-linebackers (someone tell please try to tell Tony Dungy that little, bitty, Bob Sanders was a mistake)—some team could strike gold with him late. Draft accordingly, and you'll do the same.