3-Year RB Season Splits
7/5/05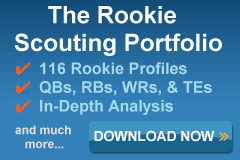 The "Gut Feeling" is often synonymous with a sense of desperation resulting from a lack of preparation. The Gut Check is a huge proponent of studying the numbers, but there's a point where one can place too much emphasis on the wrong information. This can result in the undervaluing or overlooking a player's potential. Therefore, The Weekly Gut Check is devoted to examining the frame of reference behind certain number-driven guidelines that fantasy football owners use to make decisions.

Although The Weekly Gut Check doesn't claim to be psychic, he does believe that he can dispel certain numbers biases and help you make the best choices for your team. We'll keep a running tally of The Weekly Gut Check's insights. This way you can gauge his views as something to seriously consider, or at least seriously consider running the opposite way as fast as you can!


---

Two popular methods of statistical analysis used to plan one's draft or lineup decisions are strength of schedule ratings and fantasy points allowed per position. While they have their merits, The Gut Check isn't convinced these methods of analysis lead a fantasy owner in the best direction. Turnover in player and coaching personnel from year to year has a significant impact on both methods. Owners then have to adjust at the mid-season point, which is too late when using the information as basis for one's drafting decisions.

San Diego was considered scheduling "cake" entering the 2004 season—most predicted the Chargers to be drafting from the first position for the second straight year. Tennessee was certainly viewed as a better defense, but injuries and slowed development in the secondary has many predicting the Titans to once again be among the first teams to hear the words, "now on the clock" in 2006. The point is strength of schedule and fantasy points allowed per position are best used around the halfway point of the season—after there's statistical proof on the field for the current year.

Yours Truly likes to view players from the perspective of what they can do against competition as opposed to what the competition can do to stop them. The former is easier to measure, while the latter is more problematic. One method of determining which players might be the best "finishers" is to examine season splits. There are many ways to structure the season splits. This summer, The Gut Check will examine two methods: weeks 1-6 versus weeks 7-16 and weeks 1-6 versus 7-12 versus 13-16.

The Gut Check chose these splits over other options for specific reasons. The 1-6 versus 7-16 split provides a broader perspective of performance. The first six games are generally a feeling out point for determining which direction NFL teams are heading, and by this point opposing teams have enough information to update game plans. In The Gut Check's experience, this is often the period where fantasy trades are occurring with the greatest frequency and have the most potential for savvy owners to give away less in exchange for significantly more. After week six, most teams know what they have in a player and the deals that owners strike are generally more even.

The 1-6 versus 7-12 versus 13-16 splits drill down to provide comparative analysis for the initial weeks, stretch run, and playoff weeks. It also serves as a model for the Fantasy Football Tournament of Champions (FFTOC) and The Gut Check will explore these statistical splits and provide some strategies to help owners at least win their bracket (and double their money), if not make a run at even greater winnings. Yours Truly will discuss this split in a few weeks.

The Gut Check accumulated data from seasons 2002-2004 and separated the results by position for the 1-6 versus 7-16 splits. Here is the information provided for each table:
Player

Total games played from 2002-2004 for weeks 1-6

Average fantasy points per game for weeks 1-6

Total games played from 2002-2004 for weeks 7-16

Average fantasy points per game for weeks 7-16

The +/- difference in fantasy points from weeks 7-16 vs. weeks 1-6
The Gut Check narrowed the sample of players for position according to specific criteria. First, Yours Truly only used active players currently starting, or in contention for a starting role on an NFL team. Second, The Gut Check eliminated 2004 rookies from the sample. The statistical trend with rookies reflected common sense about their inherent progress when starting for a team: first year players get better as they gain greater comfort in the system or they don't even see significant time until the season is well under way. The only exceptions appeared to be rookies suffering injuries during weeks 7-16. Roy Williams' (-) 6.29 fantasy points per game difference is a good example. The Lions' rookie was the only rookie starter at the receiver position with a negative difference.
Running back may be the most interesting position to study splits and is this week's focus. Fantasy owners have a myriad of reasons to justify why they select certain players over others. Among the most prominent are running style, physical dimensions of the runner, and carries—all factors of one central point: durability.
Here are 32 active runners and their weeks 1-6 vs. 7-16 splits from 2002-2004:

RB Splits 2002-2004: Weeks 1-6 Weeks 7-16
Last Name
First Name
G
FF Pts/G
G
FF Pts/G
+/-
Davis
Domanick
9
10.32
18
17.17
6.84
Portis
Clinton
17
13.64
26
18.93
5.3
Shipp
Marcel
9
6.46
19
11.21
4.75
Bettis
Jerome
16
7.98
25
12.06
4.08
Duckett
T.J.
15
6.31
22
9.91
3.6
Tomlinson
LaDainian
17
17.5
28
20.99
3.49
McAllister
Deuce
16
14.09
26
17.42
3.33
Dunn
Warrick
17
10.24
23
13.56
3.32
Holmes
Priest
17
23.26
20
26.53
3.26
Westbrook
Brian
15
8.4
26
10.22
1.82
Barlow
Kevan
17
8.89
25
10.1
1.22
Faulk
Marshall
15
13.11
21
14.2
1.08
Martin
Curtis
15
12.41
30
13.25
0.84
Dillon
Corey
15
11.7
26
12.33
0.63
Pittman
Michael
14
10.03
28
10.66
0.63
Barber
Tiki
16
15.08
29
15.63
0.55
Staley
Duce
16
10.29
23
10.71
0.41
Taylor
Fred
17
13.94
27
13.6
-0.34
James
Edgerrin
13
15.05
27
14.68
-0.37
Alexander
Shaun
15
18.19
30
17.51
-0.67
Green
Ahman
17
17.55
25
16.41
-1.14
Jones
Thomas
14
9.86
22
8.25
-1.61
Bennett
Michael
5
10.94
26
9.32
-1.62
Davis
Stephen
12
14.27
15
12.53
-1.73
Henry
Travis
15
14.73
23
12.08
-2.65
Garner
Charlie
14
13.14
18
10.44
-2.7
Anderson
Mike
10
7.49
14
4.45
-3.04
Williams
Ricky
16
15.77
25
12.5
-3.26
Brown
Chris
9
10.89
12
7.05
-3.84
Lewis
Jamal
15
17.89
26
13.98
-3.9

One thing that stands out right away is the group of runners at the bottom of this table. Jamal Lewis, Chris Brown, Ricky Williams, and Mike Anderson gained significantly lower totals down the stretch. Injury and splitting time with another back is a good explanation for Anderson and Brown, but Lewis and Ricky Williams had enough starts to indicate injury isn't the sole explanation.

Williams and Lewis were both workhorses on offenses that lacked a potent aerial attack. In addition, their styles are similar—large backs capable of wearing out defenses but have the speed to break a big play. What's key here is the concept of wearing out a defense. Some power runners achieve this through their ability to punish defenders while avoiding big hits. Others endure punishment and have the stamina to remain fresh in the fourth quarter.

The Gut Check believes Williams, Anderson, Brown, Lewis, Travis Henry, and Stephen Davis all qualify as runners that fit the old Timex slogan: "Take a licking, but keep on ticking." Unfortunately, just like the brand of timepieces, nothing lasts forever. In fact, these are the runners most susceptible to wearing down at season's end. Defenders may get worn out in the 4th quarter after facing these runners all day, but the backs wind up taking more punishment than they dish out. For discerning fantasy owners, backs fitting Lewis' and Williams style are good players to trade prior to week seven because historically their production dips rather than rises down the stretch. This is additionally important to remember for contest leagues limiting owners to start a player only once per season.

The backs with a minimal split differential (Ahman Green and up) fall into three categories: Slashers, Eluders, and Time Sharers.

The Slashers are cut back runners with size, burst, and a demonstrated talent for gaining yards after contact by means of rarely taking a direct hit. These are the patient runners in the mold of Corey Dillon, Curtis Martin, Duce Staley, Edgerrin James, Ahman Green, Shaun Alexander, Deuce McAllister, and Fred Taylor. All eight of these runners have a small split differential—within +/- a fantasy point and Dillon, James, Green, McAllister, and Alexander are among the most fifteen consistent backs for this three-year period. The elite backs of this style have the most productive careers—Emmitt Smith, Walter Payton, and Eric Dickerson are prime examples. Williams and Lewis are also highly consistent, but they have more extremes in their performances, which is problematic in must-win situations for fantasy owners.

The Eluders are the elite talents at the position that display speed, patience, receiving skills, and the ability to carry a heavy workload, or they are the backs many owners cite as players that should wear down with heavy workloads and more effectively serve as change of pace players. Tomlinson, Holmes, Portis, and at one time Faulk, are the elite talents capable of changing a contest with one big run or reception from anywhere on the field. It's no coincidence that 4 of the top 5 single game fantasy performances over the last three years came from these four backs. One could argue Fred Taylor and Edgerrin James were once considered Eluders prior to injuries. James may be rounding back to form, but Taylor has long-stated that he's consciously made adjustments to his running style to remain more durable.

The second type of Eluders—Tiki Barber, Domanick Davis, Brian Westbrook, and Warrick Dunn—are possibly the most misunderstood and undervalued group of backs in fantasy football. These players are the best fit for leagues supporting a flex position, but serve well as #2 RBs down the stretch.

While Davis' differential tops the list, it's likely a bit inflated due to early season injuries in 2004 and his mid-season insertion to the starting lineup his rookie year. This opens up skepticism that Davis' improvement as the season wore on really isn't the case, and a full season of play might demonstrate a more realistic differential based on many owners contention that he'll wear down. This is a pivotal year for fantasy owners of Domanick Davis—will the Texan starter prove he belongs with the elite over the course of an entire season or will he wear down and become a situational back as Houston may have anticipated with the selection of Vernand Morency.

Unlike Davis' questionable differential, Barber and Westbrook saw a lot of opportunities in 2004 and the results have little ambiguity. Although Barber's numbers dipped, The Gut Check contends the decrease has more to do with Barber playing with a rookie quarterback for the last third of the season. Westbrook's numbers actually climbed as the season progressed. Eluders tend to wear down differently than other backs—the injuries aren't the result of punishment from others as much as stress and wear and tear to their joints, resulting in loss of speed, quickness, and agility.

Bettis and Duckett are the two Time Sharers on this list. Both are power backs that have recently performed better late in the season due to their team saving them from every down punishment week after week. These two also appear to be effective flex or #2 RB options down the stretch.

What is there to make of all this? The Gut Check feels this information divulges some valuable points:
Chris Brown's durability is a valid concern until proven otherwise.


If the Titans acquire Travis Henry, they might be getting the same problem as they have with Brown.


When The Gut Check is drafting, he'll want high point per game producers with at least a minimal negative differential if not a positive differential. Here's Yours Truly's top eight RBs based on these two points of emphasis:



Holmes

Tomlinson

Portis

Alexander

McAllister

Green

Barber

James



Backs with a track record of being productive facets of the passing offense have more potential to remain at least equally productive down the stretch: 12 of the 17 backs with a positive differential are good receivers. Curtis Martin and Kevan Barlow could arguably increase that total.


Michael Bennett, Thomas Jones, and Charlie Garner are three runners The Gut Check has touted in the past, but has learned not to rely on this fourth type of runner he didn't mention—non-intuitive runners. All three have excellent physical skills but lack the essential vision to avoid the direct hit, vary their speed, or consistently display patience with blockers. They are all capable of having great years behind a solid offensive line because they play extremely fast, can catch the football, and have underrated power. Yet, that lack of vision and awareness makes them injury-prone. These players in their prime are at best solid flex options or bye week runners.


If the recent history is any indication and you draft a back like Lewis or Ricky Williams (the pre-195 lb. version), it might be worthwhile to consider trading them after an early peak performance. You could get a lot more value for the stretch run than what you actually give up.


Draft rookie backs with a reasonable chance to start. This means they are slated to start entering camp, slated to at least split time, or will serve as the primary back up. Although The Gut Check eliminated rookies from the sample, almost all of them had higher differentials—in many cases significantly higher. Rookie backs that aren't first round-franchise picks are almost always excellent values capable of carrying a team down the stretch. Clinton Portis, Julius Jones, Domanick Davis, and even Dominic Rhodes were all examples of rookie bargains carrying fantasy squads to championship glory.


Big RBs that don't share time—use early and trade away if you can get a good deal. Big RBs that do share time—save for the stretch run or a late bye week.
Next week, The Gut Check profiles stat splits for Quarterbacks in the second part of this series.