3-Year QB Season Splits
7/12/05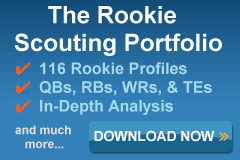 The "Gut Feeling" is often synonymous with a sense of desperation resulting from a lack of preparation. The Gut Check is a huge proponent of studying the numbers, but there's a point where one can place too much emphasis on the wrong information. This can result in the undervaluing or overlooking a player's potential. Therefore, The Weekly Gut Check is devoted to examining the frame of reference behind certain number-driven guidelines that fantasy football owners use to make decisions.

Although The Weekly Gut Check doesn't claim to be psychic, he does believe that he can dispel certain numbers biases and help you make the best choices for your team. We'll keep a running tally of The Weekly Gut Check's insights. This way you can gauge his views as something to seriously consider, or at least seriously consider running the opposite way as fast as you can!


---

Strength of schedule and fantasy points allowed per position, are two popular ways to strategize one's draft or lineup decisions. While they have their merits, The Gut Check isn't convinced these methods of analysis lead a fantasy owner in the best direction. An alternative is examining season splits. Last week, Yours Truly researched the running back splits for weeks 1-6 versus 7-16. This week it's time to look at the quarterbacks. Here are 40 active quarterbacks and their 1-6 vs. 7-16 splits from 2002-2004:


QB Splits 2002-2004: Weeks 1-6 Weeks 7-16
Last Name
First Name
G
FF Pts/G
G
FF Pts/G
+/-
Volek
Billy
4
6.63
11
19.79
13.17
Palmer
Carson
5
13.69
8
19.89
6.2
Feeley
A.J.
4
8.71
12
14.9
6.19
Pennington
Chad
9
13.13
26
18.39
5.26
Vick
Michael
10
17.14
22
21.59
4.46
Boller
Kyle
10
9.25
15
13.09
3.84
Hasselbeck
Matt
12
16.05
28
19.73
3.67
McCown
Josh
7
10.99
13
14.1
3.12
Delhomme
Jake
10
14.74
22
17.65
2.92
Collins
Kerry
15
15.96
26
18.84
2.88
Maddox
Tommy
11
14.21
18
16.68
2.47
Manning
Peyton
16
22.6
29
24.61
2.01
Garcia
Jeff
17
17.89
21
19.65
1.76
Gannon
Rich
14
19.02
11
20.7
1.69
Green
Trent
17
19.79
28
21.46
1.67
Brooks
Aaron
18
19.29
27
20.54
1.25
Plummer
Jake
16
18.37
25
18.97
0.61
Brunell
Mark
14
13.21
13
13.63
0.42
Brees
Drew
17
16.97
23
16.28
-0.69
Grossman
Rex
3
15.05
2
14.1
-0.95
Favre
Brett
18
20.24
27
19.16
-1.08
McNabb
Donovan
15
22.4
25
21.31
-1.09
McNair
Steve
17
20.34
20
18.92
-1.42
Carter
Quincy
12
15.15
16
13.63
-1.52
Roethlisberger
Ben
5
16.67
9
15.12
-1.55
Harrington
Joey
15
14.61
28
12.85
-1.76
Brady
Tom
17
19.76
28
17.93
-1.83
Rattay
Tim
8
12.94
12
10.5
-2.44
Leftwich
Byron
11
17.35
16
14.72
-2.63
Warner
Kurt
10
14.94
8
11.78
-3.16
Holcomb
Kelly
6
17.41
10
13.98
-3.43
Fiedler
Jay
15
16.31
14
12.85
-3.46
Griese
Brian
8
20.42
21
16.64
-3.78
Bulger
Marc
11
23.97
23
20.07
-3.91
Bledsoe
Drew
17
19.18
28
14.38
-4.81
Culpepper
Daunte
13
28.89
30
23.94
-4.96
Dilfer
Trent
6
10.19
9
4.91
-5.29
Carr
David
16
18.73
25
12.69
-6.04
Ramsey
Patrick
9
19.58
18
11.98
-7.6
Frerotte
Gus
7
12.94
1
-0.2
-13.14

In contrast to running backs, the QB position has more dramatic differences in the splits. Predictably, first-year starters are near the top of the list. Volek, Palmer, and Feeley all qualify as quarterbacks experiencing their first season where the majority of their time was spent in the starting lineup. It's natural the improvement in fantasy points is more dramatic—in Volek and Feeley's case it came at the expense of injuries to Feidler and McNair.

Nor should a fantasy owner get excited about quarterbacks with higher splits due to injuries suffered in the first half of the season. Michael Vick vaults into starter territory in the second half of the season. The point differential is heavily influenced by Vick's time missed in 2003 due to a broken leg. The same can be said for Chad Pennington.

Palmer on the other hand, was a true case of a first-year starter demonstrating an improvement in performance as the season progressed. In fact, Palmer raised his game to the point that he became a borderline fantasy starter in the second half of the 2004 season. His performance, and the skill positions in supporting roles make Palmer a favorite breakout candidate for 2005.

Value Plays
Matt Hasselbeck is another quarterback that has demonstrated a history of raising his game in the second half of the season. Unfortunately, not many owners would be happy riding out the first half split which reflects the average scores of a #2 QB on a fantasy roster. Losing Koren Robinson is probably a blessing in disguise as more sure-handed options such as Bobby Engram and Joe Jurevicius get more opportunities. The Seattle quarterback's value may drop a bit in the preseason, but the offense is the same and there's enough veteran talent for Hasselbeck to be a nice buy.

So who are the quarterbacks that not only start the season well but also get better as the season ends? Peyton Manning clearly fits the bill. The MVP actually improves his fantasy output by over two points per game in the second half of the season. This validates how most defenses have trouble with Manning even when they have enough studied enough film to prepare for the offense.

Trent Green and Aaron Brooks' differentials further illustrate why these two passers are consistently good values. Both were quality starters in opening weeks, but they get even better in the second half of the season. The early preseason outlook on Brooks is the coaches are going back to the basics with his game and want to rely more on McAllister. This news should keep Brooks' value where it has normally been for years, but until the Saints' defense shows dramatic improvement The Gut Check still believes the New Orleans quarterback is a bargain.

Jake Plummer is the perfect example as to why fantasy owners in standard scoring leagues shouldn't link highly regarded NFL quarterbacks with good fantasy quarterbacks. Plummer is capable of making some horrible decisions, but with just two years of experience in Denver's system, he was a top-ten fantasy signal caller in 2004. Jake the Snake's numbers improved slightly despite his youthful receiving corps (Rod Smith aside) and somewhat of a revolving door at the RB spot. Expect Plummer to steadily improve as an NFL quarterback and his numbers to keep him in the realm of fantasy starters.

Of all the quarterbacks that will be mentioned in this article, Kerry Collins is the one to keep an eye on in 2005. For the last three seasons Collins has on average, improved his second half of the season by nearly 3 fantasy points per game. Now add Randy Moss and Lamont Jordan to the Raiders and it's understandable why there's excitement about Collins. The Gut Check believes fantasy owners could see a career-best season for Collins, and possibly a trip to the Pro Bowl.

In some ways, the former Panther and Giant reminds Yours Truly of Vinny Testaverde, a blue chip prospect that experienced a rough beginning to his career but after a slow climb, demonstrated he was capable of putting up excellent stats. Testaverde played ten seasons without surpassing 20 touchdowns, 3250 yards, or 250 fantasy points in basic scoring leagues. Once he was united with Ted Marchibroda and a Ravens receiving corps of Michael Jackson, a hungry Derrick Alexander, and a healthy Eric Green, Testaverde threw for 4177 yards, 31 Tds, and 370 fantasy points in his 11th season—good enough for the #2 QB in fantasy football for 1996.

Collins has only exceeded the 20-touchdown mark and 4000 yard passing barrier once in his eleven seasons. At the same time, Collins has been regarded as a better quarterback than Testaverde at the same stage of their careers. The AFC West looks like a division primed for shootouts. Collins will likely be a calculated reach in terms of owners taking ADP into account on draft day, but those with savvy could land a starter like Plummer or Brooks a round or two later and have a solid stable of quarterbacks with upside.

Injuries Explain The Numbers
The heading describes what Ben Roethlisberger, Jake Delhomme, Joey Harrington, Steve McNair, and Byron Leftwich all have in common. With this said, they really fit into three sub-categories:
Beneficiaries of the situation

Operating in a war zone

Walking wounded
Ben Roethlisberger clearly benefited from starting after the season got underway. The Steelers are a team with an excellent coaching staff, great offensive line, veteran skill players, and a physical defense. This was a rookie that surprised opposing teams with his poise. Defensive coordinators tested Roethlisberger early and often only to discover this was a signal caller capable of burning a defense. Although the Steelers' QB experienced a slight drop in average points per game, it wasn't significant—thanks to the great supporting cast. Although the Gut Check believes Roethlisberger will develop into an excellent quarterback, he doesn't expect a leap to the upper echelon in year two.
Jake Delhomme also benefited from injuries, but in a different way from Roethlisberger. The Panthers QB lost two quality talents at the RB position before the halfway point of the season. This forced John Fox and Dan Henning to open up the offense, and Delhomme responded. The previous season was Delhomme's first as a Panther and this factors into a better second half than first. Although Steve Smith is returning and Kerry Colbert had a nice rookie year, the loss of a veteran like Mushin Muhammad is something many fantasy owners have underestimated thus far in drafts. The Gut Check believes Delhomme is a good quarterback, but his fantasy potential has a greater ceiling than many believe. Yours Truly believes that Delhomme's 2004 performance that earned him the fantasy ranking of #7 on the QB list is touching that ceiling. The Gut Check thinks Delhomme could crack the top 10 of the QB list in 2005, but doesn't believe the receiving corps has enough developed talent to count on it.
Joey Harrington also lost significant starters to injury (Charles Rogers, Tai Streets, Az-Hakim, and a walking-wounded, Roy Williams). The problem with Harrington is his fantasy points per game were never starter quality in the first place, so his decrease in the second half shouldn't have burned too many owners. The Gut Check believes Jeff Garcia, a veteran that makes good decisions and has a warriors' mindset on the field, will eventually earn the Lions' job and signal an end to the Harrington era in 2005.
Steve McNair and Byron Leftwich are two players with negative split differentials that represent value at the position. Both can be drafted as backups this year, but have a higher ceiling of performance than Harrington, Roethlisberger, or Delhomme. It's natural for fans to look at young talent and want to project a fantasy breakout after some initial offerings of hope, but the flip side is other players will get overlooked. McNair and Leftwich are those quarterbacks in 2005.
McNair was playing hurt from the onset of the season and his injuries were affecting his accuracy due to a limited throwing motion. One frustrating season and the loss of Derrick Mason, and suddenly the general public has decided McNair's career is about to culminate in a rapid decline. As a fantasy quarterback, there are a lot of things working in McNair's favor in 2005:
A healthy off-season:

After his sternum surgery, McNair was actually able to train for the first time in several years. As a result, it has been estimated McNair has lost over 25 pounds and looks like the younger and more mobile version of him self. The Titans' quarterback is only two years removed from an MVP season—and it wasn't as if McNair was healthy prior to that great year, either. 2004 was the first time McNair spent extended time away from the starting lineup due to injury and the fact he was physically able to train and followed through with it indicates a lot of promise for a bounce back season.

His mental aspect of the game is peaking: Steve Young mentioned on ESPN NFL Countdown in 2003 that McNair's decision-making and experience as a quarterback was on another plane from the rest of the quarterbacks in the league—much like when John Elway was in his prime. This is a quarterback that has become one of the best at converting third downs and beating defenses both in and out of the pocket. Norm Chow's new offensive system will emphasize a shorter passing game designed to move the chains and keep McNair from taking too many hits in the pocket.

The AFC South: This is a division with weak passing defenses, good quarterbacks, and solid coaching. The Titans defense should improve just because they have a lot of players returning from injury, but it The Gut Check isn't expecting them to return to their late-nineties dominance. Look for Tennessee to either be playing in back and forth high-scoring battles, or trying to catch up in the second half.
As good of a job Billy Volek did in 2004, he's not a threat to take McNair's job. That said, combining Volek's and McNair's stats from last year and the total represents an 8th-ranked starting fantasy QB in 2004—this is consistent with McNair's totals in recent years. Last season scared off most fantasy owners, and that makes the Titan's starter the most undervalued player in most 2005 drafts.
Byron Leftwich's drop comes from two factors: the backlash of his breakout year predicted a year too soon in a conservative offense (Yours Truly is guilty as charged) and injury. After much preseason hype, the Jaguars' 2004 season started off with some low-scoring nail-biters. While Leftwich proved he was a leader capable of performing at his best in the clutch, he wasn't putting up numbers indicative of the fantasy stud, The Gut Check predicted for him.
But that began to change with the San Diego game when the Jaguars coaching staff decided to open up the offense and allow Leftwich to throw from the shotgun and spread formations. The 2nd year quarterback had a couple of 300-yard games and was climbing fast in the fantasy rankings until a knee injury cost him starts. When Leftwich returned, the offense returned to a more conservative format, relying more on Fred Taylor.
It's worth noting that Leftwich's stats improved from his first season despite playing one fewer game than his rookie year:
The Numbers On Leftwich
Year
G
GS
Pct
Pass Yds
Pass TDs
INTs
Rush Yds
Rush Atts
Rush TDs
FF Pts
2003
15
13
0.5718
2819
14
16
108
25
2
219.75
2004
14
14
0.6054
2941
15
10
148
39
2
233.85
Most importantly, note the increase of accuracy to a 60% completion percentage and a decrease in interceptions. This is a quarterback that improved while playing with two rookie receivers (Reggie Williams and Ernest Wilford), an undersized journeyman slot receiver (Troy Edwards), and little production from the tight end position—generally a young quarterback's best friend in the passing game.
The 2005 Jaguars offense is now under Carl Smith of USC-fame, and Jack Del Rio was smart enough to allow Smith to take what they saw on tape prior to Leftwich's knee injury and tailor the offense to the talents of the players. As a result, the Jaguars are going vertical because of their receivers' size and speed and the fact that Leftwich throws one of the better deep balls in the game. Plus the running game is in question with Fred Taylor's knee, forcing the game plan even more towards an aerial attack.
Leftwich's value has settled from the 2004 hype and now it represents a bargain, especially to those owners that believe the Jaguars are planning to win games with their defense and a conservative offense. Leftwich is a low-risk draft choice that can be comfortably acquired as a backup early this summer. His value should rise as the season nears, but it's likely he'll still be overshadowed.
Keep On Truckin'
Brett Favre, Donovan McNabb, Marc Bulger, and Daunte Culpepper all had negative split differentials yet this shouldn't be of concern to non-FFTOC leagues because all four maintained a level of production worthy of upper echelon starters. Favre and McNabb experienced minimal decreases to their average fantasy points per contest from the first half to the second half of the season. Culpepper and Bulger on the other hand experienced significant dips in points, but they also had the two highest first-half averages over the last three years—meaning they had further to drop. Decrease aside, both maintained weekly performances better than most starters in the league.
The absence of Randy Moss has fantasy owners predicting a drop off in Culpepper's performance. The Vikings quarterback was always more than Randy Moss' sidekick—he averaged more than 20 points per contest over the span of six games without his playmaker and an inconsistent running game. The Gut Check does believe greater emphasis to the running game and an improved defense could deflate Culpepper's statistics, Yours Truly doesn't think the decrease will drop Culpepper out of the top five.
Uh-oh
David Carr, Drew Bledsoe, and Brian Griese all had significant negative splits. Carr is still developing as a signal caller, but still has a ways to go. The Gut Check wonders how much the issue has to do with Carr. Remember, his quarterback coach Chris Palmer is the former Browns' coach that tutored former #1 draft-pick Tim Couch to an inauspicious career as a former-NFL quarterback. Palmer, the offensive coordinator has some capable weapons at his disposal. Andre Johnson had moments where he looked like the next Lynn Swann, and Domanick Davis is a multi-dimensional threat. The problem is the intermediate passing game—a place where Carr has struggled somewhat. TE Billy Miller seems like he'd be the perfect solution—a converted receiver with enough size to be a mismatch with a safety but the speed to beat an LB in coverage—but his numbers dropped dramatically in 2004. Last year Carr was bandied about in fantasy leagues similarly to Carson Palmer early on in this preseason. The difference is that Palmer has better weapons.
Drew Bledsoe makes his third career stop in Dallas. Paired with Parcells and behind a big offensive line, Bledsoe is capable of reviving his career and putting up nice fantasy numbers. He's also known to be indecisive and hold onto the ball way too long. The Gut Check can understand how Jason Witten, Keyshawn Johnson, Quincy Morgan, and Terry Glenn are significant upgrades to the Bills receiving corps. Bledsoe and Witten should be a great combination—ala Parcell—Bledsoe—Coates in New England. In addition, Glenn and Bledsoe should have a good understanding of the other's game. There's a lot of promise here, but Bledsoe's split differential is partially a product of coordinators figuring out Bledsoe's tendencies. This is a good example where it's reasonable to expect a good start, but a disappointing finish.
Brian Griese put up impressive numbers in an 11-game span. The problem is he's never played an entire season. When he's come close, he hasn't been as good. Jon Gruden helped turn around Rich Gannon's career, but Tampa's weapons don't match the Broncos' offensive talent at this point. Look for a decent year from Griese, but projecting the QBs numbers from last season to a 16-game period may be too much to ask.
Next week, The Gut Check profiles splits for receivers and tight ends.