Note: Salary amounts are DraftKings pricing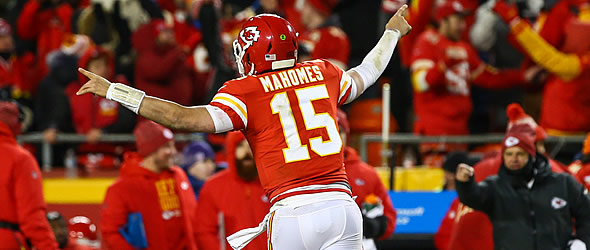 Quarterbacks
H2H/Cash - Patrick Mahomes vs. Houston $7,500
Jackson and Mahomes are the two easy choices if you are willing to pay a premium at the quarterback position. Vegas projects this game to be the highest-scoring contest of the weekend, and the Texans gave up the third-most points to opposing quarterbacks. Of the eight quarterbacks playing this week, Mahomes has the best matchup on paper, and he gets to play at home. The weather in Kansas City looks to be clear, with no wind or precipitation to cause any issues. Mahomes is going to need to play a monster game for the Chiefs to advance, and I believe he will be the highest-scoring QB on the week.
Another option to consider - Lamar Jackson vs. Tennessee
GPP - Deshaun Watson @ Kansas City - $6,500
For many of the same reasons I like Mahomes, I like Watson this week. The 49ers/Vikings and Packers/Seahawks games appear like they might be low scoring, and I would not be surprised to see the Ravens blow out the Titans. I think the Chiefs/Titans game is going to be a shootout, and I anticipate it will be the highest-scoring game of the week, making Watson a nice value at $6,500. The Chiefs rank in the middle of the pack in points allowed to quarterbacks, with Matthew Stafford, Aaron Rodgers, and Kirk Cousins each putting up at least three passing touchdowns.
Another option to consider - Jimmy Garoppolo vs. Minnesota
Fade - Aaron Rodgers vs. Seattle - $6,500
I'm not sure why anyone would pay 6.5k to start Rodgers when they can pay the same amount for Watson. Rodgers has just four total touchdowns in his last four games and only topped 20 points twice since Week 9. I like the Packers to win this game, but Rodgers will not be a massive fantasy point scorer and should be avoided in DFS.
Running Backs
H2H/Cash - Aaron Jones vs. Seattle - $7,400
Jones has averaged 25.65 points in his last four games, including two monster 30-plus point performances. He is clearly the focal point of the offense, and the Seahawks gave up the 11th most points to running backs in the regular season. This game has the makings of an ugly, throwback, low scoring game, with both teams leaning on their run games to move the ball and win time of possession. Look for Jones to finish with around 100 yards and a score or two.
Another option to consider - Derrick Henry @ Baltimore
GPP - Gus Edwards vs. Tennessee - $4,900
The fact that Mark Ingram is still dealing with a calf injury after multiple weeks of rest has me concerned about how many carries he will get against the Titans. Of the four games this weekend, the Ravens game has the best chance to be a blowout win, which would bode well for Edwards getting more touches than normal with a positive game script for the backup running back. If the game is close, Edwards many not have much value. If it is, in fact, a blowout for Baltimore, Edwards could be the best running back value.

Another option to consider - Damien Williams vs. Houston
Fade - Dalvin Cook @ San Francisco - $8,000
Cook is a stud, no doubt. And the Vikings are going to try their darnedest to run the ball against the 49ers on Saturday. But the return of safety Jaquiski Tartt and Kwon Alexander to an already tough 49ers defense should make things difficult for the Vikings to run the ball. Cook may reach the end zone, but I can't envision him providing 8k worth of return on your investment.
Wide Receivers
H2H/Cash - Tyreek Hill vs. Houston - $7,600
Hill is going to run wild on the Texans this Sunday. Houston does not have a player in their secondary who can keep up with Hill on deep bombs, and just like A.J. Brown did against this secondary twice in the last month, Hill is going to catch a short pass and take it to the house with his elite speed. Pairing Hill with Mahomes in a GPP stack is a safe way to build a solid foundation this week.
Another option to consider - Davante Adams vs. Seattle
GPP - Deebo Samuel vs. Minnesota - $6,200
Samuelís floor of 30 rushing yards in three of his last four games gives him a nice boost to any production he makes in the passing game. The Vikings are going to bring pressure to get to Jimmy Garoppolo, leaving one-on-one matchups on the outside and a change for the 49ers wide receivers to break tackles and take a pass to the house. Samuel is a budding star who will come up big on Saturday, and his 6.2k price tag makes him a decent value.
Another option to consider - Allen Lazard vs. Seattle
Fade - DeAndre Hopkins @ Kansas City - $7,400
Hopkins is the most talented all-around wide receiver in the league and a favorite player of mine to watch. While I love the skills, I am concerned that he has not posted double digits in targets in any of his last three games, and the Chiefs trail only the Patriots for the fewest points allowed to wide receivers this year.
Tight End
H2H/Cash - Mark Andrews vs. Tennessee - $5,600
It is no coincidence that the teams with the three best tight ends in fantasy, the Ravens, 49ers, and Chiefs all made the playoffs and have a first-round bye. With all three playing this week, Iíll play the one who posted two touchdowns in his last game of the regular season and the one who has the easiest matchup for tight ends.
Another option to consider - George Kittle vs. Minnesota
GPP - Darren Fells @ Kansas City - $3,500

If you are looking for a cheap tight end play with upside, you should consider Darren Fells for two reasons. First, the Chiefs are giving up the second-fewest points to wide receivers and the eighth-most to tight ends. Second, this game projects to be a high-scoring game, and the Texans will need to get some production in the passing game from their tight end position if they have a shot.
Another option to consider - Jacob Hollister vs. Green Bay
Fade - Kyle Rudolph @ San Francisco - $3,400
I faded Rudolph last week and was spot on until he caught the game-winning touchdown pass in overtime. Outside of that play, he was a non-factor, and I don't think he will be much of a factor in this game.
Defense & Special Teams
High Priced Option Worthy of the Cost: 49ers ($3,000) vs. Vikings
Well Priced with Upside: Packers ($2,800) vs. Seahawks