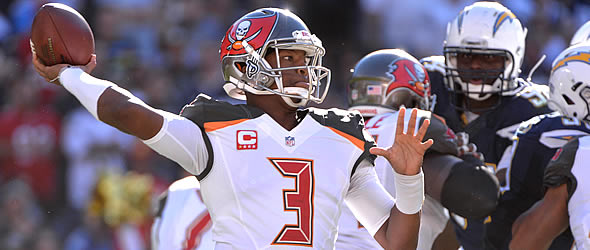 Jameis Winston has the weapons and the benefit of friendly schedule to help him finish in the top 12.


A mantra made famous by Arizona Cardinals head coach Bruce Arians during the filming of Amazon's 2016 All Or Nothing, "no risk it no biscuit" refers to the idea that to be successful in life and in a football game, you need to push the envelope with risky plays or decisions to achieve victory.

The same idea can be applied to fantasy football, as owners should look for a balance of consistent high floor players mixed with high upside, risky options that could hit and pay high dividends.

The following five players are high ceiling options that I plan on owning in 2017. Some of the players listed below are risky based on the fact that they are injury prone, while others carry risk because they are long in the tooth or have yet to play a down in the NFL. But all of the players listed below have the ability to finish as a top 12 player at their respective position.

Quarterback: Jameis Winston, TB

The former first overall pick in the 2015 NFL draft has yet to post a top-12 fantasy season (FFToday.com default fantasy points per game scoring) in his first two years in the league, with an 18th place finish in 2015 and 15th place finish in 2016. Interceptions and ball security issues have limited Wintson's value, despite back-to-back 4000-yard seasons to begin his career.

Winston enters 2017 with one of the most dynamic receiving corps in the league, with the addition of veteran free agent DeSean Jackson on the outside, and rookies Chris Godwin and O.J. Howard to complement pro bowler Mike Evans.

With weapons aplenty, an adequate but not great ground game, and the fifth-easiest strength of schedule for quarterbacks, Winston has all of the pieces in place to take the next step this season and become a top 10 fantasy QB. On the other hand, he could continue to make poor decisions with the football and limit his production with interceptions and fumbles, making him a bust at his current ADP of 8.09.

Running Back: Joe Mixon, CIN

I am approaching this pick based solely on his athletic ability and production on the field Mixon displayed while at the University of Oklahoma. I respect the fact that some owners may take Mixon completely off their board based on his off-field actions.

With that said, Mixon is a complete running back that could take over the starting role day one for head coach Marvin Lewis. Jeremy Hill and his consecutive sub-4 yard per carry rushing average over the previous two seasons is not a long-term option for the Bengals. Giovani Bernard may not be ready to start the season, and a team would not use a second round pick and subject themselves to the scrutiny surrounding Mixon only to bench him for an ineffective runner like Hill.

If given 200-plus touches, including between 25 and 50 receptions, Mixon has a chance to be a top 12 running back that is currently drafted in the third round. However, the fact that he has never played a down in the NFL and he could deal with rookie growing pains, Mixon could be a home run play that turns out to be a bust.

Wide Receiver: Martavis Bryant, PIT

I cannot think of another wide receiver currently drafted outside of the fourth round with more touchdown upside than Martavis Bryant. In 21 career games, Bryant has 14 touchdowns on 76 receptions, with a 17.3 career yard per catch average.

He returns to the Steelers to assume his role as the deep threat for Ben Roethlisberger, with the upside of double digit touchdowns in one of the most potent offenses in the league. With opposing defenses focusing on stopping Antonio Brown and Le'Veon Bell, Bryant will find single coverage outside against number two cornerbacks on a regular basis, giving him a viable shot to lead his team in touchdown receptions.

The risk of Bryant is evident, as the former Clemson star missed all of 2016 due to violating the NFL's policy on substance abuse, and a relapse and subsequent ban are always a concern. The year away from the field could also limit his rapport with Big Ben, and the addition of rookie JuJu Smith-Schuster could eat into his snaps.

Despite these risks, I am willing to use the fifth-round draft equity required to own Bryant. The reward is worth the risk, as it is tough to find a double-digit TD threat after round four.

Tight end: Julius Thomas, MIA

After a disappointing two seasons with Jacksonville, tight end Julius Thomas returns to play under head coach Adam Gase, the coach that helped make him a star in Denver. With Gase calling the plays and Peyton Manning throwing the ball, Thomas posted back-to-back 12 TD seasons in 2013 and 2014, despite failing to play in a full 16-game schedule in either year.

Of course, a big reason for Thomas' success was Manning throwing the ball, and Thomas will not have a first ballot hall of famer throwing to him in Miami. But at his current ADP of 13.05 as the 15th tight end off the board, the risk of drafting Thomas as a second tight end with double-digit TD upside is minimal.

Just be sure to have another tight end option available when Thomas misses a few games due to injury. He has yet to finish a full season in his NFL career, and I don't anticipate that happening in 2017.

Flex: Brandon Marshall, NYG

The spectrum of possible outcomes for Marshall might be the widest of all wide receivers this season. It is possible that with an injury to Odell Beckham Jr., Marshall could deliver top five wide receiver numbers as Eli Manning's primary target. It is also possible that Marshall could be released by the team mid-season after becoming a locker room pariah for not receiving enough targets in the offense.

Unfortunately, I cannot predict the future, but I do know that Marshall has a history of delivering strong performances in his first season with a new team (WR28 MIA-2010, WR2 CHI-2012, WR3 NYJ-2015), and he has never played in an offense as potent as the one the Giants possess. Could he be a bust? Certainly, but he also could be a double-digit touchdown WR currently getting drafted behind Jarvis Landry, a receiver that has yet to catch more than four touchdowns in a season. I would rather invest a fifth or sixth round pick on Marshall – a player that could be a difference maker - over a player like Landry that has a defined role with a low ceiling.