This is without question my wife's least favorite time of the year. School is back in session, the kids are kicking off another season of soccer and softball, and work becomes hectic as bright eyed and naive residents arrive at the hospital ready to be taught how to deliver babies (the misses is an OBGYN for those not following my train of thought).

But the thing that bugs her most about the calendar moving to August is my yearly tradition of retreating into what she calls fantasy football land, where I am present but not really there, as my mind is constantly thinking of my draft board and how my upcoming fantasy drafts will unfold.

Early on in our marriage my yearly journey to fantasy football land caused numerous fights. As the years went on and nothing changed, she realized it is a part of who I am and it was here to stay. So she learned accept it, albeit begrudgingly, and looked forward to the day after my final draft when I would emerge from my mental cave and return to reality.

With my league of record draft only four days away, I am entrenched in film review and stat combing as I look to finalize the big board. As part of my review, I like to take a few steps out of the yearly fantasy cave and present a few first week DFS picks that I am targeting in my DraftKings and FanDuel lineups to start the season.

Quarterbacks

H2H/Cash - Matthew Stafford vs. IND (DK $7200/ FD $7400)

Stafford continues to look sharp in the Jim Bob Cooter offense and the addition of Anquan Boldin and Marvin Jones will help overcome the loss of Megatron. Vegas views this as a fairly high scoring game with an over/under of 50 points. I also like similarly priced Eli Manning in what could be a shootout with Dallas.

GPP - Robert Griffin III vs. PHI (DK $5,600/ FD $6,900)

I'm predicting a similar breakout first game with Hue Jackson and Cleveland like he did with Washington back in 2012. Also predicting he will have little value after the novelty of RGII wears off on the Browns coaching staff or he gets hurt. Not sure what happens first. He's a nice homerun play in a GPP against a poor Eagles defense.

Fade - Drew Brees vs. OAK (DK $8,100/FD $8,700)

The Oakland defense is much improved and Saints offense is a bit off. Not worth the money. Aaron Rodgers and Big Ben are also considerations here.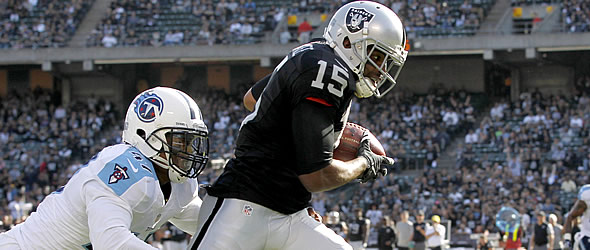 Week 1 Value: If you want to pick on the Saints defense, Crabtree is $1000 cheaper than Cooper.
Wide Receivers
H2H/Cash - Michael Crabtree vs. OAK (DK $5,500/ FD $6,100)
Crabtree is a consistent performer who is criminally undervalued in season-long leagues and DFS. He has a great matchup against a poor NO secondary in what should be a shootout. He's a staggering $1000 less than his teammate Cooper, yet it wouldn't surprise me if Crabs outperforms him this week. Donte Moncrief is also a strong option and underpriced.
GPP - Tajae Sharpe vs. MIN (DK $3,000/ FD $4,800)
This will be your one and only time to buy Sharpe at a bottom barrel price of $3,000 on DK. A rookie from UMASS who has shined in camp and preseason games, he is quickly becoming a favorite of Mariota. I wouldn't be surprised if his salary doubles by Week 3. He's a perfect homerun play Week 1, although he is getting too much press right now and could be over-owned.
Fade – A.J. Green vs. NYJ (DK $8,400/FD $8,200)
Green is a popular season-long candidate to take the next step into the tier of Brown, OBJ and Julio. It could happen, but I don't like this matchup against Revis and his ownership percentage will be too high for my liking because of the season-long league hype.
Tight Ends
H2H/Cash - Jason Witten vs. NYG (DK $4,100/FD $5,000)
Over the past three seasons, Witten has posted some of his best games against the division foe G-men, including 14 catches for 133 yards and two touchdowns in 2015, and 12 catches for 107 yards and 4 TDs in 2013. At just $4,100 on Draft Kings when other people are going to be spending money on trendier and more expensive picks, Witten is a nice play for owners looking for a decent floor with high TD upside.
GPP - Martellus Bennett vs. ARI (DK $3,400/FD $5,100)
A nice homerun pick for a GPPs, as I anticipate Belichick unleashing his new toy against the Cardinals Week 1. What is the best way to ease a young QB into a game against a tough defense? Tight end and running back throws.
Fade - Coby Fleener vs. OAK (DK $4,900/FD $5,400)
Fleener is an overpriced play this week that thousands of DFS players in both Cash and GPP contests will utilize, despite the fact that he hasn't been very impressive in preseason action and Sean Payton has referred to as a work in progress. Let the competition play Fleener and go after cheaper and higher upside players at the position for Week 1.