Editor's Note: References to player rankings are based on ESPN's scoring system.

NFC East

Dallas Cowboys: Be wary of drafting Tony Romo too high once that quarterback run starts. While heís had four seasons of 4,000+ passing yards and four seasons with 30 or more touchdown throws, Romo has been among the top-five fantasy scorers at his position just once Ė and that was in 2007. Since then, heís ranked 12th, 6th, 30th (injury), 7th, 10th, 11th and 11th.

New York Giants: Donít sleep on Victor Cruz. Sure, his injury is something to keep an eye on but heís done nothing but produce when healthy. Cruz actually averaged more yards per catch in his limited time last season than Odell Beckham Jr. and with double teams surely coming OBJís way, Cruz could see plenty of targets.

Philadelphia Eagles: DeMarco Murrayís workload is concerning. His 392 carries last year were tied for the seventh-most all-time in a single season, and the precedent for the year after that many carries isnít good. All nine of the players in NFL history who posted that many carries saw their production drop the year after, and the drop for many was significant.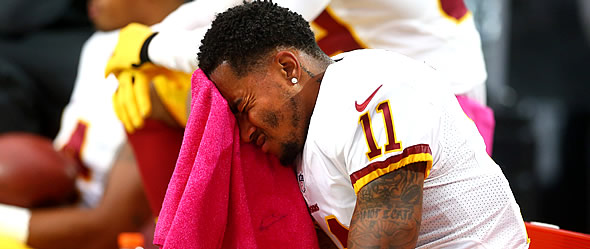 Inconsistent: DeSean Jackson can frustrate fantasy owners with is boom-or-bust style.
Washington Redskins: Prepare for some lean weeks with DeSean Jackson. The explosive wideout is a valuable fantasy commodity, but fantasy owners should be aware of the gaps in his performance. He had five games with 115 or more receiving yards last season, but three games with fewer than 20 yards, and five games with less than 40.

NFC West

Arizona Cardinals: Larry Fitzgeraldís decline is real. The quarterback play in Arizona has been atrocious recently, but Fitzgerald simply isnít what he once was. Now 31 years old, the former Pitt star has gone three consecutive seasons without gaining 1,000 receiving yards and hasnít been in the top-15 in fantasy scoring among WRs since 2011.

San Francisco 49ers: Vernon Davis is barely relevant. The freakishly athletic tight end was one of the biggest disappointments in fantasy last season, with less than 250 receiving yards and only two touchdowns. But heís really only had a few productive seasons (in fantasy terms) over his nine-year career. Davis has caught more than seven touchdowns only twice, and only three times had at least 850 receiving yards.

Seattle Seahawks: Russell Wilson is a bit of a gamble. Wilson is extremely talented, but from a fantasy perspective there are things to be cautious about. Jimmy Graham should help, but he alone doesnít make Wilson an automatic top-three quarterback. Wilson threw only 20 touchdowns last year and his fantasy numbers were propelled by his running ability. He led quarterbacks with 849 yards and six rushing scores last year, but it seems unlikely heíll hit those numbers again.

St. Louis Rams: The Rams defense should be even better this year. St. Louis had a top-five D/ST unit last season, and they could challenge to be this yearís highest-scoring bunch. The recent high draft picks they invested in are maturing, so itís natural to expect improvement from the likes of DL Aaron Donald and LB Alec Ogletree, not to mention the continuing excellence of DE Robert Quinn.

NFC North

Chicago Bears: Jay Cutler is a QB2. The quarterback everyone loves to hate has all the physical tools and plenty of weaponry available, but that just hasnít translated to fantasy success. Cutler was 16th in fantasy scoring among quarterbacks last season, which was the first time since 2010 he was inside the top-20.

Detroit Lions: Ameer Abdullah is legit. The rookie from Nebraska was taken by the Lions in the second round, but has a chance to be a serious fantasy contributor this season. The book on Abdullah is his smooth pass-catching ability, and that makes him a perfect fit in Detroit. There were 158 passes thrown to Lions RBs last year and with Joique Bellís health in question and the departure of Reggie Bush, Abdullah will be there to pick up the slack.

Green Bay Packers: Aaron Rodgers is absolute gold. This is surely not breaking news, but his level of consistency is still something to marvel at. Rodgers has been either first or second in fantasy scoring among quarterbacks in all but one season since 2008. His only season outside the top pair was 2013, when he played just nine games but still ranked 22nd.

Minnesota Vikings: Adrian Peterson is now 30 years old. While AP is still going to be impactful for fantasy owners this season, the age 30 wall for running backs is not a myth. Peterson did miss almost all of last season due to suspension, so maybe heíll be fresher as a result, but spending a top-five pick on a 30-year-old back remains a risk.

NFC South

Atlanta Falcons: Roddy White isnít done yet. The 33-year-old wideout is now clearly the teamís number two receiver, behind Julio Jones. But White did lead the team in touchdown receptions last year with seven and had over 900 receiving yards. The team lost Harry Douglas and still doesnít have a threat at tight end, meaning White should continue to be an integral part of the teamís passing attack.

Carolina Panthers: Cam Newton will get better. Most quarterbacks donít have their best seasons their rookie years and then see their numbers decline. But Newton has seen his passing attempts and yards go down in every consecutive season. Itís difficult to believe that will happen again, especially with Kelvin Benjaminís emergence and Newtonís own health problems from last year hopefully behind him.

New Orleans Saints: Drew Brees isnít free-falling. True, Brees has seen his touchdown totals drop from a high of 46 in 2011 to 33 last season and just missed hitting 5,000 passing yards for the first time since 2010. Losing Jimmy Graham will hurt, but a steady Marques Colston, an improving Brandin Cooks, and a healthy C.J. Spiller will give Brees plenty of weapons.

Tampa Bay Buccaneers: Vincent Jackson is better than what he showed last season. It was a dismal 2014 for Jackson. He did amass 1,002 receiving yards, but had a paltry two touchdown receptions. Mike Evans, meanwhile, had 12, a number that Jackson has never reached. Jackson may not be a touchdown machine this year, but with Jameis Winston providing serviceable quarterback play, Jackson will put up better numbers in 2015.