The word "value" gets thrown around plenty during fantasy drafts, and for good reason. Acquiring key contributors in the right round without reaching for need can make or break fantasy owners. That's why mock drafts are important – to help owners get an idea of which rounds a player might go in. But during these busy summer months, not everyone has the time for that, so we're going to give you a position-by-position breakdown of overvalued and undervalued players based on their Average Draft Position (ADP).



Undervalued



Cam Newton, Panthers


ADP: 7.10





The Case for Newton Being Undervalued:

No quarterback is a more effective runner, and he's posted consistently high fantasy numbers since he came into the league.



The Case against Newton Being Undervalued:

There isn't a single wide receiver on Carolina's roster that caught a pass from Newton last season.



Verdict:

Newton has placed among the top five in fantasy scoring at quarterback in each of his three seasons in the league but was, on average, the 10th quarterback taken in mock drafts. Last year, he ran for nearly 600 yards and six touchdowns, while throwing for another 3,300 yards and career-best 24 scores. Newton's receiving corps is certainly a concern, but he does have steady tight end Greg Olsen and promising rookie Kelvin Benjamin to throw to. It may take Newton some time to adjust to his new receiving corps, but odds are he'll be among the league's top five fantasy producers at his position. Again.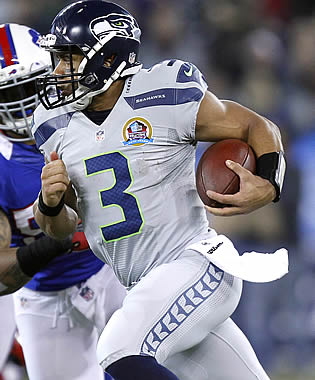 Russell Wilson finished as fantasy's QB10 in 2013 and QB11 in 2014. His current ADP is QB15. Undervalued.

Russell Wilson, Seahawks


ADP: 10.07





The Case for Wilson Being Undervalued:

The Seahawks are an overwhelmingly run-first team, but Wilson produces as much or more as quarterbacks who throw more often.



The Case against Wilson Being Undervalued:

He has a mostly ordinary receiving corps, and if he isn't as efficient with his throws, the lack of opportunity could cut into his numbers.



Verdict:

Wilson ranked 10th at quarterback in fantasy scoring last season despite having fewer pass attempts than any other QB who played in at least 14 games. Wilson may not have great options at receiver outside of a healthy Percy Harvin, but that didn't stop him from tossing 26 touchdowns – or exactly the same number as Matt Ryan, despite nearly 250 fewer pass attempts—last season. Wilson also ran for more than 500 yards in 2013, and he should be in that range again this season. If Harvin stays healthy and the Seahawks throw the ball a bit more often, Wilson will creep inside the league's top 10 fantasy-producing quarterbacks.

Andy Dalton, Bengals


ADP: 11.08





The Case for Dalton Being Undervalued:

He was third in fantasy scoring among quarterbacks last season and has averaged 30 touchdown passes the last two seasons.



The Case against Dalton Being Undervalued:

Dalton can be prone to interceptions, and Cincinnati lost offensive coordinator Jay Gruden and replaced him with a more run-oriented coach, Hue Jackson.



Verdict:

In 2013, Dalton threw for nearly 4,300 yards with 33 touchdowns. Unfortunately, he also tossed 20 interceptions, including a trio of games with three or more picks, which can be brutal for fantasy owners. Yet he's increased his passing yards and touchdown totals every year he's been in the league, and, oh, by the way, he has that A.J. Green guy to throw to. Still, there were 16 quarterbacks, on average, being picked ahead of Dalton in fantasy drafts. Nobody is suggesting fantasy owners go out and make Dalton their QB1 and then ignore the position, but for owners who wait to pick up their quarterbacks, Dalton could be part of a good match-up based rotation, at the very least.



OVERVALUED



Nick Foles, Eagles


ADP: 6.04





The Case for Foles Being Overvalued:

There is no chance he'll have a touchdown-to-interception ratio anywhere near his 2013 rate, and he lost his best wideout, DeSean Jackson.



The Case against Foles Being Overvalued:

Chip Kelly's offense is quarterback-friendly, and Jeremy Maclin returns after missing last year with an injury.



Verdict:

Foles stepped in for Michael Vick during Week 4 last season and never looked back. His final numbers were almost too good to be true, as he threw 27 touchdowns and a mere two interceptions to go with over 2,800 passing yards. However, those numbers bear some scrutiny. In his last eight games, Foles faced only two teams with pass defenses that were ranked better than 20th , and his seven-touchdown performance against Oakland skewed his averages. Foles will produce for his fantasy owners, but probably not at the level they assume.

Robert Griffin III, Redskins


ADP: 6.08





The Case for Griffin Being Overvalued:

He's an injury risk who seemed to regress in his second season.



The Case against Griffin Being Overvalued:

He may finally be totally healthy a season removed from his knee injury, and a new head coach can't be a bad thing after what seemed like a bizarre relationship with Mike Shanahan.



Verdict:

RG3 wasn't bad in 2013 – in fact, he started the season by putting together three straight games with 320 or more passing yards and five total touchdowns. Of course, he also had six turnovers during that time and failed to reach 300 passing yards the rest of the season, but he did have his moments. What RG3 didn't have was a single rushing score, and he threw a total of just 16 touchdowns with 12 interceptions. He simply looked off for most of the year, and despite the fact that he now has an offensive-minded head coach in Jay Gruden and a dynamic new weapon in DeSean Jackson, it's difficult to have faith that RG3 will go back to being the dual threat that made him so valuable to fantasy owners in the first place. It's not that the Baylor product won't put up solid numbers – there's every reason to think he will – but on average he's the seventh quarterback off the board, three spots ahead of the aforementioned Newton, a proven commodity.

Jay Cutler, Bears


ADP: 9.03





The Case for Cutler Being Overvalued:

He's missed at least five games in two of his last three seasons and has failed to reach 20 touchdown passes or 3,100 passing yards since 2010.



The Case against Cutler Being Overvalued:

He has arguably the league's top pass-catching duo and a head coach with a great offensive mind.



Verdict:

Cutler continues to get love from fantasy owners year after year, despite putting up middling numbers. This is a guy heralded by many as a franchise quarterback, yet he's tossed more than 25 touchdowns in a season once (2009, when he had 27 touchdowns – and 26 interceptions), thrown for at least 3,500 yards twice and is capable of throwing interceptions in bundles. Yet fantasy owners are taking him ahead of the likes of Russell Wilson. The flash is easy to see when it comes to Cutler – the huge arm, the talented receivers – but the substance simply isn't there often enough.