Ah … life was going along so well for the NFL with just one positive test over the first three weeks.

Kaboom!

On Tuesday reports started coming out showing three Tennessee players and five personnel tested positive. The Titans are closing their facilities until the weekend (at the earliest). According to Jason La Canfora, the league has notified Tennessee, Pittsburgh, Minnesota and Houston of possible rescheduling. Bye weeks could change. This could be a disaster for the league and obviously for fantasy owners who carefully set up for the scheduled bye weeks.

As John Travolta's character Vic Deakins said in the 1996 movie Broken Arrow said, "Would you mind not shooting at the thermonuclear weapons? Oops, wrong quote. It's this one … "battle is a highly fluid situation." Fantasy owners will just have to adjust. Waiver claims will be more important. Staying on top of the day-to-day changes will require more than simply checking your lineup Sunday morning.

"Welcome to the Thunderdome."

Truths

"In a time of universal deceit, telling the truth is a revolutionary act." – George Orwell
1) The Clyde Edwards-Helaire hype train has calmed down since Week 1.
The Edwards-Helaire media explosion since draft day was crazy and only heightened by his Week 1 performance (25-138-1). Since then, however, heís been an average rookie, rushing for less than four yards per carry (3.4 ypc to be exact) and failing to score against the Chargers or Ravens. Sure, heís good, but on a team with more weapons than anyone in the league, heís not going to be an elite running back. His preseason first-round draft selection was a result of the media craze and now fantasy owners are paying for it. No, Darrel Williams and Darwin Thompson arenít going to steal his workload. However, Andy Reid is famous for distributing the ball to everyone and with Tyreek Hill (both rushing and catching the ball), Travis Kelce, Sammy Watkins, Mecole Hardman and Demarcus Robinson as quality receiving targets not to mention fullback Anthony Sherman and tackle Eric Fisher, Reid has a lot of options. Add in Patrick (not Pat) Mahomesí ability to run and it takes away CEHís ability to be elite. Good yes, elite no.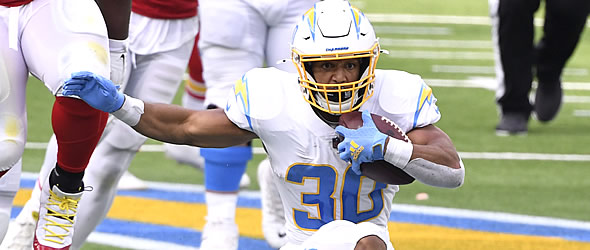 2) Austin Ekeler owners want Justin Herbert to continue to start over Tyrod Taylor.
True. In the season opener with Taylor as the starting quarterback, Ekeler saw exactly one target. In the next two games with the rookie from Oregon ďunder centerĒ (they donít really get under center any more do they?) Ekeler has averaged 7.5 targets per game and caught all 15 balls. He is averaging 25.5 FPts/G in those two games vs. 9.7 in the first game of the season despite similar touches (20, 20 and 23). On the other hand, for Coach Anthony Lynn, the decision is a bit harder as the team is 0-2 with Herbert and 1-0 under Taylor. Does he coach for 2020 or beyond?
3) Jump on board the Arizona offense.
Fact. The Cardinals are in the middle of a seven-game stretch against bad defenses. The next five opponents are; Carolina, New York Jets, Dallas, Seattle and Miami. If you are the trading type, think Kyler Murray, DeAndre Hopkins and Kenyan Drake. Sure, they might be expensive, particularly the first two, but for the next month they should perform above normal expectations. Then you can trade them again for even more value. Or you can try to predict who will emerge as the No.2 receiver opposite ďNukĒ. Think Andy Isabella over injured Christian Kirk (groin) and aging Larry Fitzgerald (37-years old). Heís currently available for pickup in 98% of all fantasy leagues, though that will drop after his two-touchdown performance against Detroit (4-47-2). Hopkins will still get the lionís share of the targets (32.7%), but against the next five creampuff defenses, Isabella could produce as well.
4) The late signing of Adrian Peterson has destroyed the fantasy value of both DíAndre Swift and Kerryon Johnson.
True. It also reminds fantasy owners to schedule their drafts as close to the start of the season as possible. Signed on September 7 after being released by the Washington Football Team three days earlier, ďAPĒ has grabbed 43 of the 69 Lions rushing attempts from his two younger counterparts making both Swift and Johnson useless. None of the three are averaging double-digit fantasy points with Petersonís 9.3 FPts/G ranking 38th among all running backs.
5) Self-awareness is a good thing for an athlete, now if only fantasy owners can find reality.
True. "For me, one of my biggest growths has come in acceptance in a sense and for me knowing itís probably not going to be that kind of season,'' said Odell Beckham Jr. Heís come to recognize that the team strength is not its quarterback, Baker Mayfield, but its two running backs Nick Chubb and Kareem Hunt. That doesnít mean OBJ canít have a big game and he has a few good opportunities starting in Week 4. Trading for him may be a bit easier after his first three games if fantasy owners, like the wide receiver himself, can see reality. ďBuy lowĒ has always been my motto. Make a lowball offer, you never know.

Lies

"As a rule we disbelieve all the fact and theories for which we have no use." – William James
1) Monday night's performance shouldn't scare Lamar Jackson's fantasy owners.
False. Iíll admit that in my six fantasy leagues, I donít have Jackson on any of the rosters, but I would be concerned if I did have him on my team. Thatís back-to-back fantasy totals under 20 fantasy points for the first time in his career. In his 2019 MVP season, he failed to reach 20 fantasy points just once (at Pittsburgh) and then responded with 30+ fantasy points in five of the next six games. His 53.6 completion percentage Monday night was the fourth-lowest since he became a starter (though his receivers werenít helping much in this one). Worse, he hasnít run for a touchdown all season and, in fact, hasnít rushed for a touchdown in seven consecutive games reaching back to Week 13 of 2019. Fortunately, the Football Team is up next for the Ravens and a chance for Jackson to prove the ďslumpĒ was just a short-term blip. If that doesnít happen Ö it will reasonably be panic time for many fantasy owners as the Ravensí schedule gets much harder in late October into November (Pittsburgh x2, Indianapolis, New England and Tennessee).
2) Alvin Kamara can continue to produce at his current 35.6 FPts/G level.
Unlikely. Since 2001, no running back has averaged 35 fantasy points per game for a season. In fact, only two backs have cracked 30 FPts/G; Marshall Faulk in 2001 (30.3) and Priest Holmes in 2002 (31.6). Going for Kamara is a quarterback who last lost all his arm strength and Drew Breesí wasnít that strong to begin with. But given Kamaraís injury history from last season I wouldnít expect Sean Payton to overwork his star running back. Heís kept Kamaraís usage to around 20 touches per game. In Faulkís and Holmesí big seasons they averaged 24.5 and 27.4 touches, respectively. Both backs also missed two games due to injury. Despite a quality backup in Latavius Murray, the Saints need a healthy Kamara to compete for a Super Bowl or even an NFC South championship against the rebuilt Tampa Bay Buccaneers.
3) It doesnít matter who you get for a kicker.
Ok, thatís mostly true, but how many times have you lost by a point or two? Make sure you have the right kicker. Also, if you own injured Younghoe Koo you will need a replacement. Aging veteran Mason Crosby is owned in just 53% of all leagues and heís ranked No.1 producing 11.3 FPts/G. He hasnít missed a kick (7-for-7 on field goal attempts and 13-for-13 in extra points). Sorry for the jinx Mr. Crosby. Number 2 on the board is youngster Rodrigo Blankenship 10.7 FPts/G and heís owned in just 27% of all leagues. No.3 is our old friend Stephen Gostkowski, formerly of New England, now in Tennessee. Heís also averaging 10.7 FPts/G and is 12% owned (however beware of the Titans current Covid-19 issues). Greg Zuerlein (7.3 FPts/G) is 97% owned. Jason Myers (5.7 FPts/G) is 50% owned. Stop giving away points when you donít have to.
4) New Chicago Bears starter Nick Foles is the answer to all your prayers.
Not unless this is 2017. Yes, Mr. Foles produced a miracle playoff run for my Philadelphia Eagles and I will always thank him for that, but since that time he couldnít beat out Gardner Minshew, who averaged just 20.1 FPts/G in 2019 good enough for 21st-place or Mitchell Trubisky who is currently ranked 24th after three games this season. Itís only because the Bears coaching staff has finally lost complete faith in Trubisky that Foles has been installed as the starter. Neither quarterback is QB1 quality while the Bears weapons (Allen Robinson, Anthony Miller, Javon Wims, Riley Ridley and no Tarik Cohen) are not up to making either quarterback fantasy start-worthy. Folesí best regular season was in 2013 in his first stint with the Eagles when he threw 27 touchdowns to just two interceptions and still only averaged 22.5 FPts/G. That type of production would rank him 15th in 2020.
5) Deshaun Watson should be traded as soon as possible since heís been such a disappointment so far.
Please get serious. Heís played the defending Super Bowl champions, then two of the best defenses in the league in Baltimore and Pittsburgh. Take a deep breath and as Aaron Rodgers would say, or more accurately spell, R-E-L-A-X. Without a preseason or training camp it was inevitable that Watson would start slowly while getting used to life without Hopkins. Brandin Cooks and Will Fuller have had injury issues early on, but the schedule gets easier and Watson will adapt. Next up for the Texans is Minnesota (hopefully) and the Vikings havenít faced a quarterback of this quality since Week 1 when Rodgers toasted them for 34.4 fantasy points. Worry more about the virus cancelling the game than whether Watson can start for your fantasy team.