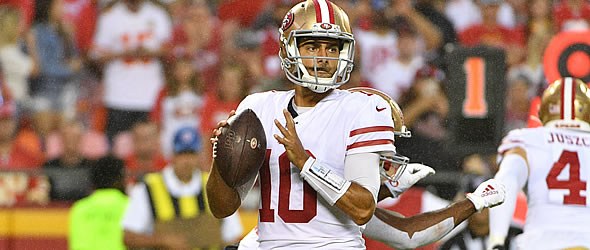 Grab a Helmet
This is an easy one. Every quarterback has a big day against the Seahawks' pass defense. The worst day so far this season was Kirk Cousins (249-2-1) so think of that as the floor, but they average yielding 369 passing yards and just under two touchdowns per game. Also, they have given up four QB rushing touchdowns.
Bridgewater has already faced the Falcons sieve-like defense in Atlanta and he tore it up for 313 yards, two scores and zero interceptions. The Atlanta pass defense ranks 31st, just ahead of Seattle, so the first game wasn't a fluke. The Falcons' defense has allowed a league-high 19 touchdown passes and multiple touchdown passes in 5-of-7 games.
Carr is not just playing mistake-free football (13 TD passes, 2 INTs), he's been consistently good all season. He's thrown two-or-more touchdown passes in five consecutive games and at least 261 yards in each of those contests. Carr has plenty of targets to spread the ball around - Darren Waller, Henry Ruggs III, Nelson Agholor and Hunter Renfrow. He's even gotten Josh Jacobs involved in the pass offense averaging three catches a game. He'll face a Browns' pass defense that ranks 29th in QB fantasy points allowed, having allowed Dak Prescott 502 yards and rookie Joe Burrow to throw for 406 yards last Sunday.

Grab an iPad
I've been recommending Stafford for the past two weeks and while he did manage 340 yards against the weak Falcons, he still managed just 21.8 fantasy points because he only threw one touchdown pass. That's two straight weeks with just one visit to the end zone and he doesn't figure to get healthy facing a Colts defense that ranks second. The Indy pass defense has allowed just four touchdown passes in the last five games and one passer to throw for 300 yards all season. It's time to lower expectations on Stafford and look elsewhere for a quarterback.
Even while getting blown out last weekend by the 49ers, the Patriots defense didn't allow much to Garoppolo (14.3 pts). Despite facing both Russell Wilson and Patrick Mahomes earlier this season, the Patriots defense has not given up a 300-yard passing game. After an MVP start to his season, Allen has stumbled averaging just 20.9 FPts/G over his last three starts. A cold passer versus a hot defense should always be avoided.
I think Tagovailoa has a chance to be a very good quarterback, but this isn't a great spot to make his debut start. And it probably wouldn't have been if the Miami bye hadn't been changed from Week 11 to Week 7. Instead of facing the Rams, he would have gotten the New York Jets for his debut. The Rams have yielded just eight touchdown passes in seven games and zero touchdown passes in five games. Watch Tua this weekend and if he looks like he belongs start him in Week 9.

Quarterbacks | Running Backs | Wide Receivers