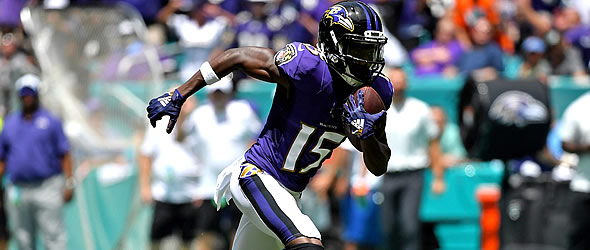 Grab a Helmet
Brown has been getting the targets all season (at least six in every game), but he's been an even bigger part of the game the last two weeks. It's not a coincidence the rise in targets started as Lamar Jackson has dealt with a sore knee. Jackson threw a season-high 37 times last week and rushed a season-low two times. The knee is still sore.
Obviously DeAndre Hopkins will be everyone's favorite facing the Cowboys sieve-like defense, but Kirk is finally getting healthy (groin) and with all the attention on "Nuk" the opportunity will be on the other side of the field. Larry Fitzgerald isn't the guy anymore and Andy Isabella had his one "dream" game. Kirk is the second option and the guy who could explode while Hopkins is double- and triple-teamed.
Just as I expect Cousins to shine, I expect Thielen along with the rest of the Vikings receiving corps to have a big day. The Falcons have yielded 42.2 FPts/G and 1,075 passing yards to wideouts, second worst yardage total in the league (Seattle is last). Thielen has produced 55.5 fantasy points over the past two games, seeing double-digit targets in both.

Grab some Pine
The Rams defense is one to avoid. They rank No.1 in fantasy points allowed by opposing wideouts (26.4 FPts/G) and have yet to allow any receiver more than 18.1 fantasy points (Amari Cooper in Week 1). The Rams lead the league in sacks (20) and fewest yards per attempt (6.2). With the 49ers question marks under center, you should avoid Samuel and Brandon Aiyuk too. This will be a running back and George Kittle game and all others should have a seat.
The stingy Bears defense has allowed just one touchdown pass all season (Mike Evans last week). They have yet to allow any receiver more than 16.7 fantasy points. The Panthers wideouts has scored just two times in five games. It feels like the type of game where Teddy Bridgewater plays conservatively to limit mistakes. I'm expecting a close-to-the-vest offense run through back Mike Davis (Christian McCaffrey likely needs another week to heal).
The Washington Football Team may not be winning ball games, but they haven't been allowing much through the air. They rank No.6 against fantasy quarterbacks and No.4 against wide receivers. Just one wideout, DeAndre Hopkins, has cracked the 20-point mark against them. On offense Daniel Jones has struggled mightily, has yet to crack the 300-yard mark and thrown two touchdown passes (both in Week 1) against five interceptions. Slayton had a big day last Sunday, against Dallas, but who doesn't? Washington DE Chase Young is finally healthy and going to interrupt the Giants passing game.

Quarterbacks | Running Backs | Wide Receivers