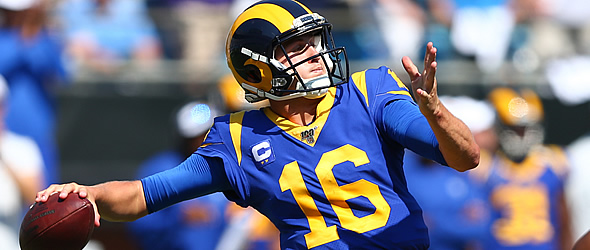 Grab a Helmet
Every quarterback facing the Seahawks should be started this season, they are simply that bad. The pass defense is almost 10% worse than No.31 Atlanta and almost 10 fantasy points worse than the league average (23.3 FPts/G). Goff's arm might be a bit sore after throwing 61 passes in Week 8, but any halfway-sane coach is going to crank up the passing game against this defense. Goff has tossed multiple touchdown passes in 5-of-8 games and this should make it 6-for-9.
With the San Diego and Los Angeles Chargers, Rivers was pretty much a guarantee to average between 21-23 fantasy points each season. The move to Indianapolis and the lack of a preseason has obviously hurt his production. But Week 10 is a chance to improve on his 18 FPts/G average. He'll likely have his No.1 option T.Y. Hilton back, who even if he isn't catching the ball, demands attention. Meanwhile the Titans have been a very giving team allowing 2,278 yards and 19 touchdown passes over eight games which equates to 285 yards and 2.4 touchdowns. Nick Foles and Gardner Minshew each threw for more than 330 yards. Rivers will be able to pass on this team.
Tagovailoa's improvement from his debut to Game No.2 was dramatic. Some of that was game script as he wasn't needed in the game against the Rams (12-of-22 for 93 and one touchdown) which was dominated by the Dolphins' defense and special teams. Against Arizona and MVP-candidate Kyler Murray, Tua needed to step up to help the team upset the Cardinals and he did, producing 23.9 fantasy points in an efficient manor (20-of-28 for 248 and 2 TDs). Always an accurate passer at Alabama, he faces a Chargers team which doesn't intercept the ball very often (4), while having allowed 16 touchdown passes. Any continued improvement in his third game, no matter how small, would get Tua producing like a low-end fantasy starter. Remember, before the injury in college, Tagovailoa was expected to be drafted No.1 before Joe Burrow.

Grab an iPad
It's tough to put up many fantasy points when your running back is performing like an MVP, but Cousins still managed 220 yards and three scores as Dalvin Cook put on a show last Sunday. However, the Bears are a bad matchup for Cousins. Since joining the Vikings, he's faced the Bears three times, losing all three, and averaging 209 yards, one TD and .67 INTs. That's certainly not fantasy-worthy.
If only Luton could play the Texans' defense every weekend. Last Sunday, against Houston he threw for 304 yards and accounted for two touchdowns while completing 68% of his passes. Alas, it gets a lot tougher this time out. The Packers rank No.5 against opposing quarterbacks. They have allowed just 250 yards per game and 1.6 touchdown passes. In addition, early weather forecasts say 38 degrees and winds from 20-25 mph. Strong and gusting winds are the enemy of any passing game.
Unlike Luton, Tannehill doesn't have to worry about the weather (54 and clear with negligible wind) … just the formidable Colts defense. The Indy defense ranks No.3 against opposing fantasy quarterbacks allowing 10 passing touchdowns in eight games and intercepting 11 passes. They yield 221 passing yards per game and just held the 2019 NFL MVP to 170 yards passing.

Quarterbacks | Running Backs | Wide Receivers