Draft day, like life itself, is very complicated. Oh, it may seem easy to those on the outside, but you and I know it is far from it. "Just draft the best quarterback" says the uninitiated. If only that were so easy!

As an example, let's look at the last three top-ranked quarterbacks.

In 2017, Deshaun Watson was a rookie quarterback out of Clemson, but he wasn't even the Houston Texans' starter. Tom Savage started on Opening Day. Of course, Savage only lasted until halftime, but as the preseason starter it caused Watson to not be drafted in many leagues. The dynamic Watson averaged 28.6 FPts/G over seven games until he was injured, but that was almost three-points-per game better than runner-up Russell Wilson.

The following year, Patrick Mahomes burst on the scene after starting just one game in his rookie season, the final game of 2017 against Denver. Few saw what he was going to do, but as the 15th quarterback off the board (ADP 118.1) Mahomes blazed his way to an NFL MVP, a stunning 5,097passing yards along with 50 touchdowns and led a vast majority of his owners to a fantasy title.

And last season, despite carrying his Baltimore Ravens to the playoffs as a rookie (going 6-1 down the stretch), fantasy owners still didn't trust this "new-age quarterback" and Jackson was the 11th quarterback off the board. We are a stubborn lot aren't we? All Jackson did was average 30.9 FPts/G - 4.6 points more than runner-up Jameis Winston.

So when a neophyte says "just select the top quarterback", that's a much harder assignment than they know.

Looking back at the last 10 "first-quarterbacks" taken in fantasy drafts (chart below on right), their average production placed then about sixth (6.1 to be exact). Obviously, "just pick the best guy" is not so simple.

FFToday has Jackson's projection at 26.1 FPts/G for 2020, still good enough to take the top spot, but that doesn't come with any kind of guarantee, because the top quarterbacks over the past five years has been drafted with an ADP of 110.7 and the 12.8th quarterback off the board.

OK, so all I've basically done to this point is tell you not to draft a quarterback early because history says (or at least in four of the last five seasons) the most productive quarterback of 2020 will be drafted after the 10th round.

So who might qualify under these guidelines? Who has the weapons to explode? Who is being overlooked either because we think they are too young, too old, not ready, or just not good enough?

I've already mentioned Matthew Stafford in a piece earlier this preseason (The Underappreciated Matthew Stafford), so who else is ready to take the world by storm? Who might we worth a later draft pick as a sleeper who just might turn out to be the best value and most productive quarterback of 2020?

I'll give you three names.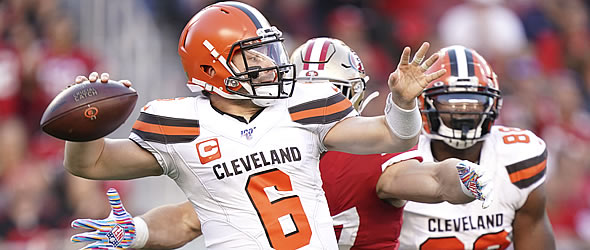 Baker Mayfield, Cleveland (ADP 133.4) – Yes, I know last season was horrible when Mayfield (ADP 63.2) was all the rage and was the fourth quarterback off the board behind Mahomes, Watson and Aaron Rodgers. His completion percentage fell to 59.4%, his touchdowns were down (27-to-22) and his interceptions were up (14-to-21). Head coach Freddie Kitchens and OC Todd Monken were clearly overmatched. Kevin Stefanski and Alex Van Pelt will be much better. The team brought back all its weapons and they are formidable – wide receivers Odell Beckham Jr. and Jarvis Landry, running backs Nick Chubb and Kareem Hunt. They even added tight end Austin Hooper (75-787-6 with Atlanta). Meanwhile, the team used their first-round draft pick (10th overall) on left tackle Jedrick Wills (Alabama) and signed Jack Conklin away from Tennessee to bolster the offensive line (40 sacks). Chubb may take away a few too many touchdowns for Mayfield to be the top quarterback in 2020, but as the 17th quarterback off the board, in the 14th-round, he's definitely a small gamble with huge upside.
Drew Lock, Denver (139.4) – Lock finished 2019 with a 4-1 record, an 89.7 QB rating and seven touchdowns to just three interceptions. He might finally be the answer John Elway has been looking for as the team didn't draft another quarterback. They did, however, load up on talented wide receivers. To go along with emerging star Courtland Sutton who proved to be the real deal in his second season (72-1,112-6), the Broncos added the most "pro-ready" receiver in Jerry Jeudy (77-1,163-10 at Alabama) and quick KJ Hamler (56-904-8 at Penn State). This just a year after selecting tight end Noah Fant in the first round. Denver also added running back Melvin Gordon, who can catch passes (150 receptions in 39 games over the past three seasons), as well as run and still have Phillip Lindsay along with Royce Freeman under contract. That's a lot of tools and they will need all of them if they are to go toe-to-toe with Mahomes and the division-rival Chiefs twice a season. The end of the 14th-round is an insignificant price to pay for the possibility he blows up.
Jared Goff (157.0) – It wasn't that long ago that Sean McVay was an "offensive genius" and Goff was throwing for more than 4,600 yards while averaging 24.1 FPts/G. In fact, it was 2018 when they went to the Super Bowl. The Rams no longer have Brandin Cooks (traded to Houston), but he was a disappointment last year anyway. They still have the underrated pairing of Robert Woods (90-1,134-2) and Cooper Kupp (94-1,161-10) at wideout along with tight end Tyler Higbee (69-734-3). The Rams used a second-round pick on Florida wideout Van Jefferson. There are two questions to answer here. Can the running game be a big enough threat without Todd Gurley? Will Malcolm Brown, Darrell Henderson or rookie Cam Akers emerge as a star? Can McVay bring out the best in Goff as he did in 2017 and 2018? To me, he's certainly worth a flier in the 16th-round in case the answer to those two questions is yes.
ADP of the No.1 Fantasy QB
Year
Player
ADP
Rank
2019
Lamar Jackson
97.6
11
2018
Patrick Mahomes
118.1
15
2017
Deshaun Watson
180+
21+
2016
Aaron Rodgers
38.7
2
2015
Cam Newton
119.1
15
2014
Andrew Luck
55.2
5
2013
Peyton Manning
42.2
3
2012
Drew Brees
12.3
3
2011
Aaron Rodgers
13.5
2
2010
Michael Vick
180+
30+
Fantasy Finish of the Top Drafted QB
Year
Player
ADP
Finish
2019
Patrick Mahomes
1
6
2018
Aaron Rodgers
1
12
2017
Aaron Rodgers
1
5
2016
Cam Newton
1
16
2015
Andrew Luck
1
6
2014
Peyton Manning
1
4
2013
Drew Brees
1
2
2012
Aaron Rodgers
1
2
2011
Michael Vick
1
6
2010
Aaron Rodgers
1
2