It doesn't seem like it, but we have completed one quarter of the football season and almost one-third of the fantasy season. Now is not the time to sit back and relax, however. Opportunities abound. A close friend of mine maintains that veteran players with a consistent track record will return to their career production level which means guys who are struggling will improve and are worth trading for and veterans playing over their head should be traded while still at peak value. I have identified a number of those opportunities below.

Week 5 includes a couple of bye teams in Detroit and Miami which shouldn't make too much trouble for fantasy owners.

Weather could be a factor for the Thursday night Los Angeles Rams at Seattle game where rain is likely and 13-18 mph gusty winds could affect the passing game.

Truths

"Cherish those who seek the truth, but beware of those who find it." – Voltaire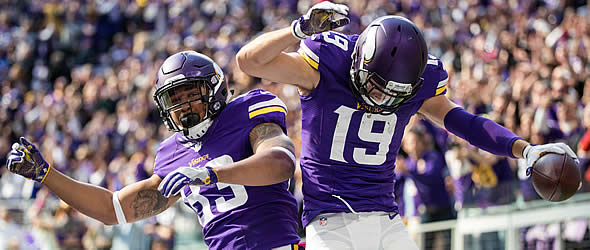 1) If injuries have left you shorthanded at wideout in Week 5 look to the NFC East.
Three of the four worst teams at defending opposing wide receivers are; Philadelphia (allowing 32.8 FPts/G), Washington (31.9) and the New York Giants (30.3). Therefore, think Jets, Patriots and Vikings. If Sam Darnold is back, it makes starting Robby Anderson and Jamison Crowder easier. Yes, I know Kirk Cousins has been bad, but spurred by Adam Thielen's post-game outburst, he should perform in Week 5 and after a bad performance from Tom Brady in Buffalo, he too bounces back in Week 5 making Edelman, Gordon and Dorsett all viable options.
2) Now is not the time to panic on Philadelphia tight end Zach Ertz.
Sure he's only averaging 12.4 FPts/G in PPR leagues (eighth) and 6.4 in standard leagues (14th), but the target share is still elite. He leads the position in targets (38) and 25.5-percent of the Eagles' 149 targets which is similar to last season (26.4). The difference is that he hasn't found the end zone. Touchdowns will come, don't "sell low." However, if his current owner wants to give him away, gladly make that possible at his currently discounted price.
3) Those who thought the absence of DeSean Jackson would open up a huge opportunity for Chris Godwin were absolutely correct.
The Penn State product has blossomed as a starter in the Bucs' passing game, averaging 22.2 FPts/G which is good enough for third-best in the league, one spot in front of teammate Mike Evans. At the same time, tight end O.J. Howard, who many including this writer thought would take a step forward, has not. Howard and Cameron Brate are sharing the workload evenly despite Howard out-snapping Brate 231-95.
4) Of the four position leaders after one quarter of the season (Lamar Jackson, Christian McCaffrey, Keenan Allen and Evan Engram), Jackson is the most surprising.
True. While McCaffrey, Allen and Engram were all thought to be top options in the preseason, Jackson was slotted 13th in our rankings, just outside a starter. Raise your hand if you thought Patrick Mahomes and Jackson would have the same number of touchdown passes after four games. Put your hand down, the correct answer is no one. The road gets tougher in the second and third quarters for Jackson. He won't keep up with Mahomes, but he's still looking like a top-five fantasy quarterback. It's going to be important for Jackson owners to earn a first-round bye so as to avoid Buffalo's defense in Week 14.
5) Dak Prescott is not an elite fantasy quarterback.
Yes, I know all you guys who live and breathe for the "star" will scream, but Prescott showed his true value this weekend. No longer facing easy pickins' against Miami, Washington and the Giants, he managed just 11.9 fantasy points against a "real" defense. Easy games against the Eagles (twice), Redskins and Giants again are balanced with difficult games against the Patriots, Bills, Vikings and Rams and Prescott will end up around 10th where he belongs. "Selling high" should be considered.
Lies
"The truth doesn't always set you free; people prefer to believe prettier, neatly wrapped lies" - Jodi Picoult
1) The Baltimore Ravens defense isn't Cincinnati and Mason Rudolph won't repeat his solid performance of Monday night.
A short work week and a better opponent work against Rudolph, who posted 24-of-28 for 229 yards and two touchdowns against the Bengals, but the Ravens' pass defense has been strafed for 349 yards by Kyler Murray in Week 2, 374 yards by Patrick Mahomes in Week 3 and 342 yards by Baker Mayfield last weekend. This Baltimore defense doesn't have Ray Lewis and Ed Reed, so try to forget the great Ravens defenses of the past and realize that the 2019 Baltimore pass defense has proven to be vulnerable.
2) It's time to trade DeAndre Hopkins.
Not so fast. Sure, he's ranked just 19th, but his schedule turns favorable after facing Marshon Lattimore, Jalen Ramsey and Desmond King. His next games feature weak defenses in Atlanta and Kansas City which should get him back on track … assuming the OL can get its act together and block someone. Deshaun Watson has been sacked on a league-high 12.5-percent of his drop backs. "Buy low" if you can because the price will be a lot higher in two weeks, but if you own Hopkins delay your decision for two weeks.
3) Surprise top-five wideout, Terry McLaurin (19.9 FPts/G), can continue to produce.
False. Even when he returns from his hamstring injury, the Washington quarterback situation is going to make a repeat of his first three games highly unlikely. Quarterback roulette between two journeymen and a not-ready-for-prime-time rookie (Case Keenum, Colt McCoy and first-round pick Dwayne Haskins) is not the formula to produce big fantasy numbers. Meanwhile, three of Washington's next five games include dates with New England, Minnesota and Buffalo. Another "sell high" option.
4) Ezekiel Elliott is averaging more fantasy points than "disappointing" Le'Veon Bell.
Sorry, no. Those of you whining about Bell rushing for just 2.91 ypc need to take a look at his overall production. He's averaging 25.3 touches per game and with 20 receptions for 121 yards and a score, he's averaging 18.1 FPts/G in PPR leagues while "Zeke" is averaging just 16.9 FPts/G. Elliott isn't the only one. Bell is also ahead of Aaron Jones, James Conner, Todd Gurley, Kerryon Johnson, Joe Mixon and Marlon Mack. Just saying.
5) James Conner owners can relax after his Monday performance (26.5 fantasy points) showed he's back.
Enjoy the production, but don't relax. Backup Jaylen Samuels actually saw the same number of rushing attempts (10) and receptions (8) and while lining up in a Wildcat formation "threw" the ball three times for 31 yards! I don't think it was a one-game fluke. It looks like Samuels will become an integral part of the Roethlisberger-less Steelers offense.