Halleluiah, the bye season is over and we can finally start our best lineups … minus all the injured players, of course. For most leagues, this is the final game before the playoffs, so good luck. For those who have already clinched a spot and a first-round bye, you should be planning for your playoff opponent.

As we head into December, weather could begin to be a factor … whether cold, rain, wind or snow. Picking up a warm weather or dome placekicker can be beneficial and easily done through the waiver wire. It looks like rain in New York and Baltimore this Sunday and near freezing weather in Kansas City and Denver.

Truths

"Rather than love, than money, than fame, give me truth." - Henry David Thoreau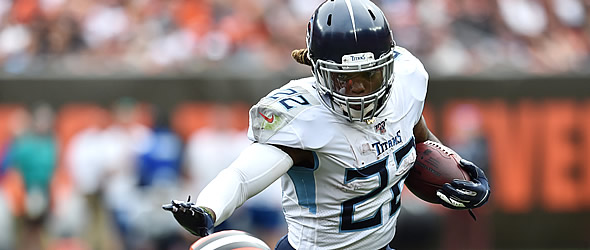 1) Here come the young quarterbacks!
Fact. Don't look now TB12, Drew Brees and Aaron Rodgers, but since Week 10 the only quarterback above the age of 28 in the top-12 (based on FPts/G) is Ryan Tannehill (4th). Additionally, the remainder of the top-five are 23 years-old or younger (Lamar Jackson, Kyler Murray, Josh Allen and Sam Darnold). Apparently, the "apprenticeship" for young quarterbacks is about half-a-season. Remember this on Draft Day next season when your decision is a journeyman quarterback or Joe Burrows/Justin Hebert.
2) Derrick Henry blows up - right on schedule.
Just as he did in 2018, Henry has exploded late in the season. Last year, he produced 585 yards and seven touchdowns from Week 14-17. This season he's racked up 347 yards and four touchdowns the past two games. Over the final four games he has two cream puffs (Oakland, Houston) and two tough games (Indianapolis, New Orleans). This season has been his best to date, posting an 18.5 FPts/G average, up from 12.7 in 2018.
3) I think I saw Cooper Kupp on my milk carton.
It's about the only time I've seen him the past month. A bye week and then games of zero, 8.3 and 9.5 fantasy points have left Kupp owners in crisis as we head toward the fantasy playoffs. His quarterback, Jared Goff, has been horrible and the OL has been a disaster. The only good news I can offer is that over the past four games the Arizona Cardinals and Seattle Seahawks rank 28th and 29th respectively, in WR fantasy points allowed.
4) Speaking of missing-in-action...
Since Emmanuel Sanders' big debut with the 49ers in Week 9, he's been disappointing producing just 13.2 fantasy points since Week 10. He'll face three teams ranked 21st or lower over the past three weeks in WR fantasy points allowed, so this situation could improve quickly.
5) If you want to see the "best against the best" in Week 13...
Watch Sunday when New England heads to Houston for the nightcap and DeAndre Hopkins goes head-to-head with Stephon Gilmore. Be forewarned, the Patriots have yielded just one touchdown pass to a wideout all season (Golden Tate) and Tate is also the only receiver to score more than 15 fantasy points. Gilmore shut out Amari Cooper (two targets, no catches) last Sunday. Also know that Hopkins has faced the Patriots five times over the past four seasons and hasn't reached the end zone while averaging just 65.4 receiving yards per game. By the way, for those you believe Michael Thomas is the best wide receiver in the league, he couldn't crack 15 points against Gilmore and the Pats either, when they last faced each other in early 2017.

Lies

"There are no facts, only interpretations." - Friedrich Nietzsche

1) It's not Jimmy Graham's fault he hasn't lived up to his New Orleans five-year stint.
Graham's time in NO: 78 games, 386 receptions, 4,752 yards, 51 touchdowns. Sorry Jimmy, but there is no one else to blame. Since leaving Drew Brees you have caught passes from Russell Wilson and Aaron Rodgers, two pretty good quarterbacks. In those five years you have caught just 253 balls for 3,001 yards and 23 touchdowns in 70 games. Graham averaged 10.02 FPts/G with New Orleans and 6.23 FPts/G with Seattle and Green Bay.
2) No need to pay attention to kickers, one is as good as another.
While there is frequently little to choose from, there is a chance your rostered kicker might not be on the job this weekend. The Panthers' placekicker Joey Slye missed a key field goal Sunday against the Saints and the team signed kicker Greg Joseph to the practice squad. They also worked out kickers Kai Forbath, Elliott Fry and Nick Rose. Meanwhile, in New York the struggling Aldrick Rosas saw the team work out both Giorgio Tavecchio and Blair Walsh on Tuesday. Jets kicker Sam Ficken might not want to send out his laundry as he's missed a field goal in each of the last four games and is hitting at just a 64.3-percent rate, below that of Rosas and Slye. At the opposite end, Jake Elliott (14-of-14), Josh Lambo (24-of-25) and Justin Tucker (20-of-21) are all connecting at a rate of 95-percent or better.
3) The Jets' Sam Darnold has finally arrived, ranking among the top-five quarterbacks since Week 8.
Perhaps, but just as likely (or more likely) is the inferior opponents he's faced. He's thrown for 1,316 yards, 10 touchdowns and five interceptions in the last five games (24.3 FPts/G), but faced a Jalen Ramsey-less Jaguars, Miami, New York Giants, Washington and Oakland. Not exactly "Murderers Row". We probably still won't know for a while as he will face two more inferior defenses in Cincinnati and the Dolphins again so use him twice more if needed before matchups with Baltimore and Pittsburgh.
4) Chris Carson's recent fumbling problem isn't an issue.
False. Carson fumbled in each of the first three games this season, then went five straight games without a fumble (averaging 17.82 FPts/G). Unfortunately, he's back to fumbling again (four in three games) which brings a time-share with the now-healthy Rashaad Penny into play. Carson should still get the first chance to shine each week, but another fumble could relegate him to the bench. After Penny's monster day in Philadelphia (14-129-1) the backup and former first-round draft choice has likely earned at least a 30-percent workload each weekend.
5) The return of Kareem Hunt to the field is the reason for the Browns three-game win streak.
While it helps to have the multi-talented running back on the field, and he did return in the Week 10 when the streak started, they already had solid production from Nick Chubb. It's more likely quarterback Baker Mayfield's drastically reduced turnover rate (from 15 in the first seven games down to two during the winning streak) is the primary factor. Mayfield has also produced three of his top-four QB ratings during the streak.