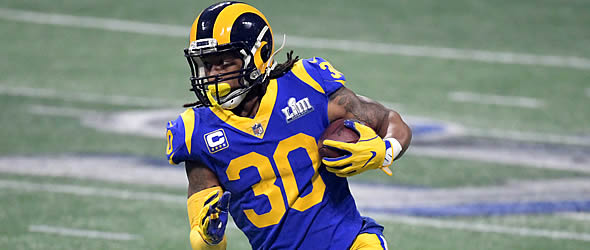 The Los Angeles Rams' starting running back, Todd Gurley, might be the most talented back in the league, but he's also going to be the most difficult player to evaluate this September. You might ask how one of the most gifted running backs in the NFL can be so difficult to evaluate?

Let me first cloudy the issue before clearing it up.

First the good.

Over the past two regular seasons, Gurley has rushed for 2,556 yards, caught 123 balls for 1,368 yards and scored 40 times. He's averaged 21.81 fantasy points per game. His 632.4 fantasy points is 131.8 fantasy points better than No. 2 Alvin Kamara.

He plays in an explosive Rams' offense which averaged 32.9 points per game last season (2nd best). In 2018 they led the league in scoring. Gurley has averaged 329 touches per season since 2017 despite not playing in all 16 games in either year (combined for 29 of 32 games).

The Rams offensive line was ranked No. 1 by Football Outsiders in Adjusted Line Yards at 5.49. (The Adjusted Line Yards formula takes all running back carries and assigns responsibility to the offensive line based on the following percentages: Losses: 120% value, 0-4 Yards: 100% value, 5-10 Yards: 50% value, 11+ Yards: 0% value)

He's coached by one of the most innovative offensive minds in the league – Sean McVay.

Running back C.J. Anderson, who became a late-season fantasy sensation, is now employed by the Detroit Lions. Anderson ran for 167 yards and 132 yards in Weeks 15 and 16, respectively. He carried the ball 43 times while Gurley mostly sat and watched, rushing just 12 times.

You would think that all these factors would make Gurley an easy selection in the first round. Not so fast!

Now for the bad.

In November of 2014, while playing for Georgia in a game against SEC rival Auburn, Gurley blew out his left ACL in a non-contact injury. Gurley also suffered an "unspecified left knee injury" in Week 1 of 2018, dealing with it and playing until the final two games of the regular season. He originally called the issue an "inflammation." He did rush 16 times for 115 yards against Dallas in the first playoff game, but then disappeared in the conference championship against New Orleans (four carries for 10 yards) and the Super Bowl (10 carries for 35 yards). If Gurley's knee wasn't an issue then his usage rate in the final two playoff games would be "criminal."

If Gurley's knee is still an issue, it would explain matching the Lions' offer sheet for backup Malcolm Brown. It would also justify the high 2019 draft-day price (a third-round pick, No. 70 overall) for Darrell Henderson, an explosive back out of Memphis. That's a lot of running back talent for a coach that almost exclusively uses an "11" formation (one back, one tight end, three wideouts).

Then there are McVay's recent statements.

"Being able to give somebody a chance to come in and provide a different threat is exactly what we identified in Henderson," McVay said.

Translation - This likely means Henderson will be used instead of Gurley as a third-down and long yardage receiver? Oops, there goes a significant portion of those 1,300+ receiving yards and 10 touchdowns.

"As far as managing the workload, those are things that we talk about with Todd and as you continue to get educated on, is that something that we should do for the long haul …"

Translation - It's also possible that Brown and Henderson will pick up a larger percentage of the rushing attempts than in previous seasons.

Gurley will likely see little or no playing time in preseason for fantasy owners to see for themselves that he is healthy … or not.

Bottom line.

So what we have is an extremely talented running back, who has been the best in the league, with a management team that has brought in talent to take some of the pressure off their star with the arthritic left knee. That's great for Rams fans, not so good for fantasy owners.

If it was just C.J. Anderson behind Gurley, fantasy owners could handcuff the two and feel relatively safe heading into the season. But with two distinctly different types of backs behind Gurley in 2019, it's more likely the two would share the workload as his replacement and thus a precarious situation for fantasy owners.

It also explains why Gurley, despite his talent, is the seventh running back off the board in recent mock drafts (behind Saquon Barkley, Christian McCaffrey, Ezekiel Elliott, Kamara, David Johnson and Le'Veon Bell) and 10th overall in PPR leagues. I'm thinking even that is too high. He might also end up behind James Conner, Joe Mixon and Dalvin Cook.

Let someone else take the big risk, because in 2019 I don't think there is a "pot of gold" at the end of the Gurley rainbow.