It's the final week for byes and while only two teams are off it's the two most prolific scoring teams – the Rams and Chiefs. In one of my leagues, 14 players were started Monday night (including both kickers and D/ST).
Only a couple of weeks remain before the playoffs begin. Now is not the time to rest and relax. If you are fighting for a playoff spot, make the pickups or trades needed. If you have clinched a playoff spot you can still adjust your roster based on favorable playoff matchups.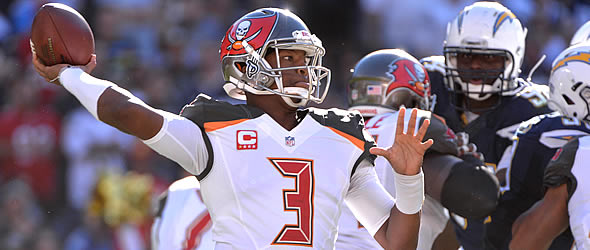 Truths

"Facts don't care about your feelings." - Ben Shapiro

1) If Tampa coach Dirk Koetter would just leave his quarterback in the entire game, fantasy owners wouldn't care which one starts.
In games where the Bucsí quarterback has started AND finished, they are averaging 34.4 fantasy points. Thatís five games for Ryan Fitzpatrick (averaging 34.42) and two games for Jameis Winston (averaging 34.35). In three games they split time. Meanwhile, Patrick Mahomes is averaging a league-leading 32.7 FPts/G. Winston is expected to start in Week 12.
2) The champion Philadelphia Eagles will likely finish the season as the worst defending champion of the Super Bowl era.
This one hurts me personally. Only six champions finished the following season with a losing record and the worst 16-game record is 6-10 by the 1999 Denver Broncos. The Eagles are an ugly 4-6 and will face just one team with a losing record over the final six games. Given a secondary with just one starter healthy from last yearís team (Malcolm Jenkins) and a mediocre pass rush, itís possible they lose five of six. The primary culprit, however, is the offense which ranked third last season (28.6 ppg) and is sitting at No. 24 this season (20.5 ppg). Fantasy owners who continue to ride the low-flying Eagles do so at your own risk.
3) Finding a replacement for Alex Smith should be easy for fantasy owners.
A lot easier than for the Washington Redskins. Fantasy owners have 31 quarterbacks who average more than the 17.2 FPts/G that Smith was producing in 2018. Colt McCoy, however, isnít likely to be a viable option. Since coming into the league in 2010 with the Cleveland Browns, a year with San Francisco and three season in Washington, McCoy has never averaged more than 16.5 FPts/G. In fact, he has thrown for 300 yards just twice in his career (25 starts).
4) Christian McCaffrey has become a touchdown machine.
True. For all of 2017 and the first half of 2018 the Panthers didnít use McCaffrey to score, only to get them in position to score. Over the past three weeks the Stanford product has produced five touchdowns. Over that span, McCaffrey has produced the most points among fantasy backs. Itís not a coincidence that Cam Newton hasnít run one in over that time.
5) Add Ron Rivera to the list of foolish coaches going for two points instead of a tie and overtime.
As an owner of Cam Newton and Kenny Golladay, I was excited as the Panthers drove for a game-tying score with 1:07 remaining in the game, only to be shocked by Riveraís decision to go for the win on a two-point conversion instead of a game-tying extra point. Perhaps he should have talked to Mike Vrabel, who tried the same thing, with similar results, in Week 7 against the Los Angeles Chargers in London. Graham Gano is 25-of-28 on extra points this season (89.3%). The Panthers are 2-for-5 on two-point conversions (40%). Facts are facts.
Lies

"The best lies to tell are the ones people want to believe" - Jasper Fforde

1) In a game with 105 points, surely the best running back in football got his share of the workload and fantasy points.
False. For some reason, Sean McVay was too busy throwing all over the lot to give his star back, Todd Gurley, the ball. Gurley managed just 15 touches for the game, including six first-half running plays. He totaled 9.4 fantasy points after failing to score for the first time all season. Late news Ė McVay said Gurley injured his ankle early in the game, but it was never announced.
2) TreíQuan Smith, ranked eighth among wide receivers over the past three weeks, belongs among the other more famous WR1s.
Sorry, no. Heís the model of inconsistency as rookies are known for. Heís averaging 15 FPts/G over his last two games, but actually has two 20+ point games and four games below 2.0 fantasy points this season. Heís been targeted more than six times just once this season. Iím not ready to call him a WR1 and probably wonít until he puts together at least three 10-target, 15 fantasy points games in a row. There are a lot of mouths to feed on the Saints and Smith is still pretty far down the list.
3) The Chicago Bears offense will be just fine if Mitchell Trubisky canít play on Thursday against the Lions.
Uh no! In case you havenít seen the Bears depth chart it lists Chase Daniel as the backup to Trubisky. Heís made two career starts and didnít throw for more than 200 yards in either one. He owns one career touchdown pass. Avoid all receiving options if Daniel starts and you should probably just stay away from Jordan Howard and Tarik Cohen as well. In fact, just stay away from the entire team including kicker Cody Parkey.
4) "Not quite 100 percent, but I feel confident and have made all the throws Iím going to need to make over the course of a game," said Ryan Tannehill (shoulder).
Thatís player speak for Iím not healthy, but I want to try and play. The Dolphins have lost three of four games and are trying desperately to stay in playoff contention. If you must play a Miami wideout make it the one who catches short, less painful, passes Ė a.k.a. Danny Amendola.
5) The placement of O.J. Howard on the injured reserve is a blow to the Tampa Bay passing offense.
False. The Bucs have a solid option behind Howard on the depth chart Ė Cameron Brate. Brate hasnít done much this season because of the lack of opportunities, but last season with Winston under center he posted 48-591-6 and the previous season 57-660-8. Tampa is also loaded at wideout and can use four receivers if needed with Mike Evans, DeSean Jackson, Chris Godwin and Adam Humphries.
---
Steve Schwarz served as the fantasy sports editor of The Sports Network and is the 2014 FSWA Football Writer of the Year.