And so we begin another season of fantasy football. Remember, sometimes statistics tell the truth and sometimes they lie. Sometimes people tell the truth and sometimes they lie. I'm here to try and help you tell the fact from the fiction.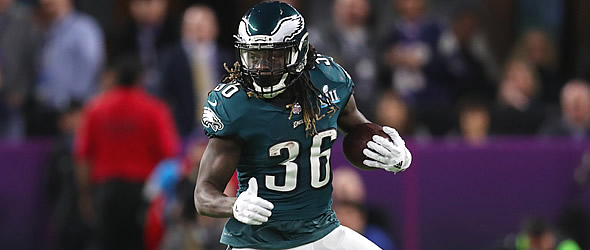 With Nick Foles at the helm it may take awhile fo this Eagles offense to find their footing.

Truths

"The truth may not lead you to where you thought you were going, but it will always lead you somewhere better. – Source unknownl

1) Winning the Super Bowl LII MVP award doesn't guarantee success in 2018.
Unfortunately true. I thank Nick Foles from the bottom of my heart for helping bring a Lombardi Trophy to Philadelphia for the first time, but I don't think he's going to be very good in Week 1 against Atlanta. He's been horrible in the preseason and while I don't care about exhibition statistics the entire Eagles' offense isn't ready for the regular season. Alshon Jeffery is out, Nelson Agholor missed much of the preseason with a lower body injury, slot receiver Mack Hollins missed Monday practice with a groin injury, Jay Ajayi hasn't been healthy and returning All-Pro LT Jason Peters didn't play a down this preseason. They simply aren't ready which could explain head coach Doug Pederson's "crankiness" this week. Stay away from this offense for a while.
2) The Chargers "new" tight end changed how many tight ends play the game.
True. The just un-retired Antonio Gates was one of the first to use his "basketball skills" on the gridiron, blocking out smaller defenders and catching touchdowns. Gates helped a Kent State team to the Elite Eight in 2002. He is also the Chargers' franchise leader in receptions (927), receiving yards (11,508) and touchdowns (114). The touchdown total is an NFL record for tight ends. Jimmy Graham (Miami, FL) has followed the trail blazed by Gates and while Rob Gronkowski didn't play college hoops, he also frequently uses his body to shield a defender from the ball.
3) As always, preseason statistical leaders mean nothing for fantasy owners.
Beyond Baker Mayfield, no leading quarterback should see the field this season. The best of the running backs from the top-five is John Kelly, who is, at best, the handcuff to Todd Gurley and no receiver is higher than third at the position on the depth chart. If you are looking for a deep, deep sleeper, Tre'Quan Smith of New Orleans might see playing time later in the season.
Pre-Season Leaders - QBs
Rk
QB
Team
Yds
1
Tyler Bray
FA
652
2
Nate Sudfeld
PHI
524
3
Ryan Griffin
TB
518
4
Chase Daniel
CHI
516
5
Baker Mayfield
CLE
501
Pre-Season Leaders - RBs
Rk
RB
Team
Yds
1
Chris Warren
OAK
292
2
Ryan Nall
CHI
223
3
John Kelly
LAR
197
4
Mike Boone
MIN
195
5
Gus Edwards
BAL
174
Pre-Season Leaders - WRs
Rk
WR
Team
Yds
1
Javon Wims
CHI
227
2
Shelton Gibson
PHI
195
3
Richie James
SF
192
4
Jake Kumerow
GB
190
5
Tre'Quan Smith
NO
189

4) Of the "new" opening day starters, rookie Sam Darnold, will not have the worst numbers for Week 1 … or even next to last.
Very likely true. Of the new starters in Week 1 (versus Week 1 of a season ago), Deshaun Watson, Patrick Mahomes, Jimmy Garoppolo, Andrew Luck and even Foles (admittedly a shaky vote on the last one) should post better statistics, but Nathan Peterman (vs. Baltimore) and Ryan Fitzpatrick (at New Orleans) are going to put up lower totals than Darnold at Detroit. Also, I'm not sold on Ryan Tannehill against Tennessee and add tough matchups for Eli Manning and Joe Flacco. The Ravens can flat out play defense and the Lions are a better defense on the road than at home (allowed 22.78 FPts at home vs. 17.82 on the road in 2017). Meanwhile, the young Saints defense struggled early against Tom Brady and Matthew Stafford, but then allowed just 18.88 FPts to opposing QBs at home over the final six games. Tannehill, like Luck, hasn't played in over a year, but Tannehill doesn't have Luck's talent. In a two-quarterback league, Darnold might sneak in at the bottom of the list this weekend.
5) The NFL fantasy draft is the best day of the year.
100% true. Your team looks really good on paper. They can win it all. Your guys aren't injured yet (hopefully you didn't select Jerick McKinnon). It's even better when the league makes a full day of it. We have a tradition in one of my leagues of golf in the morning, then settling in for an afternoon of drafting, eating and libations.
Lies

"Any fool can tell the truth, but it requires a man of some sense to know how to lie well." – Samuel Butler

1) "It is going to be close (to be ready for Opening Night) … the final hurdle, which will not be my decision, will be getting cleared for contact," Carson Wentz said a couple of weeks ago.
This is not so much a lie, as it was wishful thinking by an athlete who desperately wants to get back into the action. As I stated in a piece on August 8, there is no way the team would risk their superstar quarterback, who they want to play at an MVP level for the next 10+ seasons, just to have him play on opening night. His backup, Nick Foles, is the Super Bowl MVP and even if the Eagles lose the opener, they have enough talent to make the playoffs. Additionally, they can give Wentz a full month more of rehabilitation if they wait until Week 4 against Tennessee and still likely enter the game with a 2-1 record.
2) Panthers OC Norv Turner called it "realistic" to believe Christian McCaffrey could get 25-30 touches per game this season.
False. It might help Turner revive his career, but you don't use a 205 lb. back that often if you want to have him available for all 16 games. This reminds me of the summer of 2013 when Buffalo OC Nathaniel Hackett said of starting running back C.J. Spiller … "We're going to give him the ball until he throws up." He averaged 13.5 carries-per-game and carried the ball four less times than backup Fred Jackson (206-202). McCaffrey will most certainly be the main man in the backfield, but 20-22 touches is a more realistic target.
3) You can still pick Pittsburgh Steelers running back Le'Veon Bell without concern.
Last season, Bell came in to practice for the full week before the opener and scored just 13.8 fantasy points over his first two games before getting it together. He failed to report on this Monday. OK, maybe he was still at the beach enjoying his Labor Day weekend and will arrive later in the week. Or maybe, with all signs pointing to Bell going elsewhere after the 2018 season, he'll sit out some time and/or play not to get injured when he finally returns? I can't pick Bell top-three if he's not in camp.
4) Aaron Rodgers uses his tight ends.
Not as often as you would think. For those who think Jimmy Graham will revive his numbers from when he was in New Orleans with Drew Brees, you should re-evaluate. In Rodgers' 10 seasons as a starter, no tight end has averaged more than 8.0 FPts/G and that was Jermichael Finley in 2013. Over the past four seasons, the Packers leading tight end has averaged just 4.3 FPts/G. Graham had better score a lot of touchdowns because big yardage totals seem unlikely.
5) LeSean McCoy has been, and will be, Buffalo's only reliable fantasy weapon.
I can't go there. McCoy is full of question marks this season both on and off the field. First of all, he turned 30-years-old and we all know that's when running back production begins to slip. Second, the Bills with Nathan Peterman or rookie Josh Allen under center have no credible passing threat, so McCoy should see eight-man boxes all day. Third, there is a lot of wear and tear on the running back after 2,752 touches and 13,470 yards over nine seasons. Fourth, the Bills OL lost three starters from last season and are ranked 29th by PFF. Fifth, McCoy remains part of an open investigation stemming from a July home invasion during which his ex-girlfriend was injured.

---
Steve Schwarz served as the fantasy sports editor of The Sports Network and is the 2014 FSWA Football Writer of the Year.