I'm an avid golfer. Yes, I know that has nothing to do with fantasy football but bear with me. The other day, my buddy Drew and I played a new course, a bit off the beaten path, but we had been given a very good recommendation, so off we went.
It was a long drive, out in the country, far away from the city lights and as we came over the mountains we could see the course below, cleverly cut out from a thickly wooded forest. We checked in without issue, though the guy at the register had a funny smirk on his face as he smiled and said "have a great round."
We were playing fairly well, when on the seventh hole I sliced my drive far to the left, deep into the tall trees. I got out of the cart and headed into the woods to see if I could find my ball. As I headed deeper and deeper into the forest, I was about to give up, when I saw something shiny off to my right. I reached down to pick up what I thought was my ball, but it was actually the last glint of sunlight that extended this far into the forest reflecting off something metal.
I picked up what looked like a tiny teapot. It was a little bit muddy, so I began to rub the dirt off it, when suddenly a puff of smoke and a miniature genie appeared and in a squeaky voice said "Thanks for setting me free. I've been stuck in this stinkin' urn for a 1,000 years. I'll grant you one wish. Anything you want!"
I thought for a moment. A million dollars would be nice. A billion would be better. How about power? I could be President of the United States! No, that seems like it might be too difficult a job what with the country so divided and so much hate. Then it came to me, "I got it," I said.
"I want a crystal ball that allows me to see six months into the future." With that, the genie disappeared in a bat of an eye and he was gone.
Was I dreaming? Hallucinating? Had Drew spiked my Gatorade so he could beat me?
I started back out of the woods toward the fairway with my head spinning when almost impossibly I saw a ball. As I picked it up to make sure it was mine, I also saw a teeny, tiny crystal ball, not even as large as the golf ball. I stuck the crystal ball in my pocket and returned to the course and finished the round. I told no one about what happened.
I'm home now. The ball is sitting in front of me as I type. I wonder if it really works. If it is really magical the world is mine! I could predict the future. I would know what the stock market is going to do. I would know what countries will do. I would know what people will do. I could be king of the world! Riches, power, influence would all be within reach.
I'm going to test it out. Something easy. It's July 4th, so six months from now the 2018 NFL season will be coming to a close. I'm going to ask the crystal ball who will have a breakout season.
Just as I finish this thought, a picture has started to form inside the ball, but it is very small and hard to make out. A bit fuzzy, I can still manage to see what is forming in the haze. It is a list of the NFL leaders by position! No surprises at the top, but I see a few names that you wouldn't expect to be there. Guys that won't be selected anywhere near the top on draft day, if at all.
I've decided to let you in on this secret to help you win your league, but when it turns out the crystal ball has mystical qualities, don't try to find me. My crystal ball and I will have disappeared into the night. I'm thinking Las Vegas.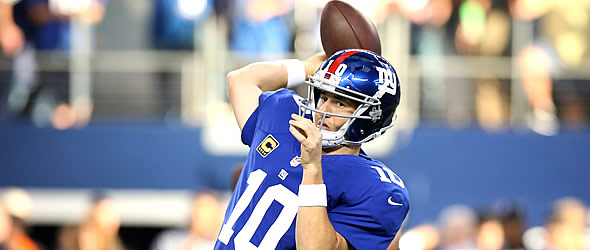 Eli Manning's poor results the last two seasons have his draft price in the tank. Time to buy.
Eli Manning, QB, New York Giants Ė Manning finished an ugly 29th among quarterbacks in 2017, averaging just 17.2 FPPG. His offensive line was horrible. His wide receiver corps decimated by injury and he had no running game to rely on. Itís 2018 and the Giants improved their line by signing former Patriots tackle Nate Solder and drafted guard Will Hernandez. To fix the running game they used the No. 2 overall pick to select the multi-talented Saquon Barkley. And All-Pro wideout Odell Beckham Jr. is healthy. Thatís a lot of firepower. If the line is, in fact, improved, Manning should lead a dynamic offense. And they will need to be given that their defense finished 27th in points allowed (388), 31st in yards allowed (5971) and 30th in yards-per-play (5.7). The best fantasy offenses are frequently those that try to score for 60 minutes each game, not those who are nursing big leads. Manning (current ADP 140.8) will finish top-12.
Patrick Mahomes, QB, Kansas City Ė Andy Reid loves the forward pass. We know it. Defenses know it and yet he still throws the ball. Last season the Chiefs threw the ball 57 percent of the time. He threw it that often despite a breakout season from his rookie running back (Kareem Hunt 272-1327-8). Thatís because his two most talented offensive players catch the ball Ė Tyreek Hill and Travis Kelce. Over the offseason they added wideout Sammy Watkins. Now three of his four best players catch the ball. So he will throw. That means second-year starter Mahomes will throw Ö often. He will throw for more than 4,000 yards and if I am seeing the crystal ball correctly, 28 touchdowns. Given his 118.3 ADP, thatís going to be a huge bargain.
Mike Williams, WR, Los Angeles Chargers Ė Ignore last seasonís injury-filled rookie year. Williams becomes an integral part of the offense in 2018. There is certainly plenty of opportunity with the loss for the season of Hunter Henry (ACL) and the retirement of Antonio Gates. The two tight ends accounted for 114 targets. With no reliable receiving tight end, the Chargers will go to three receivers more often. The Chargers top wideout, Keenan Allen, was the 2017 Comeback Player of the Year, which of course means he was injured the previous season. In fact, heís only played a complete season once in his five-year career. Heís injury prone and thatís more targets for Williams. The second-year wideout will catch 60 balls for 737 yards and eight scores. Those numbers are similar to what Nelson Agholor posted in 2017.
Sterling Shepard, WR, New York Giants Ė Think about it. You are the opposing defensive coordinator looking at the Giants offense. Who is the most dangerous player? ODB of course. You plan to double cover him with a safety over the top. Who is the next most dangerous threat? Barkley is the answer. You decide to crowd the line of scrimmage with your linebackers. Thatís going to leave a lot of space for Shepard and tight end Evan Engram. Shepardís explosiveness will allow him to rack up just under 1,000 yards and nine touchdowns. Top-20 value. Not bad for a guy with a 126.9 ADP.
George Kittle, TE, San Francisco Ė Kittle ranked 27th in FPts/G last season (4.2). Over the last five games with Jimmy Garoppolo under center he averaged 6.68 FPts/G. Had he done that for an entire season he would have finished seventh. Garoppolo likes using his tight end. He comes from a system in New England that obviously likes its tight ends. Head coach and OC Kyle Shanahan used his tight ends throughout his career. The second-year pass catcher from Iowa will just miss the top-10, finishing 11th among tight ends.
Uh-oh, the crystal ball is getting a bit fuzzy.
I see one more thing … the Golden State Warriors will be NBA champions again next season. OK, I didn't need to be clairvoyant to see that one.


---
Steve Schwarz served as the fantasy sports editor of The Sports Network and is the 2014 FSWA Football Writer of the Year.