Get a jump on the competition this week. Now is the best time to prepare for upcoming byes instead of after the weekend when everyone else realizes they can't field a starting lineup and makes claims too.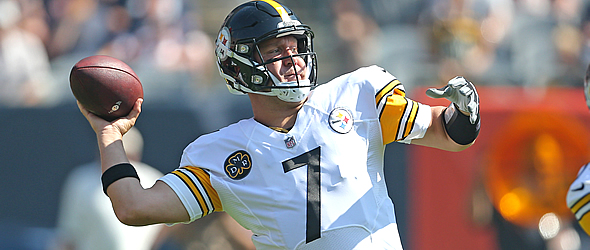 Ben Roethlisberger currently sits as the QB19 through 3 weeks in standard scoring leagues.

Truths

"The truth is found when men are free to pursue it." - Franklin D Roosevelt

1) Starting Sam Bradford's replacement, Case Keenum is, at best, a longshot play.

While Keenum posted 32.3 fantasy points against Tampa Bay last Sunday, past history indicates the very small chance of that happening again. Since 2015, Keenum has managed to crack the 20-point fantasy mark just twice in 17 tries. Thatís less than a 12-percent chance. Over the past 10 meetings between Detroit and Minnesota, Vikings QBs have averaged only 16.4 FPts/G.

2) Beware of overvaluing Chris Thompsonís early season production.

Yes, the Washington back is ranked third among running backs in fantasy points (19.7 FPts/G), heís just not actually running the ball very often. Thompson has attempted just 14 rushes for 119 yards, including 61 yards on one carry. Plus, Redskins coach Jay Gruden just said he wasnít going to give Thompson more touches, probably due to his poor injury history. Ride him for as long as ďFat RobĒ Kelley is nicked up and then trade him while his value is ďnose-bleedĒ high.

3) Mike Gillislee is completely touchdown-dependent.

Last season, when LeGarrette Blount rushed for 18 touchdowns, he also managed 1,161 yards. Gillislee is on pace for just 773 yards and has a poor matchup this week against Carolinaís tough linebacker duo of Luke Kuechly and Thomas Davis. Avoid him this weekend and wait for more favorable matchups against the Jets and Falcons.

4) Ben Roethlisberger woes continue.

True. Particularly on the road as weíve discussed in the past. Over his first three games of 2017 the passing yards have decreased, his completion percentage has dropped as has his fantasy production. He hasnít thrown for 300 in a regular season game since Week 10 of last season and hasnít done it in a regular season road game in nine games. He has never thrown for 300 yards in Baltimore, so Week 4 isnít likely to be his breakout game.

5) Kareem Hunt is getting all the hype (and rightfully so), but Tyreek Hill is playing at a high level too.

Hillís 13.2 FPts/G is ranked fourth-best, behind only Stefon Diggs, Jordy Nelson and Antonio Brown. Heís been a top receiver since mid-season of 2016. However, beware that two of Hillís next three games are against teams who arenít yielding wideout fantasy points Washington (ranked third) and Pittsburgh (ranked first).
Lies

ďThere are a terrible lot of lies going about the world, and the worst of it is that half of them are true." Ė Winston Churchill

1) Hunt is on pace to break the all-time single season mark of 2,509 combined yards set in 2009 by Chris Johnson (TEN).

Yes, itís true heís on pace to break the mark, but no, he wonít get there. Hunt has second-best total in NFL history for rookie combined yards (538) through three games (Lions rookie Billy Sims holds the record with 562 yards). When Sims averaged 187.3 combined yards over the first three games he finished averaging 104.8 ypg over the final 13 games, including just three 100-yard rushing games. Sims had six touchdowns in the first three and 10 in the final 13. Not a bad finish, but no one could possibly keep up that early pace. Neither will Hunt. Despite protestations to the contrary, head coach Andy Reid will need to limit Huntís workload. Plus, opposing defensive coordinators will start designing defenses to stop him. And then there is the ďrookie wall.Ē Heís at his peak fantasy value right now and unless you think heís the next Eric Dickerson, perhaps you could get two star players for him in trade?

2) Completing a lot of passes always equates to producing a lot of fantasy points.

False. Through three games, the top-six in completions are; Aaron Rodgers (89), Eli Manning (86), Drew Brees (76), Carson Palmer (75), Philip Rivers (73) and Mike Glennon (72). Only two of those six, the two obvious ones Rodgers and Brees, are top-10 in quarterback fantasy points per game. Palmer ranks 12th, Manning 20th, Rivers 25th and Glennon 31st. Last season, seven of the top-12 in completions finished outside the top-10 in FPts/G. In 2015, eight of the top-12 ended up outside the top-10.

3) Rams wideout Sammy Watkinsí 10.5 FPts/G is sustainable.

Iím going to have to say no to this one. Through three games heís ranked 12th in FPts/G, but heís done it on just 14 targets, catching 13 of them. A 92.8 catch-percentage is not sustainable. In 2016, the top-10 receivers (by yards) averaged a 64.8 catch-percentage. Unless he starts seeing twice as many targets, expect his average to take a significant hit.

4) Itís time to give up on DeAndre Hopkins and trade him.

While heís ranked just 25th in FPts/G (8.8), heís No. 1 in targets (37). Meanwhile, rookie Deshaun Watson has improved each week in completions, completion percentage, passing yards and fantasy points. As long as Hopkins is getting the opportunities, heís worth keeping on your roster and in your lineup.

5) Itís time to admit the Jimmy Graham experiment in Seattle is a failure.

OK, itís not Brees-to-Graham in New Orleans, but the Seahawks tight end put up decent numbers last season (65-923-6). He started slowly this season because of an ankle injury, but Graham caught 7-of-11 targets last Sunday in Tennessee and faces a Colts pass defense which has allowed 851 yards through the first three games. With Doug Baldwin questionable (groin), Seattle could run the game plan through Graham for a change.

---
Steve Schwarz served as the fantasy sports editor of The Sports Network and is the 2014 FSWA Football Writer of the Year.