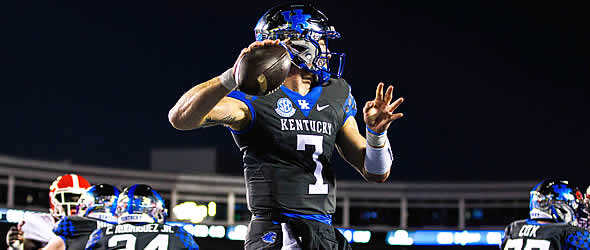 Vitals

College: Kentucky
Height/Weight: 6'4"/229
Hands: 10 5/8''
Age: 24 (at the time of the 2023 season opener)



Important NFL Combine Numbers



40-Yard Dash: N/A
Vertical Jump: 34''
Broad Jump: 10' 4''
20-Yard Shuttle: N/A
3-Cone: N/A



College Production

(Stats)


High-end NFL Player Comp(s): Poor man's Josh Allen
Low-end NFL Player Comp(s): Blake Bortles

Best Scheme Fit: Run-heavy and RPO-based offense that emphasizes play-action passing and getting the ball out of his hand quickly.

Best Team Fit(s): Falcons, Raiders, Titans, Commanders, Ravens

Non-bolded times - Good examples of attribute
Bolded times - Average/poor examples of attribute
Position-Specific Attributes and Grades (2022)
Attribute
Att Grade
Scale
Examples
Accuracy
7.5
10.0
Anticipation/Tight Window
8.5
10.0

1:35, 1:35, 2:04, 2:50, 4:15, 6:19, 9:33
0:36, 4:03, 4:33, 10:54

Decision Making
7.5
10.0
Durability
6.0
10.0
0:39, 3:21, 2:30, 2:48
Improvisation/Throw On Run
8.0
10.0
Poise/Awareness
7.0
10.0
Vision/Read Progression
6.5
10.0
Athleticism/Mobility
4.5
5.0
0:39, 1:59, 2:30, 2:48
Arm Strength
5.0
5.0
0:01, 0:20, 0:43, 4:12, 5:59
Film Grade
60.5
80
| | |
| --- | --- |
| Pre-Draft Fantasy Prospect Grade* (out of 50): | 40.0 |
* - How well does his skill set carry over to the fantasy game? For quarterbacks, a player needs to be a realistic threat for 4,000 passing yards and 500 rushing yards to be a candidate for a perfect grade. Positional scarcity at the pro level is also a part of the equation.
Positives
At 6-4 and 229 pounds with a powerlifter's build, Levis is built to last in the NFL. Few quarterbacks across the country absorbed the amount of punishment that he did in 2022 behind a below-average offensive line and still managed to fare as well as he did in the most competitive conference in college football (SEC). No one can legitimately question his toughness. His arm strength is as good as any of the other quarterbacks in his draft class. Although he is guilty of throwing his fastball too often, the Connecticut native displays nice touch on throws near the goal line. When asked to throw on the move, he typically gives himself an opportunity to square his feet and shoulders to his intended target. While he lacks the speed to break many long runs, he is an underrated athlete capable of moving the chains and converting on short-yardage plays and at the goal line. (It would not be stunning if he eventually admits to modeling his game after Josh Allen, even if he doesn't quite have the unparalleled arm strength of the Bills' quarterback.) Despite lacking a proven playmaker at receiver or tight end in 2022, Levis repeatedly showed a willingness to make tight-window throws and threw with anticipation enough to give NFL teams hope. It also helps his cause that he played in a version of Sean McVay and Kyle Shanahan-influenced offenses during his two seasons at Kentucky.
Negatives
Levis is built to take punishment, but he is far too reckless and takes too many unnecessary blows. He refuses to slide and almost seems to embrace lowering his shoulder into defenders. Regarding his recklessness, he turned the ball over 42 times (25 interceptions and 17 fumbles) over his college career despite playing the equivalent of about 2 1/2 seasons (attempted 102 passes and 133 runs at Penn State before transferring). Levis displays the ability to work through his progressions and processes quickly on occasion, but he is often guilty of bailing on a play too quickly (how much did playing behind a poor offensive line last season speed up his clock?) or being a tick too late on pulling the trigger on passes over the middle of the field. His lower-body mechanics are very much a work in progress, which likely is the primary reason why his accuracy was inconsistent. While Levis occasionally showed the ability to work off his primary read, he was not asked to read the full field very often despite his experience in NFL-style offenses. Levis' arm allows him to make tight-window throws, but he made his job harder than it needs to be because he did not do a great job of moving defenders with his eyes.
Bottom Line
NFL scouts and general managers are going to have their hands full with evaluating Levis. He has most of the physical traits that a coach could want and the toughness to get his teammates to fall in love with him. He is also a project that needs time to develop as a passer and learn to clean up his footwork. Unfortunately, he is likely headed to a team that will want him to start at some point as a rookie. Making matters worse for him is how willing he is to embrace contact as a runner. His shelf life in the NFL will be about five years if he continues to play the game as he did in 2022.
Levis is the ultimate "bet on traits" quarterback at this point of his career. Outside of his recklessness as a runner, he has flashed some promise in just about every area in which he needs to improve. With that said, it is hard to imagine him playing in any meaningful games in 2023, much less starting for an NFL team. On the plus side, it is almost a given his new team will afford him more protection and have more capable pass-catchers than what he had with Kentucky last season.
Levis is the embodiment of a boom-bust prospect. Some team could fall in love with his physical tools and tell itself it can teach him how to play the position more efficiently. If he lands with a team that has the luxury of a skilled teacher as its quarterback coach and some patience, he could end up being a poor man's version of Allen. If he doesn't, his career could end up paralleling that of Blake Bortles or post-injury Carson Wentz.

---



Predict the top ten picks of the NFL Draft for a chance to win $100 and FFToday prizes. Enter our NFL Draft Contest now.

---
Doug Orth has written for FF Today since 2006 and been featured in USA TODAY's Fantasy Football Preview magazine since 2010. He is also a high-stakes player who often appears as a guest analyst on a number of national sports radio shows, such as Sirius XM's "Fantasy Drive." Doug is also a member of the Fantasy Sports Writers Association.