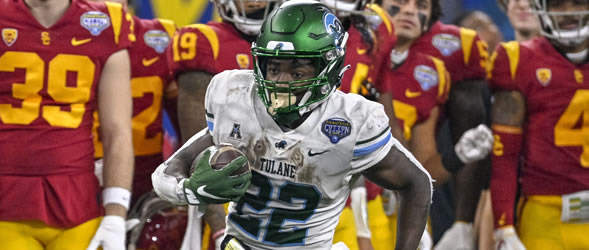 Vitals

College: Tulane
Height/Weight: 5'10"/201
Hands: 10"
Age: 22 (at the time of the 2023 season opener)



Important NFL Combine Numbers



40-Yard Dash: 4.52 (pro day)
Vertical Jump: 39"
Broad Jump: 10' 5"
20-Yard Shuttle: 4.32 (pro day)
3-Cone: 7.27 (pro day)



College Production

(Stats)


High-end NFL Player Comp(s): Tony Pollard
Low-end NFL Player Comp(s): Justice Hill

Best Scheme Fit: Universal. Likely slightly better in a zone-running scheme. May be better suited for a complementary backfield role (like Pollard) that limits his running in between the tackles and allows him to work outside more often.

Best Team Fit(s): Bengals, Dolphins, Falcons, Buccaneers, Cardinals, Texans, Titans

Non-bolded times - Good examples of attribute
Bolded times - Average/poor examples of attribute
Position-Specific Attributes and Grades (2022)
Attribute
Att Grade
Scale
Examples
Burst/Explosiveness
10.0
10.0
0:00, 0:00, 0:57, 1:00, 1:45, 2:03, 5:39
Contact Balance
8.5
10.0

0:00, 0:15, 0:23, 1:19, 2:38, 3:01, 3:43

Instincts/Patience/Vision
9.0
10.0

0:00, 0:25, 0:57, 1:17, 1:47, 2:03, 2:39

Power/Tackle-Breaking Ability
8.0
10.0

0:57, 1:09, 1:54, 2:12, 2:23, 2:39, 4:05

Quickness/Elusiveness
9.5
10.0
0:00, 0:57, 1:19, 2:03, 2:56, 3:13, 5:39
Route-Running/Hands
8.5
10.0
Ball Security
3.5
6.0
0:06, 3:39, 3:53
Pass Protection
4.0
6.0
Durability
2.0
4.0
0:15
Long Speed
4.0
4.0
0:00, 0:00, 0:28, 1:00, 1:45, 2:03, 2:54
Film Grade
67.0
80.0
| | |
| --- | --- |
| Pre-Draft Fantasy Prospect Grade* (out of 50): | 42.0 |
* - How well does his skill set carry over to the fantasy game? For running backs, a player needs to be a three-down option as well as a realistic threat for 1,000 rushing yards and 500 receiving yards to be a candidate for a perfect grade. Positional scarcity at the pro level is also a part of the equation.
Positives
Spears is the kind of back that defenders need to get on the ground at the first level of the defense because he only needs one or two steps to break off a chunk run. His acceleration is borderline elite and accentuated by his ability to pace his runs in such a way that defenders are caught off-guard when he turns on the juice. Making things even more difficult on the defense is his ability to combine patience before reaching and through the hole with the ability to make sharp cuts and change direction at the second and third levels. For a smaller back who possesses so much explosiveness, Spears does a more than adequate job of playing through contact - his 1,052 rushing yards after contact in 2022 is a reflection of his contact balance AND ability to make the defense pay for not getting him down when it had the chance. Spears has slightly above-average power, but he makes up for it somewhat by being a highly competitive runner and usually falls forward. Tulane did not opt to make the American Athletic Conference's leading rusher a big part of the passing attack (more than two catches in a game only six times in 33 career games), but Spears is not to blame for that. He handled screen and swing passes without incident and even caught a game-winning TD against Houston lined out wide.
Negatives
The most pressing concern for Spears is his injury history. Due in large part to the violent cuts that make him so elusive in the open field, he has already suffered a torn ACL twice in the last four years. Moving past his medical history, Spears will occasionally fall in love with bouncing runs, likely because he knows he is faster and more explosive than any defender he faced in college. He will be hard-pressed to get away with this consistently as a pro. He does not lack for power, but there are not enough runs in which he pushes the pile nor does he win consistently enough at the point of contact. This is due to average strength in his lower half and a tendency to stop or slow his feet on power runs. While Spears is built well, he may lack the necessary bulk to run inside more than a handful of times each game consistently. He also carries the ball almost exclusively in his right hand and does not use his other hand often enough to protect the ball in close quarters. Spears was also not asked to contribute much as a returner in college and it may be hard to ask him to do it now based on the knee injuries he has already suffered.
Bottom Line
Spears has a bright future in the NFL, although it is fair to wonder if he is stuck in that middle ground of being too good to be a complementary player and too small to be a featured back. The former should be his floor. His ability to stay healthy may be his only roadblock, however, because he is a player coaches will want to feed. Even if he only adds five or so pounds of muscle - he reportedly weighed in at 205 after the combine - he should have the necessary size to quiet concerns about his size. The 2022 AAC Player of the Year finished the year - and his college career - with eight consecutive 100-yard rushing performances. Included in that run was a 35-carry, 181-yard effort to close out the regular season and a 22-carry, 199-yard performance the following week.
There is little question he can handle a heavy workload, but the lack of size and his injury history begs the question of whether he can do so over the course of a full NFL season. Spears rarely got the opportunity to show off his ability in the passing game - as a receiver or as a blocker. He was still able to show flashes of his potential in this area (refer to the "route-running/hands" section above for examples), but his ability to be a matchup nightmare - which he should be a lock given his quickness and explosiveness - is a bit of a mystery. He likely answered those questions and any about his ability to run routes with his work at Senior Bowl practices and NFL Combine, but it would have been nice to see more evidence of it than that.
So is Spears a Tony Pollard type in which his workload is capped at around 15 touches per game or will he eventually be able to consistently work his way into the low 20s? Does it matter? In today's NFL where more and more coaches are pushing for two- and three-man committees, it probably matters very little. Spears does not need a lot of work to leave his mark on a game and can rip off chunk gains in a league that prioritizes that ability. He is a top-five back in this class and that may be underselling it.

---



Predict the top ten picks of the NFL Draft for a chance to win $100 and FFToday prizes. Enter our NFL Draft Contest now.

---
Doug Orth has written for FF Today since 2006 and been featured in USA TODAY's Fantasy Football Preview magazine since 2010. He is also a high-stakes player who often appears as a guest analyst on a number of national sports radio shows, such as Sirius XM's "Fantasy Drive." Doug is also a member of the Fantasy Sports Writers Association.