Running back committees have been around for several decades. Some of the most famous backs in league history shared carries and did so with great success. Beginning with the undefeated 1972 Dolphins, five teams in NFL history have supported two 1,000-yard rushers at the running back position. While two players rushing for 1,000 on the same team doesn't justify the use of committee backfields by itself, it provides more than enough proof they CAN work.

Although it doesn't help us in fantasy, there's nothing inherently wrong with the concept of a committee attack, especially when there is a good reason for it. As much as I hated back in the mid-2000s when the Patriots started making it a fixture of their offense, I grew to understand why Bill Belichick & Co. adopted it: find specialists who can do play a role or two exceptionally well and keep everyone relatively fresh. That's at least the way New England can spin it.

In reality, the Patriots paying four or five players a total of roughly $10-12 M per season beats the alternative of handing one player $12-15 M and hoping he stays healthy at a position that takes more punishment than perhaps any other in the sport. Teams are always looking for ways to save money against the cap. New England identified this approach as a cost-cutting measure 15 years ago and have used it ever since. Paying four specialists roughly five million dollars less than one elite player goes a long way into making cap management much easier.

The Patriots understand why they use a committee. They have obviously made it work over the years, so they would be foolish to abandon it. Many teams have copied the approach in recent seasons, but it is clear from the way they talk about committees and distribute playing time at running back nowadays that they don't fully understand the position or why they should be using a committee in the first place.

In none of Belichick's many memorable quotes over the years do I recall a single time where he has uttered the phrases "hot hand" or "pitch count." I'm not sure I remember hearing either phrase in football before 2015 and certainly not before 2010. Now, most fantasy owners cannot go a week or two without hearing the terms. At its very core, a "hot hand" is something that is typically measured by the accuracy of an individual performing a certain task and much more applicable to basketball. The mere fact the term hasn't been altered in some way to reflect football is a clear indication coaches aren't sure what it means or don't believe in it either. It's almost as if they are going through the motions because "it works."

Colts HC Frank Reich was asked about what the phrase "hot hand" meant shortly after his team's Week 8 win over the Lions. The first part of his response:

"Just a groove - honestly sometimes it's a stroke of 'luck.' You were in there on a play that was blocked perfectly clean, and BAM it goes."

Reich continued:

"Now you're in there for the next one - but in Jordan's (Wilkins) case, there were a couple runs where you could just see his vision and balance in the hole, that it was just there. That he had the right feel – he had two cut-back runs that were really effective. One time they had a guy coming clean off the corner, it should be a four-yard loss and he turns it into a 10-yard gain or an eight-yard gain. (He) somehow got through and kept his feet. He was doing those little things."

The first part of Reich's statement talks about things a running back has little to no control over, luck and good blocking. The second part discusses factors he has a lot of control over, such as vision and balance in the hole. Vision and balance in the hole tend to remain relatively constant over the course of a season (and even multiple seasons) barring an injury. All this is not to pick apart what Reich is saying. He is a very good coach, in my opinion. Rather, my point out is that a "hot hand" has been proven to be a fallacy and has little to do with the running back "feeling it."

I have long suggested that a coach/coordinator who believes in the hot-hand concept either cannot evaluate running back play effectively or is too sensitive to outside noise (looking to the box score to defend his usage to the public). Surely one back has stood out over the other(s) in practice at some point, right? If there is so little separation between members of the same backfield after eight weeks, maybe an upgrade is needed.

Am I right in believing this? Maybe, maybe not. What the defense of the "hot hand" reflects is this modern notion that if a running back isn't immediately productive (say within his first five carries), he might not have a chance to see five more in that game. The best way to make a player who is already pressing press even more is by making him believe the coach has a quick hook. Running backs at their very core want to be featured, and those that know they are featured tend to make an impact on games on carries 6-20+, not 1-5. Quick hooks tend to make running backs go big-play hunting on every play so they can stay in the game. This is some crazy notion I'm dreaming up, being "the guy" is what most competitors live for.

Keep in mind what I said above as we move forward. Certainly there are more factors to consider than the ones I mentioned, but the point remains we are well past the time to properly define what a "hot hand" is: an acknowledgment that the team/coaching staff doesn't know which player is the better one and is willing to let the game decide the answer. Styles often win the fight in football just as they do in boxing (use power to defeat speed and vice versa, for example), but it should be obvious to any coach what "style" will be the most effective well before the start of the game after pouring over hours of film and scouting reports on the upcoming opponent.

*******

The goal for this week will be to take a deeper look into four backfields that are producing the most conundrums for fantasy owners at the moment. The focus will be more on addressing problem issues for fantasy owners as they look toward the second half of the fantasy season.
Atlanta Falcons
The competitors: Todd Gurley and Brian Hill
One quick look at Gurley's touch totals each week suggests there isn't much to be worried about, but there needs to be at least a hint of concern about a back who hasn't reached three yards per carry in three straight games. Anyone paying attention to last week's win over the Panthers noticed Gurley spent the bulk of the second quarter on the sideline, seemingly healthy and perplexed as to why he wasn't playing. Hill hasn't set the world on fire, but he has managed at least 10 carries and 12 touches in two of the team's last three games (both wins). Is that a product of Atlanta being in positive game script or a hint that Gurley's workload may be declining soon? Albeit in a smaller sample - Hill is the backup, after all - the former fifth-round pick has graded out better as a runner per Pro Football Focus and been more efficient (as both a runner and receiver) over the last three games since HC Dan Quinn was fired. It's the same story for the season as a whole.
It doesn't help matters that Atlanta hasn't bothered to make Gurley much of a priority in the passing game (targeted on 11.9 percent of his 143 routes run, per PFF). That percentage is almost identical to his 11.5 mark in 2019 with the Rams. By contrast, Hill has been targeted on 20.5 percent of his 88 routes. The Falcons have made it clear they don't think Gurley is their best backfield option on passing downs, so that means he must effective on running downs then, right? I think it has been shown that isn't the case either, at least to a degree.
One bit of information that I like to look at for running backs is "rushes by direction." While it is a somewhat limited metric in terms of scope, it gives observers a sense about whether a back is more effective running inside or outside and shines some light on how well certain members of the offensive line are playing. Gurley's most success this season has come up the middle (middle left - 20 carries for 113 yards, 3.3 yards after contact per carry; middle right - 23 carries, 99 yards, 2.74 YACPC). He has been very successful running to the right end as well, managing 112 yards on 22 attempts with a 3.82 YACPC. Yet, Atlanta has stubbornly asked him to run to the left end more than anywhere else (35 carries for 91 yards, 3.17 YACPC). These numbers - especially yards after contact per carry - show that Gurley is hardly finished as a runner (three yards per carry after contact is considered very good), but his runs to the four areas I have yet to mention (left tackle, left guard, right guard and right tackle) feature YACPC averages of 2.3 or less (which is considered substandard). I've said for years not all contact is created equal, and this is a good example of what I mean. It's extremely unlikely Gurley is going down easier in some areas of the field than others; therefore we can safely assume defenders are getting better contact on him in the four other areas of the field.
Moving forward: It's hard to imagine the Falcons will bench a player with Gurley's track record nor am I calling for him to be benched. As the last paragraph shows, Gurley has something left. We can also safely assume Hill's recent increase in activity has more to do with positive game script than a potential promotion. What does seem clear is Atlanta isn't consistently getting what it needs from its offensive line outside of maybe C Alex Mack. The Falcons also don't seem to have much interest in involving Gurley in the passing game despite the fact it could open up some holes for him if the defense had to fear him more as a receiver. Only the coaching staff can answer why they have mostly pigeonholed him into a two-down role. (It's not as if Hill is graded that much better as a receiver.) Gurley seems safe to continue using as an RB2 for the rest of the season, although fantasy owners should understand they are betting on him scoring a touchdown each week. That's a dangerous thing to count on for fantasy owners who believe their team(s) are contenders for a title. Hill is, without question, a player that fantasy owners of Gurley should try to acquire, if only because it's reasonable to believe his knee will become an issue at some point.
Baltimore Ravens
The competitors: Mark Ingram, Gus Edwards and J.K. Dobbins
It's hard to argue with how a 5-2 team with the league's top rushing offense is conducting its business, but it's also important to note 32.8 percent of the team's rushing total has come via the legs of Lamar Jackson. (That's a shade below last year's 36.6 percent contribution from Jackson.) Regardless of what any of us believe about the reigning MVP's ability to avoid contact and break big plays, it's not an ideal situation for a quarterback to assume that much of the load when there are three more than capable backs (two at the moment if we take Ingram's ankle injury into account) already on the roster, especially when one of those backs is averaging more yards per carry than Jackson (Dobbins' 6.7 versus Jackson's 6.2).
No part of this offense is operating anywhere near the level it was last year, and a small amount of blame for that can be pinned on the retirement of OG Marshal Yanda. The more likely explanation, however, is something I alluded to above and in another column or two earlier this season. Through five weeks, no Baltimore running back handled more than 11 carries in a game. The Ravens have increased the amount of volume their backs have handled over the last two games and somewhat inexplicably set a season high in carries in the first game they played without Ingram in Week 8. Rhythm and flow are important to any running back. When a running back speaks about needing a few carries to get a sense for what the defense is doing in a given game, they aren't just talking to hear the sound of their voice. It is the exception for more than the rule that a running back can get that "feel" in his first 5-10 rushing attempts. Baltimore isn't allowing that to happen or even trying to find a "hot hand." The Ravens are going into each game knowing they will use three backs almost regardless of how successful any of them are and seem to have no desire to adjust that plan.
Granted, Baltimore found a lot of early success on the ground against Pittsburgh in Week 8, but it is somewhat dubious the Ravens chose the week to face the Steelers' vaunted run defense without the leader in their backfield as the time to make that happen. It made sense to me this summer and it still makes sense to me now: Dobbins should have been viewed immediately as someone who could take nearly half of Jackson's carries, preserving the quarterback for a time in the game where Baltimore really needs him to be special. Dobbins offers the same big-play ability Jackson does, so it becomes a win-win for the Ravens in that Jackson stays fresh and Dobbins has ample opportunity to exploit defenses who are scared of Jackson. While Baltimore has reduced the number of times per game Jackson is running the ball this year, it seems more concerned with setting a physical tone than finding the end zone. There is a place for Ingram or Edwards in this offense, but probably not both in the same game. I don't think it's a coincidence that Dobbins and Edwards set season highs pretty much across the board in the first game Ingram was out. Both running backs had to feel entering the game as if they would be allowed to settle into a groove and not wonder if they were done for the day after their second time through the rotation.
Moving forward: The answer is rather simple, but it remains to be seen whether or not HC John Harbaugh and his staff believe a rookie must "earn it" all season. It's not even really about making sure Dobbins gets 20 touches; he's proven he doesn't need that many. The fact we are midway through the season and the Ravens still haven't concluded that the Ohio State product is the easiest answer to some of their offensive problems is troubling. Although no coach seems to acknowledge it, many of today's NFL coaches opt to ramp up their stud rookies around midseason in hopes they don't wear out in December. I imagine that's even more of a concern for some coaches this year given the unique circumstances of this particular season. Whether that's the concern in Baltimore or not is the question. I fear fantasy owners aren't going to like the answer, and I expect the Ravens to go right back to the three-man committee they featured for most of the season once Ingram is healthy. I expect Dobbins to lead this backfield consistently at some point in 2020, but it may not come in time for fantasy owners fighting to stay alive for the playoffs this month.
Detroit Lions
The competitors: D'Andre Swift, Adrian Peterson and Kerryon Johnson
Imagine the Ravens' backfield without the commitment to the run, one of the league's best athletes at quarterback and lower-quality run blocking. That's the fun of the Lions, who boast both the league's 30th-ranked rushing attack despite sinking two first-round picks into the offensive line since 2016 and two second-round picks on running backs over the last three years. (Never mind adding a future Hall of Famer who is still running well at age 35.) To be blunt, Detroit is one of those teams that utilize a committee backfield because it's "what everyone else is doing" and what HC Matt Patricia seems to believe in based on his time in New England. Per PFF, Swift is easily the team's highest-graded runner. He's the highest-graded receiver in the backfield as well. Even if we just want to use basic stats such as yards per carry, Swift is blowing his competition out of the water there too (Swift - 4.5, Peterson - 3.8, Johnson - 3.2). It's not even a close race at this point, yet the Lions insist on maintaining the status quo.
This isn't just a fantasy issue; it's a reality issue. Coaches ignoring visual and statistical proof is a problem. For example, the follow-up to Swift's 14-carry, 116-yard, two-touchdown day in Week 6 cannot be nine carries for 27 yards (both wins) in Week 7. Teams are under no obligation to explain to their fans why they do certain things, but they would find the path of least resistance publicly would be much less if they talked more openly about their desire to break players like Swift slowly with an eye on November and December. The bigger issue is if a coach feels rookie running backs can only be trusted to handle 41 carries (and 64 touches) through their first seven games, then they are not worth taking in the second round. Purposely shortening what is already a small window (many running backs don't sign a second contract with the team that drafted them) is robbing your team of the advantage that comes along with getting a potential stud on a rookie (read: cheap) deal.
Perhaps Swift's lack of usage in September had more to do with a leg injury that forced him to miss some practice in late August than anything else. He has amassed touch totals of 17, 13 and nine in three games since the team's Week 5 bye, so it's getting better. The Lions are at least doing right by him by making sure he is active in the passing game (six of seven games with at least three catches and four targets). His snap share continues to grow as well, checking in at a season-high 62 percent in Week 8. With that said, does a coaching staff facing a bit of a playoffs-or-bust edict from the team owner believe giving Peterson and Johnson getting anywhere from 25-40 snaps per game helps them keep their jobs?
Moving forward: There is reason to believe Swift will begin to pull away from the pack soon, and it may already be happening based on his level of participation in Week 8. However, his increased playing time last week may have also been the result of being the team's preferred option in a game it trailed by at least a touchdown for the final 2 1/2 quarters. If we believe the former, Swift has a chance to finish strong and be a high-upside RB2. If we believe the latter (that he will remain more of a negative game script back this season) and recognize this coaching staff probably won't make Peterson a true backup, then I'm not sure the remaining schedule sets up well for him. I want to believe the former but think the latter will ultimately prevail, making Swift something of an inconsistent RB2 option that is better served being used as a flex.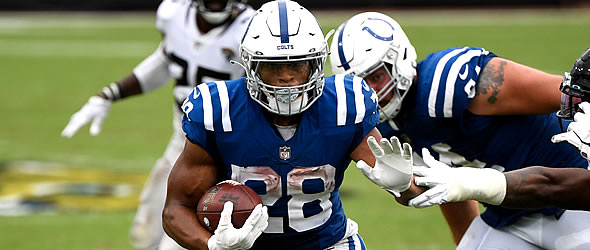 Indianapolis Colts
The competitors: Jonathan Taylor, Jordan Wilkins and Nyheim Hines
The 2020 season - especially after Marlon Mack went down in Week 1 - was supposed to be the coronation of Taylor as the next elite back in fantasy football. Things haven't worked out quite the way most of us anticipated since then, perhaps highlighted by last week's benching (?) of the rookie in a matchup many expected to be his breakout game.
Taylor himself has been part of the problem. While I highlighted examples of him not identifying cutback lanes in college in his draft profile this spring, it didn't happen as often. Taylor hasn't forced a missed tackle on a carry since Week 3 and has only forced a missed tackle on seven percent of his carries for the season (per PFF). By comparison, Wilkins has forced a missed tackle on more than a third of his runs. While I acknowledge Taylor wasn't my favorite running back in this class (I ranked him third), breaking tackles was something he did with regularity at Wisconsin (at least 60 in each of his three college seasons). His biggest problems in college were fumbles (15 lost in 41 games) and drops (eight on 50 catchable targets). He has yet to fumble or record a drop with the Colts.
So what gives? The guy seemingly corrects his two biggest problems and is a disappointment? I tweeted some of my thoughts about the situation earlier in the week and believe that part of the problem is Taylor isn't comfortable running out of shotgun (46 of his 100 rushing attempts have come out of the gun). The offensive line hasn't held up its end of the bargain either. Last year, the Colts ranked 14th in adjusted line yards at 4.41, per Football Outsiders. This year, they rank 28th at 3.91. While there are certainly flaws in the adjusted line yards methodology, a half-yard drop-off is a pretty good sign the line isn't getting the push it did in 2019. And as Reich noted above, there is a "stroke of luck" involved in this whole thing. Perhaps Taylor's last carry of the game in Week 8 was a great example of that. The offensive line gets almost no push on an inside run at the Detroit 1 and Reich pulls Taylor for Wilkins, who could have moonwalked his way into the end zone if he wanted to on an off-tackle run on the very next play. Did Wilkins run better versus the Lions than Taylor? Yes. Is he a better back? No. This situation reeks of a player who is hiding an injury, dealing with a distraction, has lost some confidence and/or is not comfortable.
Heading into Week 8, Taylor was averaging 4.5 yards per carry in his previous four games while the combination of Wilkins and Hines combined for 2.7 YPC over that same stretch. So let's not pretend Wilkins had been picking up steam in limited duty (two total touches in his previous two outings). Wilkins continues to be what he was in his first two NFL seasons - an effective change-of-pace back who gets exposed when used too much. The reality is if the Colts really liked him as much as they are saying publicly right now, they would not have traded up to draft Taylor.
Moving forward: Taylor desperately needs to hit a big run soon. His first NFL touch was a 35-yard screen pass that showed off the impressive physicality and explosiveness that we know he has. We don't have to go too far before that to remember how impressed Mack was by him (almost immediately). My best guess is that Taylor will find the form that made so many fantasy owners fall in love with him relatively soon. I'm not fearful of Indianapolis using a full-blown committee backfield, but it would be ridiculous to pretend it's not a possibility if Taylor continues to look average. The Colts also need to remember they want to "run the damn ball" (Reich's words, not mine) first and foremost. If that is still the case, then they need to exhaust every avenue to mold their offense around Taylor's skill set.
The first logical step is one I already mentioned: stop using so much shotgun to cater to Philip Rivers and see if lining Taylor up five to seven yards in the backfield helps clear things up for him. Adrian Peterson is a recent example of a downhill runner that has proven to be much more effective in a traditional formation than out of shotgun. Sometimes, believing in a player's ability to turn things around is as simple as believing in a coaching staff's ability to come up with a solution. Based on his track record, Reich would love nothing more than to give Taylor 20-25 carries per week. While it's certainly not happening as quickly as we'd like it to, I'm still very much a believer Taylor will pay off big for fantasy owners down the stretch. Hopefully, Taylor's fantasy owners added Wilkins weeks ago to protect themselves against an injury to the rookie.
---
Doug Orth has written for FF Today since 2006 and been featured in USA Today's Fantasy Football Preview magazine since 2010. He hosted USA Today's hour-long, pre-kickoff fantasy football internet chat every Sunday in 2012-13 and appears as a guest analyst on a number of national sports radio shows, including Sirius XM's "Fantasy Drive". Doug is also a member of the Fantasy Sports Writers Association.