ARI | ATL | CAR | CHI | DAL | DET | GB | LAR | MIN | NO | NYG | PHI | SF | SEA | TB | WAS

Most of the information we receive from beat reporters is at least partially useful, but contrary to popular belief, just because it is on the internet doesn't mean it is good information. Poorly researched or poorly conceived insight will surface on a regular basis, so it helps to have a very sharp and sensitive "B.S. detector" during the spring and summer. In other words, it is up to us to make sure what we hear and read checks out with what we already know about the team and/or player.

As a result, I'm going to try to provide a respectable opinion on how the offseason buzz from all 16 NFC teams translates to fantasy owners after doing the same thing last week with the AFC:

Note: All ADPs are for 12-team PPR leagues courtesy of Fantasy Football Calculator as of July 1.

Arizona



Christian Kirk making an early push to be the best receiver on the roster
Early-July Fantasy Reaction: Perhaps it shouldn't be a surprise that a second-year receiver drafted high in the second round in 2018 is looking better than a 35-year-old and three rookies. After all, he showed well in Mike McCoy's offense - no small feat. It also doesn't hurt his cause he played in a similar offense in his college days at Texas A&M to the one new HC Kliff Kingsbury plans to run. The selection of three receivers during this spring seemed to suggest Kirk may not be long for Arizona, but it is starting to look like Kingsbury has every intention of going four- and five-wide on a regular basis, possibly with Kirk starting to share lead duties with Larry Fitzgerald. It can't be overstated Kirk managed to become a semi-regular fantasy starter as a rookie in what was a terrible and unimaginative offense led by a rookie quarterback behind a poor offensive line. This year's offensive line may not be appreciably better, but the arrival of Kyler Murray doesn't only help the running game by slowing down - if not stopping entirely - weakside pursuit. The No. 1 overall pick's mobility is going to come in handy when passing plays break down, and there's plenty of reason to believe Kirk now has the best combination of natural hands, quickness and speed on the roster.
The interesting part about projecting him as a sleeper candidate is that true spread offenses tend to spread the wealth unless there is a clear alpha in the bunch. I'm not sure Kirk is there yet, nor am I sure Fitzgerald should be considered one anymore. His current 7.05 ADP as the WR32 feels about right, but I'm not sure he's got the highest upside. I expect a number of Cardinals to finish with between 50 and 70 catches, and there's a distinct possibility David Johnson will pace the team in receptions. Given Fitzgerald's track record, I think we'll have to assume he'll lead the wideouts. As such, I probably won't be getting Kirk on many teams this summer unless he falls into WR4 territory. Why? Even if we project extreme volume - say 650 attempts (only Pittsburgh had more last season) - and say Arizona completes 400 throws, it's still hard to see how a player like Kirk - who could be the third look in the progression at times - is going to get enough action to be considered an every-week starter. He's getting drafted like one at the moment.
Atlanta



Qadree Ollison and Brian Hill competing for the big back role
Early-July Fantasy Reaction: Gone are the days when the Falcons could turn to Tevin Coleman to lead the backfield in the event Devonta Freeman was forced to miss some time. Atlanta was obviously confident enough in Ito Smith to serve as the new complement to Freeman when everyone is healthy, but it's unrealistic for the team to expect the 5-9. 195-pounder to handle much more than the 15 touches that usually served as Coleman's ceiling. Thus, if Freeman is forced to miss multiple games for the third straight season, someone else will need to step up to be the hammer. The 219-pound Hill, who was the team's fifth-round pick in 2017, is one such option. The other realistic possibility is the 225-pound Ollison, who was the team's fifth-round pick this spring. Common sense dictates Ollison will have a slight edge to begin camp since he likely would not have been drafted if the team was pleased with Hill in the bruiser-type role. Neither player is a particularly good athlete - at least when compared to Freeman and Smith - so the odds of either player becoming the handcuff are slim.
The reason this is a topic worth discussing is that Freeman could already be in decline. And it may not matter if Freeman stays healthy and is able to carry over what he did during the spring into the regular season. However, another year of Freeman missing 10-plus games would result in roughly 150 carries and goal-line work for the Ollison-Hill winner on an offense that just added two very good prospects to the line and will complement a defense that should be much better after getting ravaged by injuries in 2018. It stands to reason Atlanta will be utilizing "11" personnel as much as any team this season with Julio Jones, Calvin Ridley, Mohamed Sanu and Austin Hooper, so it's not as if the Falcons should be running into a lot of stacked boxes. I'm certainly not advocating for owners to spend a draft pick on the likely winner of the competition (Ollison), but veteran fantasy owners are no strangers to seeing average talents emerge as key cogs late in the season en route to a fantasy title. I think such a scenario could play out in Atlanta. At the very least, keep Ollison on watch lists in deeper leagues.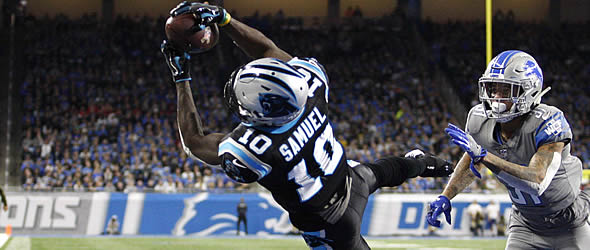 The path has been cleared for Curtis Samuel following the departure of Devin Funchess.
Carolina



Curtis Samuel striving to be more dynamic
Early-July Fantasy Reaction: Samuel managed to turn 47 offensive touches into 578 total yards and seven touchdowns in 2018. In 2017, he tallied only 19 total touches. If it seems like he isn't getting the ball enough, it's in part because the team hasn't had as much time to develop him as most players heading into their third season. He battled back tightness and hamstring issues as a rookie, costing him seven games. Last year, it was ankle surgery and a heart condition that kept him from having a normal offseason and caused him to miss three games. He finally avoided setbacks of any kind this spring, so it's not overly shocking he performed well enough to be considered an offensive MVP by at least one beat writer during mandatory minicamp. HC Ron Rivera didn't seem to disagree:
"He's always fast and quick, but it's learning and understanding how to get in and out of breaks, and how to snap out of that break with your hands presenting a good target. His catch radius I think has improved. I just think his overall game has improved."
Not that he needed the help, but the path has been cleared for Samuel following the departure of Devin Funchess. Beginning in Week 9 last year, the Ohio State product reached double-digit fantasy points in seven of the last nine contests despite his limited number of touches. Samuel actually had two double-digit target games over that stretch, which is two more than first-round rookie D.J. Moore did all season long. Does that mean Samuel is the No. 1 receiver in town or was it a fluke? Only time will tell, but it seems more likely than not this is closer to a 1A/1B situation than is being reflected in early drafts. At the moment, Moore sports an ADP of 6.04 as the overall WR27. Meanwhile, Samuel is at 11.01 and WR48, respectively. It's hard to justify that kind of gap even if Moore ends up emerging as the leader this summer. Suffice it to say I believe the odds are very much that Samuel emerges as a draft-day steal.
Chicago



Matt Nagy understands the comparisons between Kareem Hunt and David Montgomery


Is Montgomery the next Matt Forte for Chicago?
Early-July Fantasy Reaction: Montgomery isn't exactly the type of player I am looking to target in Early Observations, but his expected role seems to be a subject of some debate. Perhaps Tarik Cohen confused some when he said his role wasn't going to change. I don't think there was ever going to be any doubt Cohen would maintain his change-of-pace/third-down role, but it doesn't make a ton of sense for the Bears to add two backs capable of playing all three downs in one offseason if they don't intend to ride them fairly hard. Jordan Howard handled 270 touches in 2018 under Nagy and wasn't even the preferred option. That's not to suggest Montgomery will push 300 - Mike Davis is a more than capable back and will steal some work, as will movable chess piece Cordarrelle Patterson - but the rookie is a very good bet to push for at least half of the 470 touches the Chicago backfield amassed last season.
Nagy has been effusive in his praise for the third-round rookie so far, acknowledging similarities between Montgomery and Hunt in terms of making defenders miss inside the tackle box, showing good hands and the ability to play all three downs. He also earned the respect of Nagy for his route-running - an observation very similar to the one Montgomery's college coach at Iowa State (Matt Campbell) made this spring. (Among other things, Campbell said his workhorse back was the Cyclones' best slot receiver.) While Chicago figures to be fine in the slot without the rookie, it only reinforces the notion Montgomery is going to see the field a lot. Montgomery's 4.04 ADP per Fantasy Football Calculator feels about right, but I took part in an industry draft in early June in which I landed him at 4.13 in a 14-team draft and wrote about he was the most undervalued running back according to Fantasy Pros early ADP rankings just over two weeks later here. Howard finished as the RB20 last season and seemed to go for long stretches without being a critical part of the offense. Outside of the explosiveness that Cohen brings to the table, there's not really a reason Nagy has to pull Montgomery off the field. The rookie is going to play and play a lot barring injury. Montgomery is an excellent candidate to outperform his ADP. Conversely, with all-purpose backs such as Montgomery and Davis now on the roster, Cohen is highly unlikely to match his 2018 production.
Dallas



Randall Cobb likely to be a huge addition to the offense
Early-July Fantasy Reaction: One of the more interesting ongoing and under-the-radar stories this offseason involves the departure of Cole Beasley, who has not been shy about making his feelings known toward his former team. (Here's a sample.) Cobb was added in free agency to replace him and thankfully has not engaged in any kind of social media battle, but he has managed to do something already that Beasley either struggled with or was not allowed to do - build "a fast connection" with Dak Prescott.
"He's been great, honestly. An ex-quarterback, knows the game up and down, knows every aspect of it; knows when he's in the read what progression he is, and when you have a guy like that, he's going to get open, he knows how to get open. … We've had a fast connection. You take something, approach something, go out there and he does it right the first time. When you have a guy like that, it allows you to cut the ball loose, it allows you to anticipate. It allows you to trust he's going to be in the right spot and he hasn't failed in doing that."
The natural inclination is to read into a quote like that and surmise it is as much about what Beasley didn't do as what Cobb is doing. I'm not going to attempt to parse Prescott's words that closely, in part because I don't think that's what he saying and in part because I'm not sure it's worth reading that much into it. First and foremost, Cobb will have to fight for looks with Amari Cooper, Michael Gallup, Jason Witten and Ezekiel Elliott. Just as importantly, Cobb has struggled to stay healthy, missing multiple games in three straight seasons - including seven in 2018. Mostly for those two reasons, it's conceivable Cobb will play a big role in this offense (when healthy) and still not be worth stashing in fantasy. Beasley, who has managed to stay on the field much more than Cobb, finished no better than the overall WR32 in his best season (2016). He needed to play all 16 games and catch 77 percent of his targets in order to pull that off. Expecting Cobb to do more with his targets is one thing, but expecting the ex-Packer to play a bigger role AND remain healthy enough for it to matter to fantasy owners is another.
Detroit



Marvin Jones not long for Detroit?

Early-July Fantasy Reaction: Fantasy owners couldn't get enough of Jones in 2017, but all it took was one injury-plagued season in which Kenny Golladay emerged as the top receiver for Detroit to consider him expendable. Although it's not exactly something he could control per se, Jones hasn't helped his cause by missing the entire offseason program with the same knee issue that limited him to nine games in 2018. He is expected to be ready for training camp and should have no problem nailing down the other starting job opposite Golladay if he is healthy, but the clock very much appears to be ticking on his time in Detroit. Dave Birkett of the Detroit Free Press noted the Lions coincidently shut him down for the season shortly after he questioned HC Matt Patricia's policy on having injured players watch from a suite instead of from the field. Birkett also stated he expects Jones to have a strong season this fall.
Is that part reasonable? Detroit pretty much returns every one important at receiver, with the one exception being Danny Amendola replacing Golden Tate. Amendola has proven not to be anywhere near as durable as Tate, which theoretically opens the door for more targets. However, there's also the small matter of getting Kerryon Johnson more opportunities as a receiver and Patricia's desire to turn the Lions into a run-oriented offense. T.J. Hockenson was not only selected in the top 10 this spring to help with the latter part of the last sentence, but because he was also arguably the draft's most sure-handed pass-catcher at his position. Unlike when Jones first arrived on the scene, there are a number of viable targets now in Detroit. His current position as the WR39 sounds about right, but I struggle to see enough upside to consider him in the early ninth round (ADP of 9.02). I'd much rather take my chances on wideouts such as Courtland Sutton, Keke Coutee and Marquez Valdes-Scantling - all of whom are going at least one round later.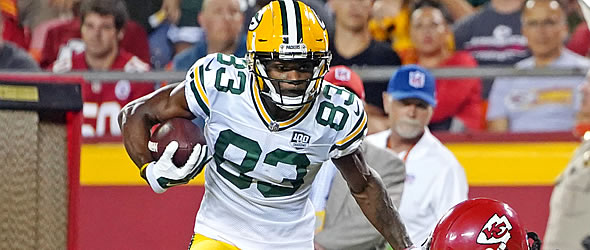 Marquez Valdes-Scantling and Geronimo Allison are battling for target share opposite Davante Adams.
Green Bay



Marquez Valdes-Scantling asserting himself as the likely No. 2 receiver


Geronimo Allison fits Matt LaFleur's model of a slot receiver


Allison should be a focal point of the passing game opposite Davante Adams
Early-July Fantasy Reaction: One of the joys of offseason hype is when owners are presented two solid options fighting for a starting job opposite a star receiver - both of which have a small track record of success - in an offense led by one of the best quarterbacks in league history. As things stand now, it would appear Adams and Valdes-Scantling will operate as the perimeter receivers in three-wide sets while Allison works inside. But which one will start (or more importantly, see more snaps)? Adams seems to think the offense is catered to Valdes-Scantling. There's also statistical evidence to suggest Valdes-Scantling is the better option, as he created separation (defined as getting at least one step of separation between himself and his defender) on 70.3 percent of his routes last season, per Pro Football Focus. The downside of that statistic is that someone generating that much separation should be getting fed the ball a lot, and that didn't happen for Valdes-Scantling over the second half of the season. While we didn't get much of a look at Allison before he was lost for the season, it seemed pretty clear he was a trusted target of Aaron Rodgers. Owners may never know whether his looks were going to level off as Valdes-Scantling's did, but the fact of the matter is we don't have any evidence to suggest otherwise.
None of this is all that big of a deal if Green Bay continues to rely heavily on three-wide formations, but judging by the Packers' hoarding of tight ends this offseason, it seems as though they're trying to drive home the point they intend to use more two-tight sets in 2019. If that ends up being the case, either Valdes-Scantling or Allison will become more of a part-time player than they would have ever been under former HC Mike McCarthy. And that is a problem because Allison currently has an ADP of 9.01 as the WR36 and Valdes-Scantling has an ADP of 10.02 as the WR47. While mid-round picks usually don't decide fantasy championships by themselves, it's hard to invest draft capital before Round 10 on receivers who may not even start for their own team. Valdes-Scantling is the logical choice to win the job based on talent, but we have seen numerous examples of the lesser-talented player winning the job because the quarterback trusts him more. My advice to early drafters would be to stash Valdes-Scantling and hope for the best, but I would expect most owners will draft late enough in August to know who the "winner" will be. If the winner is a clear one, be prepared to invest a draft pick in him sometime in the sixth round of 12-team drafts.
Los Angeles Rams



Is it finally time for Gerald Everett to break out?
Early-July Fantasy Reaction: It only just seems like the Rams have been waiting on Everett to take the next step for about four years. Fantasy owners are rarely ever patient, and this is yet another case in which they need to let the third-year tight end develop organically. Anyone who watched Everett play at South Alabama (or read a draft report about him) knew he was a work in progress when it came to blocking, so the expectation with him should never have been that he was going to take the world by storm in either one of his first two seasons. HC Sean McVay didn't help his cause in that regard though the moment he said identified Everett as his new Jordan Reed in the 2017 draft. Will Year 3 be his year? It's a possibility, and one the Rams will probably attempt to speed up given their current situation. Cooper Kupp is coming off ACL surgery, while Todd Gurley's knee is either being coddled or beyond repair - depending on who you ask. Los Angeles still has two very capable pass-catchers in Robert Woods and Brandin Cooks, but there is definitely room for Everett to make a sizeable impact.
McVay noted "the game is starting to slow down for him" and that Everett is "just continuing to progress and take steps" in his development after emerging as a "clear standout" during the spring, according to ESPN's Lindsey Thiry. Ultimately, McVay and the Rams are waiting on Everett to become a good enough run blocker where they don't lose much in that area if he is in the game and Tyler Higbee is not. That kind of thing can only really be determined in padded practices, so all the praise Everett seems to be generating is just noise for now. With that said, he is developing at about the pace we should expect from tight ends - at least statistically. While his ceiling figures to be dictated by how much improvement he has made as a blocker, 2019 could easily be the year in which his development coincides with his team needing him to step up. After his TE22 finish a season ago, he is a strong candidate to push for 50 catches and become a top-15 fantasy option at his position.
Minnesota



Vikings see a bit of Latavius Murray in Alexander Mattison
Early-July Fantasy Reaction: Mattison forced the third-most missed tackles of any draft-eligible back in the FBS in 2018 last year, per Pro Football Focus. That quality was among the things that attracted Minnesota to the Boise State product, who will be asked to slide into the change-of-pace role behind Dalvin Cook. Of course, fantasy owners know what else this means: a rookie that most of the world either did not watch in college or hear much about during the draft process will now be asked to back up a dynamic running back who has never handled more than 10 carries in five straight contests or played in more than 11 games in his first two seasons as a pro. To his credit, Cook has enjoyed an uneventful offseason (i.e. he's not rehabbing some injury), so perhaps it will be less important to draft his handcuff in Year 3. But just because Cook is 100 percent at the moment doesn't mean a whole lot to fantasy owners; the 2017 second-round pick will be considered one of the league's most injury-prone backs until he proves otherwise.
This leads us back to Mattison, who shares similarities with Murray in that he is a physical grinder who complements Cook well and seems to get better with more work. The difference is that while Murray is more straight-ahead, Mattison is more of a threat in the passing game and can make a tackler or two miss in the hole. In short, he is a better and more complete back than Murray behind what should be an improved offensive line in an offense that promises to run the ball more often in 2019. While the rookie isn't the big-play back Cook is, he is more than capable. A nice bonus is the arrival of offensive advisor Gary Kubiak. If his presence means anything to first-time OC Kevin Stefanski, Minnesota will likely be utilizing outside zone runs more often - something that suits Cook and Mattison much more than it would have Murray. I'm of the belief this will be the season Cook holds up, but I'm not so sure about it that I wouldn't go a round or two early on Mattison (current ADP is 11.10). There's a good chance Mattison lives up to that draft cost even if Cook stays healthy, so it goes without saying the rookie will be worth an 11th-round pick if Cook goes down again.
New Orleans



Saints considering "dusting off" some of Jimmy Graham's old plays for Jared Cook


Cook gets the thumbs up from his new quarterback
Early-July Fantasy Reaction: In the four seasons since Graham was traded to Seattle, the Saints have run through Ben Watson (twice), Josh Hill, Michael Hoomanawanui, Coby Fleener, John Phillips, Garrett Griffin and Dan Arnold. Watson was able to muster a TE7 season the year after Graham left, but Fleener's TE15 effort in 2016 is the best fantasy finish of any New Orleans tight end in the last three years. The Saints are paying Cook $15.5 million over the next two years in order to change that. If the early talk is any indication, the 32-year-old is well on his way to living up to expectations. Drew Brees is among the Saints who seem happy Cook is around.
"He's got a great feel for the game, and I think he's going to fit very well in our offense. He's got great length, so he's got a big catch radius. You feel confident with those 50-50 balls. You feel like there's a lot of places where you can throw it where he can get it and the other guy can't. Anytime you have a target like that, you feel like that's a good matchup."
To that end, TE coach Dan Campbell mentioned the likelihood of using some of the same concepts for Cook that New Orleans utilized with Graham. While he noted the team is going to do what Cook does best, he didn't hold back any praise either.
"A phenomenal athlete. The guy is over 30 and he still runs like the wind. He can absolutely smoke. He's got 35-inch arms, he is long - man, he is long - and he is fast."
So what does it all mean? First and foremost, the Saints didn't quite have a receiver of Michael Thomas' stature when Graham was still around. Marcus Colston was nearing the end of his career in 2014 (his last great season was 2012 - just as Graham was starting to come into his own), while Brandin Cooks was a rookie. New Orleans also didn't have someone with the playmaking skills of Alvin Kamara back then either. In short, Cook has to compete with more viable targets than Graham did. Of course, that does not mean the former first-round pick isn't going to thrive in the Big Easy. Owners should probably expect Thomas to take a slight hit in production (likely more in line with his 104-catch season in 2017 as opposed to his 125-catch year in 2018). If that happens, Cook could push for 70-plus catches, 10 TDs or both.
New York Giants



Corey Coleman in the lead to serve as the third wideout
Early-July Fantasy Reaction: Once upon a time, Eli Manning could make three receivers relevant in fantasy. Over the last two or three years, it could be argued he held back the one superstar wideout he had. While the Daniel Jones question will come up after every poor performance, the odds are stacked against the rookie to succeed in 2019 too. One of the reasons is it could easily be argued that both Sterling Shepard and Golden Tate are better No. 2 receivers and work better out of the slot. Neither one is going to stretch the field either, although it's debatable Manning could take advantage of a deep threat at this point of his career anyway. Making things worse, none of the candidates for third receiver duties are inspired choices. Cody Latimer reportedly began the offseason as the leader and Corey Coleman ended the spring with the edge. Darius Slayton did enough along the way to put himself in the running for the job, but he's a rookie with limited college production. It is not always a bad thing to have at least three players vying for such an important role, but most fantasy owners already know Latimer and Coleman as a couple of players who have failed in other places despite having more going for them in those other spots.
Unfortunately, Evan Engram is coming off a season in which he spent 47.3 of his snaps in the slot, per Pro Football Focus. It speaks to the poor roster construction of this team that all three of its top options in the passing game are best in the slot. Fortunately for Engram, playing inline more might work to his benefit as a receiver, as it should guarantee he gets matched up with a safety or linebacker. That's a big deal on an offense that doesn't offer many "matchup problems" for defenses, and it's perhaps the best reason to believe Engram is going to lead the team in receiving yards and receiving touchdowns in 2019. While Shepard and Tate are shaping up to be uninspired fantasy WR3s, Engram's extrapolated 16-game totals without Odell Beckham Jr. around (15 games over his first two seasons) would be roughly 75 catches, 946 yards and six or seven touchdowns. If Engram can play 16 games for the first time in his career in 2019, those marks are achievable.
Philadelphia



Dallas Goedert "bigger, faster, stronger"


Goedert "capable of making a second-year leap into stardom"


"Phenomenal" development for Goedert
Early-July Fantasy Reaction: One would think the buzzworthy man in an NFL town would be the player coming off a league-record (for a tight end) 116-catch season or the return of one of the premier deep threats in the game. However, almost no one has generated more praise around the league than Goedert, who reportedly stood out in a big way during spring practices. That's right. The second-year backup tight end. Not Zach Ertz. Not DeSean Jackson. Goedert's development puts HC Doug Pederson in an interesting predicament for the upcoming season: using more two-tight formations will only stunt the development of an eventual starter such as JJ Arcega-Whiteside and isn't going to help the team in its quest to trade Nelson Agholor. The alternative is to find new and creative ways to utilize Goedert, who is already recognized as the team's best blocking tight end, while also getting more snaps in the slot for Ertz, who lined up inside 38.4 percent of the time in 2018.
Although it doesn't happen very often (especially in today's game), we've seen examples of two tight ends from the same team be able to enjoy fantasy relevancy in the same season (Colts, Patriots and Chargers come to mind over the last 10 years or so). It's also important to note Philadelphia has generated the most fantasy-point production at tight end in each of the last two years. There's little question Ertz is going to remain the primary focus of the offense because he shares such a strong connection with Carson Wentz. Thus, the best owners can probably hope for from Goedert without an injury to Ertz is probably something in the 45-catch, 5-6 touchdown range (which would be a nice little bump from the 33-334-4 line from last year). Of course, that's not a good enough excuse to stash Goedert. The reason owners in deeper leagues need to find a spot for him is because he is probably the best combination of bye-week and league-winning upside that will exist at his position late in drafts or on the waiver wire. Imagine the possibilities if Ertz is forced to miss multiple weeks at some point. Goedert was the overall TE20 last year even though Ertz played all 16 games. Is it realistic to think he won't improve on that mark this year? He is going undrafted at the moment. I'll certainly consider him over T.J. Hockenson (11.02) and maybe even Kyle Rudolph (14.03).

San Francisco



Tevin Coleman, Jerick McKinnon or Matt Breida figure to be a healthy scratch on game day


Coleman the early leader at running back?


Coaching staff: "Hey, we're going to use all you guys."
Early-July Fantasy Reaction: The running back situation in San Francisco does not lack for intrigue. Incidentally, it also reveals how many felt about each of the three backs before Coleman joined the fray. One of the most common points mentioned with the ex-Falcon being considered the favorite to lead the committee in 2019 is his familiarity with HC Kyle Shanahan's system. (Huh?) So are we conveniently forgetting Breida ran for more yards while operating at far less than 100 percent in Shanahan's system last year than Coleman has in any of his four pro seasons? How about McKinnon still being one of the league's highest-paid backs? Did Coleman supporters conveniently forget his contract didn't come with a signing bonus and gives the team the option to part ways with him after the season with a minimal cap hit? Or has everybody been sucked in by the fact that Coleman was the only one of the group not currently overcoming a serious injury?
Shanahan told reporters in mid-March that "it can make a lot of sense this year (to use all three backs)" and that Coleman might handle short-yardage situations in 2019. As much as people want to believe Coleman may end up being "the man," I think those two nuggets may be the only ones owners can put much stock in at this point. We are just over one year removed from Shanahan speaking in glowing terms about the mismatches McKinnon can create in the passing game. Breida was more productive last season - both from a total rushing yard and yard-per-carry perspective - than Coleman has ever been as a pro. I realize I'm probably in the minority, but I'm still on the belief Breida is the favorite for the early-down role and McKinnon is the favorite to be the primary passing-down option. I also think Shanahan isn't anywhere close to having many of the backfield roles decided yet. In backfield "situations" such as this one, it typically makes the most sense for owners to grab the least expensive - in terms of draft capital - of the bunch and stash him. At the moment, that player is Breida (13.10 ADP). What I do know is that Coleman's 6.03 ADP assumes he is a good bet for 200-plus touches. Sixth-round picks should be every-week starters in fantasy, and I don't think we can be certain he'll return flex value for the entire season. McKinnon's 9.10 ADP makes the most sense of the bunch, although his fantasy upside - given his chops the passing game - may be higher than that of Coleman or Breida.
Seattle



Rashaad Penny loses weight and gains a Hall of Fame mentor


Seattle keeping run-first offensive identity


Backfield workload could vary from game to game
Early-July Fantasy Reaction: So … Chris Carson fans and fantasy owners thought it was going to be safe to breathe easy after he ran for 1,151 yards and nine touchdowns last season. Au contraire. The Seahawks didn't spend a first-round pick on Penny last year with the idea he was going to play second fiddle for the duration of his rookie contract. To his credit, Penny has taken matters into his own hands this offseason, dropping roughly 15 pounds and reaching out to fellow San Diego State alum Marshall Faulk to mentor him. The hoopla surrounding Penny last year was amazing in that I wasn't all that high on him as a prospect, first and foremost. Secondly, he wasn't all that great in the passing game in college. To that end, Seattle only targeted him in four of the 12 games he played as a rookie, and he finished with nine catches for the season. Last but not least, it seemed when Penny wasn't overweight last summer, he was hurt (or vice versa).
While I'm certainly going to want to see the "new" Penny before I fully make up my mind, it makes a lot more sense to me to invest in him this season than it did in 2018. The weight loss is a big deal because, quite frankly, I never saw quite the explosion others raved about. It only helps his cause HC Pete Carroll has already said he wants Carson and Penny to form a "one-two" punch and added, "I don't know who's one and who's two, it doesn't matter to me." This is shaping up to be another situation in which a team may be compelled to ride the "hot hand," so the ADP gap between Carson (5.06) and Penny (7.03) probably needs to close. Seattle's running backs combined for 451 carries and 68 catches last season, meaning AT LEAST two backs could conceivably be what is generally considered a bell-cow now. Carson's take-no-prisoners, physical style of running makes him a bet to miss time sooner than later too, so it should go without saying Penny should be considered one of the top handcuffs in fantasy. If Carroll truly does not care about who is No. 1 and No. 2 (and I can see that given the team's investment in Penny), then there is a decent chance he'll be a strong flex option with massive upside.
Tampa Bay



No Buc impressed the new coaching staff more than Ronald Jones


Jones showed out during OTAs


Jones has the team "really excited about (his) progress"
Early-July Fantasy Reaction: It would be hard to dream up a scenario in which a skill-position player taken inside the top 50 of any draft would finish with 30 touches for 77 yards. Some production is ridiculous enough - good or bad - that it almost has to be dismissed. Per Football Outsiders, Tampa Bay's adjusted line yards ranked 31st in the league last year. The Buccaneers were stuffed (carries for zero or negative yards) on 24.7 percent of their running plays. Jones was hit behind the line of scrimmage on 13 of his 23 carries. He quickly fell behind the eight-ball when the hamstring injury he suffered at the 2018 NFL Combine lingered into offseason practices, which obviously did not help him in terms of his development in the passing game - perhaps the one area that was his biggest weakness coming out of USC. However, while we can only speculate on intangible factors such as confidence, Jones' confidence had to shot by the time he saw his first regular-season game action in Week 4. His line - usually second-teamers - was awful in the preseason, he couldn't get healthy and HC Dirk Koetter played an undrafted free agent (Shaun Wilson) over him the first three weeks because he "could help the team more." People can dismiss such things all they want; young players seek validation and need to know those closest to them are on their side. It's hard to point to one situation following the draft last season in which Tampa Bay did that for Jones.
None of this is really meant to serve an excuse for Jones, but owners need to recognize/remember a few things about him. Here is what one NFL personnel executive told NFL Media's Lance Zeirlein two springs ago: "I love his juice. You have to have some of that to become a good back in the pros and he has a lot of it." Zeirlein himself compared Jones to Jamaal Charles; I compared his running style to Kenyan Drake. He fumbled twice in 591 career carries in college. Pro Football Focus ranked him ninth among FBS running backs with 830 yards after contact in his final season as an amateur. The point is this is a prospect who was lauded for his decisiveness, elusiveness and big-play ability as a 20-year-old college back. As someone who watched every one of his touches as a rookie, I can't recall a time in which he had a chance to show off any of those traits.
No one is pronouncing Jones as the next David Johnson just because new HC Bruce Arians is now in charge. It's also quite possible all of this offseason praise is all about rebuilding Jones' confidence after a year in which Koetter and his staff might have ruined it. Regardless of how much stock anyone puts into my draft evaluations, owners should keep in mind some very smart football people thought this player was on par or better than draft classmates Nick Chubb and Kerryon Johnson. With that said, Jones' current 8.03 ADP is a great example of how reactive the general public is to offseason puff pieces, as I am quite confident the late April and May drafters probably didn't have him going in the first 12 rounds. As much as I liked him as a prospect, I cannot defend him going in the same range as Jordan Howard (8.06), LeSean McCoy (8.07) and Royce Freeman (8.07) given what we know right now. Seriously, has his expected role changed? I'll be the first to say he will be more than deserving of his ADP when he is named the starter and shows dramatic improvement as a receiver. Until then, I'll hope he's available to me in Round 10.
Washington



Trey Quinn has taken over the inside slot role


Jay Gruden ready to watch Quinn "dominate the position"
Early-July Fantasy Reaction: Gruden has been consistent in his praise of Quinn dating back to last season, calling him a "silent assassin" and "quarterback-friendly target" as early as last June. Last year's Mr. Irrelevant was unable to reward his coach's faith for the most part, landing on IR after Week 1 and again in early December with ankle injuries. In between his two IR stints, Quinn filled in for an injured Jamison Crowder for two games and gave fans and fantasy owners alike a taste of what he could do. Obviously, most people aren't going to go crazy over nine catches for 75 yards, but the mere fact he was more than solid in his two opportunities with so little practice time speaks to why Washington seems to love him so much. Keenum told NBC Sports Washington, "Trey Quinn is going to be really special." Receivers coach Ike Hilliard told the site he considers Quinn to be a breakout candidate for the 2019 season.
There is no magic formula when it comes to trying to read what coaches and teammates are saying about a player, especially at a time of year when no one has put on shoulder pads. However, it's a pretty good start when the head coach, position coach and probable Week 1 starter at quarterback are pretty much saying the same thing. It also helps when we have visual proof - albeit a very limited sample size - of Quinn displaying the quickness, intelligence and physicality Gruden has mentioned several times. Washington doesn't lack for talent - in terms of where they were drafted - at its outside receiver spots (Josh Doctson, Paul Richardson, Terry McLaurin and Kelvin Harmon among them), but not a single one of the bunch has proven himself at the NFL level over a significant period of time. Gruden's offenses have typically made good use of slot receivers and each of the Redskins' three quarterbacks this year is either best suited to throw short (Colt McCoy and Keenum) or used to doing so (Haskins with Parris Campbell at Ohio State). Crowder average 64 catches over the previous three seasons as the primary slot option, which sounds more than reasonable for Quinn if he can stay on the field. The SMU product is one of the more obvious players going undrafted - even in 14-team drafts - right now in fantasy who could easily become a weekly starter before September is over. Based on the names of some of the players who are getting drafted right now, I wouldn't hesitate to draft Quinn as early as the 12th round.
---
Doug Orth has written for FF Today since 2006 and been featured in USA TODAY's Fantasy Football Preview magazine since 2010. He is also a high-stakes player who often appears as a guest analyst on a number of national sports radio shows, such as Sirius XM's "Fantasy Drive." Doug is also a member of the Fantasy Sports Writers Association.