BAL | BUF | CIN | CLE | DEN | HOU | IND | JAX | KC | LAC | MIA | NE | NYJ | OAK | PIT | TEN

Offseason reports can often be the equivalent of having a candy bar or bag of chips 30 minutes before a meal. We know they aren't good for us, but we can't help ourselves. Beat writers can sometimes get too close to the team and feed us optimism when what we need is honesty. However, when they do their jobs well, they are often the only "inside" source we have as fantasy owners who can unearth a valuable nugget or spot a trend during the spring that proves to be prophetic. Given the wealth of information at our disposal and the number of people who want to be the first to "get the scoop" nowadays, we have to sift through a lot of the former in order to get to the latter.

Each year, I attempt to canvas the NFL landscape once offseason workouts have concluded, in hopes I can make an observation or two of my own that nudges readers in the right direction. As I have done since I started "Early Observations" in 2009, I'm going to try to provide a respectable opinion on how the offseason buzz from all 32 teams translates to fantasy owners over the next two weeks. The focus will be on potential up-and-comers rather than established stars since it is usually the former that often gives owners the push they need to win fantasy titles.

This week, we'll take a look at what is buzzworthy in the AFC:

Note: All ADPs are for 12-team leagues courtesy of Fantasy Football Calculator as of June 24.

Baltimore



Lamar Jackson trying to speed up development as a thrower


Ravens trying to dial Jackson back as a runner
Late-June Fantasy Reaction: Jackson set an NFL record for a quarterback by running 147 times last season despite not getting his first start until Week 10. He actually managed to complete 58.2 percent of his passes after taking over for Joe Flacco, but few ever got to see what he is truly capable of because the Ravens refused to open up the offense. Jackson was further hurt by Baltimore keeping former OC Marty Mornhinweg in charge rather than make the change to new OC Greg Roman, whose reputation was built on his work earlier this decade with Colin Kaepernick and Tyrod Taylor. The playoff loss to the Chargers was one of the few times the Ravens gave the former Heisman Trophy winner a chance to show off more of his repertoire, and that only happened after Baltimore spent the first three-plus quarters stubbornly running into a wall and falling into a 23-3 hole - an obstacle the Ravens nearly overcame the final nine-plus minutes when they had little to lose.
Expect the latter version of the offense to become more commonplace in 2019, if only because Roman will be in charge. Yes, Baltimore will still want to lead the league in rushing - likely by riding Mark Ingram and Justice Hill while getting roughly eight to 10 carries per game from Jackson - but not at the extreme rate it did from Weeks 11-17 (45 attempts per contest). Regardless of what anyone thinks about Jackson's accuracy, quarterbacks who run the ball as often as he did as a rookie are going to see their accuracy suffer in part because they are being asked to deliver pinpoint passes when handling the workload of a feature back (Jackson averaged 17 rushing attempts over the final seven weeks of the season.) It is reasonable to assume that Roman will understand this concept better than Mornhinweg did. Baltimore's emphasis on speed in the draft was a clear sign the team is ready to embrace a spread offense similar to the one Jackson ran at Louisville. While it may not do anything for Jackson's longevity, it figures to be very beneficial for fantasy owners. If Marquise Brown and/or Miles Boykin end up being quick studies and Jackson can avoid interceptions - much like he did for the bulk of his time as the starter - there's low-end QB1 potential with him.
Buffalo



Zay Jones benefiting from a full offseason
Late-June Fantasy Reaction: Jones didn't really start living up to his potential until around Week 10 when he kicked off an inefficient yet productive seven-game stretch, catching only half of his 54 targets but scoring six times on those 27 receptions. He's reportedly added 8-10 pounds of lean muscle mass to his upper body and was a full participant during the offseason program, but is there any guarantee he will be able to take the next step in his development? Not exactly. Per Pro Football Focus, Jones did the bulk of his work inside 10 yards - although five of his touchdowns came on passes that traveled more than 20 yards in the air. Cole Beasley was signed to a contract with an annual average value of over $7 million to handle the short stuff, while the AAV of John Brown's contract is $9 million, suggesting the Bills want those two players handling the short/intermediate and deep areas of the field, respectively. Let's also not forget Robert Foster, who was one of only 19 players in the league to amass 500 receiving yards from Week 10 on, doing so on only 25 catches. While one can easily question how much Buffalo really improved its talent at receiver with the additions of Brown and Beasley, it is fair to say there are more legitimate mouths to feed in Buffalo than in 2018. Given Josh Allen's scattershot accuracy, Jones will need to do better than catch 50 percent of his targets if he has any hope of becoming a sure-fire starter for the Bills in 2019, much less someone capable of matching his team-leading totals of 56 catches, 652 yards receiving and seven receiving TDs.

More work ahead for Giovani Bernard?
Late-June Fantasy Reaction: There's been virtually no news about potential under-the-radar players in Cincinnati this spring, which is both a blessing (for a franchise once infamous for offseason problems) and a curse (for fantasy owners hoping a deep sleeper will emerge). Thus, we are left with a veteran likely spending his final season as a Bengal and hoping to increase his value on the free-agent market. New HC Zac Taylor and OC Brian Callahan have indicated the plan is for Cincinnati to spread out the carries early in order to keep Joe Mixon fresh late for late in the season. Since Trayveon Williams was likely drafted to replace Bernard next season and fellow sixth-round pick Rodney Anderson may or may not be ready for training camp as he continues to recover from ACL surgery, it should mean a respectable workload for Bernard during the early part of the season.
While owners can never know when an injury to the starter will occur, they can prepare for it. This is not only accomplished by Mixon owners handcuffing their backup, but also by zero-running back enthusiasts who do their best to nab some of the best second-string runners on the market before the owners of the starters are comfortable drafting handcuffs. Although his numbers in recent years may not reflect it, Bernard is one of the better backups in the league. He showed it once again in Weeks 3 and 4 last season when he started in place of an injured Mixon and finished as the overall RB8 and RB9 in those respective weeks. Bernard is almost always going to provide a safe floor when he starts because he is so good in the passing game, so while Anderson and/or Williams could easily move into the early-down role should Mixon get hurt again at some point, Bernard figures to remain the lead back in that theoretical situation. The 27-year-old is going undrafted in many leagues, which is understandable given his minimal role behind Nixon but hard to comprehend when he has a much better track record of staying healthy and offers more upside than someone like Chris Thompson (14.05 ADP). Bernard has never averaged less than eight PPR fantasy points in any of his five seasons, so he at least deserves some more respect than he's currently getting. Will he be a league-winner? Probably not. But can he be a fill-in fantasy starter if/when Mixon is unable to play? Absolutely. That kind of upside is worth stashing.

Duke Johnson requests a trade multiple times


Dontrell Hilliard shows out during OTAs
Late-June Fantasy Reaction: Fantasy owners of Johnson should be rooting for Hilliard to carry over his spring momentum into the summer and early fall because it appears that will be the only way Johnson will not be on the roster for the season opener. The mere fact Cleveland used Hilliard out of the slot during OTAs is a clear sign the Browns are willing to be convinced they already have Johnson's replacement on the roster. However, it stands to reason they want to see Hilliard impress during training camp and the preseason before they trade their disgruntled back. Johnson can see the writing on the wall, as he'll only have about eight games to play before a proven feature back in Kareem Hunt returns to action. The ex-Miami Hurricane star knows he deserves better, and there's probably a handful of teams that he could start for in the NFL.
Considering Hilliard made last year's roster as an undrafted rookie free agent and has impressed both HC Freddie Kitchens (last year) and RB coach Stump Mitchell (this year), there's reason to believe Hilliard isn't getting the usual coach-speak that usually get aimed at a player like Johnson to encourage to get with the program. As a result, early drafters would do well to stash Johnson and play the waiting game. Perhaps his next employer views him much like former HC Hue Jackson did and will not give him more than 160 touches. Even if that is the case, Johnson has multiple 60-catch seasons on his resume and can work out of the slot. If he is, in fact, traded at some point this season, there's a good chance he'll land in a spot that will allow to achieve and maintain flex value.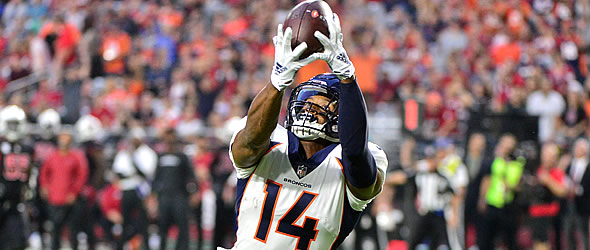 Vic Fangio expecting big things from Courtland Sutton


Courtland Sutton working overtime to improve his game
Late-June Fantasy Reaction: Owners fell all over themselves trying to pick up Sutton off waivers in the minutes and hours after Demaryius Thomas was traded to the Texans last season in anticipation he would build upon his promising start. Alas, things didn't quite work out as hoped, especially after it appeared he was thrust into the lead role following Emmanuel Sanders' season-ending Achilles injury prior to Week 14. To be clear, a 42-704-4 line is not exactly a disappointing season for a rookie receiver, but Sutton did not fare well when he became the focus of opposing secondaries. He also did not produce much after the catch, as his 3.9 yards after the catch ranked 27th among NFL receivers who played all 16 games, per STATS, LLC.
To that end, the SMU product enlisted the help of Tony Villani of XPE Sports prior to offseason workouts with an eye toward "resetting and rebuilding as much as it was about improving his explosiveness." Sutton intends to return to Villani during the summer to "take a more refined approach" to his route-running and football-specific training. Perhaps just as importantly, he is also seeking the counsel of Anquan Boldin. Not only is Boldin's purpose to build on Villani's training, but he might be able to offer some information on the nuances of one of his former quarterbacks, Joe Flacco, who will be largely responsible for Sutton's statistical growth this season. While nothing is guaranteed when it comes to quarterback-receiver combinations with no previous history of working together, Flacco and Sutton's strengths complement each other well. Sutton's 10.02 ADP makes him a strong value pick as a player with fantasy WR2 upside. With Sanders unlikely to recapture his previous form anytime soon, Sutton is in great shape to become the team's No. 1 receiver if all of his focused offseason work pays off.

D'Onta Foreman has a chip on his shoulder and is showing "good progress"


Deshaun Watson believes Keke Coutee needs to be a big part of the offense
Late-June Fantasy Reaction: Naturally, HC Bill O'Brien waited until May to tell the world Foreman's Achilles injury was "significant" when he could have done so at any point in 2018, although it was always going to be difficult for the 23-year-old to do much upon his return last season even if he enjoyed a miraculous recovery. It's anyone's guess whether Foreman actually believes he is feeling better entering this year than he did beginning any season in college (and possibly even high school) or not, but the mere fact he is willing to say it publicly is notable. O'Brien recently praised his 230-pound back's conditioning and believes he turned in a "good spring." If there is any upside to Foreman's injury, it might be that he isn't overly reliant on quickness and the time off may have given him the entire year to recharge. If he begins the season anywhere close to where he was when he got hurt late in 2017, Houston will get the 1-2 punch O'Brien has long desired and Lamar Miller may not crack 200 rushing attempts. It's also reasonable Foreman could split carries at some point and assume goal-line work. In this offense, that kind of workload and scoring upside would enable him to be a highly serviceable flex option.
Coutee's athletic testing numbers did not exactly suggest he was a special prospect, but Houston obviously liked what it saw from him in practice on the rare occasion he was relatively healthy. He set an NFL record for most catches in a debut (11 in Week 4) and wore out the Colts for a second time in a remarkably similar performance in the playoffs. The problems: he played a total of seven games (including the postseason) and mustered only 17 receptions in the five contests against teams other than Indianapolis. Watson doesn't want to see a repeat of that and believes Coutee is "playing with a lot more confidence" and "playing a lot faster" than he was as a rookie before adding "anytime he's on the field, you have to find a way to get him the ball." Quarterbacks typically are not shy about showing their receivers some love, but Watson's comments seem to indicate he isn't lacking for confidence in his slot receiver. His 10.04 ADP is more of a reflection of last year's injury woes than an indictment on his talent, so he's yet another candidate who figures to be a solid value pick in the mid-to-late rounds. There's probably not room for two 100-catch receivers in the Houston offense, but Coutee could push for 70 or 80 if he can play all 16 games based almost solely on how willing the team was to force-feed him the ball as a rookie.

Mo Alie-Cox has shown "remarkable development" and is "poised for a breakout"
Late-June Fantasy Reaction: Barring a Victor Cruz-like three-touchdown game (circa 2010) in the preseason, owners aren't going to have any interest in using a draft pick on a third-string tight end. Honestly, I can't say I blame them. Here's the problem: the Colts - and even his peers in the tight end room - can't stop talking about him. "Watching him grow is like watching your son become something special. He's gonna play such a huge role this year," Eric Ebron said in early June. Alie-Cox took advantage of the absences of both Ebron and Jack Doyle during offseason workouts to run with the first team. It has led to "unbridled excitement" in regards to what Indianapolis thinks he can become. The Athletic's Stephen Holder stated he didn't see Alie-Cox drop a pass in the spring. Holder also made it sound like he is pushing Doyle as the best blocking tight end on the team and boasts similar athleticism to Ebron; he is already bigger (6-5, 267) and stronger than either one of them.
Perhaps Alie-Cox ends up being more of a dynasty stash than redraft option, but his star is on the rise. Doyle is due $5.15 million in 2020 heading into what will be his age-30 season. It's nearly impossible to feel good about Doyle's long-term prospects when one considers his age, his offseason hip surgery and the kidney injury he sustained late last season. Further supporting the Alie-Cox hype: Ebron is set to become a free agent after this season and the Colts have not knowingly engaged in extension talks with him. Also, bear in mind Reich has a history of utilizing two tight ends, so if Doyle is in any way compromised from last season's injuries or Ebron struggles to stay healthy like he did over his first three NFL seasons, Alie-Cox will have the opening he needs. He's not a player most owners in 16- or 18-round drafts need to roster, but he's easily one of the most likely candidates of players likely to go undrafted in fantasy to an every-week starter at some point in the next year or two.
Jacksonville

Nick Foles very comfortable with Chris Conley
Late-June Fantasy Reaction: It's never a good idea to completely dismiss a player just because he is moving from an elite quarterback (and offense) to what figures to be an average quarterback (and offense). It's also never a good idea to underestimate two former teammates - especially a quarterback-receiver duo - hooking up together with a different team. To that end, ESPN's Mike DiRocco believes Conley "might turn out to be one of the best under-the-radar free-agent signings this year" after watching him reconnect with Foles this spring. (The two spent a season together with Kansas City in 2016 when Foles backed up Alex Smith.) DiRocco makes the case Jacksonville does not have a clear No. 1 receiver at the moment, so with Marqise Lee not expected back from his knee injury until well into training camp, Conley will have his shot to seize a job.
While Conley certainly has the athletic ability to be a No. 1 and all the Jaguars' receivers are theoretically working with a clean slate under new OC John DeFilippo, Dede Westbrook has more of a track record and is a more complete receiver with his ability to win at every level of a defense. Keelan Cole also presents a sizable obstacle, and the case can be made he should be starting anyway if he regains the trust of the coaching staff (two costly fumbles in October put him in the doghouse). Jacksonville still has a vested interest in developing D.J. Chark, and even Terrelle Pryor cannot completely be dismissed. While it would be wise for owners to keep an eye out for proof the Foles-to-Conley chemistry is real throughout training camp and in the preseason, it's difficult to put a lot of stock in the possibility Conley will go from an average receiver in Kansas City - where he had multiple chances to lock down a starting job - to a clear No. 1 option in Jacksonville.

Mecole Hardman overcomes rough start, expected to play early in 2019


Byron Pringle making plays for a second consecutive offseason
Late-June Fantasy Reaction: Naturally, the degree to which either one of these speedsters can make an impact on the 2019 season is going to depend greatly on how the Tyreek Hill situation plays out. Hardman will almost certainly get the first crack of replacing Chris Conley at the very least, and he could easily be used as a poor man's version of Hill if the two-time All-Pro is suspended for the first half of the season as expected. Much as was the case for Hill as he made the transition to a full-time receiver from an "offensive weapon," Hardman is a bit raw in terms of playing receiver after entering college as a quarterback prospect, and he didn't exactly get a lot of opportunities to show off his abilities for run-heavy Georgia. In short, it's going to be a big ask for Hardman to enjoy the kind of production necessary for him to remain on fantasy rosters as a rookie and twice as difficult for him to be relevant at all if Hill is allowed to play again at some point this season. However, it's hard not to like Hardman long-term. Hill is entering the final year of his rookie contract, and one has to think Kansas City will be hesitant to bring him back in the event the NFL allows him to play again.
Pringle is obviously much more of a longshot, even though he has impressed HC Andy Reid and his staff twice in as many years with his work in the offseason. ESPN's Adam Teicher stated Pringle was on the verge of making the team last year before suffering an injury in the final preseason game. His college production (at Kansas State) is similar to Hardman, averaging 24.1 yards per catch in his final season. He made his biggest impression in Kansas City's final preseason game last year, finishing with four catches for 122 yards and a touchdown before going down with the hamstring injury that cost him the season. Reid mentioned at the NFL Combine that he thought "(Byron) was on the rise before he got hurt," so he's definitely worth keeping an eye on if Hill's likely suspension proves to be more of a long-term one. It's hard to see an immediate path to playing time for Pringle barring a rash of injuries, but owners need to make themselves familiar with just about every skill-position player on an offense has explosive as the Chiefs' scoring machine.

Mike Williams expects to have an "expanded" role in 2019
Late-June Fantasy Reaction: After a wasted rookie season due to injuries, Williams began to assert himself almost immediately as a primary option in the red zone, scoring six times from the 10 or closer and eight times in all inside the red zone. Tyrell Williams and his 64 targets, 41 catches and five receiving TDs are now in Oakland, so it's easy to understand why Big Mike is coming off draft boards at the end of the fifth round. Unfortunately for fantasy owners, projecting is never as easy as handing the production of the departed receiver to the guy who is technically replacing him. To that end, Hunter Henry is going to steal some red zone looks after not playing at all during the regular season in 2018. Travis Benjamin could easily slide right into Tyrell Williams' target and catch numbers.
But make no mistake about it: Mike Williams expects more looks in his third year and Los Angeles believes he is ready for them. His 43 catches for 664 yards and 10 touchdowns last season might be a bit flukish for some receivers, but defenses don't really have much of a choice but to take their chances and play the Chargers straight up. Los Angeles has three running backs who are accomplished receivers, a tight end in Henry who demands respect, a speedster in Benjamin who is still very much a respected deep threat and one of the league's best route-runners in Keenan Allen. While it might be hard for Mike Williams to repeat his touchdown efficiency, he seems like a solid candidate to match or exceed last year's TD production. While he may top out at around 70 catches, he feels like a player who will exceed his current draft cost (5.10) and could be a league-winner type if Allen was to get hurt.

DeVante Parker doing it again


Preston Williams making an early impression
Late-June Fantasy Reaction: I'm not going to go back and look, but there's a good chance Parker has appeared in Early Observations more than any other player over the last 3-4 years. Two years ago, many owners were duped by Jay Cutler's assertion that Parker reminded him of Alshon Jeffery and the over-the-top praise he received from the coaching staff. Last year, he was dominated in camp by Xavien Howard, who has since become the highest-paid corner in the league. Yet, the new coaching staff still saw fit to give him a two-year contract. He rewarded them by being the "best player in camp," according to the Miami Herald's Barry Jackson, who added if Parker "played like this in games consistently, he would be a Pro Bowler." We have been here before with Parker, although I get the sense new HC Brian Flores is a no-nonsense guy and wouldn't have requested for the team to keep the wideout if he didn't see something in him; he got to see him plenty as New England's defensive coordinator. Another big change is the arrival of Ryan Fitzpatrick, who is more willing to go downfield than Ryan Tannehill ever was. Thankfully, Parker's cost has dropped so low (13.12 ADP) that owners can feel free to move on after a week or two this time around. We've seen enough flashes from him to know he can do it (Week 8 against Houston last year was a prime example, finishing with six catches for 134 yards with Brock Osweiler as his quarterback), leaving durability as his only major issue if Fitzpatrick is willing to trust him as Cutler did initially.
At worst, Williams was an early Day 3 talent in the NFL Draft, but he went undrafted this spring due to off-field concerns. It would be mildly surprising if he's not already in the long-term plans of the Dolphins. For now, however, it is highly unlikely he'll crack the top three receiver spots in Miami currently occupied by Parker, Kenny Stills and Albert Wilson (assuming he can make it back for his hip injury at some point during the preseason). And even if Wilson can't make it back before Week 1, Jakeem Grant would probably fill in. Nonetheless, Williams would be the most sensible option on the team if Parker fails to live up to expectations yet again, so he cannot be completely dismissed in redraft formats - although he obviously does not need to be drafted. Dynasty owners looking for an upside stash could do much worse, however.

Damien Harris has a shot to earn a prominent role
Late-June Fantasy Reaction: This offseason was supposed to be a time when Sony Michel distanced himself from the competition. Instead, he sat for a large chunk of the spring due to a knee scope. (Reports do have Michel being ready well in advance for camp, however.) In the meantime, Harris reportedly made a strong first impression on the team and figures to go into training camp with a reasonable chance to share early-down work with Michel. Before owners think about dismissing Harris, it's worth noting he has not fumbled since 2016 and dropped only three of his targets during his college career. Thus, if he can remain healthy, it means he has two big feathers in his hat that Michel doesn't: a history of good ball security and durability. That combination means a lot of coaches, but maybe no coach values it more than HC Bill Belichick. New England annually boasts one of the most productive fantasy backfields, so it is always worth our time as fantasy owners to invest a middle-round pick in one with the hope that back will be the one that becomes the latest LeGarrette Blount or Michel. (Last year's combination of Michel and James White was just the latest reincarnation of the ever-changing Patriots backfield.) New England has morphed more and more into a ball-control, power-running team in recent years, which makes Harris a nice fit. Although Harris is not a flashy player by any stretch, he essentially needs one player with a lengthy injury history to get hurt in order to have a clear path to 15-18 carries per game. So whether owners like it or not, Harris needs to be coming off the board a lot earlier than his current 11.07 ADP as the overall RB49.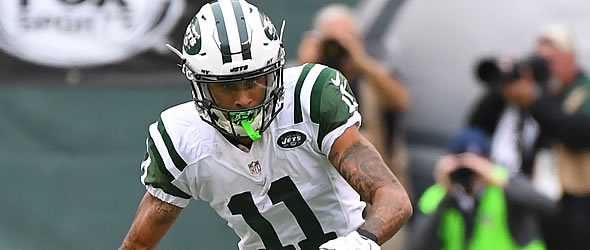 Robby Anderson poised to take the next step and believes it too
Late-June Fantasy Reaction: It's been a mixed bag for Anderson's fantasy owners over the last two seasons. In 2017, he was a big part of guiding teams to the fantasy postseason before falling flat. In 2018, the fantasy playoffs were about the only time he actually produced. It's only natural to blame the player in a lot of cases because the majority of fantasy owners (and even analysts) don't want to put the time into figuring out why something happened (or didn't), while others don't want the narrative they've established in their mind to get blown up. Without getting into too much detail, Jeremy Bates has proven to be mostly over his head as an NFL play-caller, failing to utilize Anderson like former OC John Morton was able to and making the unconscionable decision of moving Quincy Enunwa out of the slot to make room for Jermaine Kearse after the former enjoyed a solid connection with Sam Darnold early in 2018.
The beauty of the Jets' offseason is New York is no longer a laughingstock when it comes to possessing talent at the skill positions. Le'Veon Bell gives the running game a fighting chance and is obviously a skilled pass-catcher. Jamison Crowder is an above-average slot who can make big plays. Enunwa is a big and reliable possession target. Chris Herndon is a potential budding star at tight end. In other words, Darnold has options and a full year of experience, while the supporting cast is good enough to scare defenses for the first time in years. Both new HC Adam Gase and GM Joe Douglas appear to be somewhere between happy and smitten with Anderson, who is clearly the team's most dangerous downfield weapon. Currently the WR30 with an ADP of 6.12, Anderson probably will end up going a full round higher by the time drafts really heat up in August. Not only is he playing for a contract, but his supporting cast is solid and the people in power want to see him succeed.

Darren Waller is getting the "chance of a lifetime" and has been one of Oakland's "most impressive players"
Late-June Fantasy Reaction: If the Raiders aren't giving Waller the DeVante Parker treatment this spring, he's likely headed to the Pro Bowl. (I'm only half-kidding.) Oakland has been pushing the narrative that one of the main reasons why it was comfortable letting Jared Cook leave via free agency was because Waller was on the roster. The 26-year-old has been talked up a few times since arriving in the league in 2015 as a receiver out of Georgia Tech, only to usually shoot himself in the foot - including but not limited to twice violating the NFL's substance abuse policy. The Raiders seem to believe he has "responded well to a golden opportunity to kick-start his career and realize vast potential" and enjoyed an "excellent offseason." NBC Sports Bay Area's Scott Bair stated Waller is "physically stronger and was as impressive as anyone not named Antonio Brown in OTAs and minicamp work."
One of the important things to look out for when attempting to spot a potential breakout player who has done virtually nothing in the league up to that point is taking inventory on what the team has done to protect itself against him not living up to the expectations. While Erik Swoope was a solid addition that could make the team, the Raiders had ample opportunity and ammunition to secure one of the draft's top tight ends. They waited until the fourth round to take one. They've essentially given Waller the starting job before training camp - or at least would like us to believe they have. Having watched Waller play a bit in college, it's not hard for me to buy the hype. Watching him on NFL Game Rewind make plays toward the end of the season only makes me believe it more. It is rare to see tight ends move as fluidly and display the speed he does after the catch. Thus, I would not be surprised if he ends up as a top-20 fantasy tight end and perhaps makes a push for low-end TE1 numbers.

Donte Moncrief looking like a slam-dunk No. 2 receiver
Late-June Fantasy Reaction: Moncrief has long been a fantasy tease, but it's important to keep in mind that Andrew Luck is responsible for only 141 of the 347 targets he has seen as a pro receiver. (The other six quarterbacks are Blake Bortles, Jacoby Brissett, Matt Hasselbeck, Cody Kessler, Scott Tolzein and Charlie Whitehurst.) It also hasn't helped his cause that injuries robbed him of at least four games in 2016 and again in 2017 - the latter of which was a lost season for Luck. As many owners remember, he spent 2018 in Jacksonville with Bortles and Kessler. To say he's had ample opportunity to take advantage of his talent would be a bit of a lie. To that end, he appears to be capitalizing on his latest chance, as The Athletic's Mark Kaboly noted the 25-year-old had an "impressive spring" and "looks like a 50- or 60-catch guy with five or six touchdowns." Ben Roethlisberger appears to be a fan as well:
"I wasn't really sure what to expect when he came in. I didn't know him and now just getting to see his work ethic, the type of person he is, his desire to be great (and) his knowledge of the offense already. We'll do no-huddle stuff and I'll give him a signal and I'll be like, 'You good?' and he'll be like, 'Yeah.' He is in with coach (Darryl) Drake every single morning, pretty much all day."
The question with Moncrief has rarely ever been about talent, but rather consistency and durability. The quarterbacks I listed earlier should give readers a pretty decent idea as to why the former has been lacking. Pittsburgh almost always places two receivers inside the top 40 fantasy receivers and quite often the top 30. Moncrief's ADP is currently 12.06 as the overall WR55, which is almost four rounds and 18 spots ahead of D.K. Metcalf. If Moncrief can stay healthy this season, I'd be willing to call Kaboly's estimate his floor. I'm not quite ready to suggest the Ole Miss product will be an every-week WR3 in 2019, but I think he's got a good shot.

Marcus Mariota increases his weight to 230 pounds entering possible make-or-break season
Late-June Fantasy Reaction: Mariota has been a pro quarterback since 2015. In that time, he's watched the organization cycle through Jason Michael, Terry Robiskie, Matt LaFleur and now Arthur Smith at offensive coordinator. But that's only been part of the problem. The other concern has been a lack of durability, which can be attributed at least in part to the lack of stability at offensive coordinator, although the bigger issue is Mariota simply isn't built to last a full season. (Or at least wasn't until now … maybe.) Check out this quote from former Titans strength and conditioning coach Steve Watterson when he was asked about how additional weight for Mariota and other thinner players can protect them:
"We know that there is a cautionary percent of body fat for different players - I've always said, for example, wide receivers and DBs that are below five percent (are too low) and there are a lot that fall under that. You need a certain amount. There (are) physics laws. One is with tissue and the absorption of energy and two is the physics of mass and force. Having guys at times really too light in their position. Obviously, you see it in offensive linemen, there is a line. All of a sudden, you say a guy's just going to be overmatched because he's just with a massive individual across the line. It's not always just athletic ability. Physical variables do matter."
According to beat writer Paul Kuharsky, Mariota weighs 230 pounds (as of late May) and is roughly 12 to 13 pounds heavier than he was to end last season. The Titans also finally made it a priority to give him weapons on par with the rest of the league. Here's a brief recap of their recent troubles: Corey Davis was a rookie in 2017 and battled hamstring issues that undoubtedly slowed his development that season. Last year, Delanie Walker was lost in the opener to a season-ending ankle injury. Before that, Mariota had his best year as a pro with Rishard Matthews as his top wideout. The point is "it' is inside Mariota, Tennessee has to be able to get "it" out.
If we are to believe Watterson, the former No. 2 overall pick has taken the first step by heeding the team's request to add weight rather than maintain flexibility - which has been the stance that he and his trainers have taken to this point of his career. The Titans have taken the next necessary step by surrounding him with Davis, Walker, A.J. Brown, Adam Humphries and Dion Lewis. One of the final steps: allow the team to grow in the same scheme (which is a big part of why Smith was promoted from within after LaFleur accepted the Packers' job). It's taken Tennessee five years to figure out how to get through to and build around its "franchise quarterback," but it's fair to say the team can finally feel good about completing a project that should have been done no later than the start of last year. Either way, 2019 is actually the best time to buy into the possibility Mariota may end up becoming something more than what he has been to this point - because he finally has everything he needs to do his job. He is going undrafted in most leagues so far, but I frankly would not be surprised if he makes a push to be a top-20 fantasy quarterback.
---
Doug Orth has written for FF Today since 2006 and been featured in USA TODAY's Fantasy Football Preview magazine since 2010. He is also a high-stakes player who often appears as a guest analyst on a number of national sports radio shows, such as Sirius XM's "Fantasy Drive." Doug is also a member of the Fantasy Sports Writers Association.