Six years ago, I introduced "The Dirty Dozen" and "The Delicious Dozen" around Thanksgiving time. (Here is last week's "Dirty Dozen.") The idea then - as it is today - was to identify negative and positive receiver matchups, respectively, as a way to prepare owners for the upcoming stretch of fantasy games that usually determine who moves on and who doesn't.

Receiver-cornerback matchups are among the most critical ones in the real game, yet very few fantasy analysts spend any time breaking them down in much detail for what I can only imagine is a general lack of readily available information. Until all owners can enjoy the same kind of access to defensive "production" as the privileged few, there will be thousands of owners who will avoid matchups based almost solely on name recognition. The point to be made here is the fantasy industry as a whole isn't nearly as sharp on who is playing well defensively (or not playing well) on a week-to-week basis. The truth is defensive players ebb and flow in much the same way offensive players do.


Note: The cutoff for this piece was 330 coverage snaps. At roughly 30 coverage snaps per game, we should be able to eliminate any players who aren't "full-timers." Below each write-up is the remaining schedule and the projected matchups each corner should see in coverage in that week. Please keep in mind that receivers move across the formation a lot, while most defensive coordinators seem to favor keeping their corners on one side of the formation, so this is far from an exact science.

In cases in which a receiver there isn't a discernible difference in how often a receiver plays on one side of the field or the other (which is quite common), the most likely player to see coverage from the cornerback below will be listed first and the receiver expected to see slightly less of him will be listed second.

*** - Indicates the cornerback has been/will be used as a "shadow"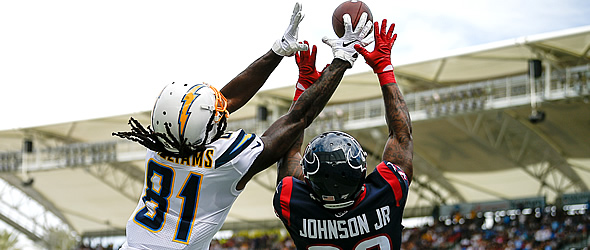 12. A.J. Bouye, JAX (Passer Rating Against: 105.4)
* Has only shadowed DeAndre Hopkins since the Jalen Ramsey trade.
It's been quite the turnaround in 2019 for Bouye, who didn't allow a touchdown in his coverage in 13 games last season and a passer rating against of 79.7 - a mark that ranked 13th best among corners who played at least 450 snaps. Through 10 games this season, he's given up three scores and obviously ranks among the worst 12 corners in terms of passer rating against. Interestingly, his play really began to drop off right about the time Ramsey was traded to the Rams (something that may only be coincidental since Ramsey didn't play for a three-week stretch prior to getting dealt). Whatever the cause, Bouye has surrendered one touchdown in his coverage in each of the last three games and opposing quarterbacks have posted a passer rating of at least 117.9 in each of those outings. Over that same stretch, receivers have caught 13 of the 16 targets in his coverage. Bouye has rarely shadowed this season, so his struggles obviously bode well for just about any star perimeter wideout remaining on the schedule.
Week 13: Breshad Perriman (Tampa Bay)
Week 14: Mike Williams (LA Chargers)
Week 15: Tyrell Williams (Oakland)
Week 16: Calvin Ridley (Atlanta)
11. Jalen Ramsey, LAR (Passer Rating Against: 106.7) ***
* Has shadowed Julio Jones, JuJu Smith-Schuster and Allen Robinson since arriving via trade prior to Week 7.
Surprised? Me too. But should we be surprised anytime a player struggles when he changes teams mid-season? Ramsey shadowed Jones in his Rams debut, which is going to drive down just about every cornerback's grade. His biggest crime the following week was getting lazy in garbage time against the Bengals and letting Alex Erickson get behind them for a 52-yard catch late in Week 8. He followed Smith-Schuster on 80 percent of his snaps and yielded catches on all three of his targets for a second straight game of allowing a 118.8 passer rating in his coverage. Since that time, however, he blanked Robinson on about 60 percent of the routes Chicago's top receiver ran and was barely targeted in Monday night's disaster against the Ravens. It's probably fair to say Ramsey may not ever have another year like his breakout 2017 season in which he allowed a passer rating of 66.4 in his coverage, but he's also better than the 99.3 rating he has posted thus far with the Rams and definitely better than his 115.3 mark in three games with Jacksonville earlier this season. So while he may not be the avoid-at-all-costs corner his reputation suggests he is, his recent play suggests he's rounding back into form.
Week 13: Christian Kirk (Arizona)
Week 14: D.K. Metcalf (Seattle)
Week 15: Amari Cooper (Dallas)
Week 16: Deebo Samuel (San Francisco)
10. Trae Waynes, MIN (Passer Rating Against: 109.5)
Drafted No. 11 overall in 2015 and blessed with 4.31 speed, Waynes was supposed to be Xavier Rhodes' capable sidekick for a decade. For whatever reason, he hasn't really ever developed into the player his talent suggested he could be despite working a renowned defensive mind like HC Mike Zimmer. Using the metrics I'm using for this article, he's having his worst year yet, allowing opposing receivers to catch 69.2 percent of the passes thrown in his coverage. In fact, he's only played two games this season in which receivers haven't enjoyed a catch rate of at least 60 percent. He's also given up four touchdowns in his coverage - one shy of his career high - and he has been particularly bad over the last two games, getting beat for big plays by the likes of Tyreek Hill (excusable), Tim Patrick and Noah Fant. Considering quarterbacks have amassed a passer rating of at least 97.9 five times while throwing in his direction and given his relative lack of effectiveness through almost five years of his NFL career, fantasy owners should feel confident targeting his potential matchup on a weekly basis.
Week 13: Josh Gordon (Seattle)
Week 14: Kenny Golladay (Detroit)
Week 15: Mike Williams (LA Chargers)
Week 16: Allen Lazard (Green Bay)
9. Levi Wallace, BUF (Passer Rating Against: 109.6)
It's not always easy to decipher which cornerbacks are just average NFL players and which ones are just struggling. Wallace was impressive in limited action as a rookie last season (84.1 passer rating against, 52.6 completion rate), but he hasn't been able to carry that over into his sophomore season. Part of his problem stems from the fact opponents are much more likely to try their luck with him than Tre'Davious White. Wallace got off to a very respectable start in 2019, but he has been much more down than up since the team's Week 6 bye, allowing quarterbacks to post a passer rating of 95.8 or better in five straight weeks before settling for a 79.2 rating against the Broncos in Week 12. However, even that performance was an extension of a troubling trend: Wallace has not forced an incompletion in his coverage in three straight contests (9-for-9) and allowed 16 of the last 17 passes in his direction to be completed over a four-game span. With White operating as a shadow in each of the last four weeks and likely to do so at least once or twice more in December, secondary receivers should continue to be targeted for fantasy purposes against Buffalo.
Week 13: Michael Gallup (Dallas)
Week 14: Marquise Brown (Baltimore)
Week 15: Diontae Johnson (Pittsburgh)
Week 16: Phillip Dorsett/N'Keal Harry (New England)
8. Vernon Hargreaves, HOU (Passer Rating Against: 109.8)
It's probably unfair to put Hargreaves on this list simply because his debut with the Texans was eight days after he was claimed off waivers from the Buccaneers. (It's probably also worth noting his passer rating against in that game - working mostly out of the slot - was 88.9. He also actually fared well in his last game before getting waived by Tampa Bay as well, allowing one catch for nine yards on two targets in 33 coverage snaps - good for a passer rating against of 62.5. Bradley Roby has been Houston's primary slot corner and fared reasonably well in that role, so it's reasonable to wonder if Hargreaves will go back to the bench when Roby returns from his hamstring injury - which could happen as soon as this week - or if Roby will be asked to play more often on the perimeter - the Texans have been ravaged by injuries at cornerback - until Hargreaves shows he can't handle slot duties. Fantasy owners shouldn't completely dismiss the possibility Hargreaves just needed a change of scenery, but it's worth mentioning that Indianapolis - which only attempted 25 passes in Week 12 - targeted the former first-round pick six times (five catches allowed). Did the Colts do that just because Hargreaves was the new guy? Or was it because he was the weakest link in a secondary that appears to have plenty of weak links at the moment?
Week 13: Julian Edelman (New England)
Week 14: DaeSean Hamilton/Courtland Sutton (Denver)
Week 15: Adam Humphries (Tennessee)
Week 16: Chris Godwin (Tampa Bay)
7. Byron Murphy, ARI (Passer Rating Against: 110.0)
Murphy entered the draft last spring with a Brent Grimes-like profile (feisty ball-hawk with less-than-ideal size and speed) and there's a decent chance he'll live up to that comp eventually. It's been a rough year though - as is usually the case with rookie cornerbacks - allowing a passer rating against of at least 97.9 in all but three of his games. The return of Patrick Peterson from his season-opening six-game suspension was supposed to help his cause as Peterson would theoretically leave Murphy matched up against a lesser receiver, but the No. 33 overall pick has actually been substantially worse since showing some positive signs in September. Beginning with Week 5, Murphy has allowed a passer rating of at least 100 in his coverage in all but one game. He is in the middle of a four-game streak in which he's given up a touchdown as well. For the season, he's surrendered seven scores and a catch rate of 63.8 percent. He's allowed 44 receptions in his coverage - tied for eighth most in the league. If there is one bright spot, it is that he has been exceptional in limiting yards after catch (71; fourth-best among cornerbacks with at least 330 snaps). With Peterson also struggling more than usual, it should go without saying Arizona should remain a team for fantasy owners to continue targeting.
Week 13: Brandin Cooks (LA Rams)
Week 14: Diontae Johnson (Pittsburgh)
Week 15: Odell Beckham Jr./Rashard Higgins (Cleveland)
Week 16: D.K. Metcalf (Seattle)
6. Rashaan Melvin, DET (Passer Rating Against: 110.0)
A return to a man-heavy defensive scheme that helped Melvin enjoy a breakout year in 2017 was supposed to allow him to flourish again in 2019. No dice. Although he has only given up three touchdowns - all in the same game (Week 8 versus the Giants) - he has allowed quarterbacks to post a passer rating of at least 100.8 in his coverage in all but three games. It doesn't help matters that he gets targeted substantially more because Darius Slay starts opposite him, but the fact of the matter is he hasn't fared particularly well against secondary receivers either. Since Week 6 (he sat out Week 12 with a rib injury), Melvin has squared off the most against the likes of Jake Kumerow, Olabisi Johnson, Cody Latimer, Tyrell Williams and Michael Gallup. The results against that quintet? A combined total of 14 catches on 18 targets for 186 yards. (He was somehow only targeted three times - one catch for five yards - against Chicago in Week 10.) Much like Arizona, fantasy owners should not hesitate to start multiple receivers against Detroit.
Week 13: Javon Wims (Chicago)
Week 14: Stefon Diggs (Minnesota)
** (Assumes Adam Thielen plays. If he does not play, then Laquon Treadwell will most likely see Melvin more often than anyone else.)
Week 15: Breshad Perriman (Tampa Bay)
Week 16: Tim Patrick (Denver)
5. Isaiah Oliver, ATL (Passer Rating Against: 110.9)
* Lines up at right cornerback 88 percent of the time.
An underrated part of defense is something we discussed last week: I think the popular opinion suggests defensive players are what they are each and every week - mostly because the majority of people don't have access to the kind of stats that point to anything different. The reality is defenders can improve and fall off just like their offensive counterparts. It's important to keep that in mind with players like Oliver, who would have been No. 2 on this list if this story had been done after Week 6. Over the last six weeks, his 79.5 passer rating against would rank 20th among all cornerbacks who have played at least 150 snaps. Most of his "improvement" occurred with Desmond Trufant injured, so it wasn't a matter of facing a lesser receiver in coverage while Trufant got lit up. (Atlanta doesn't use a shadow anyway.) All three of the touchdowns Oliver yielded came in the first four weeks, and only once since Week 6 has he given up more than 44 yards in his coverage. (Thank you, Michael Thomas.) Over that same five-game span, Oliver has allowed only eight of 20 non-Thomas targets to get caught. With Trufant also playing well since his return, this is one of the rare instances in which it might be wise to not set expectations too high with a WR2-type receiver going against the Falcons.
Week 13: Michael Thomas (New Orleans)
Week 14: D.J. Moore (Carolina)
Week 15: Deebo Samuel (San Francisco)
Week 16: Chris Conley (Jacksonville)
4. Gareon Conley, HOU (Passer Rating Against: 113.4)
Much like his new teammate Hargreaves, it's hard to go overboard about Conley's struggles considering how little time he's been a Texan. He was thrust into action in Week 8 - days after he was acquired from the Raiders - and predictably struggled, giving up a long touchdown to Tyrell Williams. The following week against the Jaguars, only five of the 13 balls thrown in his direction were caught. He yielded a 33-yard TD on the only catch he gave up in Week 11 versus the Ravens. All told in four games with Houston, quarterbacks have posted a passer rating of 90 while throwing into his coverage. While that is still a relatively high number, it's a huge improvement over the 126 rating he had through six games with Oakland. Conley is close to the cornerback prototype in terms of size and speed that make general managers drool - a big reason why he was taken No. 24 overall in 2017 - and is only in his third NFL season. He was actually reasonably good in 2018 (54 percent catch rate allowed and 72.8 passer rating against) on a team with a laughably bad pass rush, so it is entirely possible is improved play with Houston will continue. It's not reasonable to expect him to become a matchup to avoid this year, but he's another player owners may not want to target just because the Texans give up a ton of production in the passing game.
Week 13: Phillip Dorsett (New England)
Week 14: Courtland Sutton (Denver)
Week 15: A.J. Brown (Tennessee)
Week 16: Mike Evans (Tampa Bay)
3. Justin Coleman, DET (Passer Rating Against: 113.7)
* Lines up in the slot 77 percent of the time.
Considering how bad the Lions have been against quarterbacks or receivers this season, it should not come as a surprise that two cornerbacks made this list. Of the 10 players we've already discussed or are currently discussing, Coleman's presence on this list probably surprises me the most considering it wasn't long ago that he was considered one of the better slot corners in the game. Prior to 2019, Coleman had never surrendered more than two touchdowns in his coverage in any of his previous four NFL seasons. This year, he has given up seven. For some perspective on how bad it has been for him in the slot, his five TDs allowed are as many as Buster Skrine surrendered inside all of last year (in 14 games) when he led the league in the category. (We have to go back to 2016 to find the last cornerback to give up six in a season.) Considering how good Coleman was in Seattle and how bad he's been in Detroit, it's fair to wonder if he's simply just more comfortable in a zone-based scheme like the Seahawks run. In case some readers didn't already know to start slot receivers against Detroit, well, this is clear evidence as to why it's a good idea.
Week 13: Anthony Miller (Chicago)
Week 14: Adam Thielen/Olabisi Johnson (Minnesota)
Week 15: Chris Godwin (Tampa Bay)
Week 16: DaeSean Hamilton/Courtland Sutton (Denver)
2. Xavier Rhodes, MIN (Passer Rating Against: 124.6)
* Has shadowed only once since Week 2 (Week 11 against Courtland Sutton) and lines up at right cornerback 84 percent of the time.
To say the 29-year-old is having the worst season of his career would be an understatement. Rhodes' presence on this list was teased last week when I disclosed in my intro that he was allowing 85.5 percent of the targets thrown in his coverage to get caught. Well, nothing has changed since then because the Vikings are coming off a bye. Allowing a Michael Thomas-like catch rate against Thomas is one thing, but yielding that to all the receivers he has faced over the course of the season combined is almost unthinkable. Think about it for a second: of the 55 times quarterbacks of targeted Rhodes, 47 of them have resulted in a completion! Rhodes operated as a shadow for the first time since Week 2 in Week 11, and Sutton caught three of four passes thrown in his direction for 96 yards in Week 11. On the plus side, Rhodes hasn't surrendered a touchdown since giving two of Marvin Jones' four scores in Week 7, but that's a small positive in a disturbingly bad season that has seen him record only one performance in which he allowed a passer rating below 87.5. Last year, that mark for the season was 88.4. Two years ago, it was 77.4. Until something changes, this is a matchup owners need to target relentlessly.
Week 13: D.K. Metcalf (Seattle)
Week 14: Marvin Jones (Detroit)
Week 15: Andre Patton (LA Chargers)
Week 16: Davante Adams (Green Bay)
1. Deandre Baker, NYG (Passer Rating Against: 144.3)
* Lines up at right cornerback 86 percent of the time.
A perfect passer rating in the NFL is 158.3, which probably tells you all you need to know about how Baker is faring in his rookie season. He's allowed six touchdowns in his coverage and only broken up two passes while allowing a catch rate of 66 percent and 18 yards per reception. Quarterbacks have posted a passer rating of at least 112.5 six times when targeting him and have yet to throw an interception. Some of the blame falls on the pass rush, which is not shocking since it was pretty much accepted before the season that New York was going to struggle in that area. Still, it's a disappointing season for a player drafted at No. 30 this spring to struggle this much when he played his college ball in the SEC (Georgia) and did not give up a touchdown in his coverage of his last two seasons with the Bulldogs. It's hard to imagine it will get any worse for a player who thinks the game as well as Baker, but the change may not become noticeable until the Giants can start generating pressure on a more regular basis. As such, owners should continue teeing up secondary receivers against New York.
Week 13: Allen Lazard (Green Bay)
Week 14: Alshon Jeffery (Philadelphia)
Week 15: DeVante Parker/Allen Hurns (Miami)
Week 16: Terry McLaurin (Washington)
Other notable corners who missed the list due to lack of coverage snaps or otherwise (passer rating against in parentheses): Kendall Fuller, Kansas City (135.2); Josh Norman, Washington (133.1); Desmond King, LA Chargers (130.9); Pierre Desir, Indianapolis (119.0); Patrick Peterson, Arizona (115.3); Chris Harris Jr., Denver (102.4)


---
Doug Orth has written for FF Today since 2006 and been featured in USA Today's Fantasy Football Preview magazine since 2010. He hosted USA Today's hour-long, pre-kickoff fantasy football internet chat every Sunday in 2012-13 and appears as a guest analyst on a number of national sports radio shows, including Sirius XM's "Fantasy Drive". Doug is also a member of the Fantasy Sports Writers Association.