Every summer brings a familiar refrain: a great fantasy draft leads to visions of dominating the league with the idea that your team will look roughly the same as it did in August. Thankfully, because you have such a keen eye for talent, you will be able to identify the breakout stars of the year before anyone else in your league does in the off-chance one or two of your regular starters are forced to miss any time due to injury, demotion, suspension or a coaching change.

As most owners know, this ideal scenario rarely ever plays out. If your fantasy playoff teams managed to stay mostly healthy this season, realize how lucky you were. Unless you had the good fortune of hitching your wagon to the likes of Todd Gurley, Saquon Barkley and/or Patrick Mahomes, your team has almost undoubtedly experienced some kind of adversity to reach this point. By the time the fantasy playoffs arrive in most leagues, owners in most competitive leagues are scrambling for players who we probably stashed away on a practice squad at one point or selling insurance when we were executing the draft of our dreams. The sooner owners embrace their inner Heraclitus and realize the only constant in this hobby is change, the sooner they can get over their apprehension about using players they've never seen play or heard of and the notion that we need to see a player "do it" first before we believe it.

It's that last sentence in particular I want to address today. The fantasy playoffs tend to take owners to places they never thought they would go just a few months earlier, including hotspots like Buffalo. (Of course, there is someone pinning their championship dreams on Josh Allen's running ability.) There are going to be at least a handful of players owners will start in many leagues this week that just entered the public consciousness a week or two ago.

When the work/writing schedule allows it, I like to go back to the film whenever I feel like there is a virtual unknown or, as is the case this week, a group of virtual unknowns. Given the recent run of injuries to key players - especially at running back - there isn't going to be a lot of decent analysis on the new wave of players - outside of some statistical rehashing about what he did last week or in college. While statistical analysis certainly has its place in a game based on numbers, crunching tape tends to provide some level of context and give us that special something numbers cannot. Our eyes can deceive us from time to time, but tape review tends to lie a lot less often than stats.

With that said, this week is going to be about observing and critiquing relatively unknown or unproven players who are going to be high-priority waiver-wire additions this week. While there are certainly more potential impact players on the waiver wire this week than the few I will discuss, I wanted to keep this list relatively short and limited to options most general observers have not been able to watch - be it in college or the pros. It just so happens the first five are rookies, four of which were taken on Day 3 of the draft or went undrafted. (I added a bonus pair at the bottom. Naturally, one of them as a rookie too.)

RB Jeff Wilson, San Francisco

Unlike some of the recent backups to hit the fantasy scene (Gus Edwards, Josh Adams, etc.), Wilson offers a bit more quickness and is quite capable as a receiver. To that end, his first snap - and Nick Mullen's first throw - in Week 13 was to Wilson running an "in" after lining out wide. Head coach Kyle Shanahan also seemed to make an effort to get him on the edge early last week, calling toss plays to help get them settled into the game. It would be a mistake for people to think he is merely a perimeter runner, however, as he twice showed enough vision to cut back in order to exploit a gaping hole on the backside of a zone run. Most people will probably look at his 6-0, 194-pound build and think he can be nothing more than a perimeter runner who will need Alfred Morris and Kyle Juszczyk to run in between the tackles. Based on the two games of his I reviewed (Weeks 12 and 13), there's no reason to believe he can't handle 15-plus carries - running in between the tackles or not - and share receiving work with Juszczyk. While Wilson is not going to be a pile mover per se, he consistently lowered his shoulder and won the leverage battle against the defender on the few runs he needed to be physical against the Seahawks last week.

On the downside, he lost a fumble in the second quarter and was the intended target in the end zone on Seattle's pick-six late in the game (although it is hard to assign much blame to him for that). On the plus side, it's not unreasonable to think he could have scored in either one or both of the last two weeks, as he had a touchdown run overturned on review in Week 12 and probably would have scored last week had Mullens not telegraphed his throw.

Of the running backs we'll discuss this week, Wilson is probably the best add for the remainder of the fantasy playoffs. At 2-10, there's not much reason for the 49ers to rush Matt Breida back given how his ankle has been an issue for most of the season. Morris should not be a threat and looks all but done as an NFL running back. San Francisco should face plenty of negative game script with upcoming games against Denver, Seattle and Chicago, so as long as Shanahan doesn't lighten Wilson's load as a receiver in favor of Juszczyk, it's not hard to see a scenario in which Wilson finishes out the season as the primary back.

RB Justin Jackson, LAC

Much like any argument, there are two sides to just about every story. Just about any owner who watched Jackson on Sunday Night Football last weekend came away impressed, and they should have. He was quick to and in the hole, and he showed some power when it was time to finish his runs. But let's also be clear about something else: while he may have flashed better vision than Ekeler last week, the gap in the quality of blocking he received on his plays compared to that of Ekeler was significant. (To that end, SNF analyst Cris Collinsworth mentioned halfway through the third quarter that the Chargers' average yards per carry before contact in the first half was at or around minus-one, and all of those carries were Ekeler's.) It is nearly impossible to run the ball when a back is consistently getting hit in the backfield, and that seemed to happen on every one of Ekeler's early carries.

Getting back to Jackson, it's one thing to get better blocking than your backfield partner. It's another thing to do something with it. In his 15 carries over the last two weeks, the seventh-round rookie has seven runs of at least nine yards. He is making people miss at the second level as well. (Here's a reminder.) Pro Football Focus credited Jackson with five forced missed tackles on his eight rushing attempts in Week 13. The Chargers have yet to really unleash Jackson as a receiver - we did see him look pretty good on a 19-yard swing pass last week though - but he caught 122 balls in four years at Northwestern, so he certainly has that in his bag of tricks as well. And let's not forget he ended his college career in 2017 with 1,142 rushing attempts - the sixth-highest total in FBS history. In other words, he can carry the load.

From a moving-forward perspective, perhaps the best takeaway for Jackson's supporters was the Chargers' willingness to let him finish out the game in the final two minutes when they were trying to run the clock and get in position for the game-winning field goal. Coaches don't keep "hot" running backs on the field in those situations - specifically because explosive runs isn't the most important thing at that point - unless they've also earned the trust to hold onto the ball. With Ekeler already having entrenched himself as a very good passing-down back and explosive complement to Melvin Gordon, it only seems reasonable to let him continue in that role and allow Jackson to become the new Gordon, in a matter of speaking. Thankfully, if Gordon sits again in Week 14, there should be plenty of opportunity for both Ekeler and Jackson against the most forgiving defense in the league against fantasy running backs (Cincinnati). Since Week 4, the only lead backs who failed to score at least 24.5 PPR fantasy points versus the Bengals are Peyton Barber (14.5) and Gus Edwards (17.5) - neither of whom are in Jackson's class in terms of explosiveness or elusiveness.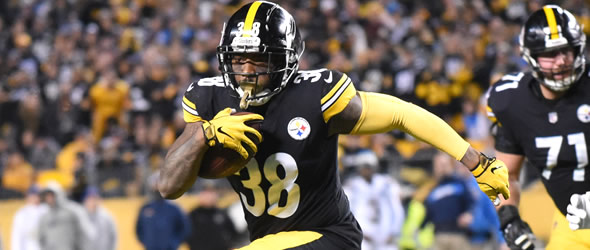 RB Jaylen Samuels, PIT
Depending on several factors, Samuels may very well end up being the hottest waiver-wire pickup this week, especially in any league where he has tight end eligibility. Before owners go too crazy on Samuels because he is currently the lead dog in the Pittsburgh backfield - and we all know what that usually means - it's important to keep a few things in mind:
1) Samuels had more games with double-digit receptions in college (two) than games with double-digit carries (one). He worked behind Nyheim Hines at North Carolina State last season. Samuels was drafted more to be an all-purpose weapon than a featured back, despite his solid running back frame (6-0, 225). To that end, he has yet to attempt more than five carries in an NFL game, and he is averaging a mere 2.6 YPC on those runs.
2) While it is possible James Conner is sidelined for more than one week, there is little reason - at the moment - to believe that will be the case. The Steelers could very well have decided this week's game against the Raiders was one they should be able to win without Conner. With New England and New Orleans on deck, however, it seems unlikely he will sit unless he is simply unable to perform.
3) Samuels told reporters Wednesday the plan for this week will be for him and Stevan Ridley to split time. While there are obvious pitfalls in trusting anything a player or coach says during game week, it makes sense given HC Mike Tomlin's earlier suggestion the Steelers would use a committee and Samuels' aforementioned use in college.
If there is one thing working in Samuels' favor (for however long he will be used as the starter), it might be how pass-heavy Pittsburgh has been in recent weeks. It's also worth noting all seven of the rookie's receptions have occurred over the last four games, two of which have ended up in the end zone. Only one of his 11 targets thus far has come more than five yards downfield, and that was a trick play in which Antonio Brown overthrew him in Week 12. He has yet to break a run more than seven yards. However, it should be noted he has impressive quickness for a man of his size that hasn't been prepped to be a running back his entire career, so an explosive run should come sooner than later.
Given the combination of his history and some common sense, a good expectation for Samuels this week is probably about 10 carries and five-plus catches, while Ridley and/or Trey Edmunds pick up the rest of the rushing workload. It's probably not what his current and future owners want to hear, especially those hoping to get a Conner-like workload, but it should be more than enough to please any owner using him at tight end. A strong case can be made for him being a top-five option at that position this week.
WR Dante Pettis, SF
Pettis tied Kendrick Bourne for the team lead with 49 routes run in Week 13. However, it's too early to call him the primary slot receiver since fellow rookie Richie James operated inside whenever the two were the game together in Week 13. In fact, Pettis scored both of his touchdowns against Seattle as a perimeter receiver. His first TD came as a result of motioning over to the right side of the formation from the end of the left side of the line (where a tight end or H-back would usually line up) against a soft Cover 3, allowing Pettis to run a clean hook pattern, stiff-arm his defender who gave him too much cushion and use Juszczyk's flat route (to occupy the linebacker and set up a downfield block) as a screen. As one of the most productive punt returners in FBS history, few defenders are going to be able to corral Pettis in the open field if he gets some space. The second score was a post route in which his defender again gave him too much cushion and Pettis once again showed off his ability to break a weak tackle attempt and outrun everyone else to the end zone for a 75-yard score.
Now, for a little context: Marquise Goodwin and Pierre Garcon did not play last week. Goodwin is expected back this week after dealing with a personal matter. Does that mean Pettis moves into the slot or will he stay on the outside (where all of his production the last two weeks has come)? Does Bourne play outside and Pettis inside or does James play inside and Pettis stay outside? It's an important distinction to make because the 49ers' opponent in Week 14 (Denver) just lost stud slot corner Chris Harris and will likely replace him with the newly acquired Jamar Taylor, who was recently cut by Arizona because he was a weekly burn victim. Seattle visits the bay in Week 15 and we just saw what Pettis could do against the Seahawks lined up on the outside.
The thing about Shanahan is we know he can design an offense to make just about anybody he wants to feature a fantasy star. The question is whether or not now is Pettis' time. Week 10 was the last time Goodwin and Pettis were on the field at the same time and the rookie lined up in the slot on 26 of his 30 routes. That would seem to be the answer to the "where will he line up?" question, but Pettis has yet to be even remotely productive in a game in which Goodwin has started and finished. This is the risk that owners are going to run with Pettis if they have to start him this week: overlook the offense he is in and play him because he is a solid talent in a "winnable" matchup OR bet on something that has yet to happen - the rookie being productive for the first time with Goodwin healthy - to happen.
TE Ian Thomas, CAR
Prior to last week, Thomas had seen one target since Week 5, which makes sense considering Greg Olsen returned from his first foot injury in Week 6. The veteran will not be coming back again this season, however, leaving a fairly sizable void over the middle of the field. Olsen was averaging five targets and had scored four touchdowns over the seven full games he played from Week 6-12, so he leaves behind a fair amount of opportunity. Thomas was up to the task in Week 13, catching all five of his targets over the last 2 1/2 quarters versus the Buccaneers. Tampa Bay has been gracious to tight ends all season long, however, so owners shouldn't believe Thomas has suddenly become a plug-and-play option at a position that is about as shallow as it has ever been.
On the plus side, Thomas played 53 snaps out of a possible 70 snaps in Week 13, so his playing time appears to be secure. The fourth-round rookie also gets another plus-matchup this week versus the Browns, who rank sixth in terms of allowing the most fantasy points to tight ends. The bad news is Thomas has yet to reach even 10 PPR fantasy points in a game despite seeing at least five targets three times - most of which have been favorable matchups. Another bummer - which is to be expected considering the circumstances in which Olsen went down - was that none of Thomas' targets last week appeared to be ones in which he was the primary option. That kind of thing becomes a bigger deal when the matchups start getting more difficult.
To give readers some idea of where I stand on Thomas for this week, I added him to my roster in SFB8 (Scott Fish Bowl). For those unfamiliar with SFB8, click on this link. In short, it's a 900-team competition with 75 12-team divisions. At any rate, I currently have Dan Arnold, Chris Herndon and Thomas as my three tight ends. That is probably the order I would recommend playing them this week.
WRs DaeSean Hamilton/Tim Patrick, DEN
Emmanuel Sanders tearing his Achilles' while running a route on air during practice Wednesday was just the latest gut punch for fantasy owners. It's not realistic to expect the Broncos to be able to find a group of players - much less one player - to replicate the production he leaves behind. Since Demaryius Thomas was traded following Week 8, Sanders has spent 58 percent of his time in the slot. There is little question Sutton should move up to the top spot on the depth chart following Sanders' injury, since it was largely the rookie's emergence that made Thomas expendable at the trade deadline in the first place. But is there value to be had after him on this team now?
Let's begin by saying Hamilton has run 94 routes the season compared to Patrick's 90. Hamilton enjoyed a decorated college career in which he logged 214 catches to become Penn State's all-time leading receiver. Tim Patrick is an undrafted free agent out of Utah who missed 17 games in college due to injury and bounced around part of 2017 before catching on with the Broncos. Each player has enjoyed a brief moment in the sun this season, but the two of them have combined for nine receptions so far. In other words, fantasy owners should not go out of their way to acquire either one at the moment.
However, part of being a fantasy analyst - or a good owner, for that matter - is finding value where seemingly none exists at the moment. In the four games since Thomas was traded, Case Keenum has attempted 123 passes. Sanders was the intended target 33 times - good for a 26.8 target share. So, the Broncos essentially have two choices: run the ball more - presumably with Royce Freeman since Philip Lindsay is already handling a heavy load - or split the workload Sanders leaves behind between Hamilton, Patrick and possibly Andre Holmes (who is familiar with OC Bill Musgrave from their time together in Oakland). Considering Denver is down to its third-string tight end (Matt LaCosse) and didn't bother targeting him more than once last week, he may not be the one to benefit the most despite his Week 12 effort.
Digging a bit deeper, Sanders was targeted 29 percent of the time he was in the slot post-Thomas. (Hamilton and Courtland Sutton are the other Denver receivers to log a snap in the slot since the Thomas trade.) Sanders was also drafted with the intention of becoming the long-term answer in the slot. Fair or not, Patrick's size (6-4) and speed are probably his best qualities, just as it is with Holmes. There's probably no better than a 10 percent chance either Hamilton or Patrick make a meaningful fantasy contribution the rest of the season, but the evidence points to Hamilton having the best shot. Sure, Patrick may win a jump ball or two in the end zone over the final few weeks of the season, but the combination of the Broncos' heavy usage of Sanders in the slot and Keenum's average arm strength lead me to believe the rookie may be able to muster four or five catches in a game or two. The odds of that happening may be even better than 10 percent considering the remaining fantasy schedule: at San Francisco, Cleveland and at Oakland.
---
Doug Orth has written for FF Today since 2006 and been featured in USA Today's Fantasy Football Preview magazine since 2010. He hosted USA Today's hour-long, pre-kickoff fantasy football internet chat every Sunday in 2012-13 and appears as a guest analyst on a number of national sports radio shows, including Sirius XM's "Fantasy Drive". Doug is also a member of the Fantasy Sports Writers Association.