What April's draft boasted in terms of quality and quantity at a number of positions, the free agency market did not. That's not to say some impact players didn't seek and/or find greener pastures, but only a handful of veterans - mostly receivers and tight ends - who changed employers did much to change their fantasy fortunes in 2017. That doesn't mean it's not worth looking at the new landscape, however.

After providing each of you with my early-summer thoughts on the incoming class of rookies each of the last two weeks (Part 1 and Part 2) and their potential impact in redraft leagues, it's time to focus on the veterans that are most likely to make some noise in their new surroundings. (The players will be separated initially by position, and then ordered by likely "impact" in 2017. I'll briefly discuss a pair of other notable players that should probably go undrafted in most traditional 16-round drafts at the bottom of the article.)

QB Mike Glennon
2016 Team: Tampa Bay
2017 Team: Chicago

Fantasy Analysis: At this point of his career, Glennon has to be wondering what a guy needs to do in order to keep a job for more than a year. One year after holding his own (19 touchdowns, nine interceptions) in 13 starts as a rookie in 2013, Josh McCown was named the Bucs' starter in camp the following year. Jameis Winston was drafted No. 1 in 2015 and the rest is history. Fast forward to March of 2017 and Glennon has to be feeling good about getting $18.5 million guaranteed in a three-year deal from the Bears. Of course, his honeymoon period lasted less than two months as he was famously invited to the team's draft party at Soldier Field when Chicago traded up for Mitchell Trubisky. At any rate, Glennon has to be considered at least a small upgrade over the glut of quarterbacks (Jay Cutler, Brian Hoyer, Mark Barkley and David Fales) the Bears rolled out last season. Chicago has also blessed him with an up-and-coming offensive line - a definite plus considering how immobile Glennon is - and what should once again be a solid running game led by Jordan Howard. The main questions: 1) Will the fifth-year veteran will be able to recreate the same chemistry with Cameron Meredith that Jay Cutler did early and Barkley had late last season?; 2) Will Kevin White and/or Zach Miller stay healthy long enough to give Glennon more than one decent option in the passing game?; 3) How long will it take before the front office pushes Trubisky into the lineup to save the day? With so many quality QB1-capable quarterbacks in fantasy, Glennon faces long odds of emerging as anything more than a bye-week option in what may be a one-and-done situation in Chicago for him.

QB Brian Hoyer
2016 Team: Chicago
2017 Team: San Francisco

Fantasy Analysis: When's the last time a quarterback with a 25:7 TD-INT ratio over the last two years has been so undervalued? It goes a bit deeper than that, as we all well know, and so Hoyer is playing on his fourth team in four seasons. Fortunately from his perspective, his new head coach is one of his former offensive coordinators (Cleveland, 2014), so new HC Kyle Shanahan will try to get the 49ers back on track with a 31-year-old quarterback who has been chewed up and spit out by five teams over his eight-year career. Working in his favor is his experience with Shanahan, the fact he has no legitimate competition behind him (Barkley and rookie C.J. Beathard) and Shanahan's ability to consistently churn out productive running games. Working against Hoyer is the fact he has yet to play a full season, the offensive line was among the worst at pass-blocking and run-blocking in 2016 and no dynamic threats in the passing game beyond an aging Pierre Garcon. Shanahan will get more out of this offense than he probably should, but Hoyer faces longer odds than Glennon when it producing in fantasy.

RB Mike Gillislee
2016 Team: Buffalo
2017 Team: New England

Fantasy Analysis: For the bulk of HC Bill Belichick's tenure, New England running backs as a group have annually been among the best in fantasy. Of course, most fantasy leagues are not set up to account for team scoring but rather individual scoring, so finding even a regular flex contributor in their backfield has been a challenge more often than not. LeGarrette Blount was one of the few exceptions to that rule last year, primarily because there were only three regular-season games in which he did not score a touchdown. Naturally, owners will draft his replacement with the hope (expectation?) his replacement can/will do the same, especially considering the 2017 Patriots could be even more explosive offensively. While a repeat of Blount's banner campaign is certainly possible for Gillislee, there is one important reason franchise records are franchise records (Blount had 18 rushing touchdowns in 2016); they are tough to break, especially the following year. The problem with drafting (or worse, counting on) New England running backs is how game-specific their usage is. Facing an elite run defense? No problem, the Pats will be happy using Julian Edelman and James White as an extension to the running game. Trying to blow out a team that said something it shouldn't have to the press earlier that week? Same deal. With all that said, Gillislee is more of a complete back than Blount and the one back on the roster who gives New England a bit of power in between the tackles. Thus, it is perfectly reasonable to believe Gillislee will be more efficient than Blount was last year (299 carries for 1,161 yards) and still be a less productive fantasy back because White or Dion Lewis steal a handful red zone scores. Gillislee is positioned nicely at the moment on Fantasy Football Calculator's ADP (6.03 in standard, 7.02 in PPR) and exactly the type of player owners should target as a RB3/flex option.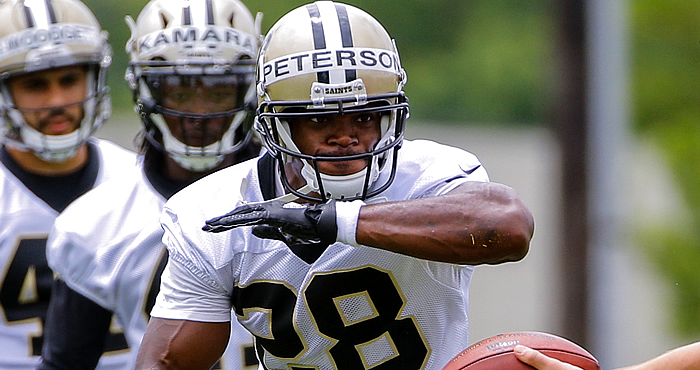 Peterson in New Orleans: Mark Ingram's new tag-team partner is one of the biggest fantasy storylines this off-season.
RB Adrian Peterson
2016 Team: Minnesota
2017 Team: New Orleans
Fantasy Analysis: Drew Brees paired up with Peterson probably won more than a few owners a fantasy title about five years ago. The Saints are hoping that pairing will help them end a three-year run of 7-9 finishes. It's probably not a stretch to say Peterson will be entering the most explosive offense he's ever been a part of, but it's also a virtual certainty he'll top out around 200 touches and be considered - at best - Mark Ingram's tag-team partner. Ingram and rookie Alvin Kamara are much more accomplished in the passing game, which is obviously New Orleans' preferred method of attack. Peterson stands to benefit greatly if Ingram falls in line with his pre-2016 track record when it comes to durability, but HC Sean Payton may have simply concluded the reason the former Heisman Trophy winner was able to play all 16 games last year for only the second time in his career was because he chose to spread the wealth with Tim Hightower. Peterson obviously brings more to the table than Hightower, but the workload split figures to be about the same and every bit as unpredictable on a game-to-game basis. With the ex-Viking unlikely to see more than 15 touches per game on a regular basis - most of which will likely be as a runner - and given the fact he will probably share goal-line work with Ingram, Peterson's ceiling will probably be as a RB3/flex option for as long as Ingram and Kamara stay healthy.
RB Danny Woodhead
2016 Team: San Diego
2017 Team: Baltimore
Fantasy Analysis: The Ravens made no secret about their desire to add another running back this offseason, and their sense of urgency to do so increased once they learned Kenneth Dixon would be suspended for the first four games of the season due to PEDs. Fortunately for Baltimore, by the time the rest of the world found out that news, Woodhead was already on the verge of signing. While it is impossible to tell exactly how much longer his 32-year-old, 200-pound body will be able to hold up in the NFL, the ex-Charger obviously was a player the team has big plans for in 2017 despite the fact he is less than nine months removed from a torn ACL. Woodhead's arrival is bad news for Terrance West in that the former will probably eat into his goal-line carries - if not take the job outright - as well as Dixon, who will probably at best share snaps in the passing game. Since Woodhead is also highly regarded for his ability as a blocker, the odds are pretty strong he will see the most playing time from this group. The Ravens have been among the league leaders the past two years in receptions from running backs, with FB Kyle Juszczyk contributing 78 catches to the total over that time. It is a fair bet Woodhead will absorb Juszczyk's production and also cut into West's playing time at the very least, while it remains to be seen if Dixon can reprise the same kind of role he enjoyed as a rookie once he gets back from suspension. All told, Woodhead should be a sneaky RB3 for owners who could be had at a RB4 price tag this summer.
RB Eddie Lacy
2016 Team: Green Bay
2017 Team: Seattle
Fantasy Analysis: HC Pete Carroll apparently wants Lacy to play heavy. He's probably going to get his wish. The real question is whether or not Seattle's weight-clause incentives over the summer, per-week roster bonuses and other statistical incentives are going to be enough motivation for him to get his career back on track. Seattle addressed both guard spots on the offensive line and figures to be better up front this year because of it. With that said, Lacy's days of being a big back who will contribute in the passing game are probably over whenever C.J. Prosise is healthy enough to play. In fact, it is very possible Lacy will struggle to get much more work on early downs than Thomas Rawls. Without an Aaron Rodgers-led passing game to keep defenses honest and an offensive line that may struggle to be average, Lacy's chances of rehabbing his stock on a one-year deal could be slim with Seattle probably opting for a committee backfield. A happy and somewhat fit Lacy should be the main goal-line back and could push for 10 touchdowns, but it might come attached to 600 to 700 yards rushing and little involvement in the passing game. If Russell Wilson is forced to play hurt again in 2017, those somewhat optimistic projections could take a pretty big hit. About two years after he was in consideration for the No. 1 overall pick in fantasy drafts, Lacy has probably fallen into RB4 territory.
RB LeGarrette Blount
2016 Team: New England
2017 Team: Philadelphia
Fantasy Analysis: Blount probably wasn't going to come anywhere close to repeating 2016 even if he had stayed in New England (1,161 yards rushing and 18 touchdowns), but he and his owners can forget about it happening now. Few teams in the league seems happier with the committee approach at running back than the Eagles, who utilized Darren Sproles as their lead back for large parts of last season and quite often gave three (or sometimes four) running backs a bite of the apple. Blount is expected to fill the role left behind by the injured Ryan Mathews, who is expected to be released once he can pass a physical following offseason neck surgery. Mathews enjoyed a nice little run over the early part of last season, but his production was highly inconsistent after September once the league got a better look at the Eagles and RT Lane Johnson was suspended. Blount brings less to the passing game than Mathews did - the former had seven catches last year while the latter had 13 in 2016 - but he brings more power and better ball security, which is a big deal considering how much Philadelphia improved its receiving corps this offseason. Sproles and rookie Donnel Pumphrey will see significant time in all non-early down situations, and the Eagles won't be playing in such favorable run situations nearly as often as the Patriots did last year, so Blount isn't going to see 299 carries again. (Heck, 200 might be an optimistic number.) As a result, he profiles as a touchdown-dependent fantasy RB3 at best who figures to have his fair share of fantasy game-winning performances one week and soul-crushing efforts the next week.
RB Latavius Murray
2016 Team: Oakland
2017 Team: Minnesota
Fantasy Analysis: It took about a week into free agency before Murray landed on his feet. It probably took less than two months for him to question his decision. Already sidelined for most of the offseason due to ankle surgery, Murray's offseason fantasy prospects took a substantial hit when the Vikings traded up for Dalvin Cook, who could easily run away with the feature-back job if Minnesota is willing to give out playing time in the backfield based on merit. Murray goes from running behind one of the best offensive lines in the NFL to one of the worst, although the Vikings took some important steps toward addressing the front five by adding OTs Riley Reiff and Mike Remmers in free agency as well as G/C Pat Elflein in the draft. Despite the Raiders' talent up front and in the passing game, Murray turned in consecutive seasons averaging exactly four yards per carry. That's not a number that is going to increase in Minnesota, as the Vikings' only edge at any of the offensive positions may be at tight end. Cook and Jerick McKinnon are big-play backs who should be able to get through the hole quicker and can create more yards in space - an important note to mention since the Vikings figure to remain a quick-hitting offense which will throw a lot of short passes again in 2017. Murray does have two things working in his favor: 1) he is the heavy favorite to be the team's goal-line back and 2) Minnesota's recent history. Any offensive coordinator willing to split touches almost evenly between McKinnon and Matt Asiata probably won't have any issue doing the same with Cook and Murray. In the end, the rookie should be the man in this backfield no later than midseason, meaning Murray may not be anything more than a RB4 or RB5 after September.
RB Jamaal Charles
2016 Team: Kansas City
2017 Team: Denver
Fantasy Analysis: Considering the details of his one-year, incentive-laden contract, there is no guarantee Charles is even on the Week 1 roster this fall. Yes, this is where we are now with one of the more dynamic backs in recent NFL history and the modern-day record-holder in yards per carry by a running back (5.5). Charles didn't do much during offseason workouts, so any debate about him until after the start of training camp will probably be conjecture at best. If all of the time away from the game has allowed his knee to heal correctly, he will probably split carries with C.J. Anderson. If he looks more like a typical 30-year-old back, then perhaps he will be more of a third-down back while Devontae Booker attempts to prove why he deserves about a third of the early-down work. In short, it is way too early to try to get a feel for Charles' 2017 value now. He is going in the eighth round in both standard and PPR leagues according to Fantasy Football Calculator's ADP - a price that seems based on reputation and a bit exorbitant considering starting-caliber receivers such as Cameron Meredith and Corey Coleman can be drafted about a round later. Samaje Perine and Kareem Hunt are coming off the board roughly about the same time, and I'd argue both rookies have a much better shot at contributing to fantasy championships this year than Charles.
WR Terrelle Pryor
2016 Team: Cleveland
2017 Team: Washington
Fantasy Analysis: Robert Griffin III, Josh McCown, Cody Kessler, Charlie Whitehurst and Kevin Hogan - this is the list of quarterbacks Pryor had throwing him the ball last year (of course, when he wasn't handling the duties himself). Perhaps no other 77-1,007-4 receiving line in recent history is more impressive considering the quality of quarterbacking, especially considering how new Pryor was to the position. One can only imagine what his ceiling might be when you combine his talent with an above-average quarterback in a contract year (again) in Kirk Cousins and a tight end like Jordan Reed to command the respect of the defense. Perhaps only a surprising showing by the defense - thus reducing the need for Washington to pass as much as it has in recent years - can keep Pryor from being an every-week WR2 with WR1 upside. DeSean Jackson and Pierre Garçon each saw at least 100 targets and eclipsed 1,000 yards receiving in this offense last year, and neither player can dominate physically or be the same factor in the red zone (or is as versatile) as Pryor. HC Jay Gruden oversaw the best two years of A.J. Green's career in Cincinnati in 2012 and 2013, and this will mark the first time since then he will have a talent in that class running routes. While I won't predict superstardom this year, I think Pryor has a realistic shot at finishing among the top 10 fantasy receivers in all leagues.
WR Brandin Cooks
2016 Team: New Orleans
2017 Team: New England
Fantasy Analysis: Following a 2015 preseason game against the Saints, one notable coach (wait for it) told the New Orleans Times-Picayune: "I'm glad we don't have to play him twice a year and he's not in our division. He's a really good player." I remembered this quote the minute I learned Cooks was getting traded to New England. But let's dig deeper: New Orleans and New England have scrimmaged against each other for several years, so Belichick also must have impressed with Cooks' practice habits, intelligence and maybe even scheme versatility before trading for him. All this is to say that Cooks will probably be more of a central part of this offense than other recent receiver acquisition made by the Patriots. Yes, Cooks will give New England the vertical threat it hasn't seen since Randy Moss, but it does no good to compare the 5-10 burner to a long-striding 6-4 receiver who played in a pre-Rob Gronkowski offense with a much younger Tom Brady just because they can both stretch the field. There's little doubt Gronk will remain the preferred option in the passing game, but I think the move for Cooks hints at a slightly decreased reliance on Julian Edelman moving forward - assuming Gronkowski stays healthy for most of the season. Whatever decrease in targets Cooks might see on an offense with so many passing-game weapons - he averaged 123 over his last two years in New Orleans - he should make up for in big-play touchdowns simply because defenses will have little choice but to respect the running game and the Patriots' ability to control the middle of the field with Gronk and Edelman. It would not be the least bit surprising if Cooks finished with fewer than 70 receptions but set career highs in yards (1,173 last year), yards per catch (15) and TD catches (nine in 2015).
WR Alshon Jeffery
2016 Team: Chicago
2017 Team: Philadelphia
Fantasy Analysis: In the two seasons Jeffrey played all 16 games, he averaged 87.5 catches, 1,277 yards and 8.5 touchdowns (and even threw in some rushing yards for good measure). We've seen the good. The bad is obviously the fact he has missed at least four games and averaged a 43.3-665-3 line in each of the other three seasons he has been in the league, which makes it hard to consider him a WR1. In Philadelphia, he steps into perhaps his best situation since 2013 when he, Brandon Marshall, Martellus Bennett and Matt Forte all enjoyed banner seasons playing in then-HC Marc Trestman's offense. With second-year QB Carson Wentz's career arc looking to head into a much different direction than Jay Cutler's, one could argue Jeffery has never had it better. Thus, it is all on the one-time Pro Bowler to make sure he's healthy enough to take advantage of the situation. And really, that's what it all boils down to with him, because he's a proven producer who is too big (6-3, 218) and plays the ball in the air too well for most cornerbacks. Whether or not HC Doug Pederson's offense will cater to his skill-set is another question entirely, but his one-year contract as well as the fact Torrey Smith, Jordan Matthews and Zach Ertz each deserve respect from the defense does suggest there should be enough working in his favor to approach his best days as a Bear … if he can stay healthy. He should fall into the late third round of most drafts, which sounds about right for a WR2 with his combination of durability and upside.
WR Jeremy Maclin
2016 Team: Kansas City
2017 Team: Baltimore
Fantasy Analysis: Steve Smith may have been at the tail end of his likely Hall-of-Fame career when he joined the Ravens three years ago, but he turned out to be a worthy investment for a team who has spent most of its existence relying heavily on non-homegrown receivers. (Derrick Mason and Anquan Boldin are a couple of recent examples.) Maclin figures to be the next in that line of wideouts, and one capable of rivaling (and sustaining) the kind of production Smith enjoyed over the first half of the 2014 season. With Dennis Pitta's career likely over and speed-burners Mike Wallace and Breshad Perriman capable of stretching defenses, the Ravens desperately needs someone who can work the slot like Smith did prior to his retirement and a receiver who isn't afraid of the high-volume grunt work over the middle. There was reportedly some concern Maclin had "lost a step" prior to his release from the Chiefs, although it seems like a claim with no merit since he is a 29-year-old who played hurt most of last year and is two years removed from a 87-catch season with an average quarterback (Alex Smith) as his quarterback. Expect Maclin to essentially merge the roles of Smith and Pitta and bring more big-play ability to the table than either one did in 2016, although his YPC may not reflect it at season's end if he works mostly underneath. If Maclin proves he is still every bit as dynamic as he was in 2015 and can stay healthy this year, he should be able to top 80 catches once again and emerge as Joe Flacco's top target.
WR Pierre Garcon
2016 Team: Washington
2017 Team: San Francisco
Fantasy Analysis: Once upon a time, Garcon saw an unthinkable 184 targets as second-year QB Robert Griffin III's favorite receiver in the nation's capital, enabling the Mount Union product to finish with 113 catches, 1,346 yards and five touchdowns. The offensive coordinator? New 49ers HC Kyle Shanahan. Four years later, Shanahan will turn to a familiar face - entering his age-31 season - to help another former Shanahan protégé, Brian Hoyer, to prove he still belongs in the league. Garcon operated as a 1A or 1B receiver at times last year, although it is safe to say Washington's passing game revolved more around Jordan Reed. In San Francisco, feel free to try to name a receiver, tight end or running back after Garcon who should command anywhere close to 100 targets. It's kind of a big deal, because despite all the improvements the 49ers made in the offseason, they still seem like a good bet to throw the ball 550 to 600 times. It doesn't take long to realize while Garcon is not at the stage of his career where he deserves 150 targets, he very well may push that mark. That is notable, as only 13 of 177 players to record at least 150 targets since 1992 have finished with fewer than 80 catches. Touchdowns will probably still be hard to come by, but that kind of volume alone makes him a fantasy WR3, so he's actually got a very good chance to build upon last season's numbers (79-1,041-3) and maybe even perform like a low-end WR2 on occasion.
WR Eric Decker
2016 Team: NY Jets
2017 Team: Tennessee
Fantasy Analysis: In one offseason, the Titans have turned one of their biggest weaknesses (receiver) into one of the biggest strengths. For the first time since his debut season in New York in 2014, Decker should have a solid chance to be his team's clear No. 1 receiver, and he'll get that opportunity with someone throwing him the ball that isn't Geno Smith or Ryan Fitzpatrick. The former Bronco has three seasons with at least 11 touchdown catches on his resume and is a quality slot receiver for an offense which figures to use more three-wide sets this year after losing blocking TE Anthony Fasano. While Decker's fantasy ceiling is obviously capped by Tennessee's conservative run-oriented offense and the amount of receiving talent on the team now, owners would be doing themselves a disservice if they consider him anything less than an every-week WR3. The running game is among the league's best, rookie Corey Davis should be a star in the league sooner than later and Rishard Matthews has already proven he is a very capable second receiver, so defenses won't be able to key on any one particular player or phase. Decker is a proven force in the red zone, and his addition may be enough to convince the Titans to open things up a little bit more on offense this year as well. While another 74-catch season in this offense may be a bit much to ask - he had four straight prior to 2016 - he should be Tennessee's top receiver this year and is a candidate to score double-digit touchdowns yet again with Marcus Mariota as his quarterback.
WR DeSean Jackson
2016 Team: Washington
2017 Team: Tampa Bay
Fantasy Analysis: In real football and strictly from an efficiency perspective, Jackson is the epitome of what coaches want from skill-position players - athletes who don't require a lot of touches in order to have a huge impact on the game. Perhaps at no point in his career will he be able to do a better job of that than in 2017 with Tampa Bay. Although Jackson has served as a No. 1 receiver in the past, he is more of a classic 1B or maybe even a No. 2 option in that he doesn't control the middle of the field or dominate in the red zone. While he will certainly still produce solid numbers across the board, he will be more like a good point guard than shooting guard in basketball in Tampa Bay in that his presence is going to make things much easier for his teammates and should take this offense to the next level. Even at 30 years old, Jackson stretches as well and easily as any receiver in the league. That means most corners are going to need safety help against him, which is the same that can be said for Mike Evans. Obviously, that opens up the middle of the field for TEs O.J. Howard and Cameron Brate, not to mention the running game, which should never face a stacked box. Jackson may not see enough targets or high-percentage looks to finish with more than 60 catches, but he's a good bet to push his career high of nine touchdowns and average nearly 20 yards per reception. The fantasy consistency may be maddening from time to time as has become his norm, but few fantasy WR3s will be able to deliver as many week-winning performances as he should as a Buc.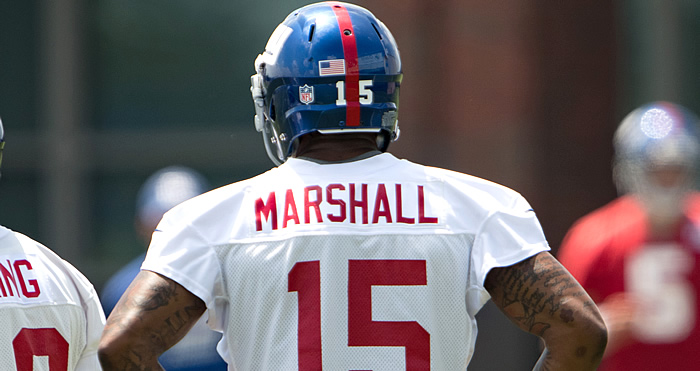 Marshall in New York: It remains to be seen if Marshall can keep a cool head playing second fiddle to Odell Beckham Jr.
WR Brandon Marshall
2016 Team: NY Jets
2017 Team: NY Giants
Fantasy Analysis: In early April, Eli Manning compared the addition of Marshall to Plaxico Burress, and the comparison makes sense on a number of levels, not the least of which is how big of a target each receiver provides/provided. Marshall himself has already made clear he understands his place in the passing game pecking order behind Odell Beckham Jr. While he isn't going to stretch the field in the same way some of the other receivers on this list will, there is something to be said about a wideout who can bully his way into first downs and give defenses something else to think about in the red zone besides OBJ. In fact, it's not hard to see Marshall thriving in the role that Rueben Randle was supposed to play and being more productive - especially in touchdown department - with the same number of chances Randle received in his two years in then-OC Ben McAdoo's offense. (Randle posted a 71-938-3 line on 127 targets in 2014 and 57-797-8 on 90 targets in 2015.) In all likelihood, Marshall will probably be on the high end of all those Randle numbers, so while it may be disappointing from the level of production his owners have come to expect from him prior to 2016, they will probably be good enough for him to warrant consideration as an every-week starting, high-end WR3 option.
WR Robert Woods
2016 Team: Buffalo
2017 Team: LA Rams
Fantasy Analysis: Woods was anything but consistent in 2016, but he proved to be a receiver capable of delivering a WR1-level performance on occasion in his final season as a Bill. He hardly profiles as that kind of receiver long-term, but he'll be asked to fill that role in Los Angeles - at least for a year - for a team in desperate need of someone capable of carrying the passing game from time to time. While he gives the Rams a credible threat at the position and should be given as many targets as he can handle in some games, a Jared Goff-led, short-passing offense does not inspire much confidence. (Neither does four games receiving primary coverage opposite Richard Sherman or shadow coverage from Patrick Peterson.) Nevertheless, Woods should occupy the Garcon role in new HC Sean McVay's offense in 2017 while Tavon Austin mimics DeSean Jackson, rookie Cooper Kupp emulates Jamison Crowder and Gerald Everett does his best Jordan Reed impression. Like Garcon in San Francisco, Woods should get force-fed targets. Unlike Garcon in Washington, Austin, Kupp and Everett have yet to prove they can play to the level of the 2016 Redskins whose roles they will try to fill. In the end, Woods should get enough opportunities to be a consistent low-end WR3 in PPR who will probably struggle to score touchdowns, just as he did in Buffalo.
WR Kenny Britt
2016 Team: LA Rams
2017 Team: Cleveland
Fantasy Analysis: Britt must be a glutton for punishment. The case could be made that Kerry Collins - in 2009 and 2010 - is the best quarterback he has ever played with in his eight-year career. His next stop is Cleveland, where quarterback instability has become a bit of an institution. On the plus side, Britt's supporting cast may be the best it's been in years, and there may not be much pressure for him to be the top target if Corey Coleman is ever able to stay healthy for a prolonged stretch. There may be members of the fantasy community who believe the ex-Titan and Ram can slide into Terrelle Pryor's role and put up similar production as a big-bodied receiver long on talent, but it seems doubtful that is how it will play out. Even if Britt continues to stay reasonably healthy like he has in recent years, Cleveland should be more competitive than it was last year and the running game should be the focal point of the offense. As such, a repeat of last year's 68-1,002-5 line with Los Angeles should probably be considered his ceiling, and one he is unlikely to hit - even if he only misses it by a little. He should make for solid fantasy bench depth, but he'll be a stretch as anything more than a WR4.
WR Ted Ginn Jr.
2016 Team: Carolina
2017 Team: New Orleans
Fantasy Analysis: There is very little question what Ginn's role is going to be. After all, the Saints have been trotting out speed merchants for years - Devery Henderson, Robert Meachem, Kenny Stills and Brandin Cooks to name the most prominent - and they have all had delivered week-winning performances in fantasy. Now the real question for owners: Is Ginn more Henderson or Cooks? Ginn has been something of a late bloomer as a receiver, although even his best years haven't allowed him to eclipse 60 catches or 800 yards receiving through 10 NFL seasons. He still brings elite speed to the table, but it would be a misnomer to say that is all he is or will be, as The Advocate's Nick Underhill so eloquently broke down shortly after the Saints signed him. According to Underhill, Ginn was highly productive on the curl (16 catches on 21 targets for 141 yards), the out (14 catches on 21 targets for 164 yards) as well as slants and crossing routes (six catches on 14 targets for 83 yards combined) last year. Bear in mind Ginn's career "resurgence" came during the same time he also had the best quarterback of his career throwing him the ball in Cam Newton. Nothing against Newton, but he's not Drew Brees when it comes to the art of quarterbacking. In an offense that hasn't thrown fewer than 650 passes since 2009, Ginn is set up for a career year even if Michael Thomas and Willie Snead combine for 300 targets. It's not realistic to expect Ginn to make the Saints completely forget about Cooks, but he is simply too much of a big-play threat on an offense with a very good ground game and Hall-of-Fame level quarterback not to take advantage. His 14th round ADP is at least two rounds too low, especially for someone who could rival DeSean Jackson's production this year. Consider him as a high-upside WR5 option near the end of your drafts; I doubt you'll be sorry.
TE Martellus Bennett
2016 Team: New England
2017 Team: Green Bay
Fantasy Analysis: Bennett was going to be hard-pressed to find a much greener pasture for his fantasy fortunes than New England. The Packers didn't have many better options at tight end than to bring back Jared Cook and usually sit out free agency. Somehow, the two unlikely parties struck an accord and both should be better as a result. Despite playing injured for the bulk of 2016, Bennett finished with a 55-701-7 line in his only year as a Patriot despite being something of an afterthought in that offense most weeks - numbers that should serve as his floor as the primary tight end in Green Bay. In return, the Packers should finally have the presence at tight end Aaron Rodgers has sought since Jermichael Finley and the kind of threat Cook gave Green Bay during the playoffs. His ceiling is obviously capped somewhat by Rodgers' trust for Jordy Nelson and Davante Adams in the red zone, but this should be a loaded offense capable of averaging 30 points, so opportunities should not be lacking. Furthermore, Bennett's ability to serve as one of the best blockers at his position will keep him on the field, helping out the potency of the running game while also increasing the odds he'll be on the field just about every time the Packers are within scoring range. He has top-five upside at his position this season.
TE Julius Thomas
2016 Team: Jacksonville
2017 Team: Miami
Fantasy Analysis: Entering his seventh NFL season and coming off a mostly forgettable two-year stint as a Jaguar, Thomas has already burned so many owners that any hype about him this summer figures to fall on deaf ears. His 13.05 ADP in PPR leagues is over three full rounds lower than Zach Ertz (10.01) and nearly three rounds lower than rookie O.J. Howard (11.01). At that price, it really doesn't matter if Thomas continues his injury-prone ways; if HC Adam Gase utilizes him in the same way he did in Denver, the former Portland State basketball player is going to play like a TE1 and be a threat to score in any game. Much like his best days with the Broncos, the Dolphins' supporting cast is very talented and should be able to count on at least average play at quarterback. Miami tight ends totaled 55 catches for 551 yards and six scores last season despite cycling through Jordan Cameron (now retired), Dion Sims (now in Chicago), MarQueis Gray and Dominique Jones. No one from that group compares to Thomas as a receiver, and the return of Anthony Fasano - a superb run blocker - should mean Thomas can do what he has done in his best years before - control the middle of the field. There were only a handful of potential good landing spots for Thomas this season, but Miami - and specifically in a Gase-led offense - was one of them. Entering his age-29 season, Thomas should be considered a low-end fantasy TE1 with top-six upside if he can somehow stay healthy long enough to play 14 games.
TE Jared Cook
2016 Team: Green Bay
2017 Team: Oakland
Fantasy Analysis: Cook's 30-377-1 line in his only year as a Packer doesn't come close to telling the story of his season. The player that was supposed to give Aaron Rodgers his best option at tight end in recent memory managed only six catches for 53 scoreless yards over his first two-plus games before suffering a high-ankle sprain that sidelined him nearly two months. It took only his first game back from injury - Week 11 versus Washington (6-105-1) - to prove why he continues to find work year after year in the league. Three more dreadful weeks followed that breakout performance before he closed the regular season out strong and balled out in the playoffs. Derek Carr isn't quite Rodgers, but Cook did find a soft landing spot in Oakland for an offense that needs a tight end to make defenses pay for giving too much respect to Amari Cooper and Michael Crabtree. In theory, Cook should be able to push his career high of five touchdowns, but he has never really been able to put it together for a full year despite playing eight seasons in the league, usually due to poor quarterbacking, injuries or both. Maybe this is the year, but owners would be foolish to trust him as anything more than a TE2. While he should be an upgrade over Clive Walford, consistency has never been his forte, and Walford is just one season removed from being the future at the position in Oakland.
This concludes the should-be-drafted portion of our segment. Below are two players who may get drafted in deeper leagues based on name recognition as much as anything:
WR Torrey Smith
2016 Team: San Francisco
2017 Team: Philadelphia
Fantasy Analysis: Smith saw his stock reach its apex following his breakout 2013 season in which he finished with 65 catches for 1,128 yards. He still had plenty of believers after his fluky 11-score season the following year, but two years in San Francisco exposed him as a player incapable of being a team's No. 1 receiver. Following his release from the Niners, he joined the Eagles and is the only one of the top three wideouts with a contract that extends past 2017. Carson Wentz will do more for Smith than any quarterback in San Fran could do for him over the last two seasons, but the conservative nature of the Eagles' offense combined with the presence of Jeffery, Jordan Matthews, Zach Ertz and Darren Sproles among others will probably keep him from showing he is anything more than a deep threat.
TE Dwayne Allen
2016 Team: Indianapolis
2017 Team: New England
Fantasy Analysis: In a perfect world, Allen will be able to complete 16 games for the first time since his rookie season (2012). More realistically, the former Colt will attempt to replicate the production Martellus Bennett provided last year and give the Pats an able body to step in should Rob Gronkowski struggle with injuries yet again. Allen's talent has never been in question, but his durability has - the main reason why owners would be unwise to put much faith into him despite what could be a pretty decent role in what should again be one of the top offenses in the league.

---
Doug Orth has written for FF Today since 2006 and been featured in USA Today's Fantasy Football Preview magazine since 2010. He hosted USA Today's hour-long, pre-kickoff fantasy football internet chat every Sunday in 2012-13 and appears as a guest analyst on a number of national sports radio shows, including Sirius XM's "Fantasy Drive". Doug is also a member of the Fantasy Sports Writers Association.