All Out Blitz: Volume 48




9/27/12



Aggressiveness is a characteristic that tends to reward fantasy owners more times than not. In the NFL, an offensive line will sometimes hold up long enough to give the quarterback enough time to beat man coverage down the field and make the defense look foolish against a fierce pass rush. More often than not, though, when a defense brings the heat and forces the action, crisis management becomes the name of the game for the opposing team.

In that same vein, I hope to apply that same kind of pressure to the owners in all of my leagues by beating my opponents to the punch in regards to personnel moves. Sometimes, reaching a conclusion about a player too quickly results in making a bad situation worse. However, coming to a correct conclusion two weeks or two minutes quicker than your opponents is considered foresight and can often lead to fantasy championships.

Fantasy owners can be a uneasy lot, knowing that one two-or-three-game losing streak can wreak irreparable damage to his/her team's chances to make a visit to the fantasy postseason. But just as it is in the NFL and in life, it's hard to land the big prize by playing scared. Thus, I will strive each week to help each of you become a smart blitzer, so to speak.


---
As a general rule, those of us who write about and observe the trends of fantasy football are best served to deal with the numbers game and leave the "real game" to the players, coaches, officials and NFL employees. However, there are times when we are obligated to use our ability to connect with the "common man" and reach the masses in order to correct a terrible wrong…or at least keep it from happening again anytime soon.

Before we go any further, let's keep this discussion we are about to have in perspective. The NFL is an entertainment business and games are merely short-term events that can sometimes provide lasting memories. Quite often, sports – football in particular – can serve as a metaphor for life, which is one of the many reasons I find myself more intrigued with this game each year. But as someone who covered the Penn State football scandal less than a year ago, I hardly need to be reminded about how important a nationally-televised regular-season NFL game is in the greater scheme of things.

By now, the sports world has analyzed the end of the Green Bay-Seattle game more than most networks will analyze the "Race to the White House" or why the price of gas keeps increasing even though oil companies are more efficient now than they ever have been. Setting aside what that means for us as a society for now and staying strictly under the scope of the NFL, how can the league explain to the Packers how they lost on Monday night? How do we explain to kids watching the game that such an oversight can't be corrected because it would "set a bad precedent"? While that "bad precedent" argument is true in theory, it needs to be noted that the rulebook had to be written with the assumption that the league's best officials are working. I know as well as anyone that life isn't fair and most of us have to work like crazy to get a little ahead while others can simply do next to nothing and reap just about every benefit life has to offer. But should fans, players and teams be forced to suffer the same consequences, especially considering that their jobs are almost always on the line and this, in the end, is just a game?

Unlike life, most sports have the benefit of wide-ranging instant replay. While instant replay cannot fix every flaw, it can go a long way in correcting obvious wrongs and does a good job of doing just that. It should also be noted that while the game is now being officiated by replacements, the current replay officials are the regular ones and the league even has an on-field administrator for each game to ensure the smooth operation of each game. But here within lies the multi-layered problem. Assuming the league is on the "right" side of this negotiation for a second, it is trusting well over 100 rookie referees to "protect the shield" and make pivotal game-changing calls. The replacements are expected to maintain the same level of quality that the regular referees provide although the former never had the benefit of a full offseason to prepare for the NFL game. The replacements also work with the knowledge that next week may be their final game on the big stage. If the league is prepared to move forward with inferior officiating, then it must also be prepared to: (a) live with a great deal of negative publicity or (b) provide a mechanism by which the few regular officials that are present at each game are allowed to essentially serve as the league's on-site quality control people until this whole ordeal is resolved.

Just like it seemed unreasonable that millions of fans had access to instant replay at home for years before the league realized it needed to provide it as a tool for the officials, it seems horribly wrong now that millions of Americans can see a game-deciding call made right before their eyes and are still left with "the human element" deciding the fate of the game by officials clearly not suited to be in that position. Furthermore, the idea that savvy football fans would not quickly notice a difference between lower-level college officials and the ones who spend much of their free time scouting team and player tendencies in order to be prepared for game day smacks of extreme arrogance and indifference on the league's part. (If I can humor you for a second, I have often said that I can tell you what you don't know, but I can't help you if you don't care and think you are better than me too. I've seen it all too often throughout my career and it pains me to see it so clearly now in the sport that I love.) The other problem in play here is obviously the league's need to show everyone who is in charge, just as it did last year during the lockout last season.)

Let it also be said this past weekend didn't mark the start of this controversy; it simply illustrated the incompetence of the current referees for the world to see and the need to end this stalemate to rebuild the declining integrity of the game. Certainly, the MNF game never gets to the point of sheer outrage if Green Bay's Erik Walden isn't penalized for a highly-questionable roughing the passer call on an interception as Seattle begins its last drive. But even beyond that call (which I've seen the regular officials make a number of times) is the sheer inconsistency in which pass interference has been enforced in recent weeks. Obvious offensive pass interference calls are being called on the defense, obvious defensive pass interference calls aren't being penalized at all and minor illegal contact calls are being called defensive pass interference. Based on the increase of penalties over the last two weeks, I can assure you that someone in the league office made it clear to the replacement officials they needed to throw more flags after a relatively tame Week 1.

Of course, the fans themselves can force an end to this stalemate by simply refusing to give the NFL what it wants – your money and attention – for a short period of time. While the league and its owners have deep pockets, a quick and swift "holdout" by the very fans that support this league would create almost instantaneous panic from the owners. But that is obviously a bold move…kind of like the type of gamble the NFL made when it decided it didn't need the best referees to preserve the integrity of its games.

While I'm no expert when it comes to labor negotiations, I am not exactly a novice in the area either. There are several key issues – beautifully explained by Andrew Brandt in the linked article – that represent the few true sticking points keeping the league and the NFL Referees Association from coming to some sort of an agreement. While it is not my job to settle their dispute, I do know that if overmatched officials are calling games, then player safety isn't any more important to the NFL than the outcome of games (or its reputation). If that is the case, it is only a matter of time before a skirmish here – which the replacement refs have been slow to react to – or another incident there leads to yet another unnecessary outcome, long-term injury or lawsuit for the league. And when that happens, someone will have to answer the question: "Was saving a few dollars and exerting our authority just because we are the NFL really worth it?"

LATE UPDATE: Perhaps sensing that I spent a few hours writing the 1,200+ words above, the NFL and NFLRA reached an eight-year agreement just before my usual deadline. Still, I feel justified to keep the introduction intact simply to provoke thought on an issue that really should have never reached this point.

---
Once is an accident, twice a coincidence and three times is a trend. About this time every season, I think of this old saying that has taken on many different forms over the years. After three weeks of the fantasy season, I think we can begin to start drawing some halfway-reasonable conclusions about how the season – or at least the first half of it – will unfold. With that in mind, let's take a 32-team look at some of my early impressions as September draws to a close.

Arizona Cardinals – Frankly, I cannot remember the last team that was able to start 3-0 that rushed for 2.8 YPC, threw for 181 yards/game and didn't own a significant advantage in turnover differential. What I do know is the Cards have quickly established themselves as a top-five defense and have themselves a keeper in Ryan Williams as soon as he can learn to fully trust his surgically-repaired knee (although it may take a while for him to be a fantasy force with his current offensive line). We were also reminded that no matter how dire the situation looks for a player (in this case, Larry Fitzgerald), offensive coordinators can usually find a way to get their key offensive player going while defensive assignments will get blown, like they did against the Eagles last week.

Atlanta Falcons – It took until Week 3 for the coaching staff to realize Jacquizz Rodgers needs to be playing at least as many snaps as Michael Turner. Going forward, I'd be mildly surprised if Rodgers doesn't see more snaps than Turner as Atlanta attempts to become a full-fledged offensive powerhouse. Julio Jones and Roddy White are 1A and 1B in the passing game while Tony Gonzalez is still the red-zone monster he has always been, even if he can't separate from defenders anymore. Matt Ryan hasn't thrown for 300 yards yet, but it is coming. (Through three games, I predicted a line of 895-7-2 for him and he's delivered 793-8-1 with a rushing TD for good measure.)

Baltimore Ravens – Through three weeks, the Ravens have attempted 113 passes and 73 runs – a rate I don't expect to change anytime soon. It is hard to argue with the 2-1 record so far, but despite 20 touches/game, it sure seems to me that Ray Rice is absent from the offensive attack for long stretches in just about every game. With Cleveland and Kansas City up next, don't be surprised to see him enjoy two of his finer fantasy performances of the season. In a very unassuming way, Dennis Pitta has been amazing. His red-zone numbers don't jump off the page as much as you'd expect (four targets, two receptions and one touchdown), but his 31 targets are tied with Jimmy Graham for most in the league by a tight end. Because he is operating out of the slot so much and Torrey Smith commands the respect he does, I suspect Pitta will be a huge PPR asset the rest of the season.

Buffalo Bills – In the Bills' quest to "hide" Ryan Fitzpatrick, he has been a very good fantasy quarterback and is off to another one of his "hot" starts. However, two RBs (Fred Jackson, C.J. Spiller) and his favorite slot receiver (David Nelson) have all gotten hurt in the process, so with no more than 208 yards passing in any game so far, how much longer can we expect the 2-3 touchdown games to continue before he experiences another second-half swoon? My mind hasn't changed regarding the RB situation where I expect Jackson to assume at least half the workload when both backs are healthy.

Carolina Panthers – Looking back to his rookie season, Cam Newton experienced a slow stretch from Weeks 10-12 where he averaged 18.8 fantasy points. Right now, he's averaging 17.3. Newton emerged from that "slump" and closed out the fantasy season averaging 30.25 points over the final four games (although his two big games during last year's stretch came against a Bucs team that had mailed it in). What I do know is that we've learned that we should never doubt Newton's talent and competitive drive. Most of his interceptions this season have been stupefying, but I think it is only a matter of time before OC Rob Chudzinski and Newton get on track. The Panthers' use of Greg Olsen outside the hashmarks near the end of the Giants' game was a good start to jump-start the offense but finding a way to get Steve Smith more than the four targets he's seen in each of the last two games will do the most to rectify this problem.

Chicago Bears – We knew Matt Forte was important to the running game, but is he also every bit as important in the passing game? Jay Cutler's passing numbers over the last six or so quarters would hint at that, but the quality of the opposing defense has contributed to that as well. After next week, the schedule suggests that Chicago's next four games can be had through the air. At that point, sell on Cutler. And based on what we've seen so far from every defense over the second half of the schedule, I may just recommend selling on every Bear after Week 9. I think it is safe to say that I don't want to count on Chicago players facing the likes of the Texans, Niners, Seahawks, Packers and Cardinals when my team is trying to get in position to win a fantasy championship.

Cincinnati Bengals – Regardless of what his average number of targets over the last two weeks might suggest, Andrew Hawkins is becoming harder and harder to ignore and Armon Binns isn't too far away from joining him as a player worth adding in 12-team leagues. It is this collection of talent – of course, along with A.J. Green – that made me question the Bengals' stubbornness in regards to the running game entering this year. Even at his size (5-7, 175), Hawkins may force himself to become a more regular part of the offense because of the explosive element he gives this offense, much like Antonio Brown did in Pittsburgh last season. Binns is the opposite of Hawkins in a lot of ways, but he has a great shot to fill the big-bodied possession receiver role we thought Mohamed Sanu would occupy earlier in the summer.

Cleveland Browns – Let me get this right: HC Pat Shurmur is threatening to bench Greg Little for drops and replace him…with whom? Little had 14 drops as a rookie and has been charged with two more this season, but he still represents the best receiving threat the team has. Little wasn't used a great deal last year before the Browns' Week 5 bye, at which point it was determined that he would be featured. I'd be a bit surprised if he doesn't take off in a similar fashion in 2012. Keep an eye out for TE Jordan Cameron. OC Brad Childress suggested earlier in the week a back injury was the reason Cameron – the talk of training camp – did not see more snaps over the first two weeks.

Dallas Cowboys – The Cowboys' pass defense has certainly met expectations and then some, but the jury is still out on the run defense. The Cowboys are also very fortunate to be 2-1 with little to no help from Dez Bryant and Jason Witten. While we can blame the latter's slow start on rushing back from his spleen injury, it sure looks like more of the same from the former. Bryant caught all three of his second-half targets for 47 yards, but that display was probably assisted by his sideline shouting match with position coach Jimmy Robinson. I'm far from a Bryant apologist, but even if he isn't capable of running the entire route tree the way the team wants him to, his run-after-catch skills are undeniable. His relative lack of involvement in the team's gameplan in the second half of games – something that dates back to last season – is also hard to understand. Last year, it was supposedly a lack of conditioning. What's the reason this year?

Denver Broncos – Minus the two touchdowns he could have easily had over the last two games (defensive pass interference called both times) and another potential TD that bounced off his hands in a crowd and landed in Joel Dreessen's, I'm not all that concerned about Eric Decker. No one will question Demaryius Thomas has more natural talent, but I believe this is a low-end WR1 race that will go right to the end, at least in PPR leagues. The early returns suggest that while the coaching staff has catered to Peyton Manning in terms of the way the offense attacks, the coaching staff will remain make sure it remains more balanced than what we've come to expect from a Manning-led offense. With the threat of an above-average passing game and a consistent 15-20 touches going forward against "light boxes", I really like Willis McGahee going forward.

Detroit Lions – I'm at a loss trying to explain the Lions' offensive attack so far this season, especially their plan at running back. Against a Rams' defense I know I expected to be a difficult matchup vs. the pass in Week 1, Matthew Stafford attempted 48 passes. Against the Niners' vaunted run defense, Lions RBs carried the ball 22 times, more than they had in a single game since Week 11 of last season. And then, against a Titans' run defense the Patriots and Chargers gashed, Mikel LeShoure is given 26 carries in his first game back from suspension, averages less than 4.0 YPC and is praised for his performance? (Keep in mind, Kevin Smith was slightly more productive on an YPC basis than Adrian Peterson against the Niners.) And to top it off, Joique Bell was given the crunch-time touches instead of Smith, meaning Smith went from first-string to third-string in less than a week despite being the best pass protector of the bunch and the player largely responsible for their only win. Until I see one "special" quality from LeShoure that makes him irreplaceable – including prolonged durability – he strikes me as a sell-high candidate.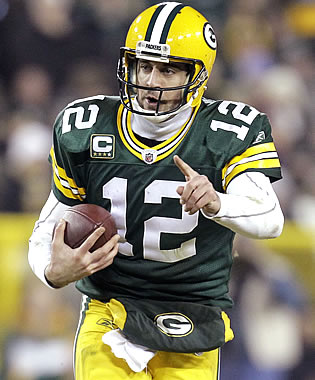 It's no time to panic if you're a Rodgers owner.

Green Bay Packers – I have absolutely zero concern about Aaron Rodgers. However, if the team is as slow to react to its offensive tackles getting beat by speed rushers as it was against Seattle, then his durability will be a major question going forward. However, only Houston and Arizona strike me as defenses over the next month or so that can bottle up this passing game. My feelings on Cedric Benson have not changed either. He's a good zone runner, but his ball security issues and lack of explosiveness are the qualities that make him replaceable. Believe it or not, I'd still be stunned if James Starks doesn't replace him at some point once he is fully recovered from turf toe.

Houston Texans – How many teams can lose two defensive staples (Mario Williams, DeMeco Ryans) in the same offseason and say their defense improved? CB Kareem Jackson has gone from a defensive liability two seasons ago to a serviceable corner, meaning the shadow coverage of Johnathan Joseph isn't wasted. J.J. Watt is probably already a top-five DE and the OLB duo of Connor Barwin and Brooks Reed makes it virtually impossible for an offense to stop all three. Owners of Ben Tate (but don't own Arian Foster) may be wise to hold on to him for two more weeks and then sell. With the Titans and Jets next on the schedule, the chances that Tate will be Foster-like in at least one of the two games are pretty good.

Indianapolis Colts – While Andrew Luck has been as advertised, the ground game has been even less productive than I expected. Donald Brown, Mewelde Moore and Vick Ballard have combined to average a measly 3.0 YPC through three games. Even worse, the three backs have caught just four balls between them (on eight targets), making every one of them nearly useless in just about any fantasy format. Last week, I was convinced it was time to sell high on Reggie Wayne, but with the season-ending injury to Austin Collie, Wayne is well on his way to enjoying a bounceback season. Donnie Avery – the new No. 2 WR – is also now a reasonable fantasy WR3 against all but the toughest defenses or teams that feature safeties that don't possess a lot of range. Just be careful when planning on Avery as his injury history is every bit as extensive – if not more so – than Collie's.

Jacksonville Jaguars – Three weeks into the season and there is no hint that Maurice Jones-Drew was the least bit affected by his holdout. Not only is that a bit difficult for me to process, but his success should be freeing up Marcedes Lewis, Laurent Robinson or Justin Blackmon, which it is not. In fact, none of the aforementioned Jags receivers had more than one catch in their Week 3 win over the Colts. Much like other occurrences in the AFC South, that level of ineptitude simply cannot continue. I will not give up on Blackmon until after Week 7 against a pathetic Raiders secondary, but I'm not seeing where any other Jacksonville receiver is even worthy of a roster spot in a typical 12-team league. Blaine Gabbert's poor completion percentage (42.5%) over the last two weeks isn't helping matters, but Blackmon is clearly pressing, which isn't helping Gabbert. When the rookie learns to relax just a bit, I tend to believe fantasy WR3 production in PPR leagues is still attainable.

Kansas City Chiefs – The last time I remember a running back running for 200+ yards the week after he ran for less than 10 was Jerome Harrison in 2009. While I could still break down why Harrison was able to do what he did as if it just happened yesterday, I cannot explain to you how a running back like Jamaal Charles– pulled from the previous game because of a bone bruise and who HC Romeo Crennel wondered aloud earlier that week if he would ever return to pre-injury form – could embarrass a defense in a game that same team could not afford to lose. And there is no doubt in my mind that even on his 91-yard TD run that he was not at the same speed he was pre-injury. The true test for me is how he performs in games against the Chargers and Bucs, two of three defenses giving up the fewest rushing yards to running backs so far.

Miami Dolphins – Reggie Bush's "bone bruise" this past weekend was a seemingly innocuous reminder that the ex-Saint hasn't been the most durable back throughout his career. With that said, he's probably at worst a RB2 in the most difficult matchups – of which there are few left on his schedule – and a low-end RB1 in PPR leagues. (Of course, that is pretty much reaffirming what most of us suspected in the preseason.) While it is encouraging that any Dolphins' receiver finds himself in the top 12 of targets at his position (29), it doesn't say a great deal about the chemistry Brian Hartline has with Ryan Tannehill since he has turned just 13 of those into receptions. Move along.

Minnesota Vikings – Toby Gerhart fumbled three times – losing two – over the last three-plus minutes in last week's shocker vs. the Niners. This alone may ensure that Adrian Peterson remains a 20-carry back, whether or not it is a good idea for him to maintain that kind of load. I also don't expect to be changing my mind anytime soon regarding his upcoming schedule or his prospects about turning in another AP-like season. Thankfully, OC Bill Musgrave has seen the light in regards to his key passing game weapons in Percy Harvin (who has been extremely efficient with 27 receptions on 32 targets) and Kyle Rudolph (who just missed out on consecutive two-touchdown performances). Both are top-10 fantasy options at their position going forward.

New England Patriots – I recognize that Stevan Ridley fans were disappointed after last week's 13-carry performance, but there isn't much reason for panic here as most of us knew that HC Bill Belichick can pull the "matchup card" on fantasy owners from time to time. Looking ahead, Ridley should experience a great deal of success with only Week 6 (Seattle) representing a truly difficult matchup. However, with the exception of Week 16, he doesn't appear destined for much success during the fantasy postseason. One of my greatest fears during the preseason has come true: despite the Pats possessing the most receiving talent since their record-breaking offense in 2007, OC Josh McDaniels has saw fit to balance the offense. While some of this is probably is due to a developing offensive line, New England has faced pretty solid defenses over the last two weeks. There's a time to deal high on Brady in fantasy and it might be after this week.

New Orleans Saints – Quite simply, the Saints have played some of the worst defense I have seen from a team to begin a season. (For those of you looking ahead, the Saints face the Giants, Bucs and Cowboys during the fantasy playoffs.) While I understand the transition from Gregg Williams' blitz-happy scheme to Steve Spagnuolo's zone-based gameplan was going to take some time, but there is simply no excuse for the ineptitude they have shown so far. The Chiefs (and Romeo Crennel-led defenses) have a long history of taking out an opponent's top option(s), so owners of Darren Sproles and Jimmy Graham should feel the same way about their players as they did before Week 3. While I'll agree Mark Ingram is not the same kind of talent as former college backfield partner Trent Richardson, he's being absolutely wasted in New Orleans. General managers lose jobs when they trade away future first-round picks to acquire running backs that don't see the field more than a third of the team's snaps. In 12-team leagues, he's a fringe hold and, in smaller leagues, he belongs on the waiver wire…and it hurts to say that.

New York Giants –Tom Coughlin seems to be of the belief that Andre Brown and Ramses Barden can become regular fixtures in the offense even when Ahmad Bradshaw and Hakeem Nicks return from injury (which should be this week). However, the emergence of Martellus Bennett would seem to suggest Barden will be limited to red-zone and Mario Manningham-like work at best in the passing game. As for Brown, he may be a slightly smaller but more explosive version of Brandon Jacobs, but anyone who has owned Jacobs over the years knows that isn't exactly a joyride. And let's not forget that rookie David Wilson is the most dynamic runner of the bunch, so I'd be surprised if he doesn't eventually steal the No.2 role back from Brown in a few weeks when he has proven his trustworthiness. So, in short, I expect this to be much ado about nothing in a few weeks, with Wilson the one threatening Bradshaw's workload.

New York Jets – The loss of CB Darrelle Revis has been dissected enough already, so since the Jets already sport a run defense that is already getting trampled, it may be time to kick their defense to the curb in fantasy leagues. Somewhere along the same lines of the Bengals' Andrew Hawkins, Jeremy Kerley is making the most of limited opportunities and deserves a spot on watch lists. Even with Stephen Hill likely out this week, Kerley isn't worth a roster spot right now with upcoming games against the Niners and Texans. Savvy fantasy owners probably already have Bilal Powell stashed away, but keep an eye out for newcomer Jonathan Grimes, who impressed the Texans during the preseason. The Jets have decided to convert Joe McKnight to cornerback, making it possible for Grimes to see some playing time if the Jets' backfield remains unproductive.

Oakland Raiders – With Darren McFadden's slow start a thing of the past, the focus shifts to a passing game that will be without Darrius Heyward-Bey for the immediate future. Last year, that would have meant a ton of opportunity for Denarius Moore, but with a receiver group that is averaging just 120.6 yards so far, it's hard to see Moore living up to his potential in Greg Knapp's offense anytime soon. While Oakland's overall defense isn't quite the sieve that New Orleans' is, the pass defense is. After Joselio Hanson, Pat Lee and Michael Huff got scorched by Ben Roethlisberger last week, the Raiders get the Broncos and Falcons over the next three weeks. I bet you can guess what I'm going to tell you to do with all your players from Denver and Atlanta in those two weeks.

Philadelphia Eagles – The alarming rate that Michael Vick has turned the ball over through three games has brought him under some fire, but just as discouraging is Andy Reid's continued lack of unbalanced play-calling, especially during the first half of the Eagles' Week 3 loss when Philly ran just five times and called 25 pass plays. While Bryce Brown is as raw as can be in terms of being a three-down back, he is the first RB the Eagles have had in a few years that would allow the team to take a few carries away from LeSean McCoy in order to preserve him for the season and even out the run-pass ratio a bit. While hip pointers don't tend to go away in two weeks, expect Jeremy Maclin to get right back to work as a must-start in fantasy. His loss was evident in the loss to the Cardinals since he is Vick's most trusted receiver.

Pittsburgh Steelers – Apparently, preseason isn't all that important (Mike Wallace) and all a receiver or tight end needs is his quarterback to say, "I'm getting (him) to the Pro Bowl this year." (Heath Miller). To be clear, Wallace deserves a ton of credit for keeping himself in shape during the preseason and being a quick study while Miller has always had the all-around game to be the Steelers' version of Jason Witten. Miller's career-high touchdown mark is seven (2007) while his best fantasy season (76 catches for 789 yards and six scores) was 2009. While both are certainly achievable on his current pace, I have my sincere doubts that defenses will not start adjusting to the fact he has been targeted eight times in the red zone – more than any other player in the league. Conversely, I'm stunned by Wallace's start because the first three games of the season should have been his most difficult. My advice right now: sell high on Miller if possible and ride Wallace.

San Diego Chargers – Having seen Antonio Gates with my own eyes on a few occasions this summer, I can attest to the weight loss and his return to about 90% of the player we remember. What owners have received so far, however, is a player with a rib injury who isn't getting downfield and catching less than half of his targets. I honestly believe Gates will turn this thing around rather quickly (assuming he stays healthy), but I don't see a breakout game coming against the Chiefs in Week 4 after Kansas City bottled up Jimmy Graham last week. Maybe a Week 5 date against the Saints will do the trick. One week after Ryan Mathews' owners rejoiced in his return to the field, HC Norv Turner is now saying the man he could see leading the league in carries could see his role limited somewhat due to ball-security issues. Quite honestly, I can see this being a non-story in about two weeks if Mathews simply doesn't fumble. Since the remainder of his schedule sets up pretty nicely, see if you can't use this little nugget about his carries being scaled back in trade talks. After watching Jackie Battle and Ronnie Brown the first two weeks, Mathews isn't losing carries with any kind of regularity.

San Francisco 49ers – I cannot begin to explain how a defense this dominant with good – if not great – linebacker and safety play has surrendered four touchdowns to the TE position through three games, but it has. This is not a trend I would expect to continue even when San Francisco next faces a team with a TE that is a fairly regular and significant part of the offense (the Giants in Week 6). I'm also a bit disappointed the new receivers in this offense haven't been targeted a bit more, especially when their catch rate stands at 77.4%. With the Jets and Bills coming up, it would make sense for the Niners to use Randy Moss and Mario Manningham a bit more. If nothing else, the next two weeks should give us a pretty good sense if the passing game is going to be all about Vernon Davis and Michael Crabtree going forward.

Seattle Seahawks – Had the aforementioned Monday night debacle made it a non-story, the Seahawks' defense would have likely been the story of the game, win or lose. Just as impressive to me was Marshawn Lynch, who regularly dragged defenders – even B.J. Raji on at least one occasion – three and sometimes four yards on a number of his carries. While I wish Seattle would find a few more carries for Robert Turbin and be a bit more imaginative with its play-calling, it is hard to fault a formula that led to a rout of Dallas and was good enough to defeat Green Bay.

St. Louis Rams – I needed to see only one college game – his final one – to tell you that Steven Jackson was the best college running back I'd seen in the 21st century, so it pains me that he has yet to play for a winning team. And as his career slowly nears its end, it seems sad – for this year anyway – that it may be a while before he can help fantasy owners again. Assuming he will stay healthy now for the remainder of the season – a big if – he'll be forced to overcome Seattle, Arizona and Miami over the next three weeks. In all, Jackson has only one matchup that I would consider overly favorable the rest of the way – the Jets in Week 11. Unsurprisingly, I'm equally lukewarm on Sam Bradford and just about any other Rams players – outside of Danny Amendola in PPR leagues – the rest of the way.

Tampa Bay Bucs – Through three games, I had Doug Martin pegged for 195 rushing yards and a TD, so I'm feeling pretty good about missing his actual mark by just 19 yards. What's even more encouraging is that he is about to enter a soft part of his schedule and I really don't see much keeping him from fulfilling my expectations as a top-10 RB in PPR or standard leagues. The Tampa Bay Times warned us in late August that Josh Freeman may get off to a slow start because of all the new responsibilities he would have under in new OC Mike Sullivan's offense. As was the case with Sullivan's former pupil, Eli Manning, this is going to take some time and it may not even happen this season. But Freeman's dynasty and keeper-league owners as well as Bucs' fans need to be patient because he has already shown us what he is capable of back in 2010.

Tennessee Titans – We've discussed Chris Johnson at length over the past couple of weeks, so I'll simply share this tweet and one of many stats that sheds a bit of light on what I've been saying about him: despite rushing for 45 yards in three games, he had three runs of over 10 yards in Week 3 alone – or one more than Darren McFadden has to his credit in 2012 – and somehow still finished with 24 yards. I'm not crazy enough to say a breakout is coming, but I plan on riding this out until I see a game where I feel he deserves most of the blame. The other part of holding him right now is that no owner will give you anything of use in return. One thing that will help expedite Johnson's return to an every-week start is Kenny Britt. Because Jake Locker has a tendency to miss high when he throws a bad ball, it behooves the entire Titans' offense to have someone with Britt's athleticism to go get it. More big plays in the passing game means less stress on the offensive line and more lanes for Johnson. The skill-position talent on this team screams "sleeping giant". I'll be interested to see how quickly that happens.

Washington Redskins – In my PMAs, I predicted Robert Griffin III's line after three games would be 740-4-3 with 155 yards on the ground and two rushing scores. He's been slightly better than that, but the point to be made here is this start was not entirely unexpected. Now the real question is: without the likes of the Saints, Rams and Bengals to beat up each week and with all the hits he is taking right now, can he keep it up? While dynasty and keeper leaguers will obviously want to hold, I'd be selling in redraft leagues because I doubt he will continue this pace against stiffer competition – which he will see in the coming weeks – or be able to hold up physically. One reason why HC Mike Shanahan hasn't been able to mix-and-match at RB is because Alfred Morris has been playing musical chairs by himself all season long. Roy Helu is already done for the season, Evan Royster has a strained patellar tendon and newly-signed Ryan Grant offers about the same kind of explosion Morris does. Still, Royster still offers the most big-play potential – as sad as that is to say – of the three remaining backs and would be my choice as the featured runner in this backfield when he is healthy.

Suggestions, comments, musings about the article or fantasy football in general? E-mail me or follow me on Twitter.

---
Doug Orth has written for FF Today since 2006, appeared in USA Today's Fantasy Football Preview magazine in each of the last two seasons and served as a weekly fantasy football analyst for 106.7 The Fan (WJFK – Washington, D.C). He is also a member of the Fantasy Sports Writers Association.