All Out Blitz: Volume 47




9/20/12



Aggressiveness is a characteristic that tends to reward fantasy owners more times than not. In the NFL, an offensive line will sometimes hold up long enough to give the quarterback enough time to beat man coverage down the field and make the defense look foolish against a fierce pass rush. More often than not, though, when a defense brings the heat and forces the action, crisis management becomes the name of the game for the opposing team.

In that same vein, I hope to apply that same kind of pressure to the owners in all of my leagues by beating my opponents to the punch in regards to personnel moves. Sometimes, reaching a conclusion about a player too quickly is much like trying to blitz Peyton Manning – dangerous and painful. However, coming to a correct conclusion two weeks or two minutes quicker than your opponents is considered foresight. Fantasy owners can be a uneasy lot, knowing that one two-or-three-game losing streak can wreak irreparable damage to his/her team's chances to make a visit to the fantasy postseason. But just as it is in the NFL and in life, it's hard to land the big prize by playing scared. Thus, I will strive each week to help each of you become a smart blitzer, so to speak.


---
Back in the late 19th century (in a world without fantasy football), Frank Winfield Woolworth opened a store in Pennsylvania that helped popularize the concept of running a business where every item cost five or ten cents. Nowadays, thanks to inflation and other factors, the "five and dime" store has evolved into a "dollar" store. Although the concept has made the expression "five and dime" less meaningful over time, many operations have been incredibly successful over the course of history using some form of this business model. While much of the merchandise available in these stores now isn't priced differently than it would be at any other retailer, there are some items available with a price almost too good to be true.

Not surprisingly, among the 300-400 players that fantasy owners must choose from each year, there are a number of players that are available to the public at little to no cost because their "worth" isn't really all that important in the fantasy world. But occasionally, there is an item on the shelf that doesn't look like it belongs and that is where I want to begin this week.

Perhaps nobody has used the expression "each game represents 7.7% of the fantasy regular season" more often than I have over the years. Each week is a significant part of the journey we all take to get into the playoffs, so when our expectations are not met by players keeping us from that goal, we tend to get a bit upset.

Although the fantasy draft is about as good as it gets during the course of fantasy football season, perhaps nothing fascinates me quite as much as the acquisition of talent throughout the year. Almost without fail, I am intrigued and captivated each season by the volatile market that is created from the frenzy and panic of owners ready to bail on a player after 1-2 poor performances (or what we deem to be unacceptable for a player's draft slot). While many of these moves are justified, there seem to be several in every league that are not.

Speaking of fantasy football clichés, there are a lot of similarities between fantasy football and investing in the stock market. Most people do not have the resources to buy all the blue-chip stocks (high draft picks) or invest of all their money in the same general industry (loading up at one position, for example) without doing damage to either their portfolio or long-term investment goals. Similarly, if investors put as much weight on the daily or weekly returns of a certain stock as much as they do their fantasy football players, it's a fairly good bet that many people would either choose another investment instrument or not invest at all. To this problem, I will give fantasy owners the same advice that many investment companies will give you – invest for the long-term.

In redraft leagues, the long term starts from the time the draft ends and ends the final week of the fantasy playoffs. Even the strongest companies experience radical fluctuations in share price during tumultuous times, so we shouldn't be overly surprised when even the most gifted football players see their "share price" plummet for a short time as well. But just like CEO of a company doesn't want to see his/her potential goldmine reduced to nothing, elite players don't want their reputations and final stats damaged by a prolonged "dry spell".

For those same redraft owners, the draft is about building the best foundation possible. The rest of the season is about playing the long-term stock market in short-term fashion, taking the information we currently have at our fingertips and selling when we believe a stock has maxed out or buying when a stock that has performed well in the past is underperforming – at least by their standards. (I have often maintained that if I cannot trade during the course of the season, my chance of winning is only as good as anyone else's, but if I'm in a trade-heavy league, my odds increase by 200-300% because I get to play the game in the fashion it was meant to be played.)

It's that word "underperforming" that I want to make the focus of this week's column. By definition, underperforming suggests that an athlete has the talent and/or tools necessary to play at a higher level but isn't due to any number of outside variables. Thus, I want to highlight a number of players that I feel meet this qualification and why they make good trade targets at the moment, with the added caveat being they are now available at a much more reasonable price than we could have anticipated and may see their price tag dip even a bit more because of yet another difficult matchup:

The Five-and-Dimers

Aaron Rodgers, QB Green Bay – It only took two weeks before I received the question "What's wrong with Aaron Rodgers?" In a society that desires instant gratification and always expects greatness from great players, it's not surprising to get this question. Given the way he has played since becoming the full-time starter in 2008 and especially after last season, Rodgers has reached a point where that if he doesn't match last year's average in two straight games, there must be something wrong. In my eyes, his "struggles" are very simple to diagnose. In Week 1, he faced a dominant Niners defense. In Week 2, he played against a bitter rival without Greg Jennings on a short week and the Packers also wanted to make a point they could run the ball. Playing in Seattle on Monday night probably isn't going to supply the big numbers Rodgers owners want, but I have a feeling that at some point in early October, he'll be back atop the fantasy quarterback list.

Week 3 opponent: at Seattle

Chris Johnson, RB Tennessee – I discussed Johnson's woes at length last week, predicted a poor game against San Diego and still feel the same way about his future this week as I did seven days ago. (And if he keeps running the same way he has and the defense keeps playing as poorly as it has, I'll be here in two weeks saying the same thing as I am now.) Jake Locker's QB rating against pressure after two games is 40.3, but his receivers aren't helping him out with a league-high eight drops. This kind of ineptitude against pressure in the passing game leads defenses to believe they can blitz whenever they want, which isn't helping a subpar interior offensive line open holes for Johnson. Add in the fact that OC Chris Palmer isn't calling outside runs or using Locker as a running threat and you have a lot of talent being wasted by one coach. (In case you didn't know, Locker completed nearly 70% of his attempts outside the pocket as a college quarterback.) Changes are coming and I'd be surprised if they don't start happening over the next couple of weeks.

Week 3 opponent: vs. Detroit

Darren McFadden, RB Oakland – If Johnson's owners feel like they have been sold a lemon after two games, then it probably isn't a stretch to say that McFadden's owners are in the process of contacting the Better Business Bureau themselves. And based on early returns, it doesn't figure to get much better anytime soon with a home matchup against the Steelers this week. But just as the case with Johnson, talent generally trumps all in the end. Although I did expect a faster start for McFadden, I'll readily admit that I underestimated how quickly DC John Pagano would turn around the Chargers' defense and overestimated the impact former DC Mike Nolan had on Miami's run defense. Combine those factors with an injury to deep threat Denarius Moore and the limited creativity of new OC Greg Knapp and you have a wealth of reasons as to why McFadden is averaging 2.1 yards per carry one season after operating at a 5.4 YPC clip. Sit tight, though, because if you are of the belief this is the year McFadden stays healthy, selling now would mean you miss all the tasty upcoming matchups he has against the likes of New Orleans, Cincinnati, Cleveland, Jacksonville and two games against struggling division rival Kansas City.

Week 3 opponent: vs. Pittsburgh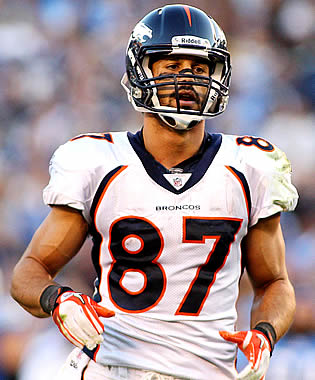 The underperforming Decker is a good trade target.
Eric Decker, WR Denver – Before I start, let me say it would not surprise me at all if Decker had the biggest game of any Broncos' receiver this week since Texans CB Johnathan Joseph is almost certainly going to spend the majority of the day on Demaryius Thomas. But for what it is worth, I projected a 10-135-1 start from Decker through two games, just a bit off his 9-107-0 line through two games. (He just missed catching a deep ball in Week 2, a play in which a pass interference penalty should have been called). If you closely observe the Broncos' first two games, Thomas is running the same kind of routes Dez Bryant did in his first two seasons (screens, jump balls in the end zone, etc.) while Decker is pretty much running the entire route tree. Two games is not nearly enough time to draw a solid conclusion about anything in fantasy, but Thomas even said himself this offseason that he would need to improve his route running after relying so much on his raw skills up to this point, much like Bryant. Furthermore, Thomas has so far opposed a CB in Ike Taylor that he beat like a drum in last year's playoffs in a secondary missing S Ryan Clark and avoided an injured Brent Grimes last week, instead drawing Dunta Robinson, who has been a disappointment in Atlanta. On the other hand, Asante Samuel spent most of Week 2 guarding Decker. If you know anything about the history between Manning and Samuel, you'll understand why Manning targeted Robinson and avoided Samuel most of the night. If my above observations are correct, Decker's value will be on the rise once Denver's rough season-opening three-game stretch comes to an end this weekend.
Week 3 opponent: vs. Houston
Brandon Lloyd, WR New England – Honestly, I could just as easily put Wes Welker into this spot because as far as I'm concerned, Lloyd isn't really struggling. But in the public's eye, there seems to be some belief that he is. And sometimes, perception is reality when it comes to determining player's values in fantasy football. Lloyd has secured 21 targets through two games and just missed a securing a touchdown catch in Week 1 and another long throw in Week 2. In my mind, there is absolutely no reason not to take advantage of a potentially disappointed Lloyd owner who may have expected more than a 13-129-0 line so far. OC Josh McDaniels clearly wants a more balanced offense that doesn't rely so much on Tom Brady. But when the Pats do throw the ball, McDaniels wants to hit the big play and the player who fits his offense – for three years running – is Lloyd.
Week 3 opponent: at Baltimore
Jordy Nelson, WR Green Bay – Pretty much everything I just said above regarding Lloyd applies here as well. In the case of Nelson, some inexperienced owners will see the 15 touchdowns from last season and expect Nelson to score every week. Other more experienced owners maybe come away a bit disappointed with his Week 2 line or watch him drop a pass for a potentially huge gain in the same game and begin overthinking things. Just as Rodgers will begin putting up the kind of numbers we have come to expect from him as soon as the difficult matchups come to an end, so will Nelson.
Week 3 opponent: at Seattle
Marques Colston, WR New Orleans – If this slow start feels like déjà vu for Colston, it's because we've been here before…more than once. In fact, owners should feel relatively lucky he's made it to this point of the season without getting hurt since he has missed at least Weeks 2-3 two of the previous four seasons. But in regards to his slow start, this year marks the third consecutive season – and fourth in his last five – in which he hasn't found the end zone after two games. Granted, he is no longer the top option in this passing offense, but rest assured in an offense that attempts 50 passes per game, Colston will get his touchdowns eventually. Furthermore, every season in which he has managed to play at least 14 games (which he has done in five of his six seasons), Colston has recorded at least seven TDs. The reason he appears on this list despite his "soft" matchup this week is because it seems he is fighting history more than an opponent. As long as you pursue him as a WR2, I doubt you'll be disappointed.
Week 3 opponent: vs. Kansas City
Aaron Hernandez, TE New England – Call me a vulture if you want, but I'm an owner who loves to pluck injured stars away from other owners. (In the leagues where it makes sense to do so, I will also be attempting to snag Fred Jackson and Matt Forte, for example.) There's always a fair amount of risk that comes along with this practice, but I'll almost always trade the here and now for a more promising future, so this is one area in which my real and fantasy philosophy seem to agree with each other. High ankle sprains like Hernandez's are tricky and will test my beliefs in pursuing injured players, but one reason why I was so thrilled to land Hernandez on my dynasty team this summer is because I could see New England's plan for the immediate future: use Hernandez as a bigger (and hopefully better) version of Wes Welker as the Pats likely move on without their mighty mite in 2013. If you waited to draft a TE in redraft leagues, the next two weeks may give you the best opportunity to get one at a greatly reduced price as Hernandez's owner may just decide to wait it out after that point. Although I hope for a Week 6-7 return, I'd expect him to be out through New England's Week 9 bye. With that said, just think about what kind of a late-season boost he could provide if he returns 100% healthy.
Injured: Out 4-6 weeks
The Anti-Five-and-Dimers
Inevitably, if there are underperforming stocks in the fantasy market, there's a pretty good chance there are several that are overachieving or living on borrowed time. Speaking of time, I'm a bit more pressed for it this week than usual, so I'll keep this section short and invite each of you to e-mail or tweet me if you would like a more detailed explanation on a player or my thoughts on other players that owners should consider moving. As my weekly Blitz intro suggests, I'm not going to "play scared" and will discuss a few players below that will likely have the masses scratching their head. Let's call this group the "anti-five-and-dimers":
Tom Brady, QB New England – As I look at the Patriots' upcoming schedule, I'm not entirely sure Brady is going to be who some of us – myself included – thought he was going to be in 2012, which was a top-two or top-three QB. Before the bye, New England faces Baltimore, Seattle and St. Louis on the road and the Jets at home, meaning four of the team's next six opponents may have the defensive backs necessary to prevent an all-out aerial assault. Some of my newfound lack of enthusiasm for Brady can be attributed to the loss of Hernandez for what might be half the season, but I'm also troubled with the issues his offensive line is having, which is probably one reason why McDaniels is leaning on the run as much as he is this season.
C.J. Spiller, RB Buffalo – I just know I'm going to hear it on this one. But before you send me all the hurtful e-mails and tweets, understand why I am suggesting how the No.1 RB in fantasy may be too good to be true (and it has nothing to do with talent because he's certainly got enough of it to keep this going): 1) Fred Jackson won the job in training camp and will, in all likelihood, return to split carries with Spiller just as HC Chan Gailey hinted they would before the season and 2) an upcoming three-game stretch (vs. New England, at San Francisco and at Arizona) comes just about the time Jackson should be ready to rejoin the team. If Spiller finds the going difficult against any or all of those opponents, Gailey may find enough reason to go back to the original plan.
Danny Amendola, WR St. Louis – My reasoning for including Amendola here is to make sure I provide the counterbalance to the rhetoric I heard earlier this week about the Rams' receiver being the "new-and-improved Wes Welker". As long as Amendola's owners keep their expectations in check and don't view him as a potential top-10 fantasy receiver, then forget I even mentioned him in this space. My 15-game projection of 75 catches is looking mighty small for him at the moment, but understand that Washington did itself no favors in Week 2 by essentially letting him do whatever he wanted. Touchdowns (as well as 10-catch games) are probably not going to become the norm for Amendola going forward, meaning this week could be the best time to trade him.

---

Much as I did last week, I wanted to end the Blitz with some fantasy philosophy to keep in mind going forward. The draft helps you build a team. Just like in real life, some people on that team will exceed even the highest expectations, others will do exactly what they were expected to do and the rest will disappoint to some degree. In other words, some will carry their weight and others won't. Expecting a RB1 to perform like a RB1 every week is unrealistic and, occasionally, they will have the audacity to put up 2-3 consecutive poor performances. The point to be made here is that while it is wonderful when your entire team can put together a week in which they all play to the level they are capable of or higher, the more realistic approach is understanding that in most weeks, an owner simply needs one player to play like a RB1, another player to play like a WR1 and so on. While it does the heart good when those players are the same ones every week, the fact of the matter is that you built a team and a team – even a fantasy one – usually needs the occasional lift from someone else on the roster to help it through trying times.

As I bring this to a close, I challenge you to do a bit of homework every 1-2 weeks: jot down your general thoughts about your players (and any others that catch your eye) at the conclusion of each week and revisit that document in 7-14 days, repeating this simple two-step process each time. I'd be willing to bet a fair amount that your opinion on certain players change as many as 4-5 times over the course of the season. Completing this task will not only help you avoid future pitfalls in evaluating a player, but also lead to a deeper understanding about the game when you discover why you were right or wrong about a player. In the cases where your evaluation was wrong, understand that it may not have been because you were way off the mark, it could be something as simple as being the victim of a small sample size. In many other cases, being "wrong" is simply a matter of making a judgment based on limited stats and/or a player's reputation since many people do not have the time or resources to "scout" all the available fantasy talent.

At any rate, the two things I probably preach more often than anything else in regards to fantasy football are: 1) patience and 2) be realistic. The first quality is necessary for those owners that are likely sitting at 0-2 right now that felt good about their draft and can see their players are getting the opportunities necessary but just aren't quite delivering what we expected from them back in August. The second quality is usually necessary for those owners sitting at 2-0 that have that feeling in the back of their mind their team may not be as good as the record indicates. While I can hear Bill Parcells' voice when I say "your final record is usually a pretty strong indication of what your fantasy team was that season", it certainly isn't the case after two weeks. I can tell you at this very moment, the best of my six "important" fantasy teams is 1-1, one of my other very good teams is 0-2 and the worst of my teams is 2-0. If your team is scoring well every week, then making a change or drastic roster move to "shake things up" isn't likely going to change your fortunes unless that same move is designed to also weaken your upcoming opponent.

As much as good fortune plays a role in fantasy sports of any kind, winning consistently in any competition is typically not a lucky endeavor. Therefore, if you have already climbed the fantasy mountain on more than one occasion, you already know you have the necessary skills to win your league.


Suggestions, comments, musings about the article or fantasy football in general? E-mail me or follow me on Twitter.

---
Doug Orth has written for FF Today since 2006, appeared in USA Today's Fantasy Football Preview magazine in each of the last two seasons and served as a weekly fantasy football analyst for 106.7 The Fan (WJFK – Washington, D.C). He is also a member of the Fantasy Sports Writers Association.