All Out Blitz: Volume 46




9/13/12



Who needs preseason?

Let's face it: the opening week of the NFL each season typically features at least one storyline that would probably get rejected by Hollywood. By now, we know that we should expect injuries – some of the season-ending variety – and some disappointment as one or more of our "foundation" fantasy players gets shut down by an opponent for seemingly no reason. But what happens when the script the NFL just doesn't make any sense? Let's examine:

Player A suffers a major knee injury at the end of last season that not only should have landed him on the Physically Unable to Perform (PUP) list, but made him something of an afterthought for the entire 2012 season. Furthermore, this same player was not allowed to be tackled in practice as recently as two weeks ago and was deemed a game-time decision at that time – which is almost always an ominous sign for a player when a decision like that is made so far ahead of time. Player B leads the league in rushing in 2011 (revealing later that he did so with a bum knee), holds out all preseason long and returns to a full workload when the man who performed so well in his place during the preseason cannot stay healthy for a single half. Player C also holds out for the majority of the exhibition season, only to find six targets and a touchdown in an offense that was too complex to learn (or at least pick up) in two weeks.

By now, it should be rather obvious the players I'm referring to are Adrian Peterson, Maurice Jones-Drew and Mike Wallace, respectively. The trio took a combined zero snaps in the preseason, only to turn logic – and the value of preparation – on its head in the opening week. After all, wasn't it just last season that Chris Johnson served as a cautionary tale for players who hold out and/or fail to get their work in during training camp? Or was it that Johnson and all the other holdouts over the last 15-20 years just reported out of shape while Peterson, Jones-Drew and Wallace all attacked their offseason like a professional should?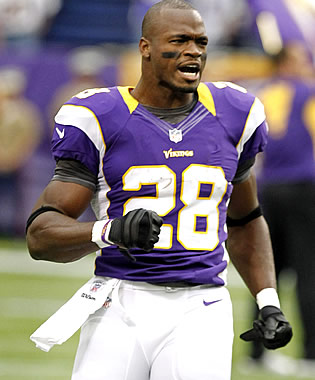 It might be the right time to move Adrian Peterson.
While history is merely a good indicator of the future events – and far from 100% accurate on how things will actually play out – the past is littered with fantasy football stars who succumbed to a nagging hamstring pull or disappointed in a big way following long holdouts, so it would be best to remain pessimistic about the long-term outlooks of MJD and Wallace. If the opportunity arises to trade either player at something approaching the value they had last season for a similar non-holdout player at the same position, I would advise pulling the trigger. On the other hand, I still cannot wrap my mind around the return of Peterson, even with his legendary work ethic. I would suggest moving him as well following next week's matchup against a soft Colts' run defense. The Vikings smartly called a number of draw plays for AP in an effort to reduce any additional stress that lateral movement would place on his surgically-repaired knee, but as I said with Jamaal Charles during the preseason, I did not see the burst I am accustomed to seeing (nor did I expect to). Following the game, Peterson suggested his knee is at 95% right now; I'd say he is running at about 75% and benefitted greatly from a number of huge holes against the Jags. The real test will come over the next month when the Vikings face the defenses of the Niners, Lions, Redskins and Cardinals. I'd like to think Minnesota will have to be a bit more creative with its play-calling against those opponents.
Without a doubt, the opening week also serves as a pretty good indication of how much you trust: (a) your own draft preparation and/or (b) the "experts" that you followed during the pre-draft process in an effort to form your rankings and/or cheat sheets. Week 1, if anything, is the beginning of a 3-to-4 week process that gives us a decent idea of the plans each coaching staff has for the players that matter to us in fantasy. Barring a long-term injury, Week 1 is not the time where "the sky is falling" or owners should be selling their top picks for pennies on the dollar.
For an example of a player owners are already panicking over, I present Chris Johnson. I had the good fortune of recording Patriots-Titans on the DVR, which allowed me to analyze Johnson's dreadful fantasy game and watch each of his 11 rush attempts at least 3-4 times. In my humble opinion, Johnson deserves very little of the blame for the performance. In fact, if a running back ever had a "good" four-yard rushing performance, this may have been it. First of all, Tennessee's offensive line graded out as having good blocking on just two of his 11 runs. Not surprisingly, those two rushes were Johnson's longest runs of the game (five- and four-yard runs on the first drive). After it initially appeared at game speed that Johnson was dancing in the hole and running tentative, I slowed each of his runs down and saw a player who showed no hesitation in getting into the hole and basically got as much out of his runs as he could. On nearly half of his carries, he made the first defender miss (which should speak to how dominant the Patriots' defensive front seven was on Sunday).
Like many other great runners, CJ2K is at his best when he has an opportunity to cut back and utilize his blinding speed. I can see why many observers – including CBS analyst Phil Simms – thought he ran tentative at first glance, but I saw a player who just never had a chance to operate in space. Frankly, I expect similar poor production from Johnson against the Chargers this week if OC Chris Palmer doesn't start getting his stud runner on the perimeter of the defense a bit more often with some toss and stretch plays. It will quickly become vogue to jump off the CJ2K bandwagon if he turns in another poor performance this week, but I'm convinced after watching the first game Johnson is not his own worst enemy. I get it: 11 carries for four yards from your RB1 isn't going to win fantasy football games no matter whose fault it is, but I feel safe in saying the Patriots will shut down multiple running games this season. An offensive line's ability to run block can improve dramatically over the course of the year and I expect it to because, quite frankly, most of the coaching staff will be out of a job if the Titans' line turns in another performance or two like this one.
In general, I am less concerned about backs who have these kind of dreadful games – Barry Sanders had one or two in his Hall-of-Fame career – and more concerned about the ones where the runner either doesn't see a lot of snaps or averages 1.5-2.5 yards per carry. Why? Generally speaking, if a running back averages less than a yard per carry in a game, his line is getting manhandled (which was definitely the case here). On the other hand, when a runner is averaging over 6.0 YPC, he's typically not getting touched until he's at the second or third level of the defense (which happened quite often for Johnson in 2009 and 2010). It is the those "in-between" games that generally concern me the most because, a lot of times, the running back is either dancing too much or going down on first contact. As far as I could tell, Johnson was regularly surrounded by 3-4 defenders in the backfield, making the story of this game much more about the Patriots' vastly improved defense and less about Johnson's "demise".
Do you need more proof that Week 1 can be an aberration of sorts? Let's examine the Bucs-Panthers contest in which one of the league's worst defenses from a season ago not only bottled up Cam Newton, but also held Carolina to 10 rushing yards as a team! (Bear in mind the Panthers ran for over 2,400 yards last season.) Now I suppose we can say the absence of Jonathan Stewart or the wet field conditions didn't help Carolina, but I cannot imagine that either team will see a repeat of this kind of performance for the remainder of 2012 even though Tampa Bay substantially upgraded its defensive personnel this offseason.
Hopefully, I've established by now that one week is hardly enough time to panic. It is, however, a time to begin evaluating what kind of staying power some of the surprising stars of the first week have going forward. I've often said the time between Week 1 and Week 2 is the most important waiver-wire week of the season. As a result, I would like to take the next few minutes to discuss players that exceeded our expectations. While some of the players below will not be free agents in your league, it is always a good idea to take a weekly inventory – especially this early in the season – at players drafted later (or that went undrafted) and evaluate if owners should be making a strong push to acquire their services. Let's take a brief look at a few players from each position and see if each player's first week should be considered the start of something good (trend), a flash in the pan (mirage) or if there is insufficient evidence to make a good call at the moment (incomplete):
Quarterbacks
Mark Sanchez – The Jets' victory over the Bills was much more about Buffalo's awful preseason showing on defense carrying over into the regular season than it was about New York's sudden ability to look like it had a clue on offense. I still feel safe in saying the Jets will struggle for points this season and be a plus matchup for a number of upcoming defenses. Over the next four weeks, the Jets face the Steelers, Dolphins, Niners and Texans. Good luck.
Verdict: Mirage. Let him sit on the waiver wire.
Robert Griffin III – In my final RG3 projection, I predicted that he would throw for 275 yards, rush for 55 yards and account for two touchdowns in Week 1. In other words, I wasn't all that surprised he thrived against an average Saints defense. I've also been saying all summer that he was a player that could have low-end QB1 value.
Verdict: Trend. He's still a matchup QB for now, but with an incredibly high ceiling.
Joe Flacco – As I said in my final Big Board article, I needed Flacco to show me all the qualities that made him the talk of the offseason before I could give him my stamp of approval. He did that and more in Baltimore's third preseason game against the Jags. While the Bengals will not field one of the more elite pass defenses this season, Flacco made a lot of respectable veteran defensive backs look pretty bad on Monday night.
Verdict: Trend. Flacco is ready to ascend into near-elite group of fantasy quarterbacks.
Matt Cassel – With an aggressive OC in Brian Daboll and a running game that will be much better than it looked in Week 1, Cassel has a chance to be the fantasy darling he was in 2010. With that said, his Jekyll-and-Hyde showing against the Falcons was just the latest reminder on why it is tough to trust him.
Verdict: Incomplete. He has the supporting cast necessary to thrive, but his maddening inconsistency will likely always make him a fringe fantasy talent at best.
Blaine Gabbert – I suggested most of the offseason that Gabbert would be at least a bye-week alternative while most had written him off completely after one year. (Isn't it amazing what a decent supporting cast and some time to develop can do for a young quarterback?) Jacksonville's renewed emphasis on the short passing game will work wonders for him, even if he isn't ready to be an every-week starter in fantasy for at least one more year.
Verdict: Trend. He's on his way to being a league-average QB, but good defenses (like the Texans this coming week) will still make him look bad this season.
Running Backs
Stevan Ridley – Coming into 2012, the only obstacles holding Ridley back from being an upgrade over BenJarvus Green-Ellis were the Patriots' insistence on a backfield-by-committee approach and ball security issues. Shane Vereen missed Week 1 due to injury (and may miss Week 2 as well) and Ridley didn't fumble against a soft run defense. Given the recent history of New England running backs, Ridley needs to repeat last week's performance a few more times and Vereen has to remain sidelined for a while longer if Ridley is to stick as the featured back.
Verdict: Incomplete. Talent is on Ridley's side, but Bill Belichick's gameplan-specific use for his backs over the years is not.
C.J. Spiller – Last year, it took more than half the season before we realized that Spiller wasn't a bust. This year, it took less than one game for him to go from fringe flex play to a feature back with top-10 fantasy potential.
Verdict: Trend. Fred Jackson is reportedly out anywhere from 3-8 weeks. Based on how bad the injury looked, I'd prepare for the pessimistic side of that timetable. The Bills face the likes of the Patriots and Niners before their Week 8 bye, but his all-around game should help keep his fantasy value afloat even in those contests.
Alfred Morris – No one will debate the fact that Morris did a nice job in his debut on 28 touches, but here's a little fun fact for you: Tim Hightower also had 28 touches in Week 1 of last season and was basically a fantasy afterthought three weeks later, even before his season-ending knee injury. Long story short, if his teammates don't know who the starter is week-to-week, we don't either.
Verdict: Incomplete. If Chris Cooley doesn't know the identity of the team's starting RB for his own fantasy team, then counting on a Redskins RB for your own fantasy team will be a huge gamble for the foreseeable future.
Michael Bush – Meet this year's Mike Tolbert, at least in terms of a Week 1 performance. While he should have more staying power than Tolbert did in terms of a useful fantasy player all season long, Bush is one player I might consider trading if I can convince a panicked owner to part with a player I ranked as a RB2 before the season (Willis McGahee would be a decent example). Bush will visit the end zone with regularity, but touchdowns alone rarely make for a good weekly flex play and the Bears will not play the Colts every week.
Verdict: Both trend and mirage. Bush's role isn't going to change, but neither is Matt Forte's. Forte could be similar to the 2011 version of Ryan Mathews while Bush holds his value better than Tolbert did, doing so with fewer catches but more touchdowns.
Jonathan Dwyer – Although Dwyer didn't exactly set the fantasy world on fire with his 11-touch debut on Sunday night, he was easily the most productive RB the Steelers had in the opener (just as he was during the preseason). Rashard Mendenhall may be close to returning, but Dwyer could easily be on his way to taking control of the lead-back role in this offense soon.
Verdict: Incomplete. It should only get better from here, assuming Mendenhall doesn't return before the team's Week 4 bye. If this was simply a matter of Pittsburgh playing its best player at the moment, Dwyer would be a feature back right now. It also remains to be seen how committed the Steelers are to Mendenhall since he is coming off a knee injury and in the final year of his contract.
Wide Receivers
Kevin Ogletree – While I'm reasonably convinced that he isn't the second coming of Laurent Robinson, I'm also fairly certain Ogletree isn't a flash in the pan either (11 targets will do that, even against back-of-the-roster defensive backs). Still, Week 1 will likely go down as his best game of the season and, quite likely, his career. Also bear in mind that while Jason Witten played in the opener, he was likely at something approaching 60%. Most of Ogletree's stat line could have very easily been Witten's last week had he been healthy.
Verdict: Mirage. Understand I say "mirage" because owners can't expect his 8-114-2 line to become the norm. Treat him as a fantasy WR4 that can beat zone coverage and produce the occasional big game against soft secondaries.
Stephen Hill - Hill knows one route – the fly pattern – but the Bills made him look like the next great Georgia Tech receiver, following in the footsteps of Calvin Johnson and Demaryius Thomas. While he has the talent to get there one day, time will show he has a long way to go to get there.
Verdict: Mirage. It may not take long for Hill to become the Jets' best receiver, but I'm still highly skeptical that title will mean much to fantasy owners as this season moves along.
Randall Cobb – The fact that Cobb had a huge PPR game is not surprising since his talent has had dynasty owners drooling for over a year. Even though it was just one week, there is ample evidence the Packers will continue to use him as an extension of the running game, much like Darren Sproles without all the rushing attempts.
Verdict: Trend. We knew Cobb had the necessary talent from the time he scored two touchdowns in his first NFL game last season. Now it appears Green Bay is ready to make him a regular part of the offense (20 plays out of the backfield, 15 plays as a receiver in the opener).
Dexter McCluster – If Cobb is going to be Sproles-lite, then let's call McCluster a poor man's Wes Welker. With team highs in targets (10), receptions (six) and receiving yards (82) against Atlanta, an inconsistent quarterback like Cassel and no receiver besides Dwayne Bowe to command regular looks in the passing game, this "offensive weapon" may be just now finding his NFL niche under Daboll.
Verdict: Trend. Hours before Sunday's games kicked off, NFL.com's Daniel Jeremiah – a former NFL scout – predicted on Twitter that McCluster would catch 80 balls for the Chiefs this season, calling McCluster a perfect scheme fit.
Donald Jones – In the wake of David Nelson's season-ending ACL injury, either Scott Chandler or Jones is going to benefit in a big way in fantasy. While both players will likely spend some time in the slot, it is a good bet Jones will assume most of the 61 catches Nelson collected last season.
Verdict: Trend. The coaching staff tinkered with Jones in the slot during the offseason, a move that might have been done "in case of emergency" then, but looks brilliant now.
Cecil Shorts – Move along. Until Shorts sees more than 15 snaps, it will be hard for him to reproduce the 4-74-1 line he posted against a soft Vikings' secondary. Maybe he overtakes Mike Thomas at some point, but even then, he's probably not going to be worth the trouble.
Verdict: Mirage. It will be a while before the third (or fourth) receiver in Jacksonville makes a regular difference in fantasy. Shorts is not going to overtake Justin Blackmon or Laurent Robinson anytime soon.
Tight Ends
Dennis Pitta – In yet another example of a player who didn't need the preseason, Pitta appeared to be Flacco's favorite target against the Bengals. After a mostly ho-hum first half of the season in 2011, Pitta began to produce games like this the one he just had against the Bengals late last season.
Verdict: Mirage (to a degree). As long as Ed Dickson is healthy, the Ravens' TEs will probably take turns being the top option in a given week. Based on the end of the last season and the beginning of this one, however, Pitta appears to be the slightly better fantasy play of the two for the foreseeable future.
Martellus Bennett – The Giants know how to utilize their tight ends, so it is no surprise that a good athlete like Bennett got off to a good start. As an upgrade over Jake Ballard and Kevin Boss, his fantasy floor should be about 40-50 catches and six touchdowns.
Verdict: Trend. There will be some games where Hakeem Nicks and Victor Cruz will be able to do all the heavy lifting themselves, but for someone like Bennett who was drafted late in fantasy, he'll more than hold his own as a fantasy TE2.
---

I'd like to close this week with some of my own fantasy experiences from Week 1. To give each of you an indication on the "joy" I typically feel the first week of each season, the highest scorer of the week in my most important league started Ronnie Brown (he is not a Ryan Mathews' owner) and the Raiders' defense while another owner – who drafted receivers with his first five picks in a two-receiver league – won his game because he had the good fortune of facing the only other owner who also waited six rounds to select a running back and started Rashad Jennings and Mendenhall. In one of my experts' leagues, another owner did not even submit his lineup. Of course, I did not face him; rather, I had the good fortune of squaring off against the only team that could score enough points to beat my team this week.

OK, so maybe my experiences were isolated ones. Did you notice that Eli Manning and Cam Newton currently find themselves in the bottom half of fantasy quarterbacks while Matt Cassel, Blaine Gabbert and Ryan Fitzpatrick (he of the 195 yards passing and three interceptions) are all in the top 12? How about C.J. Spiller and Kevin Smith on top of the running back mountain in PPR leagues? Or how about the fact that Jamaal Charles didn't catch a pass and Darren Sproles didn't get a single rushing attempt? How about fantasy's #1 and #4 receivers…Kevin Ogletree and Stephen Hill?

While it is completely understandable that owners are concerned when their teams fail to meet their expectations in Week 1 – since each game represents 7.7% of most fantasy owners' regular season – I present my experiences as a reminder the start of another year of football will feature the ridiculous and the sublime. Some drafting oversights will go unpunished while other owners will have the misfortune of losing a key player to injury or take a crushing defeat in which their team outscored all but one or two of the other teams in their league. It happens. The lesson to be learned here is that if you thought you nailed your draft last week, one week should not change your opinion of that team. Allow your investment to grow before doing something drastic. It takes time, patience and a belief in your ability to evaluate talent, but by handling your team in this manner, you give yourself time to make sure the craziness of one week is going to be that season's reality and not just a random occurrence.


Suggestions, comments, musings about the article or fantasy football in general? E-mail me or follow me on Twitter.

---
Doug Orth has written for FF Today since 2006, appeared in USA Today's Fantasy Football Preview magazine in each of the last two seasons and served as a weekly fantasy football analyst for 106.7 The Fan (WJFK – Washington, D.C). He is also a member of the Fantasy Sports Writers Association.