The term "breakout" has various meanings in fantasy football. One meaning could be a player that helps catapult owners to championship glory (Odell Beckham Jr. in 2014; Blake Bortles in 2015), while another definition could simply be a player that vastly outplays his ADP. This article will focus on the latter—those players that can be had on the cheap but who have situations that can yield production by season's end.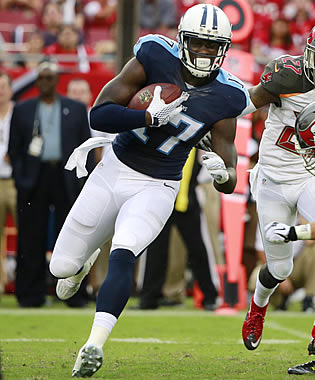 A subpar off-season has DGB flying under the radar.
Dorial Green-Beckham, TEN – The Titans have been devoid of wide receiver production for some time now. Kendall Wright's production has fallen off during the past two years after being a PPR dynamo in 2013 (WR20). The team signed Rishard Matthews as a way to fortify the position. Green-Beckham, I believe, is the most talented of the bunch. He has the size (6-5) and the speed (4.49 - 40) to be a nice complement to TE Delanie Walker.
DGB began picking up his production in the second half of the season after coming out the gate slowly last year. Twenty of his 32 receptions came in the second half of the season, including a 119-yard game against Jacksonville and a 113-yard game at New England. Second year QB Marcus Mariota will only develop as fast as his supporting cast allows him to. Green-Beckham should lead the charge in supplementing Mariota's growth, while in the process becoming a high-end WR3 in fantasy football.
John Brown, ARI – Combined with Larry Fitzgerald's increasing age and Michael Floyd's inconsistency, third-year pro John Brown is set up to build on his solid year from 2015. He finished last season second behind Fitz in targets, receptions, receiving yards and receiving TDs. Can we bank on a 33-year-old Fitz to keep up that kind of pace? He's defied us before, but I wouldn't bet on it.
Brown is perhaps best used in the slot, as his shiftiness can present problems to a defense. By no means is Brown a can't-miss fantasy prospect. His potential hinges on both Floyd and Fitz garnering the bulk of attention from opposing defenses, and QB Carson Palmer maintaining his stellar play. Arizona is poised to be one of the high potent offenses in the league in 2016, so it behooves us to grab one of the main cogs that'll make this machine go—and I believe John Brown will be that main cog. An 80-catch season that approaches double digit TDs is not out of the realm of possibility.
Corey Coleman, CLE – We all know the Cleveland Browns have done a lot wrong since their reentry into the league in 1999. While many may have scratched their head at the team's strategy of drafting four receivers in this year's draft, what they can't be perplexed about is the first of those four: Corey Coleman out of Baylor. He scored 31 TDs in his last two years in college; that's the kind of explosiveness the Browns have missed since Josh Gordon's days of ripping up the league in 2013.
A big part of Coleman's inclusion on this list comes from my belief in new head coach Hue Jackson. I believe Jackson will do wonders for QB Robert Griffin III's career, while in the process helping Coleman become the third best play-making receiver in the division (behind Antonio Brown and A.J. Green). Cleveland could be playing from behind a lot this season, which makes for plenty of garbage time production. Can Coleman eke out a season with 70 receptions and 6–8 scores? I think so.
Sterling Shepard, NYG – I'm not a believer in Victor Cruz making a miraculous return to fantasy relevance after a two-year hiatus. I'd be more inclined to give Cruz the benefit of the doubt if his injuries weren't to his legs; lower extremity injuries—especially recurring ones—are big red flags for me. Cruz's unfortunate fragility opens the door for rookie Sterling Shepard to shine. Playing opposite Odell Beckham Jr. will create untold opportunities for the youngster.
Some look at him as a slot receiver and not an outside-the-numbers receiver. Call him whatever you'd like—I'd call him a viable breakout candidate. It should also be noted that new head coach Ben McAdoo helped produce two of the most explosive offensive seasons in Giants history during his time as the team's offensive coordinator in 2014 and 2015. They tied for 6th in pass attempts last season and tied for 9th in 2014. There's no reason to believe anything will change now that McAdoo has ascended to the corner office. The continued maturation of the offense, coupled with OBJ's presence and Cruz's uncertainty, Shepard could be a big surprise in 2016.
Donte Moncrief, IND – Moncrief was on his way to a solid season during the first half of 2015. He scored a touchdown in each of the season's first three games, including a 7-catch, 122-yard, 1 TD gem against the New York Jets in Week 2. Andre Johnson's departure couldn't come soon enough for Moncrief's inevitable development. In fact, Johnson's presence last year may have stunted the growth of both Moncrief and Phillip Dorsett.
With a healthy Andrew Luck, and an expectation of more three-wide receiver sets, Moncrief should expect a similar chemistry with the signal caller that was evident during the first month of last season. Indy's struggles last year during Luck's absence have softened expectations heading into 2016. Most don't have the lofty hopes of the Colts' skill position players the way they did this time last season. Perhaps we can use that bear market mentality to our advantage and steal players such as Moncrief.