8/13/09



Remember the double header last year on the opening Monday night of the season - the second game pitting the Denver Broncos against the Oakland Raiders? You know, the game when rookie Eddie Royal schooled Oakland's "prized" free agent CB DeAngelo Hall? Incumbent #1 WR Brandon Marshall was suspended, making Royal the coveted first option of Jay Cutler on most pass plays. Royal finished with 9 catches for 146 yards and a TD, and in the process became in many fantasy leagues one of the best waiver wire finds of the year.

Finding those gems from the bottom of the draft or early in the season off the waiver wire can do wonders for your roster. Players from 2008 such as Antonio Bryant, Lance Moore, Steve Slaton, Tim Hightower, Matt Ryan, Kevin Walter, Steve Breaston, and several others, all were major contributors for fantasy teams at some point last season. Finding these sleepers is mostly luck, but applying certain criteria makes them easier to locate. Is their offense conducive to tremendous production? Do they back up an injury-prone player? Have they shown flashes in the past? Are they coming off an injury themselves? Having a familiarity with these kinds of situations makes the process less about luck and more about being astute regarding what to look for. Applying these criteria, I've compiled a list of players (in alphabetical order) who could surprise this year and assist your team with piling up the W's.

Davone Bess WR, MIA – Davone Bess was one of those late-season free agent pick-ups that undoubtedly gave many fantasy teams an unsuspecting boost. Over the last six games, Bess had 35 catches for 366 yards. His spike in production coincided with the injury to Greg Camarillo, who should be fine in 2009 after blowing out his knee last year. Despite selecting two WRs in this year's draft, I believe Bess displayed enough ability to maintain his starting spot.

Bess complements the ability of teammate Ted Ginn Jr. and Camarillo beautifully, and is in many ways a combination of the two. The limitations of QB Chad Pennington, however, prevents the deep throws from being incorporated more in the Miami offense, but Bess still became a weapon in the fantasy world—in PPR leagues especially. Depending on the health status of Camarillo, Bess could return to the starting line-up opposite Ginn or see more action in the slot as a #3. Either way, Bess has put his name on the list of suitable sleepers entering 2009.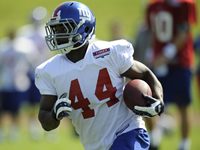 Ward's departure makes Ahmad Bradshaw a quality sleeper.
Ahmad Bradshaw RB, NYG – With Derrick Ward's move to Tampa Bay, Ahmad Bradshaw now gets thrust into the position of Brandon Jacobs' primary backup. And if the previous two years are any indication, that sets up Bradshaw to be a quality sleeper. Jacobs has suffered injuries the past two seasons and that opened the door for Ward to show his stuff. Bradshaw completed the three-headed monster at RB and gave the Giants the big play potential that the others could not.
Bradshaw doesn't score many TDs, having scored only three times in two seasons. But his slight build (5-9, 200 lbs.) lends itself to the cat-quick acceleration that has allowed him to average 6.1 yards per carry in his two-year career. You could do a lot worse than drafting Bradshaw as a handcuff to Jacobs. Even if Jacobs doesn't get injured, Bradshaw should get 8-10 carries and be a viable option for fantasy owners.
John Carlson TE, SEA – In a 2008 season that saw Seattle Seahawks WRs fall like flies, rookie TE John Carlson was the lone bright spot on an otherwise dismal passing team. But with the return of QB Matt Hasselbeck and the addition of free agent TJ Houshmandzadeh, Carlson should continue what he started in 2008. WRs Deion Branch and Nate Burleson return from injury, and while some may think that may take away from Carlson's targets in the passing game, I tend to believe that will help open things up for him.
Carlson will garner attention from owners who play in leagues that mandate using TEs, but those in which the TE position is optional, Carlson could easily fall through the cracks. He lacks the big name, plays in the wilderness that is the Great Northwest, and Houshmandzadeh is getting the bulk of the attention when it comes to receiving options for the Seahawks. Carlson could really surprise. Keep an eye on him.
Jamaal Charles RB, KC – Jamaal Charles appeared in every game last year, but his two best games showed his ability: a 106-yard rushing performance against Tampa Bay in week 8, and a 102 yard receiving day against Miami in week 16. Word from Kansas City training camp is starting RB Larry Johnson has a more refined focus and is chomping at the bit to show he still has it. But Charles should remain in the fray as a third down specialist and occasional replacement for Johnson during games.
New Kansas City head coach Todd Haley found success last year as the offensive coordinator using the spread offense for the NFC champs Arizona Cardinals. And new QB Matt Cassel found similar success utilizing a similar scheme with New England. Even though the Chiefs' skill position players fall woefully short of matching those of the Patriots and Cardinals, the Chiefs could still incorporate such an offensive approach to some degree in 2009. If that's the case, Charles could see some value as a pass-catching runner out of the backfield. And considering Johnson has missed 12 games over the past two years, Charles' multi-dimensional skill set could increase his value should he become the full-time starter at any time.
Joey Galloway WR, NE – Joey Galloway suffered through an injury-plagued season last year in Tampa Bay, but now he's healthy and gets to play in a spread offense with the league's best QB. Randy Moss and Wes Welker will continue their assault on defensive backs in 2009, leaving the veteran speedster from Ohio State the x-factor in New England's passing attack. There's a good chance some owners may not remember the last good season Galloway had (for the record, it was his 82 catch, 10 TD performance in 2005 for the Bucs), and that's good news for you. Couple that with his nondescript season in 2008 and Galloway could easily slip to the tail end of the draft.
Tom Brady certainly won't throw 50 TDs again; he won't even crack 40. But tossing, say, 30 TDs could project Galloway's output to be comparable to his 2007 production of 57 receptions for 1,000 yards and 6 TDs. Not bad for a soon-to-be 38-year-old receiver looking for one last chance at a Super Bowl ring.
Jerome Harrison RB, CLE – Cleveland RB Jamal Lewis ran the ball 279 times last year and each one was more painful to look at than the previous one. No other RB on the roster had more than 34 carries, despite Lewis' obvious struggles. My take is new head coach Eric Mangini won't be so flexible in that regard. Harrison doesn't have as physical a running style as Lewis, but his ability to catch the ball out of the backfield and his superior speed and agility relative to Lewis may be too much for the new coaching staff to ignore.
More than anything, Harrison's ability mirrors that of Leon Washington, the RB for Mangini's former team—the New York Jets. Washington had 47 receptions in 2008 and was used in a multitude of ways in the Jets offense. Perhaps Harrison could be utilized in like fashion this year, especially when you consider the youth and inexperience that characterize the WR position in Cleveland. If Lewis' less-than-stellar play continues into 2009, Harrison could emerge and see his playing time increase significantly.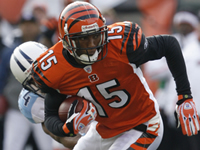 Chris Henry: Motivated and ready to rejuvenate his career.
Chris Henry WR, CIN – After scoring 15 TDs in his first two years in the league, a combination of boneheaded off-the-field decisions, inconsistent play, and an injured Carson Palmer have all contributed to Henry's production bottoming out to the tune of four TDs over the previous two seasons. But Henry supposedly rededicated himself during the off-season and says he's motivated to repay the trust head coach Marvin Lewis demonstrated in bringing him back by playing well in 2009.
Henry is a match-up nightmare, especially when used in the slot. Laveranues Coles will work the underneath routes and Chad Ochocinco will occupy the attention of the opposition's top corner and safety over the top, leaving Henry to conceivably work against nickel backs. I'll take that match-up. Henry is physically superior to most nickel backs in the league and possesses the speed and athleticism to make the amazing plays downfield. He could potentially match his 2006 production of 36 receptions and 9 TDs.
Demetrius Williams WR, BAL – Demetrius Williams is a long shot to do much this year, but there's one undeniable skill that he has that other WRs on the roster do not: Williams has the speed to get downfield and could be a viable weapon if matched with QB Joe Flacco's big arm. Taking shots downfield, even for a run-first offense such as the Ravens, is essential to loosening up the defense. Williams is the best option on Baltimore's roster to perform such a duty.
Williams, however, is an injury waiting to happen. He had Achilles and ankle surgeries during the off-season, and this year he hopes to play in all 16 games for the first time since 2006, his rookie season. Keep in mind that veteran WR Derrick Mason isn't getting any younger, plus he flirted with the idea of retiring. And Mark Clayton has never quite lived up to the first round status that Baltimore invested in him. So if Williams can somehow stay healthy all year, he has a chance to add some spice to an offense better know for its ground attack.