Pick 1.04




6/15/11



Hello and welcome back to another season of fantasy football. There is no doubt this fantasy season is the season of uncertainty, as we sit and wait for a resolution between the NFL owners and players, not knowing if we are going to have a full, regularly scheduled NFL season—or a delayed, or a partial, or a delayed-partial season. We can't even rule out the possibility of no season at all yet, although I still think that is an extremely remote possibility.

In fact, the latest lockout—damn, I didn't want to use the "L" word—and labor strife news is positive, with the owners and players meeting regularly to work out their differences. It is only June, which still gives the NFL a good amount of time to work out their business so they can get back to business.

For our part...well, we love fantasy football and can't imagine a year without it. We will continue to go about our business in anticipation of a fantasy season. And one of those things we do over and over leading up to the start of our "real" fantasy drafts is mock draft. That is exactly what I am here to share with you: my first mock draft of the year.

Once again, I was invited to participate in the FF Toolbox Mock Draft Series, and we're starting in May this year. Wait...May? I don't have Mike Krueger's projections. I don't have the Cheatsheet Compiler & Draft Buddy finished. This should be interesting.

We are using flex lineups, starting 1 QB, 2 RBs, 3 WRs, 1 TE, 1 RB/WR/TE, 1 K, and 1 DEF. The scoring is standard performance plus one point per reception, for all positions. There are 12 teams. I drew the fourth pick, and Adrian Peterson, Arian Foster, and Jamaal Charles are off the board before I'm even on the clock. Following is the player commentary I wrote through the draft so you can get an idea of what I was thinking with respect to each pick. To view the entire draft results, check the draft report and team rosters.


It doesn't look like I can fall too far off the rails here no matter which way I go. There are a couple of RBs I really like (Johnson, Ray Rice), and also a couple of WRs (Andre Johnson, Roddy White) I could justify taking at this spot. I'll pull the trigger on Chris Johnson. I have some concerns about the QB situation and the new coaching regime in Tennessee, but when in doubt, take the player with the most talent. And CJ tips the scales in pure talent at the RB position.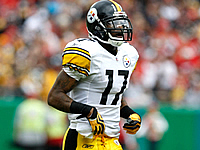 Mike Wallace averaged 21.0 yds per catch in 2010.

Mike Wallace posted nice increases over his rookie numbers from 2009 and showed in his first year as a starter that he can be more than a long-ball threat. He may not post gaudy WR numbers, but I think he has a higher floor than most after the top-tier guys are off the board. I'm not excited about doubling up at RB to start this draft, which is fine because the available options don't excite me either. I am keen on a couple of the available QBs, but I'll wait and see who falls to me next round.

There are still three exceptional QBs available, so I'm glad I waited last round. But none of these guys should make it back around in the fourth, so I'll tag Brees as my preferred choice. He's logged a lot of pass attempts on his arm and shoulder, but I love the combination of how Brees spreads the ball around—not relying on just one or two players—and the aggressive play-calling by his coach.


Last season Johnson had a stretch of five straight games where he found the end zone (Weeks 3 through 8) but then scored in only two other games in the second half of the season (plus his big drop versus PIT in OT). On the plus side, he gets a lot of targets, and I have faith in Chan Gailey's ability to make the offense churn out fantasy points. I'm hopeful for more consistency and perhaps even an uptick from Johnson, who was learning on the job last year with only 12 catches and 112 yards on his NFL resumé heading into 2010.


I'm tempted to go TE with this pick since Jermichael Finley made it back to me, but I feel the TE position is deeper this year than in the past. It's one thing to pull the trigger on a reliable Antonio Gates (or Vernon Davis, who was just selected) with an early pick, and it's another thing to use it on an injury risk like Finley. Meanwhile, we are closing in on a large group of running backs I don't want very much to do with, so I'll grab Felix, who racks up yards and catches—though he needs to find the end zone more. With Marion Barber most likely out of the picture, and with rookies in a tough spot to keep up, Jones should get a good opportunity to improve his fantasy output.


I definitely had my doubts, as did many, that former-Lion, former-Titan, and former-Raider Mike Williams could take two years away from football and not only revive his career but make a solid impact. He did just that thanks to college coach Pete Carroll giving him a chance and Williams showing an incredibly renewed work ethic. Reports indicate that Williams is continuing to work hard this offseason. He'll never be a burner, but he is a big body who will command plenty of targets and be difficult to defend near the goal line. Even with a questionable QB situation, I like his chances to outperform this draft spot.


I did say earlier that rookies are in a tough spot to get up to speed this year because of the missed coaching time, but I'll make an exception in adding talented WR A.J. Green. I thought about him last round, but as my third receiver, I was leery. As my fourth receiver, he's worth a shot here. Running a report of the top rookie WR performances since 2000 over at Pro Football Reference gave me some comfort that he can be a valuable contributor, although Green's QB is worse than average among that group.


I've felt for a couple of years that Ryan Grant is a somewhat average RB who simply found himself in a great situation and made the most of his opportunity. If the Packers could find a decent enough replacement—as Brandon Jackson never was—they would replace Grant. This looks like the year to really put my theory to the test. Starks did next to nothing last season, spending most of his time on the PUP, until he carried the load through the playoffs with excellent results. This could be a shared role, or the better back could win the starting job and a large majority of the carries. Starks is as good a bet as Grant to do that.


With most every team having filled out their starters at QB, RB, and WR, plus a backup or two, it is time to grab my starting TE before heading into the long turn. I could afford to wait at TE the prior round because two of the three teams between that pick and this one already owned Antonio Gates and Vernon Davis. The Huddle didn't address TE, which left my top choice, Jimmy Graham, available for me. This may seem early for Graham (just the sixth TE off the board among a deeper pool of talent at the position than we've had in years), but why not go for a player who was barely used in the first half of his rookie season yet finished with 31 receptions for 356 yards and 5 TDs, including 4 TDs in the final three games? Why not go for a player who has one of the league's best quarterbacks throwing to him? Why not go for a player the Saints felt so good about that they released Jeremy Shockey? There is some risk here due to lack of a proven track record, but I'll swing for the fences in hopes that Graham breaks out and lives up to (and possibly goes beyond) the expectation of this draft spot.


The probability that the Packers don't re-sign James "Stone Hands" Jones are pretty decent. Say, 50-50. The chances Donald Driver, now age 36, drops off like he did last year, or worse, are pretty good. The odds are against rookie Randall Cobb making an immediate impact as a receiver in the complex West Coast system. Admittedly, Jermichael Finley is back, but add it all up and Jordy Nelson has a nice opportunity for a breakout season. I'm trying not to be too influenced by Nelson's impressive playoff games, but I'm hoping they gave a glimpse of what he is capable of on a more consistent basis.


Someone is going to get a steal on a QB in this round or later, but picking the one or maybe two who are going to far exceed our expectations is not something I want to gamble on at this point. I'll take Mr. Job Security, who had over 500 pass attempts last year and even had some pretty decent multi-TD games as the Jets opened up the playbook a little more for him. Will his passing options be reduced? Perhaps. But I'm comfortable that a 3,500-18 effort is his floor as he enters his third year. Not very exciting, maybe, but considerably less risky, too.


There isn't much left at RB, but I need a fourth, and my options aren't going to get any better the longer I wait. I'll add Scott, who has been decent in limited carries through his two years in the league. More importantly, the depth chart he's a part of is shallow. Cedric Benson is a free agent but is expected to be re-signed. The Bengals could give Scott even more opportunity than in the past if they roll with a rookie quarterback.

I thought about Aaron Hernandez with my last pick, but when I saw him, Jermaine Gresham, and Tony Moeaki all available at the time, I decided to wait... and hoped it wouldn't be Gresham coming back since I don't need any more Bengals. I was impressed with how Moeaki made a decent impact as a rookie last season. The Chiefs still don't have exceptional receiving alternatives beyond Dwayne Bowe, so it isn't inconceivable that Moeaki earns an uptick in his targets and output.


I'm playing a hunch on Benn. He got his feet wet last year in the shadow of rookie phenom Mike Williams, and my hunch is that he is ready to make an impact this season while opposing defenses pay a lot more attention to Williams. The big knock on Benn is that he suffered an ACL tear in Week 16 last year. News of his recovery is very positive, but some of that is coming from his agent, so you have to take it with a grain of salt. Like I said, it's a hunch, and I don't think you would want to take Benn any earlier than this until we see him back on the field doing normal drills.






K Connor Barth (20.09)

To close out the draft I could have certainly used another RB, but they would have all been shots in the dark at that point. I rolled the dice and stuck with the four I drafted. I couldn't resist adding more of a name player in Sims-Walker this late. Sure, he had a disappointing season overall last year, and he is a free agent and not at all expected to be back with the Jaguars. However, looking at his game log I saw good to great performances when they fed him just five or more targets. Between some missed games, three single-target games, and a two-target game to open the season, he wasn't able to produce consistently. It will be interesting to see what NFL team he lands on, but we may be looking at a halfway decent, undervalued WR who costs next to nothing to acquire right now.

I should add a caveat about those three defenses I chose. I didn't mention this at the top, but this is a Draft Masters (best ball) format league. With the long timeline between mocking in May and starting the uncertain season, it might as well be called the Battle of Attrition Challenge. But if you find yourself in any best ball leagues, taking a third defense can be a good way to maximize your points at the position because defenses are so random in their scoring from week to week.

I played the bulk of the draft with more of a straight-up re-draft mindset—not giving much weight to the best ball aspect—to provide a better mock draft for you, the reader. But I tacked on the third defense so I could still try to win this thing. In a normal re-draft, I wouldn't draft three defenses. I probably wouldn't draft two kickers, either.

Okay, that about wraps it up. Get out there and do a mock draft. It's great practice for your real draft, and it sure beats reading about the business side of sports day in and day out.