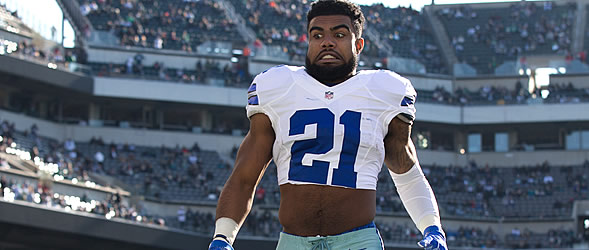 Yikes!: If Ezekiel Elliott is missing the first six games, he's a third-round pick at best.


If what the NFL alleged happened in its letter to Ezekiel Elliott is true, then he deserves every bit of his six-game suspension. It obviously goes without saying, but no one condones any violence of any sort, let alone the actions the NFL determined Zeke committed.

"But I will spare some, for some of you will escape the sword when you are scattered among the lands and nations." Ezekiel 6:8.

The wrath of the Elliott suspension could have irreparable effects on those of you that have already drafted. Man is this frustrating. How many years in a row are we going to see an elite fantasy running back miss the start of the season? Well, the answer may not be three. This will be my 16th year playing fantasy football and I can confidently say this is going to be the most challenging and controversial draft issue I've ever had to encounter. What are you supposed to do? Let's paint the scenario and then try and figure out the proper approach.

In the time it took for me to write this paragraph and finish the rest of this article, Elliott's lawyers already announced they are appealing the suspension. Appeals are heard on the second Tuesday following the appeal. That puts us at August 22 for the hearing, right in the heart of draft season. Given what we know, I do not believe the suspension will be reduced, but that's just my opinion on the matter. Even assuming I'm correct, that doesn't simplify things at all. The question causing the biggest headache is: When will the suspension occur?

On May 11, 2015, Tom Brady was suspended four games for his role in Deflategate. On May 12, 2015, Tom Brady appealed his suspension. On June 23, 2015, Brady's appeal hearing was conducted. On June 28, 2015, just five days later, the NFL upheld Brady's suspension. On September 3, 2015, the U.S. District Court reversed Brady's suspension. It wasn't until April 25, 2016 that Brady's suspension was reinstated. Brady then went on to appeal to the 2nd Circuit and ultimately stopped short of going to the Supreme Court. It was a lengthy ordeal that resulted in Brady playing a full season before serving his four-game suspension to start the 2016 season.

Elliott's team has already released a statement opposing the ruling and claiming multiple factual inaccuracies and "cherry picked" evidence. This strikes me as a fight Elliott will drag out until he ultimately cannot anymore.

Many of us will draft while the appeal is pending. We will likely get a ruling before the season starts and assuming it is upheld, Elliott will almost certainly file for an injunction temporarily staying the suspension pending the conclusion of court proceedings. It happened with Brady and it happened with Kevin and Pat Williams previously. Zeke will be eligible play if this occurs. So when you draft Zeke, you could be…

Getting a player missing the first six games of the season, although I think that is unlikely.


Getting a player missing six games in a row at some point this season (more likely).


Getting a player active for the entire season, but you won't know that going into each week.


Elliott's draft position is going to be wildly inconsistent from league to league based upon how risk averse the owners are and where we are in the appeals process.

If you draft before the appeal is ruled upon, I don't know how you can take Elliott in the first two rounds. The level of uncertainty is simply too great.

If we knew for sure he was going to miss the first six games, that knocks him into Round 3. I would still struggle to draft him there, but that's where he would likely go in most standard leagues.

If you draft after the suspension is upheld, but before Zeke files any sort of injunction, you have to assume he's missing the first six games.

If you draft after he's filed an injunction, you have to assume he's playing the entire season. We saw how long it took with Brady. Pat Williams played out the rest of his career while waiting for a decision. As you may or may not know, my day job is a lawyer – I can tell you first hand how slow the legal process can be. If Zeke is playing Week 1 against the Giants, then you probably need to approach your draft as if the suspension doesn't exist. If he gets hit midseason, then so be it. This is a truly one of a kind situation for a fantasy player of this caliber facing an uncertain future.

As a quick recap…

1. If Zeke is missing the first six games, he's a third-round pick at best.

2. If Zeke is missing four games, you can probably justify him in the late first/early second.

3. If Zeke might miss six games at some point pending the court system, but is on track to play Week 1, you take him third overall as you otherwise would.

Your outlook on the situation should drive you to one of the approaches above.

Impact on Dak, Bryant and the other RBs

The Cowboys will likely have to throw a bit more due Elliott's absence, potentially creating more negative game script. It's a small boost for Dak Prescott and Dez Bryant, but not much.

The biggest beneficiary is the fantasy RB2 you're going to get for the first six weeks. Everyone is projecting Darren McFadden, but I'm not so sure. Alfred Morris looked far better in the Hall of Fame game. They could form some sort of committee, but one thing we can be certain of is that DMC will be in on passing downs because Ally Mo isn't much of a receiver.

The rest of the running back depth chart includes Rod Smith and Ronnie Hillman. Both are long shots to make a meaningful fantasy contribution.

The Cowboys next two preseason games should provide more clarity on who the No.2 running back will be. Hopefully you can acquire that information before your draft so in case you do take Elliott and you lose him for six weeks, you can grab the appropriate backup. My lean would be on Morris right now, but that's all it is – a lean.

This is a challenging fantasy situation and we can only hope for a resolution sooner rather than later.