QB Jameis Winston
(2020 QB Rank – No. 69, 1.1 FPts/G)
Jameis Winston is going to be the Saints' Week 1 starter at quarterback. There, I said it. Of course, I don't really know that. No one does, with the possible exception of HC Sean Payton. We've heard all the usual pre-camp proclamations about open competitions and guys earning their spot in a post-Drew Brees world. But we've also gotten a lot of indications out of New Orleans that Payton and company feel that Winston learned a lot and matured a lot in one year in the quarterback room with Brees.
The truth is, unless there's a major change in scheme coming (which is never out of play with the creative mind of Sean Payton), Winston makes the most sense. As well as Taysom Hill played in relief of an injured Brees last season, Winston is the more polished pocket passer, has the stronger arm, and has more command of the reads in the passing game than Hill at this point. Word is that Winston has done a lot of work on his accuracy, particularly in the short and intermediate game that's so important to the Saints attack, and ball protection has been drilled into his head over the past year. Unless he falls on his face during camp, it's hard to envision a scenario where he doesn't at least get the first shot.
With that being said, Hill will be a factor in this offense, and fantasy owners can almost count on his package being expanded from the Brees days. That means plenty of 3rd down work and lots of red zone and goal line play. That will obviously significantly cut into Winston's fantasy value, as will the two-headed running game of Alvin Kamara and Latavius Murray, which I expect to be featured more with the departure of Brees.
In the end, even if Winston wins the job, it's not going to mean much for fantasy owners who should really be looking in places other than New Orleans for their quarterback.
QB Taysom Hill
(2020 QB Rank – No. 33, 9.8 FPts/G)
Despite all the Jameis Winston love above, the real win for fantasy owners would be if Taysom Hill gets hot right out of the gate this summer and wins the starting QB job. His athletic ability and playmaking skills as a runner make him an ideal dual threat in today's NFL if he can polish up his skills in the passing game, and he has the ability to score from just about anywhere on the field, particularly in the red zone.
The argument for Hill begins with the fact that he was the one who got the ball from HC Sean Payton when Drew Brees went down with an injury for four games in 2020. He availed himself pretty well in that stretch, completing 70% of his passes and averaging about 7.2 yards per attempt – not bad for a guy who isn't back there a whole lot. He also threw four touchdown passes, averaged over 52 rushing yards per game and ran for another two scores while leading the Saints to a 3-1 record. However, he turned the ball over five times, throwing two interceptions and losing three of six fumbles.
He'll have to clean that up, obviously. But if he does, and makes progress with his reads in the passing game and his ability to play from the pocket, he could become a viable QB1 option in Payton's offense. But until he's named the starter, his only real fantasy value is as a sort of flex option in certain matchups.
RB Alvin Kamara
(2020 RB Rank – No. 2, 19.7 FPts/G)
After a 7-9 season in 2016, Saints HC Sean Payton stepped back and re-evaluated his offense. The result was a departure from the "Drew Brees Air Show" and a more concerted effort in the run game. The following season, New Orleans featured a much more balanced attack with almost 450 attempts and their first 2,000-yard rushing effort in recent memory. The trend would continue in 2018 with nearly 475 carries, and the Saints haven't won less than 11 games in a season since, including last year, when Brees missed four games due to injury and the Saints rushed for 2,200+ yards.
It's no coincidence that this transformation has coincided with Alvin Kamara's arrival in the Superdome. With his quickness, burst, and ridiculous change of direction skills, he's tremendous in space, and his ability as a receiver makes him a dangerous two-way threat. While he's never posted a 1,000-yard rushing season, he has averaged 5.0 yards per carry and 102.7 total yards per game for his career. He breaks more tackles than most people realize and can be a dangerous weapon around the goal line as a result. It shows in his 58 TD's from scrimmage over the last four years.
Fantasy owners should expect a heavier reliance on the run game from the Saints this year, especially early on as they determine who and what comes next at QB. Kamara will be the primary weapon in that attack, and I wouldn't be at all surprised to see him get north of 200 carries. If Taysom Hill wins the starting job, that could signal a problem for his receiving numbers as his targets dropped significantly with Hill behind center in 2020, but Kamara is a clear RB1 and potentially a top ten pick in your draft.
RB Latavius Murray
(2020 RB Rank – No. 33, 7.5 FPts/G)
A more powerful tackle to tackle runner than Alvin Kamara, Latavius Murray still has the vision and athleticism to find the seam, cut, and get upfield. He's also a capable receiver, and once in space, can be a playmaker. With New Orleans likely leaning more heavily on the run game early in the season as the QB battle between Jameis Winston and Taysom Hill sorts itself out, Murray figures to build on his 146 carries and 26 targets in 2020. But while he will get some regular run in the offense, Kamara will be the lead dog. Murray is worth a late round pick as an RB2/RB3 who will put up some numbers week to week. But he's a certain fantasy starter if and when Kamara is out of the lineup.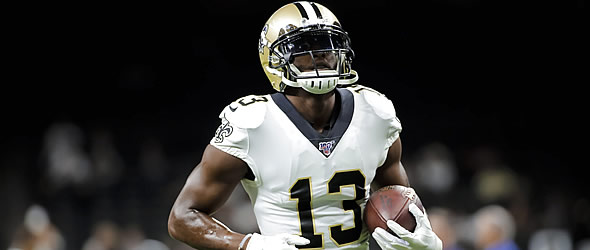 WR Michael Thomas
(2020 WR Rank – No.102, 6.3 FPts/G)
Thomas' 2020 season seemed lost from the start. After suffering a Week 1 ankle injury against Tampa, he was out of the lineup until Week 9. But even on his return, it was clear he wasn't the same guy, recording just two 100-yard games and failing to score a single regular season touchdown. He did not have the same rapport with QB Drew Brees either.
But with Brees riding off into retirement, and Thomas hopefully returning to full health (he was scheduled to have surgery on his ankle this offseason, but there's been no confirmation that actually happened), there may be some good news on the horizon for Thomas owners. The former Pro Bowler's two 100-yard efforts and his three highest target totals came with Taysom Hill under center.
No matter who wins the Jameis Winston-Taysom Hill QB competition, a healthy Michael Thomas is the best receiving option on the team and a worthy WR1. But the situation bears watching. If Hill comes out on top, it could be a boost for Thomas, who has thrived as a catch and run threat in the short to intermediate passing game.
WR Tre'Quan Smith
(2020 WR Rank – No. 71, 5.3 FPts/G)
Entering his fourth NFL season, Smith is a big play, downfield threat who may be one of the few receivers who could benefit from the departure of Drew Brees. He's coming off a career year, but no matter who wins the Saints QB battle this summer, Taysom Hill and Jameis Winston both have stronger arms than late-career Brees and could unlock him as a stretch the field option in 2021…if Payton makes that part of the New Orleans attack.
He looks like a favorite to be the No.2 WR behind Michael Thomas and is worth a late-round flyer to see how his role develops in the offense.
WR Deonte Harris
(2020 WR Rank – No. 117, 3.3 FPts/G)
Harris is flat out fast, with game-changing deep speed, but has made his biggest NFL impact as a return man. The Saints unleashed him on the Bears in last season's Wild Card Game and he recorded seven catches for a season-high 83 yards.
The good news for Harris is that the Saints receiving corps looks to be wide open behind Michael Thomas, so he'll get a chance to compete for snaps. After that, we'll have to see what this offense looks like without Drew Brees before we tag him with any real fantasy value.
TE Nick Vannett
(2020 TE Rank – No. 68, 1.1 FPts/G)
Vannett is now with his fourth team in six years, and there seems to be legitimate reason for that. He's caught more than 20 passes in a season just once in his NFL career. He's a solid all-around TE with some receiving skills, but the best thing going for him in New Orleans right now is that there aren't many other TE's on the roster. With Jared Cook gone and his backup from a year ago, Josh Hill also departed, Vannett has as good a chance as anyone to succeed at this point. But he's not a fantasy consideration until we see how all of this comes together on offense.
TE Adam Trautman
(2020 TE Rank – No. 59, 3.3 FPts/G)
Trautman is a guy with some upside that we can get behind. He's a former QB and basketball player with speed, quickness, and athleticism. He's also got soft hands and a willingness to go up and compete for balls, which can lead to some highlight reel catches and a catch radius that any QB would love.
He flashed a bit in 2020, catching 15 of his 16 targets, nine of them for first downs. While he's developing the physical side of his game, he's tough and competitive and looks like a receiver on the field. He's got "breakout" written all over him in 2021, and he's a guy I'll definitely have on my watch list.