Nobody needs to be told starting Russell Wilson, Todd Gurley, or Antonio Brown is a good idea. Duh, right? You can't have studs at every position, though, unless you're in the shallowest of leagues. This is where the Shot Caller comes in. Need help deciding which bargain basement QB to use and which to ignore on Wilson's bye week? Let's talk. Looking for solutions at running back because Gurley is a game-time decision? Look no further. Need to know which of your unproven targets to start and which to sit since you ignored Brown and went RB-RB-Gronk in your first three rounds? You get the idea. Past results may not guarantee future success, but ignoring them entirely can ruin your Sundays in a hurry (maybe even your Mondays and Thursdays). Read on for a little history and, hopefully, a little sage advice.

Note: Fantasy points based on FF Today's standard scoring system.
Bye Weeks: N/A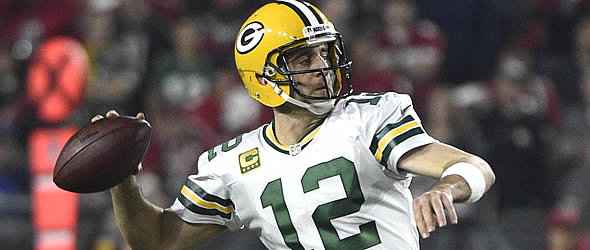 Change for the Better? Aaron Rodgers heads into Week 14 as the QB13 in fantasy points per game.

Grab a Helmet

Aaron Rodgers v. ATL: I never get to write about my favorite player, one of the most automatic of starts in the business, but these aren't normal times in Titletown. For the first time since he became the Pack's starting signal caller, A-Rodge will be coached by someone other than Mike McCarthy, whose Green Bay reign ended suddenly and sadly following an inexplicable loss to Arizona. Some suspect Rodgers of engineering his coach's ouster and the tension between the two was certainly palpable all season. Regardless how it went down, all fantasy GMs want to know is whether the future Hall of Famer can be trusted with a new coach calling shots and a too-youthful receiving corps. For one week, at least, the answer is a resounding yes. Freed of the stress and with nothing at stake, expect the Head Cheese to grill a sorry Atlanta secondary this coming Sunday.

Lamar Jackson @ KC or Josh Allen v. NYJ: The two rooks appear to be vying for the Blake Bortles Memorial Fantasy-Trumps-Reality MVP award this season. Though Jackson doesn't yet qualify, his 73.5 passer rating would rank 32nd overall at the position and he'd still be looking down at Allen, who brings up the QB rear with a paltry 66.3 rating. Yet, over the last three weeks, the two greenhorns rank 2nd (Allen) and 15th (Jackson) in FPts/G. Yes, that means only Patrick Mahomes has outscored Buffalo's new franchise man, the least efficient passer in the NFL, since Week 12. Passer rating doesn't account for rushing stats, of course, which is what makes the two so valuable and their fantasy floors surprisingly respectable. In the last two weeks, they've combined to average 14 FPts/G…NOT INCLUDING PASSING STATS! Love the added rushing dimension and love the plus matchups. Start them both.

Mitchell Trubisky v. LAR: We haven't seen Chicago's dual-threat dealer in several weeks now, but all signs point to him being back under center for the Bears this Sunday night. That's good news if you managed to survive with a stopgap option down the regular season stretch. Though Trubisky's posted a few clunkers (fewer than 12 points in Weeks 3 and 9), he's still averaging 25.8 FPts/g, or more than Philip Rivers has EVER averaged in 15 NFL seasons. The best part about Trubisky's return is that it couldn't come against a more inviting/susceptible opponent. The Rams may still be the odds-on favorites to represent the NFC in Super Bowl LII, but they'll have to do it the way Kurt Warner and Co. did back at the turn of the century. Since Week 9, LA's surrendered 33.3 FPts/g, easily the most in the league. Get Mitch back in your lineup.
Grab a Clipboard

Marcus Mariota v. JAX (Thu): Before you start sniping in the comments section, consider two facts: 1) Only 3 of the current Top 10 QBs tallied Top 10-worthy points in Week 13 (Mahomes, Newton, and Rivers).; and 2) Mariota has been a Top 10 performer since Week 9. In other words, Week 13 was brutal and you could have done a lot worse than starting the former Duck (GO DUCKS!), who notched 26.4 points in the come-from-behind win over the Jets. That said, even a blind supporter can recognize Marcus is very inconsistent, prone to killer turnovers (an early pick-six against NY), and still ranks behind Ryan Fitzpatrick in total fantasy points this year. Fitzpatrick hasn't played since Week 11. After watching the Jags shut out a red-hot Andrew Luck and the Colts offense, I'm inclined to believe cooling off a similarly hot Mariota shouldn't be too tall an order.

Matthew Stafford @ ARZ: The Cardinals have faced a murderer's row of opposing slingers thus far (Trubisky, Goff, Wilson, Cousins, Mahomes, Rivers, and Rodgers), but have somehow managed to rank an impressive 3rd overall against the position. Game script has certainly been a factor—Arizona consistently plays from way behind—but a 7.2 yds/attempt mark, 9th overall, speaks to some ability in the back end. Patrick Peterson, the most able of Arizona's DBs, is likely to shadow Detroit's only explosive WR weapon, Kenny Golladay, come Sunday and methinks this could put a lid on Stafford's overall production. His only other options are dink-and-dunkers Bruce Ellington and RB Theo Riddick. Barring a late-season resurgence, Stafford is headed for his worst statistical season since 2009, his rookie year. I've been fading him all year long and there's no reason to get excited now that it's crunch time. Sit him in Week 14.

Case Keenum @ SF: The Broncos are, shockingly, in the hunt heading into Week 14 and that's likely because Vance Joseph et al. figured something out about their new quarterback: The more Keenum throws the football, the less likely his team is to win games. In six Denver losses, Minnesota's former one-hit wonder has averaged 39 passing attempts and 19 FPts/G. In six Bronco wins, he's averaged just 29 attempts (a 25% volume reduction) and 16.7 FPts/G. Clearly, Phillip Lindsay and a still-capable defense are the recipe for success in the Mile High City, especially now that the Broncos will be without BOTH of the top receivers they started the season with. Demaryius Thomas was shipped off to Houston a couple weeks back and now Emmanuel Sanders appears to be done for the year (torn Achilles). You probably weren't starting Keenum anyway, but don't be swayed by the juicy matchup.


Quarterbacks | Running Backs | Wide Receivers