We recently discussed quarterbacks, running backs, and wide receivers that could fall from the ranks of the Top 10 this coming season. Now it's time to talk about the trusted fantasy hands or up and comers who could take their places..

Note: All rankings are based on FFToday's default standard scoring.

A quick reminder of the Top 10 fantasy QBs from last season…





Wide Receivers Most Likely to Rise in 2015:



Alshon Jeffery, CHI: History wonít be kind to Jay Cutler. Heís got jealousy-inducing natural ability and could have been the guy walking away from the game with Hall of Fame-caliber stats and (if things broke just right) maybe even some Super Bowl bling. Instead, he seems all but destined to go down as a vastly overpaid, talent-squandering coach killer with one career playoff victory and a Hall of Fame-caliber RBF (see Urban Dictionary). To put it simply, Cutler makes Richie Incognito look like Dale Carnegie.

Fantasy football historians may ultimately be more charitable because, for all his numerous faults, Smokiní Jayís been a serviceable option at the position for quite a few years. More importantly for this discussion, heís typically managed to make someone else, namely his favorite target(s), much more than serviceable. In five of his eight years as a full-time starter, Cutlerís WR1 has finished no worse than 12th overall at that position. In 2013, in fact, his two favorite targets both ended up as Top 10 producers.

To be fair, Brandon Marshall was that favorite target four of those five years and heís also, apparently, grown tired of Grumpyís act. Or perhaps itís the other way around? Regardless, with Marshall now in New York, itís all about Alshon Jeffery in the Windy City. And if the last two seasons are any indication, Cutlerís already found his new favorite battery mate. The lanky South Carolinian has been targeted almost 300 times since 2013 and has rewarded Chicago with about 11.6 points/game over that stretch. If veteran Eddie Royal can hold his own across the field until the speedy rookie Kevin White (shin) returns to the field and new offensive coordinator Adam Gase can coax a passable Demaryius Thomas impersonation out of his new WR1, the sky may be the limit for Jeffery and this Bears offense in 2015.

Mike Evans, TB: Odell Beckham garnered the entire pub in 2014 and deservedly so. No rookie receiver has debuted to such fanfare since a long-legged, longer-striding freak of nature from West Virginny did it way back in 1998. Beckhamís star shone so bright, however, that others seemed unfairly cast into the shadows. Mike Evans was the most egregiously marginalized of those others, racking up 177.1 fantasy points in relative obscurity down in Tampa. In fact, one could argue Evansí rookie totals Ė 68 receptions, 1051 yards, and 12 scores Ė were actually more impressive than Beckhamís when normalized for quarterbacking quality. Who would you rather have throwing you passes, Eli Manning or Josh McCown and Mike Glennon?

Or maybe Jameis Winston? Evans will be working with a new triggerman in 2015, one the Bucs deemed worthy of the overall No.1 choice in this past Aprilís draft. Only time will tell if that was a wise choice (I say Mariota will be better), but he canít be worse than McCown and Glennon. Winston clearly has his warts (dubious judgment, too many turnovers, canít move), but he does throw a pretty football and is already advanced at going through his progressions and putting the ball where it needs to be. Plus, between Evans and Vincent Jackson, he hits the ground running with some great receivers.

Evans came into the league a matchup nightmare and now that he has a year under his belt, I suspect heíll take the next logical step: into the Top 10. He was No.11 overall last year despite missing a game and despite the clowns throwing him the ball. Oh, and did I forget to mention who he spent time working out with this past summer? That would be a certain long-legged, longer-striding freak of nature from the Mountain State.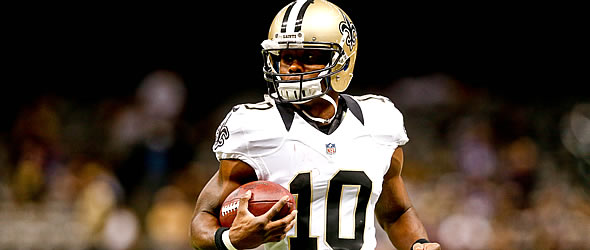 Cooks could flirt with 100 receptions even if the Saints shift to a more balanced offensive approach.


Brandin Cooks, NO: In any other season, Cooks' totals (53 grabs, 550 yards, three scores, 86.3 fantasy points) would have been pretty OK for a rookie wide receiver. As we've discovered, though, 2014 wasn't just any other season. Rookies flat dominated at the position to a degree rarely seen in NFL history. The top 10 first-year wide receivers, in fact, averaged 130.7 points last year, a figure that would have put them (could they have been grouped) 26th overall, right between Roddy White and Julian Edelman. The top 10 rookie wide receivers in 2013, by comparison, averaged just 97 total points (46th overall collectively). If you didn't trust the greenhorns last August, you probably paid for it by December.

Trusting Cooks, just the 10th best rook last season, seems pretty risky, but let's think back to last August before anyone really knew what these noobs were capable of. The only rookie pass-grabbers who even rated an ADP heading into the 2014 season were Cooks, Kelvin Benjamin, Sammy Watkins, Evans, and Jordan Matthews. First of all, notice anyone missing? Second, I just ranked those guys in order. Yup, Cooks was the MOST trusted rookie WR from the 2014 class. There's a reason for that, by the way. He plays in the potent New Orleans offense and now that offense will be missing its No.1 and No.3 targets from last season, Jimmy Graham and Kenny Stills. Put another way, approximately 150 receptions, 1,800 yards, and 13 TDs are wearing different uniforms.

There's one other great reason to be excited about Cooks. Though his full-year numbers were disappointing, he did miss six games. If you extrapolate his totals out to 16 games, he'd have been right at about 138 points, good for 23rd overall. Brandin should be cookin' up some digits in 2015.


Next: Quarterbacks